Your new movie WTF! - in a few words, what is it about?
WTF! revolves around a girl named Rachel, who had already survived a bloody massacre in the past. And now, three years later, she is invited back to a cabin in the woods to get over her fears. Sadly, for Rachel, her new friends start to drop like flies and she once again has to try and survive. This time she plans on confronting the monster that is trying to kill her.
With WTF! being a slasher movie, is that a genre at all dear to you, and some of your genre favourites?
Yes, I grew up watching Nightmare on Elm Street, Friday the 13th and Halloween on repeat. Iím obsessed with those franchises. They all provide a little scare with a handful of great one-liners. I like movies that can poke fun of itself and break some of the tension while still delivering the terror.
(Other) sources of inspiration when writing WTF!?
Cabin in the Woods & The Final Girls. I started writing this back in 2009. And I remember when Cabin in the Woods was announced I was so scared that it could basically be the same movie. Thankfully that wasnít the case. Not at all. But I remember being inspired by it nevertheless. About a week before production the team started watching horror films. The Final Girls had just come out. I remember us all watching it and loving it. I was excited to see another B-horror with a fun campy story line.
What can you tell us about WTF!'s co-writers Christopher Lawrence Centanni and Adam Buchalter, and what was your collaboration with them like?
I started writing this movie back in 2009 with Christopher. We were at dinner one night talking about our passion for horror and we said fuck it, letís make a movie. We wrote for a few years slowly on the weekends. And then eventually I brought on Adam Buchalter later in 2010 for a rewrite. The project paused for a few years and then started to get traction in 2014 when we got funded by Cthulhu Crush Productions. At that point I got the troops back together. Adam really killed it with punching up dialogue and restructuring the script based on locations. He was even on set doing rewrites on the fly. Adam was great at cutting and adding materials into the script in real time.
To what extent could you actually identify with WTF!'s traumatized lead Rachel ... or any of the other key characters for that matter?
I would say I could relate in some ways. The characters are not meant to be super deep besides Rachel. There are many reasons I am not like her. But I would say at a very basic level I have had a lot of bad shit I needed to get through and the film's premise about getting over your fear is one I practice daily.
Do talk about your movie's approach to horror for a bit!
It is meant to be fun, campy, and yet have some emotional depth. This film is set up to be a fun date movie, blood, bad words and nudity. I wanted to have some fun with it. So we tried to put them in a bunch of different locations and not make it stale and claustrophobic.
What can you tell us about WTF!'s rather wonderful location, how did you find it, and what were the advantages but maybe also challenges filming there?
We had a bunch of great locations! But the main ďcabinĒ or as I would say ďRich Uncle Travisís Oasis in the woodsĒ was a real pleasure to shoot at. We got very lucky. The house we shot at was actually on Mulholland drive in California. Right next to Hollywood. We found a place with a bunch of greenery and did our best to sell that we were in the woods.
A few words about your overall directorial approach to your story at hand?
I wanted the film to feel a little two faced. The beginning is fun and full of one-liners and then it goes from 0 to 100 really fast. I had my reasons for this. It will make more sense once you watch the film. But I really liked how the actors helped bring the story to life.
Do talk about about your key cast, and why exactly these people?
I spent months in casting. I wanted to make sure I got the best cast for the job. Not only extremely talented, but a cast of people I could count on. I needed them to be on board and passionate. I passed on a lot of potentials because of the simple reason of it felt to me that this was just another thing for their reel. I needed more than that to make this movie work for under $100k. I couldn't be happier with the cast and the passion they brought to the project.
What can you tell us about the shoot as such, and the on-set atmosphere?
Overall it was a good set. We had days that felt like the end of the world. I was in my own world most of the time. I had to wear many hats. So I missed out on a lot of the fun things going on around set. But even in those moments where we wondered WTF!, will this movie get made, we somehow got through the day and did it. Everyone on set was great and respected each other. I think there was only one day we broke a 12 hour day. Even though we were non-Union we tried to follow the rules as best we could out of respect for everyone's time.
Anything you can tell us about audience and critical reception of WTF!?
We made the film for under $100k. We shot 12 days and most of those days were only 6 hours due to the fact that we shot in the summer. I couldnít call action until 9pm and we needed to wrap by 3am because of our permits. I think no matter how good or bad a movie is it will get some critical reception. We know the challenges we faced and we know what it is we made. I am thrilled with what we created on such a small budget. And most of the reviews I have read so far arenít super critical.
Any future projects you'd like to share?
I have a few projects lined up. The one that seems to have the most steam at the moment is called Locksmyth. Itís about an urban legend that gets off breaking into the most secure homes in America. We have a great cast attached already. More to come!
What got you into making movies to begin with, and did you receive any formal education on the subject?
All my training was out in LA. My first ever job was at Spyglass Entertainment, now MGM. They had me PA on the set of a film called Connie and Carla. Itís a fun little comedy and it was my first real experience on set. From there I moved on to Warner Bros where I worked for 5 years in marketing before decided it was time to branch out and make a movie.
What can you tell us about your filmwork prior to WTF!?
This is actually my very first feature. I did a couple short films a long time ago that were never released. But I'm very new to directing.
How would you describe yourself as a director?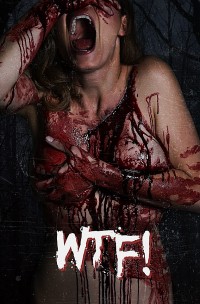 Feeling lucky ?
Want to
search
any of my partnershops yourself
for more, better results ?

The links below
will take you
just there!!!


Super focused, fun, over thinker. I always had an answer on set. Wether the answer is a delegated task or a direction of some sort. I can thank my years in corporate America for that.
Filmmakers who inspire you?
Tim Burton, Christopher Nolan, and Spielberg. I remember seeing Jurassic Park in theaters as a kid and being so blown away by it. I honestly think that may have been the film that made me realize I wanted to direct.
Your favourite movies?
Nightmare on Elm Street, Friday the 13th and Halloween. All of them. Even if they were cheesy. I loved the series of all three.
... and of course, films you really deplore?
Not a fan of the Saw-series. Iím not into torture porn. It just doesn't do it for me.
Your/your movie's website, Facebook, whatever else?
@WTFtheFilm on Facebook
@wtf_movie on Instagram
@wtfmovie on Twitter
Anything else you're dying to mention that I have merely forgotten to ask?
I would finish off by saying that this was a labor of love. A lot of cast and crew put their blood and sweat into this. We are thrilled with the way it turned out. I hope I get the opportunity to bring the crew with me on my next adventure in filmmaking.
Thanks for the interview!