Your upcoming webseries Last in Space - in a few words, what is it about?
At it's most basic, it's a sci fi comedy about 2 bored spaceship pilots killing time by talking to each other. Obviously there is more to it than that, but at it's core: it's cubicle talk, set in space.
The longer answer is that 1000 or so years from now, humans have finally gotten their collective crap together enough to explore the cosmos only to find every other intelligent species in the galaxy already has. Humans are the Last In Space. They have very little to offer to highly advanced races, so humans work the unskilled jobs that no one else wants. Humans such as Wong and Smith, who each fly an automated one-man ship. The series is about them, as they fly side by side, and have little to do except look out at the cosmos or turn their heads 90 degrees and look at each other. So they talk, the way all coworkers talk.
While it might be considered science fiction by some, Last in Space depicts a rather realistic work situation (even if in an out-of-this-world setting). So to what extent is the series based on your actual work experience?
I've had crappy jobs, I think most of us have. I'm really lucky now, I love my full-time job. But I still remember things from my past jobs and yes, that's where a lot of Last In Space comes from. I'm sure at some point someone is going to call me out on using an actual conversation I've had with them, but the first batch of scripts tend to be filtered through sci-fi tropes, so I'll probably get away with it for a while. And even then, I'll just say one of the other writers wrote any offending bit.
Let's return to the science fiction angle of the series - is that a genre you're at all fond of, and what prompted you to take your novel approach?
I love science fiction. Love it. I watch a fair bit of it, and read it all the time. So much so that I sometimes feel I should be reading other genres occasionally just to broaden my horizons (but then Timothy Zhan will have a new book out, and I'll just read that).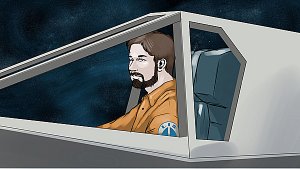 Last In Space came as a result of a lo-fi sci fi film challenge that Adam, my coproducer, suggested we take part in last year. We made a short sci-fi film over a weekend, and that made me realize I didn't need to have a huge budget to make good science fiction. At the same time I'm a big proponent of using your limitations to your advantage. One of the best things I ever heard was that when the TV series Trailer Park Boys got a budget increase, they made sure none of that appeared on camera. I love that sensibility. It means they weren't asking the audience to ignore a shitty set or bad effects for the first season. They simply didn't write anything they couldn't do right. That's what Adam and I are trying to do here. It isn't a low budget version of Star Trek, it is completely its own thing.
(Other) sources of inspiration when conceiving Last in Space?
The web series The Vault is a big inspiration. I won't spoil anything here, but they have a concept that works brilliantly. As a viewer I am totally engaged with the story, and as a producer I love it because they've made a single set work for their entire series, without ever making you think it was a budgetary issue. Reusing the one set over and over is inherent to the concept.
Others would be things like the film Office Space for their take on office life and Galaxy Quest for how it played with sci-fi genre conventions. The dialogue in the comic books co-written by Keith Giffen and J.M. DeMatties are all hilarious, I'll probably be rereading those soon for inspiration. And of course Mystery Science Theatre because, since the day I discovered it, I have maintained the only thing wrong with that series was I wasn't involved in making it.
Do talk about Last in Space's co-creator Adam Axbey for a bit, and how did the two of you first meet, and what's your collaboration like?
I met Adam when I was 13 or so. He was a good friend's brother but fairly quickly we become friends in our own right. He scored my student film. He's recorded audio for several projects I edited. Pretty much anytime I have influence on the audio side of things, I try to get him involved.
A couple of years ago he asked me about working together more formally. We've done some sketches and developed several projects together, and Last In Space is the next step, our first series.
As for collaborating with him: So far it's been the perfect partnership. Our history together gives us a short hand. We tend to think along similar lines most of the time and when we don't, there is no need to tip-toe around each other's feelings. He can just say "that doesn't work" without worrying I'm going to take it personally. When it comes to specific projects, we try to determine who is responsible for what ahead of time. That way there is no confusion or any "but I thought..."-crap happening. We've taken turns directing, and we've even co-directed, which I thought I would never do, but it seems to work for us. I got really lucky that he is as nice as he is and as talented as he is, and for some reason seems to like to work with me.
How would you describe the series' brand of humour?
It's all banter. Some of it'll will be clever, some of it just plain stupid, some of it just them yelling at each other, but it'll completely be the banter between the two characters. And just like real life, it's not a matter of one guy being the funny one and the other the straight man. These are very real people, who each make stupid comments, and over-react at times.
What can you tell us about the intended look and feel of your series?
Visually, it'll be simple to point of almost boring. The entire series will be 4 shots, a profile and head-on shot of each character in the cockpit of his ship. Add in the space background, inserted in post and that's it. We won't even see the whole ship.
Adam and I decided pretty quickly we had to build the ship, not create it digitally. We both like the look of models and sets over CGI. I think Star Trek - The Next Generation has held up better then Babylon 5, visually speaking, because they actually built most of the stuff.
The simplicity means episodes have to be short. 2 minutes tops. Otherwise it's crosses into actually being visually boring and that would be bad. I think that limitation actually helps the writing though. It forces us to cut anything that isn't funny. We've all seen things that would have been really funny as 60 second but were stretched out to 2-3 minutes. That won't be an issue for us. Last thing we want is for a viewer to get bored.
You of course have to talk about your cast and crew for a bit, and why exactly them?
This is lo-fi sci-fi, so right off the bat I think it's clear there isn't a lot of money involved. So if you're going to go to all this work, you better be having fun. That's the team right there. People I know I am going to have fun with. Adam and I hang out when we're not working, so clearly we enjoy each other's company. Another buddy, Camile Gauthier will be shooting it. He's another old friend that ended up in industry. He's a great guy that is very talented. Adam and I have actually talked about how we feel bad that his talent is being completely wasted on a series that has 2 camera set ups. We're lucky to have him.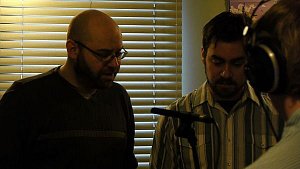 Joel and Steve recording voice-over
As for the cast, I've actually made a couple of sketches with Joel Buxton and Steve Patrick Adams before. That said, it still took me about 6 weeks of looking for actors before I approached them. I was checking out a lot of sketch comedy shows and wasn't seeing anyone right for the parts, when I ran into Steve Patrick Adams, who is playing Wong. We rode a subway train together and Last In Space came up in conversation. Later that night it hit me, Steve and Joel, who would be perfect. Adam met them shortly later, and agreed right away. Both guys are hilarious. I've seen their stand-up and I'd be fans of it even if I didn't know them (Joel's bit about being discriminated against as a white, vegetarian really speaks to me). The fact that both are accomplished sketch comedians is a huge asset. Joel is part of the acclaimed Sketchersons and Steve has been nominated for Tim Simms awards for both stand-up and sketch, and last year he won a Canadian Comedy Award for stand-up.
As far as I know, you're currently still raising funds for your series. So what can you tell us about your fundraising efforts and what exactly will the money be used for?
We've got an IndieGoGo campaign going until Sunday June 10th. Our goal was set for $2000 and it looks like we're going to hit that (knock wood), so we've actually put in a stretch goal, which if we hit, will allow us make more episodes.
The vast majority of the money will go towards the building supplies for the ship itself. Then some green screen paper so we can insert a space backdrop, and then some lights. The hope is we can have a standing set, so after the first batch, we can put together episodes at a moment's notice.
That's it. We kept it simple, given we don't have an established fan base to draw from. We just want enough to cover the costs so this didn't put us into debt. If we magically have money left over or make over our goal, it'll go into the series in some form. Props, wardrobe, stuff like that. Adam and I won't be taking a dollar for ourselves.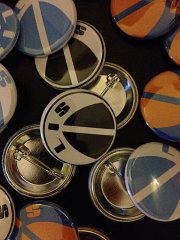 As for the campaign itself: We've got the usual crowd funding type perks for anyone that contributes: buttons, patches, DVD copies etc, but the stuff that we're most proud of offering was the stuff that was unique to the series: We were able to offer name drops in episodes, which people loved. We're still working the scripts there, so my hope is to not just force a name into a script, but as much as possible, make it part of humour. The other great perk was the voice over roles. Wong and Smith sometimes talk to an off camera "Mission Control" via radio, so we offered up those roles out too. Those sold out quickly. We've got a couple of really cool ones still available, not least of which is Cam's offer up to make an entire video for anyone. His company, Clam Industries, will shoot, edit and deliver an entire video.
Once the money's raised, what's the plan ... and any idea when the series might go live yet?
We have an ambitious schedule, but we're also trying to be realistic about how long it is going to take to make. The ship is being designed now, and I'll likely be buying the materials before the campaign even finishes. Ideally I want the ship built in June, and shooting to happen in July. The plan is to post 2 episodes online and a new episode every week after that for at least 12 weeks. I'd love to have the series begin in September but we won't actually commit ourselves to a release date till we know for a fact that we can maintain a consistent schedule. That means having several complete before we're starting putting them online. I've got some vacation time this summer that, if all goes well, I spend editing Last in Space.
Any future projects beyond Last in Space?
Several. Adam and I have 4 or 5 others in development as producers, but nothing we can talk about at this point. That said, we still have full time gigs in our post production roles so in that respect we've got stuff coming out all the time. I'm just finishing up editing a web series called Guidance that stars some Second City alumni and that'll be online in July on Bite.ca. Adam recently finished working on the video game Siphon Filer Blacklist that I think will be out in the summer.
What got you into filmworking in the first place, and did you receive any formal training on the subject?
In high school anytime I had the option to make a video for an assignment I did. I got really lucky and my school even had a VHS-to-VHS editing suite, so I spent hours there. Then when I had to sort out what to do for university, I was completely lost. I had no idea what I wanted to do for a living till a friend pointed out I could make videos. It seems stupid in retrospect, but at the time it was so fun, it hadn't occurred to me that it was something I could make a career of. I ended up going to York University for Film and Video, and later I was in a producer program at Centennial College. York taught me everything I needed to know technically, to make a film or TV-series. Centennial taught me the business side of things. How to actually get to use the skills I had learned at York.
What can you tell us about your filmwork prior to Last in Space?
I'm fairly new to producing, so I don't have a whole lot out there. A short mockumentary I made 8 years ago called The Hockey Hunter and some shorts I made for bite.ca such as Not the Kevin Pollak Chat Show.
As an editor, I think the single best think I worked on was a 10 part documentary series on comic book for IFC Canada. It had a horrible name, Ink: Alter Egos Exposed, but as a life-long comic reader it was a dream job. And it was extremely well received, it even snagged a Gemini nomination.
I've done a couple of random things too, like direct a pilot to a sketch comedy series that didn't happen, though a couple of the sketches ended up online. Actually there is a sketch from that pilot that was absolutely hilarious, but I didn't even finish editing before it was cut. Network thought it was in terrible taste (and it was) but I loved it. I still have the footage, and I'm sure someday I'll finish it and just post it online secretly.
Filmmakers who inspire you?
I'm not much of a horror fan, yet what Oren Peli did with Paranormal Activity amazes me. Like The Vault, he used his limitations so well that I can't see how he could have made it better. Edgar Wright keeps making things I adore. Joss Whedon has had me since Buffy. Bruce McDonald, even his TV work is inventive, and that's hard to pull off.
Your favourite movies?
I'm all over the place with films. Mystery Science Theatre 3000: The Movie has been a favourite since it first came out. Still makes me laugh. Best In Show (and pretty much all of Christopher Guest's films). So I Married an Axe Murderer has some special charm for me. MegaMind proved to me that Tina Fey was born to play Lois Lane. HardCoreLogo has yet to get old no matter how much I watch it.
... and of course, films you really deplore?
Sam Raimi's Spider-man 2 drove me nuts at the time. Everyone loved it, but the failures of logic just upset me. They still do. They spent an entire movie setting up Peter Parker as a brilliant scientist and in the end his best effort is to unplug the big bad machine. And when that doesn't work he gives up! And then he gets the solution handed to him from the villain, who tells him to throw it underwater. He couldn't have come up with that on his own? I thought of that, and I'm not a brilliant scientist.
Your/your series' website, Facebook, IndieGoGo, whatever else?

Feeling lucky ?
Want to
search
any of my partnershops yourself
for more, better results ?

The links below
will take you
just there!!!

Find Peter Kelly
at the amazons ...

amazon.com

amazon.co.uk

amazon.de
Looking for imports ?
Find Peter Kelly here ...
Something naughty ?
(Must be over 18 to go there !)

Of course the focus till June 10th is our IndieGoGo page http://igg.me/at/LastInSpace - even if people don't intend to contribute a Dollar, I'd love for them to watch the pitch video. 40 seconds in we have an animatic of the 1st episode. And if that makes them laugh (and most people say it does) I'd love for them to share it on their Twitter/Facebook feeds.
Our Facebook page is https://www.facebook.com/LastInSpace.TheSeries - Adam & I only post when we have something worth saying, so we don't overrun people's feeds. it's fairly quiet right now, but it'll be more active once the series is online.
And if people want some free content until then, our characters tweet at each other regularly.
https://twitter.com/Wong_In_Space and https://twitter.com/smith_In_Space.
Anything else you are dying to mention and I have merely forgotten to ask?
Adam and I are throwing a party to celebrate Last In Space. It's after the IndieGoGo campaign ends, so it's not grab for more money, just a good time for anyone remotely interested in hanging out with us. It'll be a casual event, but we'll have the cast preview a script or two and be giving out some of the perks to anyone who did contribute.
Anyone in Toronto on June 14 is invited. 2nd floor of The Yellow Griffin Pub, 2202 Bloor St West, https://www.facebook.com/events/504989299568008/
Thanks for the interview!
Thanks for the interest in my project. Really appreciate it.