Your movie Dark Roast - in a few words, what is it about?
Dark Roast is about a man who starts to question his romantic relationship after a string of unexplained deaths that seemingly coincide with meeting a mysterious woman.
What were your inspirations when writing Dark Roast?
When I wrote Dark Roast, I had been binge watching the series Supernatural, which hits the right tone of television horror and comedy for me most of the time. In the first draft of the script, the reaper's personality was originally written in the vein of "The Dude" (The Big Lebowski) and Death on Family Guy (voiced by Adam Corolla) and rather than a subtle hint at something supernatural, the character was the stereotypical personification of death, complete with cloak and scythe, but the way I envisioned the shot, you wouldn't see him until he delivered his first line. Shaun's character was largely inspired by Louis C.K., who does awkward so well.
Do talk about the specific brand of comedy of Dark Roast for a bit, and do you consider yourself a humourous person in private life?
The brand of comedy in Dark Roast is really a biopsy from a section of my brain where comedy and tragedy intersect. My parents both had a twisted sense of humor (my father more so), and I'm convinced I inherited in quite the literal genetic sense. I've never thought of myself as a humourous person per se, but we never see ourselves as others do. Most of the time I'm just entertaining myself and sometimes when it spills out, other people seem to enjoy it too. My wife tells me my sense of humor is one of the reasons she married me and others have told me I should do stand-up.
What can you tell us about your directorial approach to your subject at hand?
The idea of death and people's perceptions (and sometimes fear) of it has always fascinated me. Obviously the loss of loved ones is never funny, but humor is a healthy coping mechanism when compared to the possible alternatives. It's also a topic I unfortunately have a lot of experience with and probably in part why I write about it in a humorous manner; it's therapeutic.
Do talk about your cast for a bit, and why exactly these people?
Shaun Callaghan is better known as the lead singer/guitarist for the Boston heavy metal band Give Zombies The Vote and had previously appeared in the horror short M is For Mundane and the satirical trailer John Smith. Dark Roast marks Shaun's first on-screen speaking role and for being such a green actor, he took direction very well and really nailed the part. He has a very expressive face and plays awkward really well, though he's actually very outgoing and personable. I've told him on several occasions that I think he's got the chops if he ever decided to pursue acting as a career.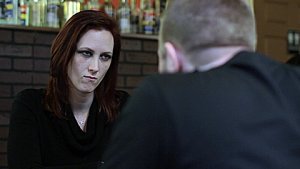 Diana Porter has carved out an interesting film career for herself in a short time including an award winning performance as Death in the 2013 short Devil May Care. I had originally written the character as "Death", but decided to change it to "Reaper" after casting Diana despite the personifications of death in the two films being entirely different from one another. I had told Diana from the outset my original basis for the character idea and how I flipped it to be a female character. She was really excited about the role and had fun with it. Diana has an equally expressive face which really added to the humor; I outlined the look "Death sits with an incredulous look on her face" and she interpreted quite successfully.
I had seriously considered casting my wife Courtney as the reaper but she wasn't able to commit at the time due to scheduling conflicts. By the time that was resolved, we had already attached Diana to the film, but she did however make an appearance as the barista. Courtney had never considered acting before (and has no previous experience) but I recorded her audition for the part and you can see she's definitely got some talent. I'll likely cast her in a supporting role in a future project.
What can you tell us about the actual shoot, and the on-set atmosphere?
The actual shoot was controlled chaos, though I hear that's the norm. For most of the shoot, we had the location to ourselves since the café closes relatively early during the weekends, so there wasn't a lot of outside distraction in that regard. It wasn't without its issues and interruptions, most notably, we were unaware of apartments located above the café and at times it seemed almost without fail, the sound of running water would start just as I would call action. The general atmosphere was pretty relaxed in between takes, though during the actual shooting it was actually quite serious though some of the extras were quite enjoying the exchange and did a great job at pretending to ignore what was happening.
A few words about audience and critical reception of Dark Roast so far?
The audience thus far has been limited to cast, crew, critics and judges for upcoming festivals though I've shared with a few close friends and family. You're the first critic to review the film (and I'm very happy that you enjoyed it) and thus far the response has been overwhelmingly positive. I've been promoting the film since Dec 2013, and the best response I've received so far is "Worth it!" (as in it was worth the wait).
Any future projects you'd like to share?
I've almost completed a screenplay currently titled The Reckoning (working title) and it picks up right where Dark Roast leaves off as the actions of our reaper are not without consequence. If it moves into production, it would see Diana and Shaun reprising their roles as well as introducing some other characters. I'm hoping to secure a well known actor for the role of Death himself; I have someone in mind, but I'm not at that point quite yet.
The next film I'm working on is titled Luce and Grim which is a horror-comedy. I don't want to give too much away, but I can promise this one will be bloody, gory fun!
What got you into filmmaking in the first place, and did you receive any formal training on the subject?
I've always enjoyed acting and storytelling, though I never imagined I would write or direct a film. What made me finally decide to go for it was discovering the amazing indie film scene in here in New England. There are so many talented folks here in the Boston area and I was fortunate enough to tap into that.
I learn hands-on and this was literally my first time on a film set, so it was a baptism by fire. I learned a great deal and wrote about my experience on a guest blog post for Wicked Bird Media here: http://www.wickedbirdmedia.com/blog/lessons-directors-chair-5-things-consider-making-first-film/
What can you tell us about your filmwork prior to Dark Roast?
Prior to Dark Roast, I've contributed to the documentary Something Wicked This Way Comes, which is the first-ever exploration into New England horror, and a locally produced indie feature film titled Psychotica as an executive producer.
How would you describe yourself as a director?
Coming from a technical and creative background, I know what I want and how to properly convey those ideas to others, but I also understand the importance of collaboration. Good ideas come from everywhere and I'm always open to input from those I'm working with; especially the actors. Unless there's a line that needs to be verbatim in order to explain a plot point, I like the actors own it so it feels natural.
Filmmakers who inspire you?
Locally, I would say Kyle Johannessen and Greg Metro [Kyle Johannessen, Greg Metro and Justine Gendron interview - click here]. Devil May Care was such a fantastic story and I'm hoping to collaborate with one or both of them in the future; supernatural is a playground I enjoy. Skip Shea [Skip Shea interview - click here] is another local filmmaker whom I admire greatly; if you look at his career he's really a role model for success.
If we're talking Hollywood, Tim Burton, John Landis, Quentin Tarantino, and Robert Rodriguez are near the top of that list.
Your favourite movies?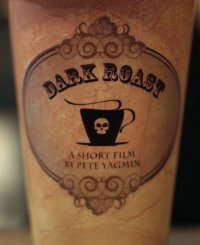 Feeling lucky ?
Want to
search
any of my partnershops yourself
for more, better results ?

The links below
will take you
just there!!!

Find Pete Yagmin
at the amazons ...

amazon.com

amazon.co.uk

amazon.de
Looking for imports ?
Find Pete Yagmin here ...
Something naughty ?
(Must be over 18 to go there !)

There's so many it would almost be easier to list directors or genres I enjoy. My top 10(ish) in no particular order are Clue, Big Trouble in Little China, Gremlins, Critters, Feast, Event Horizon, Grindhouse (both films, plus the trailers), Alien (all of them), Indiana Jones (all sans Crystal Skull) and Four Rooms. Bonus: Me and You and Everyone We Know.
... and of course, films you really deplore?
There's plenty of movies I don't like, but deplore is a strong word. Off the top of my head, the only film I can think of (that's I've seen) is The Hills Have Eyes (2006). I've never seen the original one, so I have no basis for comparison but I couldn't even watch this film all the way through. Depictions of rape disturb me on such a deep level, it's one of those things I don't feel needs to be portrayed graphically if at all.
Your/your movie's website, Facebook, whatever else?
The film website is www.darkroastfilm.com and you can find all the related social media accounts there. Personally, you can follow me on Twitter @peteyagmin or Google+ google.com/+PeteYagmin
Anything else you are dying to mention and I have merely forgotten to ask?
Dying to mention; no pun intended, right? Seriously though, I should mention that Dark Roast has been named an official selection for the inaugural FilmQuest Film Festival (which is part of FantasyCon in Salt Lake City, Utah) and will be making its world premiere there.
Thanks for the interview!
It was my pleasure; thanks so much for the opportunity!