Your new movie Point Man - in a few words, what is it about?
Point Man is a story about a couple of GIs that get cut off from their platoon and have to find their way back to their lines. But it's the place - Vietnam - and the time - 1968, shortly after MLK's assassination - that flavor it and give its punch. Moral quandaries, exploitation of black GIs, the fog of war. Point Man is an exploration of good and evil set in the sweltering jungles of Southeast Asia.
With Point Man being set during the Vietnam war, how much research did go into that aspect of your movie, and is any of it based on actual events?
I studied Vietnam for years academically before penning the Point Man script, so the story emerged as a sort of distillation of many of the anecdotes I encountered during that process. It's fully fictional, but real events influenced plot points and character dynamics, from black GIs' experiences of prejudice to helicopter pilot Hugh Thompson jr's intervening in the My Lai massacre by ordering his door gunners to open fire on American troops if they shot at Vietnamese civilians.
Imagine you're an African-American soldier hearing Vietnamese soldiers call out to you "Go home, it's not your war" in the middle of combat. Imagine the psychological effects of feeling like you're fighting for people who'll lynch you in your uniform when you get back home. Imagine being the door gunner on Hugh Thompson jr's helicopter, told to fire on American troops, caught between allegiance to a flag and a moral imperative. It's sticky, it's hellish. That's Vietnam. And that's Point Man.
(Other) sources of inspiration when writing Point Man?
The genesis of this whole thing comes from an obscure martial arts memoir called My Journey with the Grandmaster. I trained in karate as a kid, and my teacher handed the book to me when I turned sixteen. It was written by Bill Hayes, a retired USMC Major who I'd met briefly at a tournament. In the book he talked about the challenges of being a black man in the armed forces in the 1960s, and as a white suburban kid who'd never dealt with prejudice it was startling. It opened my eyes in a new way and, though I didn't know it at the time, laid the groundwork for a screenplay.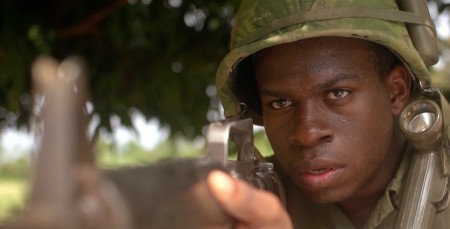 I pulled a lot of inspiration from my personal journey with Vietnam and how my understanding of the war evolved. During my first visit to Ho Chi Minh City I ended up at the War Remnants Museum, basically a Vietnamese victory museum and memorial. I grew up among American Vietnam veterans and thus naturally had always framed the Vietnamese as bad guys, so walking through a museum declaring a very different truth was a punch in the gut. That narrative flipped. I had to contend with photo evidence of war crimes and a room filled wall-to-wall with portraits of Agent Orange victims. Suddenly things weren't so black-and-white anymore, and what makes a "good guy" suddenly didn't have very much to do with nationality. That's one of the big themes Point Man explores. What's the difference between good guys and bad guys? Is it your personal code? Is it the patch on your shoulder? It's an age-old question.
You of course have to talk about your locations for a bit, and what were the advantages and challenges filming there?
We shot most of Point Man in Cambodia. It offered us unparalleled production value - you can't get those Southeast Asian berms and palms and rice paddies in LA studio lots - and it was ridiculously inexpensive. We picked up a few scenes in Vietnam as well, becoming the first original narrative Vietnam War movie in American cinematic history to shoot on location in Vietnam.
The challenges were mostly logistical. We had some issues with permits and found out days before production the government wouldn't let us have our weapons props. Disaster! We ended up renting Vietnam-era weapons from a Cambodian army general and shooting the scenes on an army base 60km outside Phnom Penh. High stress, but the results delivered.
Southeast Asia was hot, and that predictably presented challenges, but we arrived in the middle of dry season. No rain, no bugs, and relatively cool. We had a few minor medical maladies but outside of that it was smooth sailing.
Point Man does feature its fair share of action - so how did you go about filming the actual war sequences of your movie?
I was pretty stringent about wanting to keep a dirty frame: every shot full of smoke and fire and torn foliage. Nothing neat, nothing picturesque. We took a run-and-gun approach to everything combat-related. We wanted to capture the chaos and I think the shots accomplished that.
The Huey helicopters played a big part in the authenticity as well, from dropping guys into the LZ to their arrival in some later search and rescue scenes.
What can you tell us about your overall directorial approach to your story at hand?
We performed an enormous amount of rehearsals, probably more than most films. Because we stressed preparation months in advance of the shoot dates, once we arrived we were able to rip off entire scenes with precision and minimal takes. All we had to do was get the camera coverage.
Directing a project goes beyond on-set duties. You've got to have an overall vision that affects every decision you make. Even stuff like color grading can completely alter the effect on an audience. Look at Saving Private Ryan.Their colorists took the grays and browns and enhanced them by casting a blueish tone across the film. It cooled it down, made it feel gritty and dreary. I went the opposite way with Point Man. Vietnam is green and lush and wet and hot and sticky and humid. We went with slight oranges to warm up the tone of the film, draw out that lurid heat and sticky saturation from the jungle, get it up on screen the way the guys feel it as they're traipsing through it.
Every decision I made was a means to that end. Immerse the viewer in Vietnam. The sweat, the bugs, the muck - it's all real.
Do talk about your key cast, and why exactly these people?
Point Man was a very popular project. Casting director Dan Black and I screened about 4,000 individual submissions for roles. We asked about five hundred of them for audition tapes performing a pair of scenes, whittled it down to eighty candidates, and then held a live audition. Point Man is very much an ensemble performance, so seeing chemistry between groups was crucial to our process.
Every single actor we cast was a slam dunk. Christopher Long [Christopher Long interview - click here] delivered a quiet intensity that we couldn't resist in the role of Casper. Jacob Keohane's Meeks bore a subtlety that stood out over everyone else. Chase Gutzmore (Joe) and Marcus Bailey (Felix) had performed together in college and their chemistry as a pair was off the charts. Matthew Ewald auditioned for Meeks, and we were set on Jacob Keohane for that role, but we desperately wanted to find a way to get his talent on set. We had him audition for Lt. Sutter and knew right away we had our guy. We brought Bryan Bachman in as Lt. Marsh the same way. Cody Howard was brilliant as Private Ham. We knew Shannon Williams was our Colonel Abraham the moment we saw his tape. Paul de Havilland was the only audition to deliver Sgt. Calhoun's raging monologues with the gravelly intensity we wanted.
Home runs all the way around. Point Man is the movie it is because of the caliber of actors we managed to find.
A few words about the shoot as such, and the on-set atmosphere?
I can't brag enough about our on-set atmosphere. It was utterly selfless. The adversity we faced in Southeast Asia bound as together as an inseparable unit. I had actors jumping in to do extra grip work without skipping a beat. Actors. Nobody was hiding in trailers, nobody had an ego. They just worked. We all became lifelong friends in the process. There's never been a film set like Point Man and I don't think there ever will be again.
Anything you can tell us about audience and critical reception of Point Man?
Any time you delve into period pieces you've got to pay attention to as much detail as you possibly can, especially in war films. Vietnam, like every other war, has its history nerds, God bless 'em, who are going to pick apart every single missed detail. I haven't heard too many complaints in this area so I think we dodged a bullet there.
The overall tenor has been positive. People who come in expecting an hour and a half of Hollywood explosions and nothing more walk away disappointed. What critics have raved about is the strength of the story, the writing, the performances. Point Man is drama more than action, part ideological thriller, part crime drama with choppers and machine gun fire thrown in for pacing. Audiences appreciate the originality of a fresh take on an old subject.
Any future projects you'd like to share?
I'm in preproduction on Condor's Nest. It's set in South America during the 1950's, a few years after thousands of Nazis fled fallen Germany to set up shop in Uruguay and Argentina. It's going to be all kinds of fun.
What got you into filmmaking in the first place, and did you receive any formal training on the subject?
I got into filmmaking to shoot Point Man. That's it. I had no prior training or experience. I just wanted to tell a story in the most effective medium possible, and that was film. As you might imagine, the learning curve was steep.
What can you tell us about your filmwork prior to Point Man?
Point Man was my first film. My only on-set experience prior to that was volunteer grip duty on a pair of student films. Again, the learning curve was steep.
How would you describe yourself as a director?
I think the most important part of directing is having an uncompromisingly clear vision of your film. As a rookie director that was my saving grace: my vision was unwavering and I knew exactly what I wanted in every scene and every line.
Filmmakers who inspire you?
I was a huge Tarantino fan when I began writing Point Man. The opening scene of Inglourious Basterds is masterful and was a profound early influence in how I wrote, and some of the dialogue structure reflects it (or did in the original uncut version). I think some of the deliberate anachronisms I use have shades of his work as well.
I really admire how Alejandro Inarritu and his cinematographer used space in The Revenant to pit Hugh Glass against his topographical nemesis and I attempted to draw from that as I first immersed the protagonists in dense, choking jungle and then hurled them into the negative space of unconfined, exposed rice patties.
Your favourite movies?

Feeling lucky ?
Want to
search
any of my partnershops yourself
for more, better results ?

The links below
will take you
just there!!!


I love anything that uses desolation, visually and thematically. The Revenant was brilliant. No Country for Old Men was riveting. I think I need to make a Western.
Your/your movie's website, Facebook, whatever else?
www.facebook.com/PointManMovie
And check out Condor's Nest! We're about to start building a full-scale crashed B-17 bomber - it's gonna be a spectacle: www.facebook/com/CondorsNestMovie
Thanks for the interview!