Your new movie Pop - in a few words, what is it about?
J. Spencer: Pop is a twisted blend of body horror and sex comedy with a dash of commentary on vapid L.A. culture. And a pinch of sci-fi sexploitation for good measure.
Blaine Moir: Yeah, that just about covers it. Haha.
How did the project fall together in the first place, and how did each of you become attached?
JS: That's on me! I pitched the idea at an Unmanned meeting and somehow got my partners interested.
BM: Yeah, Joe had been kicking the idea around for a bit and, after he came to me with it, we pitched the other members of Unmanned. Everyone's reaction was almost immediately, "Uhhhhhh I don't know." Or, "Hell, no." Hahaha. But they all warmed up to the idea the longer it sat in their brains. If Pop is anything, it's unique. Killer zits is a concept that's never really been explored before.
Daniel Van Thomas: The general response was, "Wait, we have a dozen pitches in the quiver and we're doing the zit movie? Really?" But our production company is very much a collective. Everyone wore three hats and added their own obsessions to Joe's zit-popping obsession, whether that be satirizing L.A. culture, synthwave music, B-grade sci-fi or vintage wallpaper. I think that made it more palatable to everybody.
Quite honestly, how much of yourselves can each of you find in slacker Renee, or did you ever have a roommate like her?
JS: I definitely have a dermatillomania streak in me that's a mile wide. Part of this story came from the refreshing awareness that this is a compulsion. And part of it came from moments when I look in the mirror and imagined my doppleganger looking back.
BM: I mean... I'm a pretty clean person, which Renee most definitely is not, so not really much. Aside from the occasional joint and love of sci-fi ... and yeah, sexploitation too.
DVT: It's been interesting to see the reviews roll in; viewers mostly seem to regard Renee as a societal leech who gets her comeuppance, but to me, she's a slacker antihero. Joe and I found this word you hear in the movie, "ataraxia." It's a Greek philosophical term that is sort like a combination of nirvana and slothfulness -- lucid freedom from worry. That's Renee. She might not conform to all these ideals of work, work, work and constant self-improvement, but she enjoys her life and doesn't hurt anybody. What's wrong with that? When she does conform to those external pressures, that's when things get scary for me.
J., what were your sources of inspiration for writing Pop?
JS: The lightning bolt-moment was me daydreaming while driving along the back roads near the Burbank airport. I was passing by the nearby cemetery and it came to me; an image of a pimple on an ambiguous face erupting with puss tentacles swarming out, wrapping themselves around the face... Clearly, it left an impression. Haha.
Blaine, what were the challenges of making Pop from a producer's point of view?
BM: Every project has challenges and Pop had its own unique ones for sure. It was a tight budget and we were asking a lot of our SFX, lighting and VFX departments. So many rose to the challenge and kicked all kinds of ass. There was a lot of quick thinking, late nights, and when the money isn't there to throw at problems it comes down to execution. Execute with enough purpose, consideration and imagination and you can negate a lot of the financial challenges. It also helps to have amazing cast and crew that's willing to put in those long hours and go to war with you.
Daniel, you did the production design on Pop - so what were your sources of inspiration for that one, and what were the challenges?
DVT: I'm incriminating myself here, but it was mostly unplanned and instinctual. At a certain point, we were all sort of figuring out what roles we could serve on the production side and I said, "I think I know how this world should look." Part of it was being tired of L.A. indie movies all looking like they were shot in beige apartments in North Hollywood. Another part of it was me just wanting to keep the shit I bought at Goodwill for my own house. The only challenge was how strongly the 40-year-old wallpaper smelled of moth balls.
J., do talk about your directorial approach to your story at hand?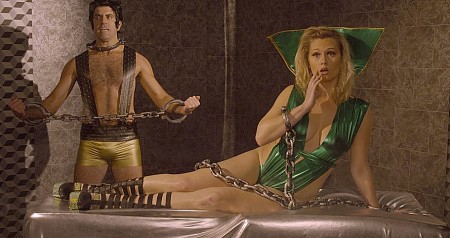 Daniel with Nicole Hodges
JS: My agenda was keeping everyone so involved that they wanted to give it their best. How I approached directing Pop is kinda like how one should host a party; keep everyone involved and happy but you'd better keep your head on a swivel. Especially when dealing with wrangling puss tendrils sticking out of your lead actor's mouth.
Daniel, you also appear in front of the camera in a rather ironic sequence - so do talk about your character, and how much fun was it to play him?
DVT: Well, I joined Unmanned as an actor on our werewolf flick End of the Road - www.amazon.com/
exec/obidos/ASIN/B07KCRFJD7 -, so oftentimes when Joe writes a script, I'm lucky (?) enough for him to follow it up with, "and this is who you'll play." When he sent everyone the Pop-script and I got to the part that was described as a, "hyper-sexualized, over-acting B-movie star in a bad '70s sci-fi movie." I immediately said, "Jesus, this is my role, isn't it?"
It was of course stupidly fun. Nicole Hodges was pitch perfect to play off of, and Joe basically just yelled at us from off-camera, "Do it like Heston," "Now do it with a bad Italian accent." I've been very surprised by how much attention the movie-within-the-movie has gotten, which is both gratifying and horrifying.
What can you tell us about the rest of your cast, and to what extent was each of you involved in the casting process?
DVT: I brought donuts to the casting office and recommended my friend Andy Cowell as Boy Toy #1.
JS: Several key crew and myself went to college with Travis Coles (Renee's roommate) and Nicole Hodges (Daisy in the meta-movie Cult of Zabrosia). Both are not only cinematically charismatic but also side-splittingly funny. Kasia Szarek (Heather) was someone Blaine and I found through auditions and she nailed it. Kasia knew exactly what we were going for with Heather's bleeding edge trend-mania. Alex Saavedra (Boy Toy #2) is friends with Blaine and Jamil Karn (Boy Toy #3) came in as last minute casting and was game for letting us oil down his chest! Last but not least, Chloe Farnworth as Renee...
BM: As Joe said, we knew some of them as friends prior to this film. Some of them we cast for Pop. When it came to Chloe she was a bit of both. Joe and I had held auditions years ago for a previous project and Chloe had come in to audition for the lead. We ultimately ended up going with someone else on that project but she had left enough of an impression on us that when Pop came along we had to bring her back in to read. She's got a very distinct look, her acting skills are second to none, and is such a joyous person on set - it was a no-brainer for us.
What can you tell us about the shoot as such, and the on-set atmosphere? And what was the collaboration between the three of you like?
DVT: Every movie has a crisis or two, but those were kept to a minimum. It mostly felt like making a movie with your best friends, because it was.
BM: On set with all of the Unmanned guys and gals is my favorite place to be. Everyone is in their element. All of us being so close helps strike a great balance between work and complete F' around time. The three of us along with Scott DuVall (director of photography), Sue Kim (assistant director) and Cassandra Pugliese (production coordinator) were in constant communication on set. Notes, tweaks, back rubs, pep-talks, crying, shoulder rubs. Aside from Dan, being Jonny-on-the-spot in terms of production design, he gives a hell of shoulder rub, you should ask him really nicely. He might just do it. And Joe and I have been making movies together since we were kids. The short hand is incredibly helpful when you're in the trenches.
JS: I couldn't have out it better myself. Now about that back rub... Haha.
Anything you can tell us about audience and critical reception of Pop?
DVT: I'm just glad there is a critical reception at all. If our weirdness aligns with your weirdness enough for you to spend 14 minutes on a thing we made and find something for yourself in there, I'm thankful for that.
BM: So far, great! I think we all knew going into making this that people would either love it or hate it. So far it's been both, but the people who hate it seem to love to hate it. Not a bad situation to be in.
JS: People who, be it privately or publicly, watch videos of zit popping should check out Pop. Know someone who's got that little obsession in 'em? Have we got a movie for you!
Any future projects you'd like to share?
JS: We here at Unmanned are always toiling on something. Stay tuned!

Feeling lucky ?
Want to
search
any of my partnershops yourself
for more, better results ?

The links below
will take you
just there!!!


BM: Oh yes, all the things. But I can't right now. I can, however, share that there are things coming. #cryptic
Your/your movie's website, Facebook, whatever else?
Link to Amazon to watch: Pop: http://www.amazon.com/exec/obidos/ASIN/B07J2TVHLD
Unmanned's official site: http://unmannedmedia.com/
Follow us on Facebook: https://www.facebook.com/unmannedmedia/
Follow us on Instagram: @unmanned_media
Anything else you're dying to mention and I have merely forgotten to ask?
JS: Give Pop a try and I promise... It'll grow on you. And a huge thanks to (re)Search my Trash for the interview!
Thanks for the interview!