Your new movie Mondo Siam - in a few words, what is it about?
Mondo Siam is a travelogue and anti-travelogue at the same time. It is inspired by mondo films but it isn't a mondo film. It is conceptually in the tradition of non-verbal movies that appeals rather to your feelings than being a scientific documentary. It is an insight into a foreign and exotic reality.
As do many of your shorts, Mondo Siam shows a certain predilection for death, decay and the macabre as such - so could you elaborate on this a bit?
I have the feeling that the modern western society does everything to prevent people from getting into contact with death. It is still a big taboo which is of course what makes it such an interesting subject. And it always felt odd to me that people especially in eastern countries (but not only there) are on the other hand so open to it, even celebrating it in some way. Thinking about it, dying is just the most natural process, like eating or shiting. Everybody has to die some day and there is no way around. Seeing it in that light just makes time on earth so such more valuable than it already is. Death is the final halt, and maybe by diving into the subject with my movies it is my way to decelerate from our system of meritocracy. Maybe I try to find a meaning in life via the movies I make. Most of them center around the different aspects of death which I explore with tools like the camera or editing software with a childlike curiosity. And to transmit this curiosity about life and death and different views and lifestyles is what I want to transmit to the viewers of my movies.
The word "mondo" in the title will of course remind genre fans of the mondo movies from almost half a century ago - so is that a genre you're particularly fond of, and to what degree do you see Mondo Siam in that tradition?
Mondo Siam isn't exactly a mondo movie. It sure is somehow inspired by the genre because I adore the movies by Jacopetti, Prosperi, Cavara and Climati, while I obviously know that I couldn't make a movie like these great filmmakers in any way possible. Those movies are made in years and years of work and research while my movie was shot in a very short time period without crew, equipment or even a pre-production phase. While I use similar sensationalist themes in my movies I barely use any tricks that are so specific to mondo films. Mondo Siam doesn't even have a voiceover narration, which is probably the strongest tool to manipulate the audience. There is nothing staged in my movie and very little done in editing. I tried not to use the typical editing tricks like slow motion and zoom-ins. Also I shot everything exactly like it was. A very organic way and completely unbureaucratic. Of course all of this makes it a very personal movie which will need its time to find an audience. But coming back to mondo: If I had the opportunity to do a mondo film though I would do it immediately.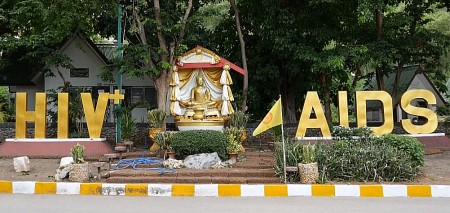 What inspired you to film Mondo Siam in Cambodia, Laos and Thailand, and did you know all or most of the locations you filmed at beforehands, or did you just stumble upon them during your trip?
Most of the time when I travel somewhere for whatever reason I have the idea in mind to shoot something there. Something special. In a good case even a short. And this time I was so lucky not only to get a couple of shorts but a feature film in which all the episodes are deeply connected and share overall themes. While I planned to shoot something in those three countries it was entirely open to what it would be in the end. You could say the name came first and everything else just happened. There were a few stations along the road of which I thought this or that would be interesting, but the most interesting stations just came out of nowhere and those were always my favorite parts, like the family celebration or the healing spring.
How much pre-planning did go into shooting Mondo Siam, actually, and what were the main stumbling blocks (if any)?
There wasn't a full picture in my head before I started shooting and there wasn't even one after I was done with shooting. The whole picture surfaced in the editing process. The main problem with my movies is always a lack of time (during the production) and a lack of money (during all phases of production). The longer I could stay in those three countries the more places I could visit of course. Time was the main problem and money was just a minor secondary problem compared to the first one.
How freely could you shoot at all the locations shown, and were there places you couldn't shoot but would have wanted to?
I never had any kind of permit, but fortunately most people were very open to my efforts. There is minor stuff that I wanted to shoot which wasn't always possible for different reasons. For example I was supposed to arrive much earlier to the slaughterhouse but in the end was only able to film the aftermath. Another thing I really wanted to film was the mummified remains of a monk in Lopburi. This monk became very famous after his death because it looks like his corpse is smiling. Unfortunately the body was already incinerated despite different information so I could only film the urn which didn't make it into the movie. And of course the Siriraj Medical Museum. This is the only place in which it is explicitly forbidden to shoot.
You've chosen to make Mondo Siam entirely free of dialogue and on-screen sounds - so what inspired that decision?
I wanted it to be an experience. There were so many odd, strange and wonderful things I got to see and I wanted the viewer to experience it in a similar way than I did through the lens of the camera. Most documentaries tend to over-explain everything, which is one the most annoying things to me. While I think the nature of Mondo Siam isn't overly complicated I still want the viewer to constantly think about what he sees and what the connections are.
What can you tell us about your overall directorial approach to your story?
While I credited myself as director I must admit that there wasn't a big directorial approach at all. I mean I shot all the scenes, but there was no direction since there weren't any scenes except of real life happenings. The better way to put it is probably a filmmaking approach and the main reason I not only make movies for myself and share them with people is probably because I think ´the stuff that is shown in my movies is interesting and that it might not only be interesting to me but also to others.
A few words about the shoots as such?
Exhausting, stressful and demanding but also engaging, indispensable and necessary. I would immediately do a sequel.
The $64-question of course, when and where will Mondo Siam be released onto the general public?
Presumably the label Vile Video Productions will release it in the US. At the time there is no release date yet but I hope it will be this year. For Germany I haven't been in contact to labels about it so far.
Anything you can tell us about audience and critical reception of Mondo Siam yet?
So far there isn't really much to tell, I have only shown it to a couple of friends and less than a handful of reviewers. From what I think, it might be hard to categorize because it is no movie of a specific genre. It's a hybrid and movies like that always have a hard time finding an audience. Like all of my last movies it's a project that I wanted to make. You can see that in the similarities they share and in the handwriting which gets a bit more precise from project to project. The best way to put it is probably that if you don't like my previous films you will dislike this one too and vice versa.
Any future projects you'd like to share?
First I try to release my movies via more labels in different markets. And I also have another short in post production which might get me into trouble, so I am not sure yet if I can release it in Germany. Then there is another documentary which I will presumably shoot in September. It is about a collector of true crime memorabilia and other even more interesting things.

Feeling lucky ?
Want to
search
any of my partnershops yourself
for more, better results ?

The links below
will take you
just there!!!


Your/your movie's website, social media, whatever else?
https://www.facebook.com/wiesnerfilms/
Anything else you're dying to mention and I have merely forgotten to ask?
Hopefully the audience enjoys this and my other short films which have been released in the US recently under the title Pulp Films by Vile Video Releasing, because there is more in the making. I also offer cheap producer, associate producer and special thanks credits on upcoming projects. Just drop me a line.
Thanks for the interview!
Thank you!