Your new movie Ghost House - in a few words, what is it about?
It's about a young couple on a romantic vacation in Thailand who end up making some poor choices that result in them being tormented by a malevolent spirit.
How did it come about that you got to film Ghost House in Thailand?
After getting the script in shape, we hooked up with Daemon Hillin of Benetone-Hillin Entertainment and he and his partners laid out a blue print of how we could pull it off. In Thailand, you are required to have a Thai-based production services company and ours did a lot of coaching and got us on the right track.
Writing the story for Ghost House, did you already have Thailand in mind, and is the film based on any actual Thai myths and legends?
The centerpiece of the story is the Thai "spirit house" that the Thais put outside of their homes and businesses. The spirit house is there to house the spirits and people give offerings to keep them happy. We only found out about these during our trip to Thailand, so yes, it was a Thai-based story from the very beginning and we knew that we wanted to shoot there and get the amazing, built-in production value that Thailand offers.
Other sources of inspiration when writing Ghost House?
We drew on our love for the genre. We kind of wear our influences on our sleeve. You can see a lot of them throughout the movie: Carpenter, Lynch, Gordon, Raimi, etc. As far as the Thai ghost mythology goes, we researched just about everything we could get our hands on and, of course, I've got an extended Thai family that gave us quite an education.
What can you tell us about your screenwriters Kevin O'Sullivan and Jason Chase Tyrrell, and what was your collaboration with them like?
We came up with the basic concept drawing on our experiences in Thailand, then we worked closely with the writers Kevin O'Sullivan and Jason Tyrrell as they fleshed out the script.
Filming in Thailand, what were the main challenges from a producer's point of view?
Logistics to begin with. You have to get your American crew and equipment prepped and ready with visas, shots, paperwork, etc. and get everyone and everything half way across the world. Once we were over there, we were faced with many uncertainties like weather, the language barrier, a crew we were unfamiliar with and not even sure whether they were up to par or not. Luckily, our Thai crew was fantastic! Our production services company took care of us and made sure we got from A to B and handled the governmental red tape. The shoot was stressful because of monetary and time constraints, but it was really the most fun and rewarding shoot of my career.
Do talk about your movie's approach to horror for a bit!
We tried to create an effective atmosphere using all the tricks! Spooky locations, moody lighting, lots of practical effects, and of course music and sound design.
What can you tell us about your overall directorial approach to your story at hand?
We were on a tight budget and an even tighter schedule, so we tried to be as prepared as possible. There were a lot of practical effects shots that required a good deal of planning. As a result, I storyboarded the bulk of the film in advance. I tried to shoot the film more or less in chronological order so we could keep track of the narrative arc. This also makes it easier on the actors.
Kevin, you play a small part in Ghost House - so do talk about your character for a bit, and your approach to him?
Yeah, Cal…he's kind of the standard drunk American tourist you find on the street of Bangkok. He's well-meaning and friendly, but can be loud and obnoxious. He and his wife, Gwen, are not used to being abroad and are very relieved to have met Jim, a fellow American. My approach was pretty straight forward having had a lot of experience traveling and living in different countries and having seen this character just about everywhere I've gone. It was a lot of fun and a real joy working with Elana Krausz and James Hébert. Good times!
Do talk about your key cast, and why exactly these people?
Scout Taylor-Compton was actually on the top of our list due to both Rich and I enjoying Rob Zombie's Halloween 1 & 2 remakes. She happened to be friends with our casting director, so that was a quick call and meet up. The planets aligned on getting her. James Landry Hébert came from multiple recommendations from friends who had worked with him, especially my producing partner, Veronica Radaelli, who had made a movie with him just a few months before. James and Scout knew each other and had previously worked together, so there was already a familiarity and existing chemistry.
Our ghost was played by Wenchu Yang, who is actually a dancer friend of ours. We had made an experimental short film featuring Wenchu some time ago (check it out here: https://vimeo.com/24475754). She is amazing at controlled movement and she learns the sequences both forward and backward so it's possible to manipulate the ghost's movement even further in post.
Mark Boone Junior is just Mark Boone Junior. He's awesome. We've known him for a while and worked with him a few times and he always delivers. So for a seedy ex-pat with ties to the supernatural, Boone was perfect.
The cast was rounded out with some fine acting talent we found in Bangkok. Russell Geoffrey Banks, Rich Lee Gray, Katrina Grey and Michael New as GoGo…all very talented.
What was the collaboration between the two of you on set like, actually?
Well, being brothers, Rich and I have been collaborating all of our lives whether it was shooting horror shorts on a camcorder or 8mm to playing in rock and roll bands. I think siblings that work together can develop a creative shorthand over time, so we can anticipate what the other is thinking and have similar tastes. It becomes contentious at times because we are both stubborn and when we are working our discipline oftentimes conflict with Rich wanting more time to do whacky, creative stuff and me always having to reign him in to make sure we stay (somewhat) on time and on budget. I try not to yell too often, but…
A few words about the shoot as such, and the on-set atmosphere?
Shooting on location in some of the places was a blast, but could get pretty spooky, too. Abandoned temples, jungles, seedy karaoke bars… All in all the experience was great and it was a pleasure working with a mix of our folks and the Thai crew.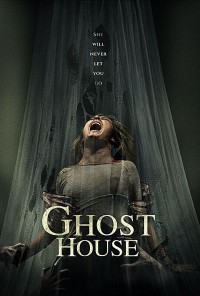 Feeling lucky ?
Want to
search
any of my partnershops yourself
for more, better results ?

The links below
will take you
just there!!!


Anything you can tell us about critical and audience reception of Ghost House yet?
It has been great in Europe and SE Asia so far. The trailer was released on a Friday in Thailand and received 3 million views over the weekend. The social media response helped the Thai distributor make the decision to give it a wide theatrical release. We opened at #2 in the box office in Thailand and were a hit in Malaysia as well. We also opened on 149 screens in Turkey. So, we are pretty stoked on how it's being received abroad. We can only hope that our VOD in the States does as good.
Any future projects you'd like to share?
We have some great ideas we are developing for Ghost House 2. We also have a zombie project in the works and Rich has some television work that he's doing. Beside those, we are still on our steady diet of music videos. Follow KNR Productions on social media to see what's in the hopper.
Your/your movie's website, Facebook, whatever else?
http://www.knr-productions.com
https://www.facebook.com/ghosthousemovie/
https://www.facebook.com/knrproductions/
Anything else you're dying to tell us and I merely have forgotten to ask?
The release is Friday August 25th in select theaters and on iTunes. If you're watching on VOD make sure you turn the lights out and play it loud!
Thanks for the interview!
Our pleasure. Thanks.