Your new movie Blessid - in a few words, what is it about?
Blessid is about a deeply depressed pregnant woman, haunted by a childhood tragedy and stuck in an empty marriage, who suffers suicidal thoughts until she meets her eccentric new neighbor – a man that's lived forever.
What were your sources of inspiration when writing Blessid, and is any of the movie based on personal experience and the like?
Blessid was written during a time when I was suffering depression. Not suicidal, mind you. But life seemed more gray than in Technicolor most days. At the time my mother was in the late stages of dementia and having her not recognize me – look at me like any other lug on the street – that was tough. I used to be her favorite and then I was just kind of nobody.
One day when I was stuck writing the script, I got a call from my dad. He told me my mom recognized me. To help trigger memories, my family brought in mementos from each child into her room at the nursing home. That day my mom pointed to a plastic picture clock I'd bought over twenty years ago with a photo of my smiling unshaved mug. She smiled and said "Robert." That simple gesture not only made my day, but gave me the creative inspiration to finish the script (I was searching for a visual metaphor).
Blessid begins and ends with a shot of a photo clock – only there is a different picture in it in each scene. I won't say too much to spoil the film – suffice it to say that in the opening you get the sense that the shot of Sarah and her young sister is her only positive memory to cling to. It is only at the end, when you see another picture taped over it, that you realize the memory entrapped her and was the root of her suicidal guilt.
Rachel Kerbs
Of all the characters in Blessid, who do you identify with the most, actually?
Part of me is Sarah, and part of me is Jedediah (the immortal character).
What were the challenges of bringing Blessid to life from a producer's point of view, and how hands-on or hands-off a producer are you, actually?
I was very hands-on during pre-production and during post. I was hands-off during the actual filming. As producer I made sure the actors showed up, the locations were lined up, meals were on time, and paychecks were delivered. We were filming a crazy amount of pages and I only intervened when a creative decision or change to the script was required.
For a first-time filmmaker a key lesson is to hire an experienced crew that works hard and gets along. Then stay out of the way. You've already written the script and gotten the actors – now let the professionals do what they do best. It certainly worked well with Blessid.
What can you tell us about your movie's director Rob Fitz, and what was your collaboration like?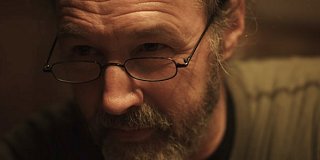 Rick Montgomery jr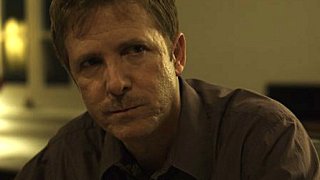 Gene Silver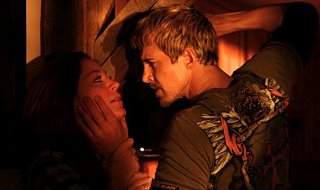 Rachel Kerbs, Chris Divecchio
Great guy, calm demeanor on set, shows up on time and stays late. I enjoyed working with Rob and am glad he enjoyed the experience too. When I first interviewed directors he didn't have the most directing experience, but he had the most experience working on film (as a makeup artist, effect person, etc.). He also brought the clearest vision to the table and offered great connections that enabled me to round out a really phenomenal crew. I can honestly say the crew and actors enjoyed one another, and liked the process. The results show on film. And that is a testament to Rob.
Do talk about your movie's key cast, and why exactly these people?
Rachel Kerbs – consummate pro who somebody needs to discover. I saw her in a film by Toby Wilkins called Splinter and knew she was the one. Rachel walked in on day one and punched through sugar glass on one take to start the shoot, and later that day nailed the most emotional scene in the film – real tears and all. Our production designer even made the mistake of leaving real vodka in the prop bottle and she took a swig, winced for a nano-second and completed the scene. That is Rachel Kerbs in a nutshell!
Rick Montgomery jr – a businessman who turned to acting later in life. He had a reputation of being a great character actor but this film proved he could be a lead. He won a best actor award at the Buffalo International Film Festival and I couldn't be happier for him. In retrospect, this role was made for him.
Gene Silver – solid actor with tremendous TV and theater experience. Also a card-carrying magician at the Magic Castle in Los Angeles. Serious actor but a fun guy on set. He's one of those actors I just think are "watchable". Good dude and I loved his performance.
Chris DiVecchio – he was going through a bit of a rough stretch and totally gravitated to the bad boy role. It was an outlet, I think. I remember him telling me, "I love that this guy is a total dick!" In real life he's a sweet, caring guy and is now a mind and physical fitness coach. He came to the set prepared and worked great with Rachel. He's also a quick study for any physical stunts. He comes from a great family that lives in the town next to where I live. Karma.
A few words about the shoot as such, and the on-set atmosphere?
Amazing crew. Rob was steadfast and professional. Silas Tyler was an animal in terms of getting the right shot in a minimal amount of time. Both Rob and Silas won festival awards, and Silas even won a $10,000 Panavision rental package for his next film. From there the trickle-down effect was just as solid. Kurt Bergeron (production design), Alanna Keenan (costume design), Eric Altieri (assistant director) were all fantastic to be around and work with – these are people who work on big budget films and have even won Emmys. PJ Hand and Dan Mason rounded out a camera crew that was small but efficient and award-winning. Good guys, consummate pros. John Gage managed to do sound with no additional dialog recording required. Amazing! John E. Seymore was the experienced producer that a first-timer like me so sorely needed. Great score by Federico Chavez-Blanco. Post-services by Alex Ferrari at Numb Robot (and creator of the #1 film podcast and website Indie Film Hustle), including color correction, final assembly and deliverables. Also Iris Tsing pitched in as producer of marketing and distribution. Have I forgotten anyone? Probably – but they were all great. Many told me it was the best set they've been on.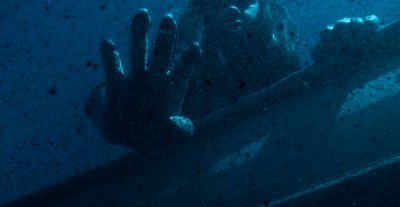 Anything you can tell us about audience and critical reception of Blessid?
Blessid is a different type of film. What I hear most is "I had no idea where the story was going – you totally surprised me!" Those patient enough to hang in for a slow-burn story that goes crazy in the second half are rewarded with an unconventional, totally unique experience. I mean it's about a person who is depressed so there aren't going to be Kung Fu fights and exploding buildings to establish characters. Overall, both viewers and critics like it. We have pretty much an 8 rating on Amazon and IMDb, which is hard for a film with no stars and an unpredictable story. Festivals liked it too – we got into about 8 festivals and won a half dozen awards. Many festivals that didn't accept us told us we were right on the cusp and they really enjoyed the film. The best thing? At several festivals I had people come up to me after a screening thanking me for making the film and asking when they can buy it on DVD.
Any future projects you'd like to share?
Glad you asked! Recently a short film I wrote called Alibi has been raking it at film festivals. I'm very glad that script was made and my hat goes off to transgender filmmaker/director Noni Salma for making it. I love the cast in that film too! Here is the trailer: https://vimeo.com/144577072
And currently I am shooting an experimental documentary called Afraid of Nothing. It looks at life and the afterlife through a paranormal lens. Rather than tell you about it, you can watch the teaser for the film here: https://vimeo.com/176821342
I am currently doing a crowd-funding campaign on Hatchfund, and am proud to say I've met my target goal with 10 days left. Anyone who wants to contribute can do so, and get great perks and a tax deduction by going here: http://www.hatchfund.org/project/afraid_of_nothing_experimental_documentary
What got you into screenwriting in the first place, and did you receive any formal education on the subject?
I made Blessid when I was 50. When I was 40 (before I got married a second time), I took a year off and completed the Graduate Screenwriting Certificate program at Emerson College in Boston, Massachusetts. I also attended several screenwriting seminars/courses, including ones by Robert McKee (famed Story weekend seminar) and Richard Walter (UCLA Screenwriting Chairman, author of The Essentials of Screenwriting). They wouldn't remember me – but I learned a lot from them.
What can you tell us about your filmwork prior to Blessid?
I have written several features and shorts. Optioned a handful but when they all fell through, I got tired of waiting for other people to make my stories. So I took the leap and did it myself. Terrifying, really. But something I will be proud of on my deathbed.
Besides writing screenplays, you have also written quite some novels, short stories and graphic novels - so do talk about those for a bit?
No novels, but that is on the bucket list. I've written articles for Indie Film Hustle, written/produced horror graphic anthologies (Cold Blooded Chillers, Bone Chiller, 2012: Final Prayer) and also wrote a graphic novel called The Night Projectionist. I've gotten mixed reviews, but mostly good on all of these. I'd love to talk to someone about turning my Cold Blooded Chillers indie comic series into a horror anthology franchise – two of the stories I wrote have already been made into festival winning short films.
How would you describe yourself as a writer?
Writes good dialog, develops strong characters, can handle many genres … but on occasion can over-complicate stories.
Writers, filmmakers, whoever else who inspire you?
Every indie filmmaker who completed their movie!
Your favourite movies?
Back to the Future, Braveheart, Stir of Echoes, The Dead Girl, The Exorcist, Jaws, Halloween, Fright Night (1985), Dear Zachary, The Nightmare.
... and of course, films you really deplore?
Reboots and remakes, except on rare occasions.
Your/your movie's website, Facebook, whatever else?

Feeling lucky ?
Want to
search
any of my partnershops yourself
for more, better results ?

The links below
will take you
just there!!!

Find Robert Heske
at the amazons ...

amazon.com

amazon.co.uk

amazon.de
Looking for imports ?
Find Robert Heske here ...
Something naughty ?
(Must be over 18 to go there !)

A great website for indie filmmakers is Alex Ferrari's Indie Film Hustle - https://www.indiefilmhustle.com/
Anything else you're dying to mention and I have merely forgotten to ask?
Just that people who watch movies – especially indie films – have so much power they don't even realize. A good or bad review and make or break a filmmaker's night. So please do take the time to watch independent movies, and write a favorable review. Here is a very brief article I wrote on Indie Film Hustle about ways people can help a filmmaker without giving him money: https://www.indiefilmhustle.com/help-indie-filmmaker/
Lastly, film reviewers like you, Michael Haberfelner, are the unsung heroes of indie film. We need you and your voice to get our films out to the masses. So thanks for watching my film, making my day with a positive review and allowing me the honor of an interview.
Oh, and a big thanks to my wife Angela and my daughters Carly and Emily. They've had my back when I spent so much money on Blessid and deserve a month in Disney World one day. They really are my muse for some many things I write!
Thanks for the interview!