Your new movie The Last White Man - in a few words, what is it about?
The film is about an elderly white man that refuse to move from the ghetto because he believes the area will become the suburban utopia that it once was again.
From what I've read, The Last White Man is in part based on your own childhood - so could you please elaborate on that a bit?
The story's somewhat based upon my childhood when my parents first moved in the area, which is now known as South Central, Los Angeles, and there was this last white person that lived across the street that witnessed the entire community change. This individual was very scared, called the police ever so often on us kids if we played in the streets too loud. The individual later got to know us all as kids, lost the fear that they had, and came to the realization that we were normal little kids. The individual lived there until they finally moved out. But that event always stuck in my head. I mean you could sense and see that individual's fear. I really felt for them.
Other sources of inspiration when writing The Last White Man?
Well, when looking at society today and you see the division in it. I did not want to go there with this story, I wanted to show it but make the division all come together. It was mixing all the madness of society and turning it into love along with acceptance. One big getting along.
I have to ask very bluntly: The masked phantoms that populate many of the movie's shots - where did that idea come from?
They were spiritual. It was the individual's demon/conscious. You had noticed when Paul makes his decision in the end, his demon/conscious is no longer there. It was because he became at peace with himself. Mentally, he is fighting the madness to escape. They all are except for Hebrew.
What can you tell us about your overall directorial approach to your story at hand?
I wanted to take the audience and put them in the environment. I want them to feel the madness and chaos. I wanted to show that in the hood where nobody cares but you. It is up to you the individual to escape it.
Do talk about The Last White Man's key cast, and why exactly these people?
Edwardo Keaton, I work with all the time. He is in every film that I shoot. He's been with me since the very beginning. We have a chemistry when working together. He is solid when it comes to acting. He gives me the characters that I want exactly. I knew he could deliver the Hebrew's character with no problem. I work with Brian Lally all the time also. I plain just love working with him. We have this chemistry when we work together also. He knows what I want shot wise and emotional wise. He knows exactly how to present that on the screen. The man's a genius. Edwardo's a genius also. I knew that he and Brian would nail the scenes together. They both can deliver a scene spot on. It is always interesting to watch them both through the lens when filming. Brian helped me choose the other actors for the cast. By doing this, it makes the chemistry perfect on the set. He has his own acting school called LOLAS in Burbank, CA. Once a month, on Thursdays, he will have Scene Night. This is where he and his actress and actors will act out various scenes to a gathered invited audience. I would get invites, go, and see all the diverse talent he's working with and teaching, fall in love with the idea of wanting to work with some of them, practically all of them, but everyone couldn't work in the film. I gave him copies of the script to pass out to the ones that he and I both felt would work in the film, had them read the script, and if they like the story we brought them aboard on the shoot. Jenna Guercio, Rocky Benoit, Staci Stewart, and Kyle Lally were selected through this process. You can see the chemistry and balance when they're on screen, this totally made the shoot easy. But you would not believe the many people that backed out of the film when they heard that we were shooting in South Central, Los Angeles. These were black folks, lol. The whites came freely and eager. They also got a history of the hood. Oh, the stories I heard of the stuff they seen on the way to the set. I was like, "And you guys still came?!" Lol. They were all some very brave souls.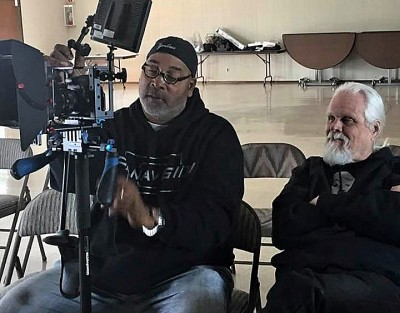 The Last White Man looks as if it was filmed in the exact mean streets it's taking place in - so where was it actually filmed, and what was it like filming there?
It was filmed in South Central, Los Angeles. Yes, they were mean streets. We were right down the street where Freeway Rick Ross ran his drug cartel. Down the street from where Natasha Harlins was shot and killed at Empire Market by the Korean store owner. I placed a picture of the market in the montage of shots that Paul is walking in seeing demise of his neighborhood. I also wanted to show all the bars on the building because living there is like "self-imprisonment". You bar yourself up to survive the chaos. The bars on the burger stand in the opening is real. We did no changes to it. But nobody messed with us. They were very happy that we were shooting there. Some people even recognized me from when I had lived there. They thanked me for bringing something back to the hood. It is really a lot of great people there. It is just the mishaps and misfortune of life that got them or keep them there. But you could really trust a great deal of them if they see you giving something back. Which I really felt that we all did.
What can you tell us about the shoot as such, and the on-set atmosphere?
I had left the atmosphere for the shoot as was. We only placed our actors around and in the elements. Most of the drug addicts you see in the film were actually just passing through. Lol. They saw us filming and wanted to get in the movie. I'd told them if you walk in the shot, you're in the film. Please just do not look into or at the camera. And they did not. They were actually great. Lol. But I'd used as much of the community as I could muster. I'd also love shooting all around the graffiti. Most of it was vert colorful and artistic.
The $64-question of course, where can The Last White Man be seen?
Random Media has it on various platforms like, In Demand Movies, Dish, Xbox, Vulbiqility, Vudu, Google Play, and some DVD outlets which I have no information on which ones. But it also coming to Amazon and iTunes and maybe a few more platforms.
Anything you can tell us about audience and critical reception of The Last White Man yet?
I have not heard anything yet. But this I know, the film won Best Film at the Diamond Film Awards in Italy. Jenna Guercio and Brian Lally won Best Actress and Actor at the Film Awards Los Angeles. Edwardo Keaton was nominated Best Supporting Actor there also. It also won other runner up awards at a few more festivals. That's pretty much all the audience and critical reception that I know. But I look forward to hearing some.
Any future projects you'd like to share?
Yes, we are in the process of going into production for a film called Eventful Happenings. A story about two young detectives who must solve the investigation of a murder within a short period of time. It's a story that has various twist and turns and a brutal ending. I am very excited about this one. I'll be directing the film by me. I am also the writer of it. We were supposed to be shooting already but this Covid-19 has us in limbo. And I just heard that we lost one of the lead actors for the film. He was playing our lead detective. So Brian and I will be recasting for that role. But we're going to start shooting the smaller scenes to get the ball to rolling for production. But this is a going to be a good one. Look out for it.
What got you into filmmaking to begin with, and did you receive any formal training on the subject?
I had always wanted to be a filmmaker since I was a kid. I attend school at Los Angeles City College where I got to work with 8mm film and shoot my own little shorts. I had an audience there that told me I knew how to put tension on the screen. I then traveled to the University of Alaska-Fairbanks on a basketball scholarship. I learned Radio and Television there. Transferred from there to Cal State University San Bernardino where I studied Television. It was here also that I was on a basketball scholarship. I had then transfer to the University of Southern California and majored in Cinema. I wrote my first script here and worked with editing on the old Moviola machines where you cut and splice. I'd also worked on various sets to learn the craft of filmmaking.
What can you tell us about your filmwork prior to The Last White Man?
I had shot a film called Colorless Anamorphic World. It is a neo-noir film. I'm currently, re-cutting it. I did a few changes with the music and some of the scenes. I love this little film. It's not a film for everyone but I felt I should have it on my film resume. I had dedicated the film to Jean-Luc Godard. It's also a spin-off from my upcoming film Eventful Happenings. That's another reason why I'd recut it.
How would you describe yourself as a director?
Avant-garde arthouse with a three-in-one director style that of technical, performance, and arts & craft. I believe you need these skills to be a great film director.
Filmmakers who inspire you?
Wong Kar-Wai, Alejandro Gonzales Inarritu, Alfonso Cuaron, Antoine Fuqua, Jean-Luc Godard, Kathryn Bigelow, Sofia Coppola, Francis Ford Coppola, Darren Aronofsky, Steven, Soderbergh, The Hughes Bros. and Spike Lee.
Your favourite movies?
The Grandmaster, My Blueberry Nights, Alphaville, Rumble Fish, The Outsiders, Amores Perros, 21 Grams, Safe House, The Revenant, Chungking Express, The Wrestler, Black Swan, Days of Being Wild, As Tears Go By, Fallen Angels, In The Mood For Love, Ashes of Time, Happy Together, The Hurt Locker, Lost In Transition, Traffic, Erin Brockovich, Menace II Society, He Got Game, Oldboy, Brooklyn's Finest.

Feeling lucky ?
Want to
search
any of my partnershops yourself
for more, better results ?

The links below
will take you
just there!!!


... and of course, films you really deplore?
No comment. Lol.
Your/your movie's website, social media, whatever else?
Rob Tyler Bad Fish Films on Facebook, Rob Tyler FilmFreeway, Rob Tyler IMDb, robtyler8092@instagram
Anything else you're dying to mention and I have merely forgotten to ask?
Be on the lookout for my new film Eventful Happenings. And I want to thank you so much for your time and energy. I definitely appreciate you taking the time to review my film and comment on it. I greatly appreciate it. Thanks so much again.
Thanks for the interview!