First of all, why don't you introduce yourself to those of us who don't already know you?
My name is Rolfe Kanefsky and I'm an independent filmmaker (writer/director/sometimes producer) who has been working professionally in the business for the last twenty-one years. I got interested in film at the age of four. Began writing stories soon after. Received a video camera when I turned thirteen. Started making home movies soon after. Wrote and directed two feature-length films while I was in high school (Hackley in Tarrytown, New York). Worked as a P.A. (production assistant) during the summers on a bunch of independent horror and comedies (Troma's War, Rich Boys, Posed For Murder). Took acting and writing courses at HB studios when I was fifteen. Went to Hampshire college to major in film. Made a few super 8 shorts and with the help of friends and family, made my first professional independent movie when I was twenty, the now cult-ish comedy/horror flick, There's Nothing Out There. After that, I helped on a family film entitled, My Family Treasure and then moved to Hollywood where I still reside, writing and directing independent movies without enough money and time, a traditional complaint.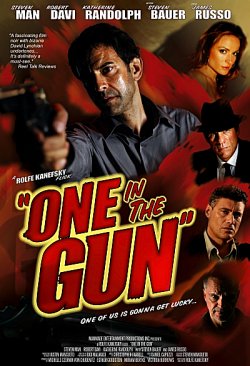 Your most current film, One in the Gun - in a few words, what is it about?
It's a modern film noir thriller about a homeless artist who gets hired by an attractive, wealthy woman to paint her husband's house while he's away. Passion leads to crime which of course leads to murder in this brainteaser of twists, turns and triple-crosses that will leave viewers guessing to the very end. Filled with colorful characters and actors like Steven Man, Robert Davi, James Russo, Katherine Randolph and Steven Bauer.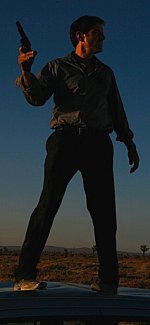 Steven Man in
One in the Gun
You have also written One in the Gun. What were your main inspirations for the movie's plot?
The lead actor and main producer, Steven Man was introduced to me by my producer, Esther Goodstein. He wanted to make a film noir flick that would also be a good starring role for himself. He loved an old Mickey Rooney film called Quicksand. I watched it and about three dozen other classics and came up with the story. Billy Wilder's Double Indemnity, Sam Fuller's Shock Corridor, David Lynch's Blue Velvet, as well as Detour and many others help contribute to the plot line. There is another famous short story that inspired me as well but if I say it, it might reveal too much of the ending and I don't want to give away all the surprises. I'll just say that film switches gears about forty minutes in and gets a lot more interesting. So be patient and you'll probably enjoy it.
Robert Davi in
One in the Gun
You have described One in the Gun as a modern film noir. Is this a genre especially dear to you, and your favourite film noirs?
Well, I had never done a film noir before. I love thrillers and especially Alfred Hitchcock movies so One in the Gun was more of a challenge and outside my comfort zone which I found very exciting. The films I previously mentioned, I really enjoyed. I also like Out Of The Past, Body Heat, Dead Reckoning, D.O.A., etc...
When and where will the film be out (tentatively)?
Hopefully it will get some cable play (Showtime, perhaps) and I believe MTI will be releasing the film on DVD sometime in 2011. I just heard it's on cable in Turkey and just received my first fan mail from there so if you live in Turkey you can check it out right now on television.
From your latest film, let's go all the way back to your directorial debut There's Nothing Out There, which is about to be re-released in a 20th anniversary special edition. A few words about that one?
Sure. There's Nothing Out There comes out once again on January 11, 2011 on a special 2 disc release from Troma Entertainment. It's a comedy/horror flick about a group of high school students who go to a cabin by the woods for spring break and get attacked by an alien creature who doesn't like garden rakes, shaving cream, and finds mirrors very confusing. He does like eating guys and trying to reproduce with women though. Unfortunately for the creature, one of the kids is a horror movie buff who has seen every film on video up to 1989 (when the film was produced) and warns all his friends what you should and shouldn't do in a horror movie scenario. Much comedy and horror ensue.
Why did you choose the slasher genre for your first movie?
Well, since it is a alien creature, I'm not sure it qualifies as a slasher film. It's more of a creature feature. I actually choose a monster over a serial killer because I had written a slasher parody when I was very young called Kill Here, Kill There, Kill Almost Everywhere that made fun of all the slasher conventions. I thought I could do something more creative with a monster movie because a guy with a knife and/or ax can get a bit boring. But as I wrote There's Nothing Out There while I was still in high school, I couldn't do it straight so I added the character of Mike who had seen all the horror films. I had never seen that done before in a horror movie. And some of my favorite movies are comedy horrors like Abbott and Costello Meet Frankenstein, Fright Night, An American Werewolf In London, Night Of The Creeps, etc...
As far as I know, you got your start in the film business with Troma, which is now publishing your There's Nothing Out There-special edition. How did you get a job at Troma in the first place, what was it like working for them, and how much is your filmmaking influenced by the Troma house style?
Actually my first job on a real set was when I was seven. I acted in an after school special called Cruise Of The Courageous that my father produced down in Florida. When I was 16, my father helped get me a P.A. Job on an independent film directed by Zack Norman (that I think is still unreleased to this day). It was called Chief Zabu and then the title was changed to Rich Boys starring Allan Garfield. It was shot up at Bard College over the summer. My father was/is a film editor who mostly did documentaries but he has cut a few cult films like Bloodsucking Freaks, Blood Bath, Ganja And Hess, supervised post on Just Before Dawn and stuff like that on his resume as well. He helped get me production work on Brian Thomas Jones' Posed For Murder and Troma's War. All of this was a good learning experience. Anytime you can work on a real set, you learn a lot. Things you should do and things you shouldn't. I was making my own home feature-length movies at the time so it was good career-wise.
Working for Troma is like a crash-course in filmmaking and penny pinching. If you're young enough and can afford to do it, you can walk away with a lot of knowledge if you pay attention. There was Roger Corman [Roger Corman bio - click here] on the west coast and Lloyd Kaufman on the east. I don't think I was that heavily influenced by Troma, although I do appreciate their fearlessness. They aren't afraid of pushing limits. Sometimes they go too far in terms of "good taste", but it's better to do something outrageous than boring. Although people have said There's Nothing Out There is like a Troma film, I always thought the attitude was different. It fits into the structure but the humor is mine. Someone once said, There's Nothing Out There was the most tasteful tasteless film they had ever seen. I like that response.
Before working for Troma, you have also attended filmschool, right? How does work on a Troma-set differ from things you learn at school?
Actually, film school at Hampshire college came after. But your question about the differences between the academic world and the real film business is a very good one. I quickly learned as I was making short films in college that the film teachers hated them because they were horror-inspired. However, over the summers when I worked on Posed For Murder and became friends with Brian Jones and the producers, I showed them my shorts and they were very impressed. Even some crew members commented that Brian was inspired by a shot in my film that he copied in his film. That was a great compliment. He even let me direct a shot in his film. All I had to do was yell "Action" and "Cut" but that was still quite an honor.
Anyway, it was interesting that my school didn't like my films but professionals did. I quickly realized that it was more important to by liked by your peers and people that could actually get you into the film business than frustrated teachers who never could make a living making films and were now teaching courses that were very anti-Hollywood instead.
There's Nothing Out There is often quoted as the first genre-conscious and genre-referential slasher films, years before Wes Craven's Scream. Your thoughts about that?
Well, There's Nothing Out There was before Scream but it was in no ways the first. You can go back to The Old Dark House to Abbott and Costello to Student Bodies to Evil Laugh and on to show movies that have parodied the horror film. And films have referenced other films since the start of making films. However, I do think my flick might have had some influence on Screa" and I do talk about that a bit on the new DVD of There's Nothing Out There as well as the commentary tracks. You can also go to www.theresnothingoutthere.com for a lot more info and opinions. I'm happy that Scream was so successful and helped bring back to the horror genre at a time when it was at a real lull. Because of Scream I was able to get back in the horror genre myself with The Hazing so everything influences everything for better and worse.
You followed up your debut slasher with of all things a family movie, My Family Treasure. What can you tell us about this change of pace?
There's Nothing Out There had opened at the 8th Street Playhouse in New York City for a week in January of 1992. A friend told these producers about it. They had recently shot a movie called My Family Treasure for 8 weeks in Russia. It was a family picture directed by a Russian and they never completed it. They needed a new wraparound for the story and wanted it to have more of an American feel. The film starred Bitty Schram (most known for the first season of Monk and the girl who keeps crying and is told "There's No Crying in Baseball" by Tom Hanks in A League of Her Own). Anyway, they came and saw There's Nothing Out There and thought I'd be perfect to fix/shoot the rest of their movie. It was a paying job, shot on 35mm and they got Dee Wallace, Theodore Bikle, and Alex Vincent, the child star from Child's Play 1 & 2, to be in it. I rewrote the script they had and directed about 30 minutes of the film in New York, restructuring the Russian footage to make it work for this new version. It was an interesting assignment, my first SAG film, and the first and so far only time I've worked with children. The film is fine for what it is. I took a New York footage directed by credit and a story credit. As far as I know the film has never been released on DVD. Only a few VHS copies escaped years later.
Early in your career you also did quite a bit of TV-work. What can you tell us about your excursions into the TV-world, and to what extent does directing for television differ from directing movies?
Well, my television work is not really television work. When I moved to Los Angeles, I met a producer named Alain Siritzky. He is famous for producing the Emmanuelle film series. This is the official series with Sylvia Kristel. He made seven official movies and one series while in France. He then moved to Hollywood and teamed up with Roger Corman [Roger Corman bio - click here] to continue making low-budget erotic movies that ended up playing late night Cinemax. However, these were all 90 minute feature films that were also released in Europe and on video/DVD, etc... Emmanuelle In Space and so on.
I met Alain at the AFM (American Film Market) in 1996 when he was about to produce two new series of films based on some famous graphic novels by Milo Manara entitled, Click and Butterscotch. There were adult comics about a remote control that can turn on women with a "click" of a button and a man who invents an invisible formula that smells like "Butterscotch". He has a lot of erotic invisible adventures. Well, it just so happened that I was aware of these comic books and actually owned them. I told him that I could write and direct this series and gave him a copy of my Nothing Out There movie. He was impressed and a few weeks later I was writing and directing five features for him based on these concepts. These were soft erotic comedies that I describe as "Red Shoes Diaries meets Benny Hill". They were shot on 16mm in 6 days apiece. It was a real crash course in making movies very quickly and was a great learning experience. They were distributed by Roger Corman so this was basically my Corman training. So, I was lucky to get Troma's east coast and Corman's west coast film classes. Trial by fire. Making these films was the first time I worked on three wall sets and with more than one camera on occasion. It was like making my films only quicker, faster, and with actors who varied in ability due to the amount of nudity required.
I am still proud of these films even with their limitations and some have gone on to become slight cult films in themselves since I was allowed to do just about anything I wanted as long as it met the requirements for the sex scenes for cable which were and still are, three 3 minute love scenes every thirty minutes equally at least 27 minutes of sexual situations for a 90 minute film. Out of the first batch I made over that summer, my Rod Steele 0014: You Only Live Until You Die flick turned out the best and was released in both "R" and "Unrated" versions. It's a James Bond parody and is surprisingly well-respected by both Bond fans and erotic fans alike. So much so, that 15 years later, a sequel has just been produced.
A few words about Sex Files: Alien Erotica/Alien Files?
Well, The Alien Files came the following year. Alain Siritzky decided to do a series called The Sex Files. I wrote two scripts, one that is a definite X Files parody and an erotic haunted house Legend of Hell House-type flick. I directed the X Files flick Alien Files and only wrote the other one, titled Restless Souls with the hope of directing another film on the same set which didn't happen until many years later which I'll talk about later. Anyway, I'm proud of Alien File". Just recently my director's cut of Alien Erotica was released through Click Productions. It's a sexy sci-fi adventure in the vein of Species about a female shapeshifting alien who invades an outer space crew and gets loose on earth where she is tracked by a team of government agents that bare a striking resemblance to Scully and Mulder. It was my epic soft erotic movie, shot in a whopping 12 days over the course of six months. Alien Files was supposed to be my last late night flick, especially when my next film became Tomorrow by Midnight.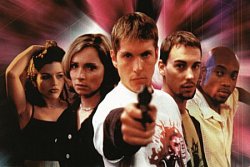 Tomorrow by Midnight
What can you tell us about your hostage thriller Tomorrow by Midnight?
My lost film and probably still my best. My most personal flick that's for sure. It's about four college students that go to rent a movie, get into an argument about a late fee and wind up taking the video store hostage for the night. Think Clerks meets Dog Day Afternoon or Breakfast Club with guns. A dark comedy thriller with a few issues about violence in society versus violence in real life. It stars Alexis Arquette, Carol Kane, and features Jorge Garcia (years before Lost). My biggest budget shot in scope 2:35:1 on 35mm. It's been released in Europe as Midnight Five and After Midnight but has never come out in the U.S. for stupid reasons. I hope one day I can change that because the film still holds up extremely well and deserves to be seen.
With Pretty Cool and Pretty Cool Too, you have made two movies reminiscent of 1980's teen sex comedies. A few words about these movies, maybe in relation to the genre flicks of old they seem to be based on?
Pretty Cool followed Tomorrow by Midnight. Whereas Tomorrow by Midnight was my arthouse Sundance movie that didn't get into Sundance, Pretty Cool turned into my very mainstream American Pie teen sex comedy that owes a lot to Porky's, "he Party Animal and especially Zapped!. Five years before American Pie I was trying to make a movie from a script I wrote called Hormones. We shot a poster for it with Julie Strain and Brinke Stevens, started casting and the money fell through. I was frustrated that everyone was making these PG-13 comedies and all the good "R" rated ones had disappeared. Since Hormones never happened, years later Alain Siritzky was doing another Emmanuelle series and wanted to do a high school comedy with Emmanuelle as one of the features. I was not interested but knew I could write that script. So, I wrote something called Summer Fever and Alain liked it so much, he wanted me to direct it. I said I would only do it if I could hire my casting guy, Jerry Whitworth who had cast Tomorrow By Midnight and shoot it on 35mm in both "R" and "Unrated" versions. Amazingly, Alain agreed. We found a great cast and shot the whole film in about ten days. The film turned out really well but because there were no names, it sat on a shelf for almost five years. I finally got MTI to pick up the film and release it. It surprised everyone by becoming a small hit on DVD. When Alain heard about that, he thought that we should do a sequel since now people were aware of the title. The problem was that he wanted to start shooting in less than a month with a fraction of the budget we had for the first one, so I scrambled to write a script, find a cast, and shoot the movie two weeks before Christmas. It's a sequel in name only but does take place in the same universe ...
Whereas "Pretty Cool" was about a high school senior who gets the power of mind control due to a freak computer accident and has fun with all the guys and girls, Pretty Cool Too! is about a different high school senior who receives a state-of-the-art cell phone that gets struck by lightning giving him the power to make anyone do what he wants from a signal over the phone. Both are total 80's throwback comedies with some heart, a lot of slapstick and are actually pretty innocent compared to a lot of much more tasteless over-the-top comedies to come out in recent years. I think that's what made the first Pretty Cool a surprise hit. Also, the girls in both movies are really funny. They're not just sexy and occasionally naked but have real comic ability. Amy Brassette in the first Pretty Cool is amazing and it's all her. You have to see it to understand. Pretty Cool Too! also has some great moments and much of the comedy is not only inspired by 80's movies but by Abbott and Costello, The Marx Brothers and Danny Kaye. One of the best bits is borrowed from A Night At The Opera.
The Erotic Misadventures of the Invisible Man is just too good a title to not talk about the film behind it ... so please do!!
Well, this was the first of the Butterscotch series that I made for Alain back in 1996. I changed the scientist from the comic book to a struggling actor who accidentally spills the invisibility formula on himself. He has a fun fight with a mime, fights another invisible man, and gets frisky with some girls. Light-hearted silly comedy that was very ambitious for a six day shoot. It's sequel Power Flower continues the story. Although it has never been officially released in the U.S. either. Too bad. It's like an adult version of Disney's Aladdin starring Craig Peck, the lead from There's Nothing Out There. Madcap, zany sex comedies. If you enjoy my blend of funny erotica, you'd get a kick out of these. Otherwise, you'll find them very, very silly.
Another great title is of course Rod Steele 0014: You Only Live Until You Die, quite obviously a James Bond spoof of some sort. What can you tell us about that one, especially in relation to the films about the British superspy?
Yes, Rod Steele is my James Bond crossed with Naked Gun crossed with The Pink Panther movies. Robert Donavan does a great job as the world's "greatest" secret agent. He sounds like Sean Connery, looks a bit like Roger Moore, and is a wonderful comedian. He has acted in almost every single film I've made since I started working for Alain in 1996. It is a complete spoof on the James Bond franchise and I am a big Bond fan. So, I'm very proud that other Bond fans have embraced my flick and some have said, like Joe Bob Briggs, that it's the funniest Bond spoof they have ever seen. Again, it was a six day movie with a lot of restrictions but I think it still holds up to this day. I made a mockumentary a few years later for the DVD released called The Feel of Steele that ended up playing film festivals and being nominated for awards. Rod Steele almost became a television series as a straight forward comedy without the sexual situations but the money never came through. However, people are still fans of this flick. I always wanted to do another Steele film and this past summer it actually happened. The new flick that I want to call Today is Yesterday Tomorrow is in post-production right now. Robert Donavan returns and there are cameos by Michelle Bauer and Stacey Mobley aka Holly Hollywood who were also both in the original. Also Rena Riffel appears as a lounge singer in an Indian nightclub.
The Hazing more or less marked your return to horror after more than a decade of absence. A few words about the movie, and why did you take so long to return to the genre?
Okay, well, I had hoped that my second film after There's Nothing Out There was going to be The Host an occult horror thriller set in college that I wrote while at college. Unfortunately, the horror market collapsed around the time There's Nothing Out There was completed and it was very hard to find investors. There was a glut of horror on the market thanks to the 80's video boom. So, My Family Treasure came along and then I moved to Hollywood and realized that everything I had made in New York didn't count. It took my three years to get another directing job with Alain Siritzky but he was only making these sex comedies. I kept trying to get him to produce a horror flick and almost succeeded when I pitched an old Roger Corman idea. I suggested we make two movies on the same set. One would be Restless Souls for his Sex Files series and the other would be The Hazing, a project that I had tried to pitch to producer Joe Wolf a few years earlier as a sequel to Hell Night. I thought it would be fun to do a Night Of The Demons kind of movie. Anyway, Alain built the set, made Restless Souls and then pulled the plug before we could make The Hazing. It took seven more years to raise the money which finally came from a first time producer Tom Seidman. I was very happy to return to the horror genre, work with Brad Dourif and show the world what Tiffany Shepis could really do as an actress [Tiffany Shepis interview - click here]. The film turned out well and then was thrown away by the producer. It got some cable play, was released by MTI on DVD, and got a great response by the horror community.
What can you tell us about Corpses?
My follow-up to The Hazing made for a tenth of the budget, shot in twelve days, and was my worst experience as a director. Horribly produced. York Entertainment provided the concept. I wrote the script and directed it as best I could under the worst conditions you can imagine. Actually, I don't think you can imagine. On the plus side, working again with Robert Donavan, Tiffany Shepis, and the great Jeff Fahey was awesome. Corpses was a zomedy in my opinion. A few months after we finished the film, Shaun Of The Dead was released and I realized that's the kind of film I was sort of trying to make if they had let me. They didn't and Corpses is probably the closest Troma film I ever made. Tiffany Shepis likes the film. So do a few people.
The premise is, a mortician working in a funeral home (Dead and Buried) invents a serum (Re-Animator) that can bring the dead back to life for an hour at a time. They need new injections every hour or they drop dead again, thus creating a small army of junkie zombies. I read it as a black comedy. I wrote a black comedy. It became a very silly dumb comedy with a couple of fun moments thanks to the game cast. Not my worst film probably but definitely not my best. But on another plus note, Corpses is where I met script supervisor Esther Goodstein who went on to become my main producer, working on most of my following movies including Nightmare Man, Pretty Cool Too!, One In The Gun and Jacqueline Hyde.
Jacqueline Hyde is another promising title. A few words about the movie and its relation to Jekyll & Hyde?
I started working with Gabriella Hall for Alain Siritzky. She was my lead in most of those sexy comedies and we got along great. She wanted to get into producing and I wanted to take more control as well. So, we teamed up to make Jacqueline Hyde, a modern retelling of Robert Louis Stevenson's classic with a female twist. I think of the film as Looking for Mr. Goodbar meets Jekyll & Hyde. This film did great in Europe and played some big festivals like Brussels. In America, because of Gabriella Hall's late night cable reputation, it was regarded as just another sex movie and dismissed. I hope one day the film is rediscovered since I think it's a lot more interesting than people give it credit. It was the first film I produced, first film shot on HD and ended up getting released through Warner Brother Home Video so I guess we did something right. Gabriella and the executive producer made their money back and then Gabriella moved to Europe. I have not heard from her since and never saw a penny on the film. Since I completely deferred my writing, directing, and producing salary, I lost a lot on this film but I am proud of the final result.
It's about a lonely telemarketer who inherits a house from her dead grandfather and finds a special formula he created. Upon taking it, she discovers she can become anyone she desires and starts to experiment with her new abilities, leading to a sexual reawakening where the real monster is on the inside. If you find it, check it out. You might be surprised.
A few words about Nightmare Man?
Well, after Jacqueline Hyde's success, I and my parents were very frustrated and they were willing to try producing again. While editing Jacqueline Hyde, I wrote a little horror script called Nightmare Man. Everyone who read it, really liked it and it was something that could be made for little money. So, my parents came on board, we found a private investor and Nightmare Man became a reality. I wrote it with Blythe Metz in mind to play Ellen, the crazy wife who may or may not be crazy and Tiffany Shepis as Mia, the spunky party girl who winds up walking around in her underwear with a crossbow fighting killers and demons. Tiffany was just getting back in the acting game after she had her baby. She loved the role and we all went to Big Bear in California to shoot a movie that takes place entirely at night during the summer. Quite a challenge. 15 days later, we wrapped production. It then took two years to find someone to distribute the film because once again, there was a glut of horror films on the market and nobody wanted it despite the fact that it was getting into a lot of festivals, winning rave reviews and awards. Just when all seemed lost, I got the film to After Dark and suddenly the film was released in over 350 theatres nationwide as one of the eight films to die for in their Horrorfest 2007 festival. Lions Gate released it on DVD and it was a huge hit, becoming the best selling DVD of that festival for a time.
Since then I've been rolling in money, women, and now have everything I've ever wanted... Wait, no that was just a dream. In reality, we never saw a penny and After Dark have now starting producing their own films from the profits of all the films from the first few years of Horrorfest. Don't you just love this business?
But business aside, it's a good film. Once again, a funny horror film ON PURPOSE. Since it was sold as Eight Films To Die For, I think a lot of people missed the point of the comedy. But that seems to happen a lot with my films. If you get the joke, you might really like it. If you don't, you don't.
Any other films you have directed and want to talk about?
I think we touched on almost all of them. The only one missing is a short I made called Mood Boobs once again starring Tiffany Shepis. It is getting released as a bonus feature on the new release of There's Nothing Out There on Jan 11, 2011. It's a fun short about the danger of magically growing boobs. No nudity but very funny.
Any future projects?
I hope so. I was very busy last year and worked my ass off but because of the budget and limitations I may not take any credit which is frustrating but career-wise might be smart. However, there are two movies that might turn out well. One is a full out musical and the other is the Rod Steele flick I mentioned earlier. I'm sure they will eventually be seen but my involvement may not be apparent unless you know my style and previous work.
I'm hoping a horror script I wrote now called Scream Park gets set up soon. Sobini Films will hopefully be out pitching it in 2011. I'd love to direct it but one step at a time. I have plenty of other scripts that I'd love to make in many different genres. It all comes down to money. One day I hope to make a thriller called Exit, a Poe inspired horror tale called Nevermore, a family in peril thriller called Photographs and the list goes on. There is some more info about these and other projects on my website at rolfekanefsky.com
Two women pop up time and again in your movies, Tiffany Shepis [Tiffany Shepis interview - click here] and Gabriella Hall. A few words about these two?
They are/were friends and my muses for extended periods of time. I loved working with them. They made my life happy and productive. But people move on. I have a lot more projects I'd love to do with Tiffany including a script I wrote for her to direct called The Devil's Pies. But now that she's married to a talented director, I know they're developing projects of their own which only makes sense so we'll see what happens. But I'll always wish Tiffany the best. She really is a talent and a wonderful person.
Also, you have worked time and again with veteran producer Alain Siritzky, best known for all those Emmanuelle-films. A few words about him, how did you first get in touch and what is it like to work with him?
I think I already answered that question. Alain is great in some ways and lacking in others. He trusts me and once he greenlits a project, he steps aside and lets me make the films I want to make as long as they fit within the confines of budget, schedule, and sexuality. Unfortunately, whenever he produces something not in the erotic genre, he has a very hard time selling it. Thus the lack of release of Tomorrow By Midnight, five year delay on Pretty Cool and ten year wait on Blonde and Blonder, a comedy I wrote for Alain that was produced many years later starring Pamela Anderson and Denise Richards. He did introduce me to Tom Seidman which eventually lead to the production of The Hazing after Alain walked away from it
Any other Rolfe Kanefsky cast-and-crew regulars you'd like to talk about?
Robert Donavan is awesome. Such a talented actor and everyone who works with him loves him. We've worked twenty times together now. He's my lucky charm. I also worked with Mark Collver quite a few times before he left the acting business. James Ferris has appeared in three of my films, Jacqueline Hyd", Nightmare Man and Pretty Cool Too!, Steven Williams starred in Corpses and One In The Gun, Kira Reed was great in Alien Erotica, Power Flower, Rod Steele 0014. I like actors and try to work with actors that are good that I also get along with. Paul Deng has shot a number of my films. Chris Farrell has scored almost all of my films. He's a genius working with way too little money. And Jay Woelfel has worked with me in various positions over the years. He is also a director in his own right.
Your body of work seems to alter between horror and comedy, with maybe a bit of erotica thrown in. Are these genres you are particularly fond of, and why?
Well, comedy has always been fairly easy for me and I love it. There is comedy in everything I do. Horror films scared me but once I decided to become a director at the age of 14, I began watching all of them and became a big fan. I still watch every horror film that comes out. As for erotica, I have no problem with the naked body but I do prefer women's bodies. All of those movies were produced by Alain Siritzky except for Jacqueline Hyde but with Gabriella's reputation, I knew we had to appeal to her fans as well. But I do love almost all genres, especially thrillers. I find myself writing a lot of thrillers on spec and my two favorite films are my thrillers, Tomorrow By Midnight and One In The Gun. I also love musicals which is why it was fun to try one this passed summer.
It's great to make people laugh and fun to make them jump as well. When you combine the two, it can be very entertaining. So comedy/horror always attracts me. I love walking that delicate line and if it can be a little sexy, all the better.
Besides being a pretty prolific director, you have also written quite a few screenplays filmed by other people. Could you talk about this aspect of your career for a bit, and any films you have scripted for other people you are particularly fond of?
Well, when a script is directed by someone else, I tend to step away since it never will come out the way you envisioned it. Most of the time I'm disappointed. I was thrilled when I heard that Bob Clark (Porky's, the original Black Christmas and A Christmas Story) was going to be directing Blonde and Blonder. Unfortunately due to the tragedy during post and some real crooked producers, the film did not turn out well at all. I feel that Red Line, Shattered Lies, Restless Souls, and the others should have all been better. I've also done a lot of ghost writing. Fixing other people's scripts while trying to maintain the same tone and style. But if you look at a lot of my films, you'll see I have a style that comes across. My sense of humor and pacing are very specific and hard to copy. Many of my films switch gears in an attempt to keep the audience on their toes, guessing what is going to happen next. I like it when viewers can't predict the ending in the first five minutes. I feel all scripts should be written as a good mystery. Give little hints at where it's going and have it make sense at the end but keep it fun with surprises along the way. Almost all of my films follow this pattern.
What do you actually prefer, writing or directing?
Writing is fun and more personally satisfying. But a script is just a blueprint for a movie. It could be a good read but it's meant to be filmed, unlike a book. Directing is very difficult with tons of problems especially on the budgets I work with but you do see the story come to life. When actors are saying the lines, that's when the magic happens. So, I really enjoy directing. It's more of a team effort which is good because it gets you out of your apartment and away from your computer screen. However, once that's finished it's back to the computer screen for editing, when the movie really takes shape. I'm very involved in all the post-production of my flicks.

Feeling lucky ?
Want to
search
any of my partnershops yourself
for more, better results ?

The links below
will take you
just there!!!

Find Rolfe Kanefsky
at the amazons ...

amazon.com

amazon.co.uk

amazon.de
Looking for imports ?
Find Rolfe Kanefsky here ...
Something naughty ?
(Must be over 18 to go there !)

Writers and directors who inspire you?
This could easily be a laundry list. I'll list some obvious and not so obvious choices. Preston Sturges, Howard Hawks, Alfred Hitchcock, Buster Keaton [Buster Keaton bio - click here], Charlie Chaplin, Peter Stone, Levinson/Link, Steven Spielberg, Billy Wilder, William Peter Blatty, Blake Edwards, Richard Franklin, Tom Holland, Joe Ruben, Joss Whedon, Rod Serling, Martin Scorsese, Mel Brooks, Neil Simon, Stanley Kramer, Stanley Donen, Joesph Sargent, Richard Rush, Jackie Chan, Frank Oz, John Hughes, Kevin Smith, John Carpenter, Barry Levinson, John Landis, Gene Kelly, and Bob Clark.
Your favourite movies?
All Abbott and Costello movies, His Girl Friday, Christmas In July, Arsenic and Old Lace, Duck Soup, It's A Mad, Mad, Mad Mad World, The Blues Brothers, E.T., Jaws, After Hours, Fright Night, Psycho, Psycho II, North By Northwest, Strangers On A Train, Big, Moulin Rouge, Rainman, Animal House, Caddyshack, Dreamscape, The Breakfast Club, Halloween (original), The Thing (remake), Big Trouble In Little China, The Stuntman, Taking Of Pelham One-Two-Three (original), Charade, Little Shop of Horrors (remake), The Pink Panther series (w/Peter Sellers), Being There, Tropic Thunder, Black Christmas (original), The Stepfather (original), The Party, Used Cars, Goldfinger, Spy Who Loved Me, One Two Three, Road Games, Some Like It Hot, Rollercoaster, Young Frankenstein, The Producers (original), Wait Until Dark, Breakfast At Tiffany's, Don't Be Afraid Of The Dark (original), Chicago, Stakeout, Dumbo, Aladdin, The China Syndrome, The Odd Couple, Field Of Dreams, Amour Of God II, Police Story, Project A II, Hello Dolly, Freebie and the Bean, Die Hard, Back To The Future, The General, The Gold Rush, Modern Times, Safety Last, The Freshman, Movie Crazy, The Court Jester, Wonderman, The Patsy, The Inspector General, Airplane!, Throw Momma From The Train, Silver Streak, Foul Play, Where's Poppa?, The In-Laws (original), Tremors, Sleuth, Risky Business, Ten Little Indians, The French Connection, French Connection 2, An American Werewolf In London, Singing In The Rain, The Legend Of Hell House, The Haunting (original), Better Off Dead, Revenge Of The Nerds.
So, there's a few off the top of my head.
And of course, movies you have really deplored?
The remakes of almost all the films I listed above with Rob Zombie's Halloween leading the pack. I actually rate movies on a scale of 0-10 that I see in the theaters. Here's a list of some of my zeros. Mission To Mars, The Skulls, Loser, Tomcats, Collateral Damage, The Tuxedo, The Order, Dark Water (remake), When A Stranger Calls (remake), Blonde and Blonder, 88 Minutes, and many, many more.
Your website, Facebook, MySpace, whatever else?
www.rolfekanefsky.com, www.theresnothingoutthere.com, www.thehazing.com. I'm not sure if www.nightmaremanmovie.com//www.nightmaremanmovie.com/" target="_blank">www.nightmaremanmovie.com or www.moodboobs.com are still in service. I do have facebook and myspace accounts and if people want to e-mail me directly, Rolfe30@yahoo.com
Anything else you are dying to mention and I have merely forgotten to ask?
Can't think of anything right now. Just keep an eye out of There's Nothing Out There coming in Jan and One In The Gun hopefully coming out later this year. Besides that, I'm keeping busy. Will probably start a new script soon and hopefully keep making movies in 2011 and beyond!
Thanks for the interview!
Thank you as well and thanks to Tara Cardinal [Tara Cardinal interview - click here] for recommending me for this interview. We haven't worked together yet but I'm sure that will change in the near future.