Your upcoming film Zombie Frat House - in a few words, what is it about?

Well, imagine the worst frat house on campus, and that's the only safe place to survive a zombie apocalypse. The beginning of the film is very much in tone with Animal House as it introduces the characters, but it then moves into a darkly comedic film with horror elements. And it does have lots of blood & gore. More than you might expect combining Animal House with The Walking Dead.

With Zombie Frat House being (among other things) a zombie flick - is that a genre especially dear to you, and considering the sheer number of zombie films being released of late, how will yours stick out?

There are a few out there now, but no matter the genre a film is only as good as its characters. Using archetypes of an Animal House, or an Old School, they're characters that people recognize, people they knew when they went to college. That's what will make this film stand out. I also like to mix things up, do different genres and subject matters. Crime drama, comedy, or even a western which I just finished. This is a change of pace since I've never done a horror film before.

Also, your movie is (in parts) a college comedy - so what do you find appealing about that genre?

Being a child of the 70's I grew up on Animal House, the original Saturday Night Live cast members, plus Halloween. A lot of my work is a throwback to that period, and the films that I loved while growing up. Petty Cash, my last feature, mixed elements from that time period, as did Yellow Hill, my western. So this film is an extension of the films I loved growing up and the work that I do.

What were your (other) sources of inspiration when writing Zombie Frat House?

I tried not to watch other zombie films, I didn't want to begin writing from an area that people are already familiar with. I felt I would end up regurgitating similar plots or story elements. Zombies are well known to everyone, we all know what they want, to eat people. What I did was look at films like Bride of Frankenstein, Frighteners, Re-Animator and Evil Dead II. I wanted to see how they balanced the comedy with the horror. And how bloody you can go with the laughs, and in the case of Evil Dead II - quite a bit.

So how would you describe Zombie Frat House's brand of humour, and what can you tell us about your personal sense of humour to begin with?

Well, like I mentioned it is sort of broad in the beginning. But it gets dark fast. I do enjoy light films, mainstream films, but my own personal sense of humor is dark, pretty dark. Macabre. I don't think I'm the person to direct a children's film or a Hallmark Movie of the Week. I write because I like making films, to tell stories and whatever material I do will reflect my sensibilities. They'll always be a bit dark or even twisted.

Zombies of course also always suggest tons of blood and guts - so how will you approach your story in the gore department?

Yes tons. Lots of zombies eating body parts, or body parts falling off. We are doing an IndieGoGo fundraiser - http://www.indiegogo.com/projects/zombie-frat-house - and it's for the effects budget, plus to feed the cast of over 40 people. It's the only way we could make this film. Body castings are expensive, doing foam rubber duplicates of weapons as a safety precaution is expensive, and we have lots of zombies to make up and to have that rotted flesh look. We have begun shooting and we really would like to finish this. Our cast is extremely dedicated to completing this and they're a great bunch of people with a tremendous amount of talent. We really want to show the talent here in Milwaukee, to give them exposure, and we really need your help in reaching our goal for the budget, I know you'll enjoy the film. I think everyone will have a blast watching it.

What can you tell us about the intended look and feel of your movie?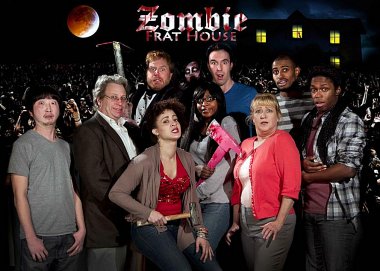 Elvis Thao, Patrik Beck, Toni Martin, Brian Roloff, Anieya Walker, Kyle Berg, Cheryl Roloff, Pierre Lewis, Sherrick Robinson

I always say the story dictates the look, I've been story boarding the film and it'll be unlike anything I've done before. It's a bit more in your face than what I usually shoot.

Anything you can tell us about your cast yet?

Most of the cast is from Milwaukee and they are some of the best theater talent in the city. They work at Next Act, The Rep, Windfall and other theater companies. But we also have some very good new talent like Kyle Berg, Sherrick Robinson, Pierre Lewis, who'll be the frat boys alongside Brian Roloff and Elvis Thao (Gran Torino). With them I've mixed in actors that I've worked with for years like Robert WC Kennedy, Dan Katula and James Gallagher. Plus many, many more. All great people. Great talent. You'll enjoy watching them in this film.

As far as I know, your movie is still in its fundraising stages - so what can you tell us about your fundraising efforts?

Well we need your help, we need about 8,000 to film this feature and we are posting, tweeting and emailing anyone that could help, but I fear we'll end up short. Time is running out on us, cutting the budget will cut production value to this film. We have a fundraiser on March 30th in Milwaukee at the Live Arts Studio, if you're in town please stop by, and we are trying figure out other options. We will shoot this, we will continue on, but we really need your help.

http://www.indiegogo.com/projects/
zombie-frat-house

Once your funds are raised, how do you plan to proceed, and any idea when your movie will be released onto the general public yet?

Well, if all goes well and we get the funding we will finish shooting by early summer/late spring. And we'll premiere it this fall in Milwaukee, hit some film festivals and try to sell it. We feel good about the concept, about the idea and people want to be involved, so many people that we had to turn away some potential cast and crew members.

According to my information, another film of yours, Yellow Hill: The Stranger's Tale, is also in the making - so you of course have to talk about that one for a bit!

Well, that is another project that we are trying to get made. I wrote the script years ago. It's a mix of Hong Kong films and Sergio Leone, a Chinese western with Bai Ling starring as a variation on the Clint Eastwood character. We did shoot an introductory tale featuring Bai Ling's character that developed her back story. It was cool making a western on location in South Dakota, and if we can raise the funding for the feature based on the teaser we shot I think we'll have a powerful film. One about what it means to be a part of a community, to find your humanity.

Also, do say a few projects about the highly anticipated Go Go Girls vs the Nazis if you may!

Well I wrote the script for Wayne Clingman [Wayne Clingman interview - click here] and I couldn't direct it when he asked, because of Yellow Hill. Zombie Frat House is designed to be a quick shoot, but Yellow Hill will take many months of meetings, and preplanning. Go Go Girls vs the Nazis' scale is just something that I couldn't fit in. It is a pretty wild film that comes from the mind of Wayne Clingman. He gave me a bunch of notes as what he wanted and in turn I gave him a script. It was a pretty fast job. I wrote it last March as I was planning the Yellow Hill short film.

Any future projects beyond Zombie Frat House you'd like to talk about?

Besides everything that I mentioned, we do hope to shoot a sequel to Petty Cash. I do have a script ready for it and we'll bring back Bai Ling and Robert WC Kennedy to reprise their roles. And I've been making notes for another script, another crime drama.

What got you into filmmaking to begin with, and how did you learn the trade?

I went to school to train as an artist, studied drawing, design and photography. When I was there I was asked to help out on a production that would showcase the school to prospective students, and from there I moved to filmmaking. I didn't see it as a big leap. I was just going from telling one story in one image, to telling a longer story with moving images. Since my school (MIAD) had no film department I taught myself. I studied and read everything that I could. Story structure, defining characters and telling a story with the camera. And taught myself editing. Now I teach filmmaking at MIAD.

What can you tell us about your filmwork prior to Yellow Hill and Zombie Frat House, and your evolution as a filmmaker?

My early work was to help myself learn the craft, what I could do and couldn't. To try things. Most of it isn't very good and I don't really recommend viewing it, but since the late 90's I've progressed pretty far I think. Done over 60 short films and Zombie Frat House will be my third feature. Petty Cash with Bai Ling is looking for distribution and has gotten good reviews. Once that's out I suggest trying to find it. We're pretty proud of it and most of that cast and crew are working on Zombie Frat House. I've also helped produced about 20 short films with Third Choice, a comedy ensemble in Milwaukee, some of those shorts won awards.

How would you describe yourself as a director?

I don't know, I'm always writing, shooting or editing something. It's fun and I just like to keep busy. I've done a lot of short films and I'm working on features as well, and most are different stories or genres. I just like to tell stories. With Zombie Frat House we've brought in a lot of young talent and we hope that we can give them some experience to go on in doing films if they wish.

Filmmakers who inspire you?

Feeling lucky ?
Want to
search
any of my partnershops yourself
for more, better results ?

The links below
will take you
just there!!!

Find Ross Bigley
at the amazons ...

amazon.com

amazon.co.uk

amazon.de
Looking for imports ?
Find Ross Bigley here ...
Something naughty ?
(Must be over 18 to go there !)

Orson Welles, Kurosawa, Melville, Altman, Lumet and Wong Kar Wai.
Your favourite movies?
Once Upon a Time in the West, Touch of Evil, Third Man.
... and of course, films you really deplore?
Bad films. Incompetently made films. If it's good I'll give it a watch no matter the genre.
Your/your movie's website, Facebook, IndieGoGo, whatever else?
You can visit Zombie Frat House at: https://www.facebook.com/ZombieFratHouse
Our Twiitter page: https://twitter.com/zombiefrathouse
And of course our IndieGoGo page: http://www.indiegogo.com/projects/zombie-frat-house
Plus we have a fundraising event on March 30th at Live Arts Studio, please help us, come on out because you'll have fun. https://www.facebook.com/#!/events/531244376898569/
532013386821668/?notif_t=plan_mall_activity
Thanks for the interview!