Your new movie In Vino Veritas - in a few words, what is it about?
When Carolina and Jill went to a new years party, they never imagined finding themselves on the bathroom's floor. What started as a great party, ended up becoming a night of confessions and revelations.
How did the project fall together in the first place?
As a group of actors who are also close friends, we wanted to make something together. As artists, we were looking to make a fun film together.
What were your sources of inspiration when writing In Vino Veritas - and is any of the movie autobiographical or based on actual events?
The story came together based on an actual night, only we add some spice... The drunkeness was real, but the rest...
You wrote In Vino Veritas together with your co-stars Silvia Morigi and Freya Lund - so do take us through the writing process!
Since I had some experience with writing (this is the fourth project I've written, after Love Letters to my Children, Bench, Double Espresso), I wrote the first draft and after that, we sat together as a group several times, making changes, editing and debating. This process was great as sometimes when you write, you get attached to certain things in the script, so a fresh pair of eyes, or, in this case, two are great to "trim the fat".
What can you tell us about your director Ketak Dhiman, and what was your collaboration like?
This is my fourth time working with Ketak, we've previously worked on Woody Pax: Black & White, Bench and Double Espresso. Working with Ketak has been a pleasure, we work very well together and understand each other. I think working with people who get what you're aiming for is very important and it makes the work easier and less stressful.
You also play one of the leads in In Vino Veritas - so what did you draw upon to bring her to life, and did you write her with yourself in mind from the get-go?
As this script was very loosely based on true events, I did write Jill's character with myself in mind. I didn't necessarily write her as me, but I did know I was going to play her from the get-go. I was looking to write a fun, relatable character.
Do talk about your co-stars, and what was it like working with them?
Working with Freya Lund and Silvia Morigi was an absolute pleasure. I think as this was a collaboration, it was very important to all of us that this film will come to life. I'm so grateful that they both brought their talent and commitment to this project and we were able to make this short film together. At one point, after shooting for 3 days, confined to a small bathroom, we just had to decompress. We just burst into song and it was great!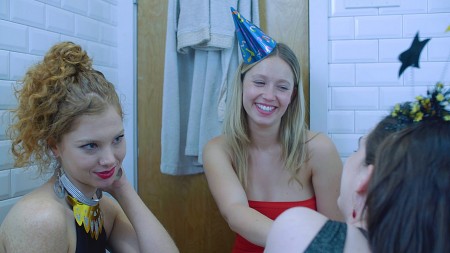 with Silvia Morigi, Freya Lund
In Vino Veritas was shot in an incredibly limited space - so what were the challenges from that point of view?
The whole film was shot in my apartment with the majority of the scenes filmed in one small bathroom. I think the most challenging aspect of shooting was fitting everyone in there. We had to have all actors, the director and the camera operator inside. In one scene we have 5 actors inside. This made some great moments as we were actually cramped together and also raised some challenges as we didn't have enough room for the sound guy who had to stay outside and work remotely and the rest of the crew as well. We came with some creative ideas in order to cover all the shots like removing the door from its hinges in order to get some shots from the door's perspective.
What can you tell us about the shoot as such, and the on-set atmosphere?
We had 5 actors and 7 crew members and as we know, the NY apartments are not the biggest. But still, the atmosphere was great. I felt like the people who chose to participate, wanted to be there. It was cozy and nice working with such great and committed people. We had 2 days of over 11 hours and one shorter day and everyone brought their A game.
The $64-question of course, where can In Vino Veritas be seen?
At the moment we're going through the festival circuit, but as soon as we can we'll release the film.
Anything you can tell us about audience and critical reception of your movie?
So far only friends have seen it and the responses were very good. We hope to be accepted to some film festivals and get some more eyeballs on this project.
Any future projects you'd like to share?
Nothing at this time.
What got you into acting in the first place, and did you receive any formal training on the subject?
Growing up, acting was always something I wanted to do but I was to shy. After backpacking for 7 months at the age of 20 I finally got the courage to start acting and see if this was something I wanted to pursue. Very quickly it became very clear to me that this is what I wanted to do and so I started saving money and moved to NYC to study acting at the Lee Strasberg Theatre and Film Institute. I graduated the two-year program and started my career as an actress in NYC.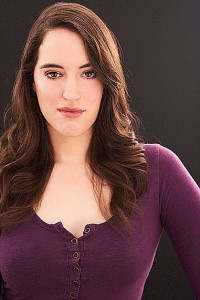 Feeling lucky ?
Want to
search
any of my partnershops yourself
for more, better results ?

The links below
will take you
just there!!!


What can you tell us about your filmwork prior to In Vino Veritas?
My previous short film Bench was selected in 4 international film festivals including winning 2 awards for best message and best actor for my co-star Nathan Hinton. Getting to sit in a screening room and watch other people watch my film was a nerve-wracking and amazing experience. It's so great to see people's reaction to your work but also daunting.
How would you describe yourself as an actress?
I think I gravitate towards well-rounded and strong female characters. The more rounded the character is the more sides there are to explore in the character. In some cases when the character seems shallow, I find it very helpful to go and invent a backstory to them. To find and invent the sides of them that the script didn't go into, those parts are not necessarily relevant to the actual plot but they are so relevant to the character's story and that helps me find where they are coming from and what brought them to where they are now.
Actresses (and indeed actors) who inspire you?
The very common but so true answer is Meryl Streep, I love the way she disappears into her characters always finding something so different about them. A recent one who inspires me very much is Reese Witherspoon. I love the way she decided to not wait for great roles to get to her and just started to produce great work that she cares about and I think she's proven to a lot of doubters that she's more than meets the eye.
Your/your movie's website, Facebook, whatever else?
https://weinerrotem.wixsite.com/mysite
Thanks for the interview!