Your new movie The Tribe - in a few words, what is it about?
The Tribe revolves around three young girls who live on a ranch after a pandemic took the earth. Having always been taught to kill off strangers by their father before he passed, things take a dramatic turn when the oldest breaks the rules and lets someone into their protected compound.
How did the project fall together in the first place?
I was working on a short with Ian Paxton at the time called Ambrosia (he's actually an editor by day, super secret mega writer by night), and he asked me for notes for a feature he's written back when he was at Art Center Pasadena. At the time he was looking for a producer to get it made, but as soon as I read the script I was hooked! It was everything I loved - character and female driven, set in an isolated wasteland. It felt like the perfect set up to explore human nature in desparate times. I asked him if he would be okay if I directed it and he told me he was all in - and from there I brought in two of my really good friends Dena Hysell and Brandon Tansley to produce and that was how it all began!
Do talk about your writers Ian Paxton and Chris Manask, and what was your collaboration with them like?
Ian and Chris came up with the original story, but I mostly worked with Ian as we developed the project more. Collaborating with Ian was so amazing; we both have very similar aesthetics, and as a storyteller he's dedicated to the story but also earnest about trying new things. There's really nothing more you can ask for! Since then, Ian and I have also worked on an episode for an upcoming sci-fi/horror anthology series called Dark/Web (that's produced by Michael Nardelli, who played Ryan in the film), where we co-wrote an episode called Eat.Prey.Love. that I directed. And today I still consult him creatively on all projects I'm developing.
With The Tribe being a post-doomsday movie, is that a genre you're at all fond of? And where would you see yourself after the apocalypse?
I honestly never thought I would direct a post-apocalyptic film, but my fascination for the genre stems from my curiosity of how people would deal with their circumstances after everything is gone... especially when they still cling on to the idea of a world that once was. The amazing thing about sci-fi and post-apocalyptic genres is that there is so much possibility for world building and imagination, the rules are set by the filmmakers so the set ups and situations can give you many outcomes on how the story is told and how it ends.
Oh, and I would get killed immediately if there were an apocalypse. Everyone would think I talk too much and kill me straight from the beginning.
The Tribe is very vague when it comes to the actual cause and shape of the apocalypse itself - was this intended from day one, or was this information just stripped away in the course of filming and/or editing?
This was intentional - our exploration of the story is purely Darwinian and theological. Mother nature and natural disasters may place us in desperate situations - but in the end its the construct on how humans think we can, and will survive anything. The reasoning for the apocalypse isn't really revealed until the end and what eventually happens with Danika (**spoiler alert!**). The original ending actually has her finding a young boy her age as well, in similar conditions where he doesn't speak but has also lost all his hair from the disease. He ends up showing her a whole tribe of young children who are just like them. It was radical and a huge reveal, so we decided to make the ending more open-ended. But basically evolution has started to take place, and the current humans had to go in order for the new to take the world. This ties in with moments in the movie when Charlie speaks of God, dinosaurs, and the preservation of humanity.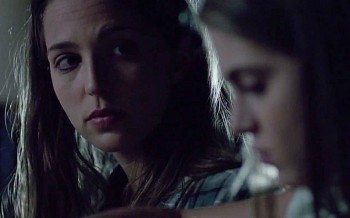 What can you tell us about your directorial approach to your story at hand?
The setup of the story really guides my direction. In this film, I empowered the perspective of the story through the oldest sister Jenny - who is torn between the rules her father had set up before he passed, as well as the burden she holds for her youngest sister Danika; who seems to be getting sick from the early stages of the pandemic and strangely incapable of possessing any human emotion until Ryan comes along. It was fascinating to get to work with my actors on this level since everything is based on choice and manipulation; every character was guided by their own sense of justice and righteousness. We got to play a bit before we started shooting, and that helped a lot for all of us in defining the characters and tone of the film.
Do talk about your cast, and why exactly these people?
I was extremely lucky to be landed with this phenomenal ensemble, and the first round of kudos has to go to my incredible casting director Russell Boast! He is an artist through and through and possesses amazing vision. Through him I was able to land Jessica Rothe (La La Land, Mary + Jane) as Jenny, Anne Winters (Mom and Dad, Tyrant) as Sarah, Michael Nardelli (Dark/Web, Circle) as Ryan and Cokey Falkow (Doomsday, Penny Dreadful) as Charlie. I was so blessed that these actors were so dedicated and open to exploring; they have taught me a lot of myself as a director and we were able to find a lot of powerful moments in the film. Also, they are super cool people to hang out with! :) I'm very, very lucky to have worked with them.
You of course also have to talk about your wonderfully fitting location, and what were the advantages and challenges filming there? And how did you find it in the first place?
The script originally wrote the location to be a two story farm house. We were unable to secure a location like this during our turnaround time (had one, but it fell through two weeks out of shooting) so I went on good ol' Google and tried to find a desert like location for cheap, and voila! This location showed up! Initially I resisted because it didn't match with the script called for, but My DP just landed in from NY, and I called him asking him if he wanted to drive 2 hours out to scout it out with me just in case. We ended up going, I ended up LOVING it and realizing that the location worked in many ways that would make the film stronger; it turned out to be available for our budget and our dates, and we ended up rewriting the script so it fit the location rather than the other way around. It was definitely a gift from the Film Gods, and the film evolved from a dramatic The Road type aesthetic to a more western influenced landscape. I fucking loved it.
A few words about the shoot as such and the on-set atmosphere?
It was awesome!!! My cast and crew (who were comprised of all of my friends) were great and I had a blast - me, Sheldon and the DIT/steadicam Greg stayed inside the production RV to firewatch the set during the shoot. This is what is so glorious about indie filmmaking - sometimes when there is not enough money or time, you get creative in the ways to make the experience more fun and bonding. I was able to make a vlog of my experience and what shooting the movie was like here: https://www.youtube.com/watch?v=rqOCWzGXHdM&t=206s (it may look like I was never working but I swear at some point I directed a movie ;)).
What can you tell us about audience and critical reception of The Tribe?
The film festival circuit was great and we received a lot of acclaim for the film, we screened at Nice International where we won Best Feature, Female Eye in Toronto where I won Best Debut Feature, Savannah Film Fest, and Other Worlds Austin where I took home Best Director. The film will be having it's LA theatrical premiere March 23rd at the Los Angeles Women's Fest in the Regals Theatre in Downtown LA. I've been very fortunate to have been screened at these festivals where the audiences have been very receptive to the more cerebral approach to sci-fi. My fear has always been that it would have a marketing identity crisis when released, since the film doesn't purely live in one genre - of course once it did, some have expressed that the pacing was too slow or that the story/action haven't panned out to the way they expected... but because it's a cerebral film and lives in more than one genre, it's definitely not a film for everyone.
Any future projects you'd like to share?
Yes! I'm thrilled to have directed a couple of episodes for Michael Nardelli's Dark/Web which is releasing later this year: http://www.imdb.com/title/tt5600406/
It's a sci-fi/horror digital anthology series like you've never seen before, and I'm excited for everyone to see it! I'm also currently writing and developing my next feature film.
What got you into filmmaking in the first place, and did you receive any formal training on the subject?
I went to UC Irvine for my bachelor's in Sociology (where all my work stems from) and Film Theory. I never went to school for the technical part; directing was something I learned by producing, learning what I liked and didn't like about the directors I worked with and their methods, and applying those to myself when the time came.
What can you tell us about your filmwork prior to The Tribe?
I started off working in post-production as an editor, then transitioned to full time producing which is what I'm doing now. Up until The Tribe, I kept my directing muscles in shape by actively writing and directing one short a year. By the time I yearned for a feature, Ian's script came along, my friends came to help, and the timing with everything fell into place. Now I full time produce and direct, and I'm so incredibly grateful - I love supporting fresh voices in film, especially with women and minorities, and I love taking the director's seat for pieces I'm passionately connected with.
How would you describe yourself as a director?
I'm crazy. For The Tribe, we shoot 100 pages in 13 days and for Dark/Web we shot 150 in 13 (albeit with two cameras). Having worked in editing and having producing experience definitely strengthened me as a director; especially when it comes to crunching resources and knowing what to get when there is limited time. I also believe in focused, positive energy; because how the set and crew runs is determined by the atmosphere you establish the moment you step on set. As for my actors, I often like to ask how they work and what they need from me in order for them to excel at their best. What is so great about filmmaking is that every time it is different, and I'll be forever a student because I'll always be learning more about the subject I'm focused on, or the people around me.
Filmmakers who inspire you?
Hitchcock, Kurosawa, Park-Chan Wook.
Your favourite movies
Les Parapluies de Cherbourg, The Shining, Handmaiden.
... and of course, films you really deplore?
None. At the end of the day, it's all about taste.
Your/your movie's website, Facebook, whatever else?

Feeling lucky ?
Want to
search
any of my partnershops yourself
for more, better results ?

The links below
will take you
just there!!!


facebook.com/AllisVanityFilm (this was the film's previous title), and you can always stay up to my current work on www.RoxyShih.com
Anything else you're dying to tell us and I have merely forgotten to ask?
YES! I'm heading a film festival this year and if you're in Los Angeles, please come out! It's called the Taiwanese American Film Festival, where we create a platform to showcase works by Taiwanese American filmmakers - it will be held at the Downtown Independent in LA on July 8th. To stay connected and find out more about our festival please check us out at facebook.com/TAfilmfestival, thank you!
Thanks for the interview!
Thank you so much for this interview, Mike! :)