Your upcoming movie Our Darkly Perfect World - in a few words, what's it going to be about?
Our Darkly Perfect World is a haunting romantic drama/neo-noir about an agoraphobic author and a down-and-out grocery delivery man. These two protagonists never meet face-to-face but they are able to change each otherís lives by corresponding through letters, which they place in envelopes marked ďREAD MEĒ. Each letter reveals their life stories, the pros and cons thereof. But, unlike the great majority of my short films to date, this one focuses primarily on beauty. Itís an affirmation of life, of sorts.
You're calling Our Darkly Perfect World a romantic drama/neo noir - please explain!
Thereís this rather fascinating subgenre of film called anti-romance, where things start happy and end disturbingly. Itís the very antithesis of the fairy tale ďhappily ever afterĒ. Gillian Flynnís Gone Girl is one of the most recent examples of this. And itís an amazing story. In fact, one of the two protagonists in Our Darkly Perfect World is actually named after Flynn (as well as Patricia Highsmith, whose Ripley-novels have been a huge influence on me). That said, Our Darkly Perfect World is NOT an anti-romance. It would be easier to pigeonhole it as such but there are vast discrepancies in the way Iíve decided to tell my story. In a way, Iíve allowed there to be a ďhappily ever afterĒ although it certainly isnít the same type as Disney are famous for. More of a Miyazaki approach. Iíve used a lot of tropes from classic noir (fatalistic narrators, femme fatale, Chiaroscuro lighting, etc.) in order to tell a realistic love story about destructive relationships and tragic romances. Communication is the key. Iíve also employed a lot of obscure pop culture references to hint at darker depths beneath the surface veneer. Whether or not audiences pick up on these references, or find the double meanings Iíve carefully hidden, is up to their analytical abilities. Our Darkly Perfect World is very interactive in some ways.
As far as I know, Our Darkly Perfect World does have some autobiographical elements to it - care to elaborate?
I didnít set out to write something that was so personal but itís very difficult not to put yourself into your work if youíre a serious artist. I donít make films because I want to entertain people. I make them as a form of therapy. My films are often quite dark and disturbing because I had a very traumatic childhood and I want to understand why, years later, Iím still haunted by certain past events. Lately, Iíve wanted to deal with romantic situations because of the darkness that is ever present in our real world. Death has never really fazed me too much because I was introduced to it at a very early age. Itís become a very prominent feature in most of my work, to varying degrees. Never has it been so close to home as it is with Our Darkly Perfect World though. The breakdown of the relationship between the author and her muse is exaggerated but, for those who know me, it has evident connotations of my most recent relationship. I was devastated for a while after it ended because I gave so muchÖ some would say too muchÖ yet it still didnít work out. There were obvious reasons why, which I wonít go into. The death of the perfect woman, Amy (the grocery delivery guyís wife), is a metaphor for me losing what I mistakenly and rather naively believed to be the changing of my perfect woman into something else entirely. And Nicole, the jaded bi-curious love interest of Gillian, was the aftermath of when this change occurred. Some of the auto-biographical elements are very on-the-nose and Iíve even been asked how much of myself did I put into this film. Sometimes people that are quite close to me have asked. Iím not one to tell people exactly what is personal experience and what is exaggerated. But, I will admit, thereís at least 80% truth to everything in Our Darkly Perfect World.
Which character do you identify with more, the recluse author or the down-and-out grocery delivery guy?
Thatís a hard question to really answer. For me, theyíre not really characters but theyíre extensions of me. In a lot of ways, theyíre the same person. Together they make up an amalgamation of everything Iíve been through and experienced in my life. Gillian, the author, is an exaggeration on how intensely private I can be. And how heart-broken I was when one of my relationships fell apart. I wasnít ready for it to die but it had to in order for me to come up with new stories. Before that relationship died, and for a while after I admit, I was stagnant. I was lazy and uninspired. Alfred, the grocery delivery man, is an exaggeration of the frustrations of that being stuck. Both charactersí love lives are very close to the ďromancesĒ I have seen or been part of. So, to really answer one or the other, I wouldnít really be telling a full truth. Plus there are three other characters that are also quite engaging and very much part of my being. If I had to choose a favourite character though, it would definitely be Amy. I like innocent characters. They help you to fall in love with a project. I sort of dabbled in this innocence with my previous foray into romantic filmmaking, my short This Time. Although, there is a world of difference between how I did that film and how I am doing this one.
Other sources of inspiration when writing Our Darkly Perfect World?
I saw Blake Edwardsí adaptation of Truman Capoteís Breakfast at Tiffanyís when I was around 11 years old, and it left an indelible impression on me. It wasnít until last year that I decided to revisit the film and fell even more in love with it. Especially how Audrey Hepburn played Holly Golightly. The moment Holly was sitting on the window and singing Moon River helped me focus my own mind. Iíd been dabbling with ideas on how to do another romantic story for 2 (almost 3) years prior, mainly because when I made This Time I set out to make a romantic trilogy. Holly, as well as Audrey Tatouís performance as Amelie, inspired the character of Amy. I liked the idea of someone that was so perfect in so many ways that death wasnít just felt by those around her (the characters) but by the audience as well. That notion became the core of Our Darkly Perfect World. But an idea is just an idea until you can find the best way of doing it. Wim Wenders and Terrence Malick both provided heavy influence on the direction Iíd take the story in. Their attention to detail was spectacularly beautiful and mesmerising. Not many filmmakers make films in the same way. Usually I donít either. Most of the time I will seek out and/or experiment with style to find the best way of doing it. Previously, This Time was my only film I knew what I wanted before I even touched a camera. Our Darkly Perfect World is, again, a project I know EXACTLY how I want it done. And itís very different to This Time. When I was writing the initial drafts, I was listening to Nick Cave and Richard Marx a lot to get into a particular mindscape. It was important for me to pay attention to the lyrics and the subtext. That led me to creating my own concealed meanings.
As far as I know, Our Darkly Perfect World took a little while from being a thought in your head to develop into a filmable movie script - so do talk about the whole writing process and getting the project off the ground for a bit!
As with (almost) anything I write, the initial idea came from a dream I had. I remember waking up and wondering who the girl was. I knew Iíd seen her before. And I immediately felt a little guilty because I was dating someone at the time. Thankfully, that relationship ended because it was abusive. I can only vaguely remember any sort of good that came out of it. Most of the time I was being barraged with insults and blamed for nasty things my ex brought on herself. I wonít go into it because a lot of it is very personal. Suffice to say, that relationship was also a main inspiration of my writing for this project. The dream inspired me to write a love story, something about complete adoration whereas my reality inspired me to write about my frustrations. I didnít originally think to combine the two ideas. Strangely enough, it only occurred to me over drinks with a couple friends. We were debating the validity of my two stories as separate entities. One of my friends refused to acknowledge romantic films as anything but cheap trash. I remember seeing his point because there really arenít a lot of good ones. Theyíre usually manipulative rather than actually emotional. I didnít want that for this project. So I put the two projects aside for a little while and focused on horror concepts. It wasnít until within this last year that I went back to look at the ideas. It was a way of escaping from all the horrible events splashed across the news. Iíd had enough. I didnít want to hear about any of it anymore. So, instead of making a new horror concept, I decided to restrict my undying attention to the writing of the two projects. I got to the mid-point of one of the projects, I think it was the frustration one, before I realised it was becoming quite dark. Instead of shelving it again, I looked into how I could combine the two projects. It actually worked a lot better than I ever imagined it could. After finishing the first draft with the two projects combined, I went back and made sure everything fit. I think the writing process went through around 15 drafts before I was happy with it. Another 4 or 5 drafts before everyone else was happy with it. But now, the script has been attracting some very interesting talent (industry professionals who have worked on some amazing projects). Thatís how I know itís a strong script.
What can you tell us about the intended look and feel of your movie?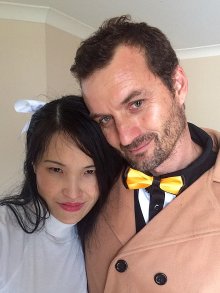 Lai Peng Chan, Daniel James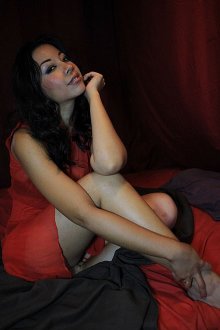 Natsumi Sato
Itís slow-paced with a strong focus on the beauty of the world. Iíve specifically designed each shot with the storyboard artist, cinematographer and lighting department with a particular vision based on paintings, photographs, even films such as Darren Aronofskyís The Wrestler and Terrence Malickís Tree of Life. From the very beginning, Our Darkly Perfect World has been about lavishness in content and in framing. Itís highly stylised filmmaking. Weíve also decided on colours for characters. Alfred and Gillian are often seen in the same colours, perhaps hinting at something. Amy, on the other hand, is always in white. Nothing in the film is without meaning. Weíre shooting with Chiaroscuro lighting and, right up until the end of the penultimate scene, the film will be in Sepia tone. Colour will bleed into the final scene, much like when Dorothy arrives at Oz. Visual cues to pop culture references will be scattered throughout but viewers will need to know where to look in order to find them. In a lot of ways, the beauty is the surface story. The pop culture references are the keys to the story underneath. And the story underneath is for each individual audience member to decide on for themselves. Itís a puzzle, a magic trick. I canít give away all the answers.
Anything you can tell us about your projected cast yet, and why exactly these people?
Iíve been lucky enough to build a talented cast based on the strengths of my screenplay. I briefly worked with Rachel Kahan on a promotional shoot for another film I was going to direct but it never reached the momentum of Our Darkly Perfect World. In the promo, Rachel played a kidnapping victim. Her portrayal was so haunting that I wanted to work with her again. I actually wrote the character of Gillian with her in mind. Alfred, on the other hand, was written without any particular actor in mind. I was terrified about how close he was to me and I wasnít sure how, or if, Iíd be able to find the right actor to play him. When I met Daniel James and spoke to him about his experiences with acting, I realised straight away that he was the perfect person to play Alfred. Daniel was used to being cast as an antagonist because of his appearance. And heís damn good at playing those roles. His frustration was that he didnít want to be pigeonholed as ONLY bad guys. Just like I didnít want to be pigeonholed as the guy who ONLY did horror/thriller films. We understood each other from a very personal perspective. With the two leads cast, I needed counterweights for both roles. Linda Marie Curryís short film, Dennis Mayhewís Magic Mirror, introduced me to Lai Peng Chan (the perfect person to play Amy). From there, the rest of the cast fell into place. The wonderful Natsumi Sato is playing Nicole, which is very against type for her. In real life, Natsumi is lovely and very supportive and weíre lucky to have someone of her talent on board. As Nicole though, she is a heartless spider-woman who jumps from partner to partner trying to find the perfect way of life. Sheís a real golddigger. But that said, Nicole is also a victim. She used to be good but certain events in her life have turned her into this femme fatale. Gene Von Banyard, another catch, plays opposite her as Samuel Marlowe (a timid man who has always sought after Nicole but watched from the grand stand as she destroys her innocent side and chases after bigger game). I saw Gene in a short film called Lifeís A Drag, where he played a violent homophobe and I wanted to see what heíd be like cast as someone who was at the opposite side of the spectrum.
As far as I know, the film's still in pre-production - so what's the schedule ... and even if it's almost certainly waaay too early to ask, any idea when and where the movie might be released onto the general public yet?
We begin principle photography on June 7th this year (2015) and itíll be a consecutive 4-day shoot. I always edit my own films so I project that the film will be finished by September this year, ready to be entered into the film festival circuit. My producers and I are aiming to have it at such a high quality that it can get into the most revered international festivals. Once it has toured the world in this way, the film will be available to the general public on various websites as a digital download. But that will probably be late in the year if not in 2016. Those that help us fund the project, however, will be given copies of the finished film as soon as it is finished this year.
Any future projects beyond Our Darkly Perfect World you'd like to share?
My next film after this one will be a return to form with a dark and disturbing thriller set in apocalyptic Sydney. Itís about a young manís frustrations with wanting to leave his childhood home and make a life for himself but heís trapped and forced to live with his mother who is suffering from a terminal disease, which is reminiscent of vampirism. The protagonist has to search for unsuspecting victims and feed them to his mother in order to keep her alive. Heís a very conflicted character because he canít do what he wants unless his mother dies but he canít just let his mother die because they have a strong familial bond. In a lot of ways, itís my love letter to the survival horror videogame genre. Iíve also taken preliminary steps to turn Our Darkly Perfect World into a feature.
Your/your movie's website, Facebook, whatever else?

Feeling lucky ?
Want to
search
any of my partnershops yourself
for more, better results ?

The links below
will take you
just there!!!

Find Russ Welsh
at the amazons ...

amazon.com

amazon.co.uk

amazon.de
Looking for imports ?
Find Russ Welsh here ...
Something naughty ?
(Must be over 18 to go there !)

You can find any information on the upcoming project at: https://www.facebook.com/our.darkly.perfect.world?ref=hl
We donít have a webpage yet but weíre currently negotiating with a few companies on price, design, all that jazz. Weíll be setting up a crowd funding campaign soon enough so we can finish the project. Iíve been spending my own hard-earned cash on making this baby so far. Thatís just how passionate I am about this project. But, in order to finish it properly, weíll need contributions. So, thatíll be something to look out for in the next few weeks.
Thanks for the interview!