We have talked about Sick - Survive the Night at quite some length already [click here], but could you bring us up to speed anyhow: What's the film about?
Since we have talked about it, to keep it simple, it's a story about survival and the human condition, set in the aftermath of a zombie apocalypse. The story focuses on three survivors, stranded far from their safety zones, who take shelter for the night in a house and now have to work together if they wanna make it out alive.
Over the years, and especially in more ambitious zombie movies (and I'd call Sick - Survive the Night one of those), zombies have often served as a symbol for one thing or another. Is that at all true for your movie?
Well sometimes a spade is just a spade. For SICK, all the symbols and metaphors and deeper meanings in the story relate to and revolve around the living. We have intelligent scientists (who happen to all be women, so take that to mean whatever you want), we have a group of survivalists known as "Settlers" who are all trying to work together to rebuild some resemblance of civilization. We have another group known as "Vultures", who rob, cheat, steal and take what they want to survive, and there are soldiers who are trying to hold on to and defend a world that no longer exists.
At the same time, I didn't want the zombies to just be a moving prop or part of the set dec, so we focused a lot on the science behind the infection and why our zombies are the way they are and we kept the science grounded in reality.
Despite being a zombie-movie, I have likened it to the Jean-Paul Sartre-quote "hell is other people" - something you can at all identify with, and if so, could you elaborate on it?
Hell is other people is definitely something I think the story relates to, especially considering all symbolism and metaphors relate to the living. And it is definitely a subject matter I like to fuse into all of my storytelling. It's a great quote, taken from Sartre's No Exit and I think it really defines us and human relationships. How we allow people to treat us, how we treat others based on our own gain. To keep it simple, humans are evil and that's probably why horror films have the best characters and character development.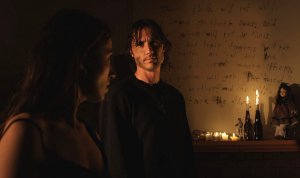 Christina Aceto, Richard Roy Sutton
Of Sick - Survive the Night's three main characters, who can you identify the most/the least, and why?
That's tough to answer because I can identify with all of them. Maybe it's a tie. I can identify really well with both Seph (Richard Roy Sutton) and with Leigh (Christina Aceto). They share a scene together in the film where they discuss whether they believe in God, especially considering everything going on and when creating the dialogue, I could definitely identify with both characters and their reasoning for saying what they say.
Not to discredit Mckay (Robert Nolan [Robert Nolan interview - click here]) at all. I love his character and I think Seph and Mckay are the perfect tag team in a film. But that is probably because Seph and Mckay are polar opposites.
Having down the lead characters, you of course also have to talk about your key cast for a bit!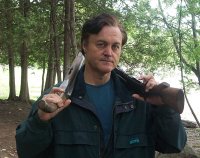 Robert Nolan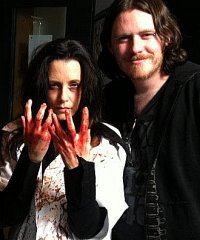 Ryan with Debbie Rochon
I am very lucky to have worked with so many amazing actors, not just in SICK but in all my films. Christina Aceto, Richard Sutton and Robert Nolan, were a perfect dream key cast. During pre-production and all through the shoot no one ever phoned anything in. They were all there 100% of the time and they were all there for each other. They're not just the best actors you can ask for, they're the right actors. They have the right attitude, they have the right passion and they have the right dedication.
I have been told by many actors and have read in interviews they have done, that they consider me an "actor's director," which is definitely a huge honor, so I am humbled by that. The way I work with actors is I'm creating the story and in most cases I've created the characters, but they are the ones bringing those characters to life. They're not puppets. It's like (and Wrestling fans will appreciate this) Vince McMahon created the Undertaker character, but it's Mark Calaway, who plays the Undertaker, that is responsible for connecting with the audience and having all the fans that he does. The characters just aren't real until the actors take them over and make them their own. And that is what Christina, Richard and Robert did. Honestly all the actors did that. It was a great ensemble cast. Jennifer Polansky, Debbie Rochon [Debbie Rochon interview - click here], Sandra DaCosta [Sandra DaCosta interview - click here], everyone!
But just focusing on the key cast, I would work again with all of them any chance I get.
What can you tell us about the trials and tribulations of making a zombie film on an indie budget, and do talk about the shoot as such for a bit!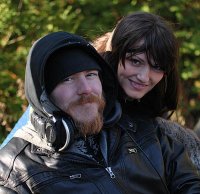 Ryan with Sandra DaCosta
On any indie film, no matter the subject matter, I think the biggest issues to contend with all come down to time and money. People try to shoot way above their means and because of that, things suffer. I'm not saying don't reach for the stars, just don't be stupid. Even on an indie shoot time is money, and considering both are limited you gotta think smarter about it.
With a zombie film it's no different. So really it's about managing expectations and shooting inside your means. And that's what we did with SICK.
There were a few days where we had 30 or so zombie extras who all had to get done up in make-up. Our zombie make-up artist, Melis Stevens did an amazing job with the make-up FX and on the days we had all the zombie extras she assembled a killer team of assistants to help.
My DoP, Michael Jari Davidson also brought many amazing people onboard the SICK crew and he is always an inspiration to watch and work with. With his talent and commitment and the hard working ethic of our 1st AD, Ryan Port, we were really able to run a good set. Executive producer Cengiz H. Fehmi and producer Bruno Marino really made it possible for the three of us to do what we do and get the film made.
I think, at the end of the day, with time and money hanging over everything and because we are creating an emotional roller coaster for audiences, it's natural for emotions to be high on set... But on SICK we had such a solid, professional team, that we met everything head on and at the end of the day, the result is on screen.
What can you tell us about critical and audience reception of your movie so far?
So far so good. We have had plenty of great reviews. There is no way to please everyone, so I'm sure there are a few that the film isn't really catered for. I like a Bill Cosby quote that says, "I don't know the key to success, but the key to failure is trying to please everybody."
So I don't worry about negativity. At the end of the day we have been getting amazing reviews.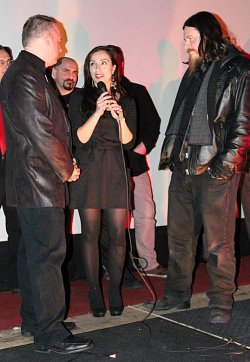 SICK world premiere:
Q&A with Kelly Michael Stewart, Christina Aceto, Ryan M. Andrews
And the audience reception has been just as good. I'm sure there might be a few that would have rather seen another 3D Resident Evil, shoot 'em up film or some boobs & blood orgy film, but the audiences have really fallen for this character-driven zombie horror. It's something different and something intelligent. Speaking as a die hard, life long horror fan, we all enjoy our bloodbaths and girl running in the woods horror, but when a smart horror comes along, it's refreshing. Filmmakers need to trust their audience more. One of the two people I credit with teaching me how to make a good story is LA based producer and writer Richard Finney. And one of the many pieces of advice he gave me was to never cater your script for the masses and keep things simple and repetitive. Write intelligently and trust in your audience. Fans will rise to the occasion and appreciate that you gave them something different and something smart. I hope we did that with SICK.
Provided you had the right script, could you ever persuaded to do another zombie movie?
Of course. Co-writer Chris Cull and I have a sequel and prequel written for SICK. So we have a lot more to tell, and even beyond that, I am not against doing another zombie film. But absolutely, it has to be the right script. And by that, I mean, the story has to be something different from everything else out there and it has to offer something to the genre other than taking up space.
Let's talk about some of your future projects for a bit:
From what I've heard, you are planning to do two movies with Jessica Cameron [Jessica Cameron interview - click here] - what can you tell us about those?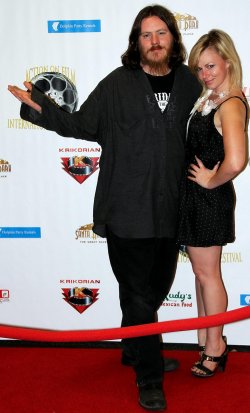 Ryan with Jessica Cameron
photo by Carlo Rodriguez
I'm very excited to be working with Jessica. She's a good friend and she is also a passionate horror artist. We are working on a film that is currently titled Til Death. It was a script that I first wrote more than ten years ago. I hadn't touched it for years, but after hanging out with her in LA last summer, it hit me that she would be perfect for the lead so I dug it out, dusted it off and sent it to her. It's a haunting story about a husband and wife who, while on their travels, wind up staying at a bed & breakfast in a small town. But the longer they stay in the town the more the wife is drawn to it and she doesn't want to leave. Little do they know there is a mysterious force driving her to stay, and before they know what's going on, it may already be too late.
Not only is Jessica acting in it but she is also producing it.
The other film, Save Yourself, is on the other side of the horror spectrum. It is a grindhouse horror about four female filmmakers en route to a film festival, but they never make it because they get side tracked and one by one go missing. They're kidnapped by a mad scientist and they'll be lucky if any of them make it out alive. While being a fun, bloody and sexy horror film, it is still rather intelligent and different. The four women represent the four different kinds of female characters in horror films. There is the bitch character, the slut, the brains and Jessica plays the girl next door character.
There is actually a couple other projects as well that we have been discussing at length.
You've also recently shot a film called Klymene - so what's that one about?
Klymene is more of a David Lynch-style horror. It's a bizarre, hypnotic story. Very Noir. Watching an artist struggle to make it, is like watching a Shakesperean tragedy or comedy. And that is what inspired this project. Klymene is the greek Goddess of Fame and the story revolves around four artists performing in some back alley theatre for fame, who is represented by one lone person in the audience watching them, able to give them everything they want at the drop of a hat.
It stars Jessica Cameron as well. Along with Ryan Barrett (NeverLost) Lindsay Smith (In The House Of Flies) and Sandra DaCosta [Sandra DaCosta interview - click here] and Robert Nolan [Robert Nolan interview - click here] from SICK.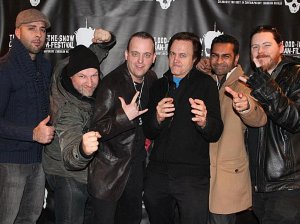 Kelly Michael Stewart and Robert Nolan, framed by the directors of Tales from Hell
Finally, you're one of the directors of the anthology Tales from Hell starring Sick - Survive the Night leading man Robert Nolan [Robert Nolan interview - click here] - now what can you tell us about that project yet?
Tales From Hell is a film I am excited to be a part of. It was created by Producer Kelly Michael Stewart. Kelly writes for Fangoria and created and runs the Blood In The Snow Canadian Film Festival, which focuses SOLELY on Canadian horror film. He created this idea of doing an anthology in the classic style of Twice Told Tales or The Twilight Zone. Like Twice Told Tales featured Vincent Price [Vincent Price bio - click here] in each story as a different character, that's what happens with Robert Nolan. He stars in each segment as a different character.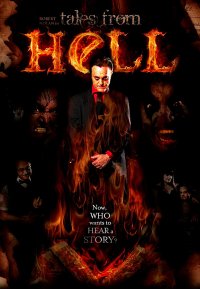 Kelly attached me and three other Toronto area directors to each write and direct a story. The other directors are Chad Archibald (NeverLost), Gabriel Carrer (In The House Of Flies) and Navin Ramaswaran (Nara). And to me, that is the best part, I am working with three of my peers in the industry. The Toronto area has a huge horror scene that is growing daily. There is a lot of us here and the best part is we all support each other. One voice might be too quiet to get noticed, but with all of us horror filmmakers here, making a scene and creating noise, people are starting to take notice of what we are doing.
Other future projects of yours you'd like to talk about?
Funny enough, on top of all those projects I just mentioned I do have a couple other films that are written and ready to go. They're just being shopped around right now, so I won't get into them, but I am hoping to be able to move forward on them in the near future. I always have lots of horror films ready to go if the right opportunity arises.
There is a couple I have been working on for years as well, that are starting to pick up steam now.
Basically there is a lot still to come. SICK is just the beginning.
Your films all seem very firmly rooted in the horror genre. So what does the genre mean to you as such?
Every genre lends and borrows from each other. Horrors have dramatic elements and some have comedic moments or action sequences. I just feel at the end of the day, horror is the best genre to work in. When done right it can evoke the most emotion out of the audience. Terror and fear are universal.
Look at comedy! What is funny in Canada and works well here may not translate well in other areas around the world. But what does translate well everywhere is fear and the struggle for survival. Horror is the most primal genre out there.
And the fans make it very fulfilling. With all the horror conventions out there, horror fans don't just like a film. They love it, they obsess over it and learn everything about it. In other genres people will go out and watch the summer blockbuster, rave about it but be on to the next one the following year, but horror fans hold on to those films they love.
Your/your movie's website, Facebook, whatever else?

Feeling lucky ?
Want to
search
any of my partnershops yourself
for more, better results ?

The links below
will take you
just there!!!

Find Ryan M. Andrews
at the amazons ...

amazon.com

amazon.co.uk

amazon.de
Looking for imports ?
Find Ryan M. Andrews here ...
Something naughty ?
(Must be over 18 to go there !)

SICK's website: sicksurvivethenight.com
I'm on Facebook: Ryan M. Andrews and I have started a page: Director Ryan M Andrews.
SICK is also on Facebook at facebook.com/SickTheMovie
Anything else you are dying to mention and I have merely forgotten to ask?
I just always like to let all the horror fans out there know that in recent years the Canadian horror scene has been growing and kicking ass. I'm proud to be a part of it and it's not to be ignored. The Soska Sisters [Soska Sisters interview - click here] are trucker-mouthed twins that kick ass with Dead Hooker In A Trunk and American Mary. Chad Archibald and Gabriel Carrer, whom I mentioned earlier in regards to Tales From Hell, have a number of amazing horror films through their company Black Fawn Films. John Geddes and Jesse Cook from Foresight Films are the Canadian definition of entertaining, with their films Monster Brawl and Exit Humanity, not to mention a number of new films getting made. Justin McConnell (The Collapsed) is a damn hard working horror filmmaker cut from the same cloth as me. And for anyone interested in balls to the wall, shock horror, Astron 6 has you covered. Over the top and in your face grindhouse style, Father's Day and Manborg are great choices.
We're not going away, so you might as well check up on us now. You won't be disappointed.
Thanks for the interview!
Thank you sir.