Your film The Devil Walks Among You - in a few words, what is it about?
It's about a mysterious and sexy woman in a smokey bar doing a spoken word, telling a story about the night the Devil came to Earth.
Somehow, the film's structure reminds me above all of good old-fashioned short stories. Is that a comment you can at all live with, and what were your (other) sources of inspiration?
Of course I can live with that. Ha. But there is so many more layers to it at the same time. I have always loved the look and feel of the Club Silencio scene from David Lynch's Mulholland Drive. If you haven't seen that film, see it. That scene was just so hypnotic and sensual and mysterious. So I really wanted to do something with that feel. Also myself and one of the film's producers Geoff Wertheim have always loved The Twilight Zone, Tales From The Crypt and Tales From The Darkside. Basically we combined the two.
Is it true that you'd like to expand the concept of The Devil Walks Among You into a television series, and how exactly would that work?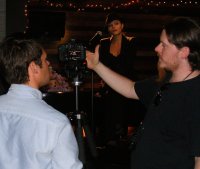 On the set of
Yup. It's true. The original idea was to shoot a few more short films and combine them as an anthology like Nightmares and Creepshow. But after shooting the short, we all just fell in love with host character, Lily Mastema. We wanted to see more of her. She was just the perfect host. So mysterious and slick. And one thing we all miss is classic weekly shows like The Twilight Zone. They were suspenseful and most importantly they were clever. Brilliant ideas and brilliant stories. A lot of younger horror fans who don't like watching really old films and shows don't know what they're missing. The Devil Walks Among You just seemed to scream TV-show. Everything lines up. Each week, the darkly mysterious and eerily sensual host Lily Mastema tells stories from the stage of a seedy, smoke filled blues bar. The other producers and I all have dozens of stories to tell that fit within the style. So that's the plan.
It's a long road though to develop this short into a television series, so it's still a ways off. But the short film basically doubles as the pilot episode.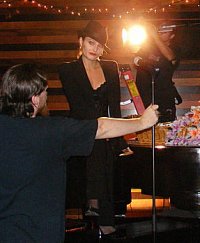 Sandra DaCosta as Lilith Mastema
A few words about the film's Greek Choir-character Lilith Mastema, and the actress who plays her, Sandra DaCosta [Sandra DaCosta interview - click here]?
Nice. Sandra is a great actor and a great person. She really has passion for her craft and I respect that (and her) greatly. I think she was on set the entire time, even when she didn't need to be there. She was just really into the project so much. I created the character and wrote the dialogue for Lily, but Sandra is the one who really breathed life into her. Sandra does her homework and when it's time for her to deliver, she brings it! And I don't think Lilith Mastema is the easiest character to play because it is all within restraint. The character is very calm and subtle. She sits on a piano smoking a cigarette and telling a story, so she didn't have much room to move or anything. It was all based on her words and subtle movements.
What can you tell us about the rest of the lead characters of The Devil Walks Among You and the people who portray them?
It was a small cast (small crew too) but we had the perfect group of actors. Robert Nolan [Robert Nolan interview - click here] as the man who claims to be the Devil. Katie Uhlmann, Craig Porritt and Rodrigo Fernandez-Stoll play the people that The Devil pays a visit to. If you are only as good as your weakest link, then we were sitting pretty, because all these actors brought their "A" game and continually outdid each other. One of my favorite aspects of being a director is working with actors. Together we take the character that is on paper and make them who they are. I saw a lot of those actors in their characters.
Your film seems to have a very noir-ish feel to it. Would you like to comment on that?
I'm all about horror. All aspect, it doesn't matter, if it's horror it's all good in my books. But probably one of my favorite aspects of horror to explore is Horror-noir because there is so much focus on the story and the character development. I will always be loyal to the horror genre, but because I am so wrapped up in it I can see a lot of the flaws in it's current state. And I think one of the key elements that most horror films of today are missing, is the character development. If I (as the audience) am not given the opportunity to get emotionally invested in the character, then I'm not going to care what happens and I'm not going feel fear for them. Noir style puts characters first, not to mention, Noir is a beautiful look. So even when I make a slasher film, I try to add subtle hints of Noir to that. To quote David Cronenberg, "Just because you're making a horror film, doesn't mean it can't be artful."
Is it true that you and Morgan Muscat [Morgan Muscat interview - click here], one of the producers of The Devil Walks Among You, are planning to do a Stephen King adaptation?
Yes. It's Morgan's baby. He acquired the rights for the short story Suffer The Little Children from the Nightmares & Dreamscapes book and he's written the screenplay for it. I'm lucky enough to have been asked to direct it, so of course I said yes. How can I be all about horror, if I didn't do a project that carried King's name. Once I cross that one off the list, I would LOVE at some point in my career to adapt a Clive Barker novel.
Two of your films, Behind Closed Doors and A New Design are scheduled to screen and are nominated for awards at the Bare Bones International Film Festival in Muskogee, OK - what can you tell us about these two?
Well if anyone is in the area, I would LOVE to have them come out to not only see my films but to support independent filmmaking. I will be driving down there with producing partner Geoff Wertheim. It's a 20 hour drive for us from Toronto, but it's going to be worth it. It's on Saturday April 30th. You can check out all the information for it at the festivals website, http://www.barebonesfilmfestivals.org.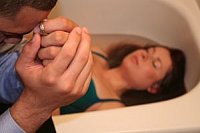 Neil Green and Anita Marelic in
Behind Closed Doors
Behind Closed Doors is a short dramatic thriller and in my opinion, it is probably the most brutal story I have shot, so far. It's a very realistic situation and all the tension and all the horror comes from the ugliness of real life. When you are dealing with witches and ghosts there is a bit of safety in it, but when dealing with reality, there is nowhere to hide. Basically, the way I wanted to approach it was by stripping everything down and getting rid of all the bells and whistles. It's a short film, there's no time to weave a crazy story filled with twists and turns and do it properly. Plus there isn't much time to develop all the characters. So at it's simplest, four people, one room, one day. Neil Green, who was also a producer on the film stars as Ansen, a young man meeting his mistress in a hotel room, but one thing leads to another and things just keep getting worse.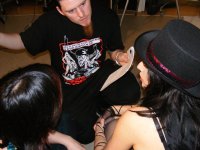 On the set of A New Design
A New Design is a very bizarre Lynch-style horror. It's methodical and eerie. It's about a woman who wakes up with amnesia and retraces her steps to figure out who she is. We definitely went off the charts with style and approach. The lead doesn't speak for the first hour of the film, so the music is very important to the film. The score acts as the woman's voice until she finds her own. And I approached each scene as it's own shoot. I've described it before as each scene is it's own painting and watching the movie is like walking through an art gallery.
What can you tell us about your upcoming 1980's style-slasher flick Black Eve?
It was fun. So much fun. And it was a great way to switch things up a little. Instead of doing hardcore artful films, I got to go balls out with another sub genre that I love and grew up with. Back in the 80's I was a kid making sure my parents didn't catch me watching The Texas Chain Saw Massacre, Friday The 13th and so many more. Made with the same guys I made Behind Closed Doors with, Black Eve is a fun body count film. It's Halloween night and a group of people are having a Halloween party in a closed down department store.We all know the rules of slasher films, if you do drugs, you die. If you leave the group to go have sex, you die. We have this kick ass bad guy who crashes the party and the body count just piles up. Of course being true to who I am, there is still an artful side to how everything plays out. The film should be playing the festivals by the end of the year.
As far as I know, you are also in pre-production of a zombie movie, Sick. What can you tell us about that one?
Yes sir. Sick originally came from the mind of Chris Cull. He's been my editor on my past couple films and music videos and he also produces. To link this back to The Devil Walks Among You, the original idea for Sick was it was going to be made as a short film to accompany The Devil Walks Among You in the anthology, but when Chris and I wrote the script, I knew right away, this film is a feature all on it's own.
For me personally, I had wanted to stay away from the zombie sub-genre, because it seemed like 8 out of 10 indie horror films were zombie films. And very rarely did they offer anything to the genre. But with Sick I'm just really excited for it because there is so many layers to the story. Things that haven't been done before. The story takes place two years after the zombie outbreak. Two militant soldiers stranded far from the quarantine zone and a maverick scientist desperate to find a cure cross paths and as nightfall comes they are forced to seek shelter in a secluded house. It's the perfect set up for a classic Night Of the Living Dead-style story. But the characters and the motivations are so crazy and complex the story takes on a very psychological aspect.
We're going to camera towards the end of summer (2011).
Any other future projects you'd like to talk about?
I've got an endless supply of scripts and I've got lots of projects ready to go. It's just about finding the right opportunities for each one. I've had a few opportunities to make some of these films, but I have turned them down. I'm not insane, ha ha, I just want to make sure these films are done right and I'll sleep better at night knowing I'm sticking true to my vision and dedication to the horror genre. So many people want to make a horror film, but they don't understand the true nature of the genre and subsequently, the film suffers for that. I'm the last person who should make a romantic comedy. I can, but just because I can, it doesn't mean I'm the best choice. But if you want horror, I'm your guy!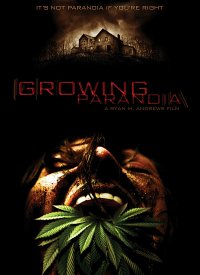 At the top of my list is a project called Growing Paranoia that takes the classic haunted house story to the next level. There is also a project that is very close to my heart and it is called The Ghost Flower and it is a haunting thriller that revolves around Autism. I have a son with Autism and so the subject is something very near and dear to me.
Let's leave the future behind for the time being and leap forward into your past:
What got you into filmmaking in the first place, and did you recieve any formal education on the subject?
As a little boy I used to write story after story on my parent's typewriter. I just loved telling scary stories and by the early 90's I really got into the visual aspect of it. It's what I've been about ever since. Plus I grew up in a small town. There was nothing to do so if I wasn't renting any video I got my hands on, I was developing my own. Then, yes, I went to Niagara College and took the Radio, Television and Film program. But with the majority of the focus on radio and television, I didn't feel I was getting anything out of it. (Though it was fun editing on an old steenbeck table.) Then I moved Toronto and attended a film school here, graduated at the top of my class and haven't given up since.
Your first film after college was called Martyr, right? A few words about that one, and the lessons learned from making it?
Martyr was a 15 minute short film shot on 16MM back in 2000. The story is about a man that kidnaps two people and ties them up in a room together. He wants to teach society a lesson because he feels people think too highly of themselves and take everything for granted.
As for what I learned, hmm? I learned this is definitely what I want to do with my life. To be honest, it's a little hard to say since I made that film 11 years ago. I have many fond memories but the reality is I made it at the end of my school year with more than a dozen of my classmates. Of course the film was far from perfect. Name the classic mistake and I probably made it. But I wouldn't change a thing, cause you learn more from your mistakes.
I've read somewhere that your first feature film was called The Art of Infamy, but did not manage to find much information on it beyond that. So could you fill in the blanks?
Yes, back in 2006. The Art Of Infamy was a film shot like a documentary (à la Blair Witch Project). It follows a female serial killer as she documents her crimes and teaches the 8 rules to becoming a successful serial killer. It's look was almost like a snuff film. I think the reason why so many people say that lots of horror films are not scary is because there is a sense of security in knowing that it's not real. So I wanted to do everything I could to make it feel real. We didn't use slick lighting or even perfect sound, because if a killer is chasing a victim, there is no way you would have that.
Not a lot of people got it and therefore didn't really like it. I couldn't really get it in very many places until I sent a copy to Fangoria. Down in New York. They got it and they loved it. They even screened it in the USA on FangoriaTV.
Any other movies you have directed you'd like to talk about?
I've done a number of other short films over the years with each one always trying new things and new ideas, but my main focus is on features. A wise man said to me recently. "You're living your dream. Now it's time to make a living off your dream." And he's right. I AM living my dream. But I have bills and I have a family, and though we must never forget the art, it is still a business and I need to make a living from it. So even though I have learned plenty from all my older shorts and even from The Art Of Infamy, my focus is not on the past but what I am doing now and what I am doing next.
You usually write your own movies as well. Do you see yourself more as a writer or as a director?
To be honest, I see myself as a storyteller. My medium for telling my stories is film. Am I more of a writer or a director? As a storyteller, I'm both. And I write for other people and I direct what others write. So I can't say I'm more one than the other.
You have also written a handful of screenplays for other people. What can you tell us about those?
Anyone can come up with an idea, but not everybody can write. I owe my writing ability to two people really. Producer/Writer Richard Finney and actor Brooke D'Orsay. They both helped me more than they probably will ever know. So in return I am always interested and willing to work on other people's stories, to help make them as good as they can be. There's been a few different scripts over the past five years, but most recently I worked with Canadian director Rodney Dwira. He had a police drama and we hammered it out and the film is currently in post production. The film's working title is 10-57 but I believe it will change.
I also did additional writing on a film called Ecstasy directed by Lux. I had written for him before many years ago. To put it simply I love writing and I'm always interested in working on any script that comes my way.
Besides directing feature films and shorts, you also shoot the occasional music video. How does directing a music video differ from making what I'd call an actual movie?
I like that you used the term, "an actual movie" cause music videos are not movies. They're music videos. The focus always needs to remain on the song, not some elaborate story that barely has anything to do with the song. At the same time you don't wanna be at the other end of the spectrum where it's just footage of a band playing. You've gotta kinda meet things half way. The point of a music video is to make great, creative visuals to accompany the song, not overpower. A brilliant example of this is Slipknot's video for Vermillion. To me personally there is a huge difference and you can't approach them the same. Everything is different about it.
Your movies all seem to be horror movies to at least some extent. Is horror a genre especially dear to you, and what can you tell us about the current state of horror in the movies?
Horror is the genre that I am completely passionate about. Hands down, I will go on record and say it is the best genre. Fear makes for the best confrontation and there is a certain sense of urgency that you just don't get in other genres. There is just a greater sense of danger. Don't misinterpret that though. I'm not saying there aren't any good films of other genres cause there are, I just personally love horror more. Admittedly I find horror to be in a bit of a slump right now because so much focus is on needless remakes and repetitive shock factor. Loud noises and over the top gore doesn't make a scary movie. Personally I like the older style of horror filmmaking. The ankle slice on Fred Gwynne in Pet Sematary or the chains ripping Andrew Robinson's head in two in Hellraiser are far more effective than all the CGI gore we see nowadays. And the foreboding tension of The Shining or Invasion Of The Body Snatchers leaves a lasting impression far more effective than the A.D.D. style of today's films.
I want to combine most of the technology we have of today, with yesterday's style to give a lasting impression that still really gets under your skin.
Directors who inspire you?
Of course I can name Lynch, Kubrick and all the other usual suspects that everyone names. And I love their films, but really, any director that works their ass off to succeed in such a challenging business inspires me.
Your favourite movies?
Again I will skip all the usual suspects that everyone has named a million times and just name the more obscure titles that are true hidden gems you need to see. Eriq La Salle's Crazy As Hell, Rob Stefanuik's Suck, Warren P Sonoda's 5ive Girls and Brad Anderson's Session 9.
These are some great hidden gems which all for different reasons I think stand out from the usual.
... and of course, films you really deplore?

Feeling lucky ?
Want to
search
any of my partnershops yourself
for more, better results ?

The links below
will take you
just there!!!

Find Ryan M. Andrews
at the amazons ...

amazon.com

amazon.co.uk

amazon.de
Looking for imports ?
Find Ryan M. Andrews here ...
Something naughty ?
(Must be over 18 to go there !)

I don't know if I would use a word as strong as deplore but in my opinion, the purpose of a film, above all else, is to entertain. Documentaries inform, and narrative features entertain. If a film doesn't entertain, I wouldn't go as far as deplore, but having missed it's mark, it might be a little pointless.
Your website, Facebook, whatever else?
Website: rmandrews.wordpress.com
You can find me on Facebook: Ryan M. Andrews and I also have a Facebook group you can join. Just look for Blackguardism Creations, join and show support.
Anything else you are dying to mention and I have merely forgotten to ask?
Thanks for giving me an interview. It's because of people like you that people like me have a chance to reach a bigger audience.
Thanks for the interview!