Your new movie Chupacabra Territory - in a few words, what is it about, and what can you tell us about your character in it?
I play Amber who is an amateur cryptozoologist. She's super excited to go off in search of the Chupacabra and feels a mystical connection to the creature. She's into witchcraft and omens and all of that fun mystical stuff. In the film a group of four friends decide they're going to find and capture the Chupacabra on tape, so they head off into an area known for odd animal deaths and the disappearance of other campers to search for the cause of these mystical occurrences.
What did you draw upon to bring your character to life, and how much of Sarah Nicklin can we find in Amber? And since Amber's a cryptozoologist, is that at all something you can relate to?
I was interested in Wicca when I was in high school (what strange teen girl wasn't lol), but the elements of wicca are often misconstrued when it's portrayed on film. While it's never said that Amber is a wiccan directly it is heavily implied. The magical practices of Amber differ greatly from traditional Wicca, so I had to let go of some of what I knew as far as rituals etc. in order to comply with the ritual rules in the film and was relying on the director and producer Matt and Chris for guidance as to what the rules of the world that we were existing in are.
I've also always been interest in cryptozoology, but it's never been something I've pursued or gotten involved in. I think the idea that there are these mystical monsters (for lack of a better word) walking around in undiscovered areas of the country is fascinating. So to tap into this, I watched a lot of videos that supposedly captured these creatures on tape, trying to not be skeptical and to buy into these being real as Amber would have. Lots of them were very "found footage" in style, which also helped to get into the headspace of the film.
With the film being shot found footage/first person style - is that any kind of special strain for you as an actress? And your personal thoughts on the found footage subgenre?
If anything the only strain would be the lack of strain. There was an outline with plot points written for the film, but a lot of it was left up to us and was improv. As we'd go into a scene Matt or Chris would come up with some things for us to talk about during the scene or if there was something important we needed to discover or mention, they would make sure that we covered that topic, and there were parts that were scripted too, but a lot of it was left up to us to just banter naturally. I've done improv work before, but I wouldn't say it's my strongest trait and there are definitely people who are much better at it than I am, so that was a challenge for me. But all of us actors had a lot of fun together playing off each other which helped to keep the energy up and keep things moving.
Another interesting part of making this film was that since it was found footage and we all had Go Pros (which was new technology at the time), we were able to help tell the story and film B roll for a lot of the film. Yes we always had a dedicated first camera, but there was also a lot of freedom given to us to play with our cameras and compose what we thought might be an interesting shot or angle. It took you out of the mind of an actor and into the mind of a director a bit which was a first for me.
Personally, I think the found footage genre is a bit played out and that there are more bad found footage films than good ones. Not to say it can't be done well, because when it is, it's very effective! Paranormal Activity legitimately scared me when I first saw it, but then there were so many sequels and spin offs and people trying to do something similar that there were just too many found footage films, and many of them weren't original or good. We actually shot Chupacabra Territory around 5 years (I think) before it was released, so a lot has happened between when we shot the film and its release and the found footage market has become even more flooded with content whereas back when we shot this, it wasn't as over-saturated - it was headed that way, but there was still some room for films that had a new unique idea. And Chupacabra Territory has exactly that - I think we are legitimately the only found footage Chupacabra film out there where as there are so many others created around ghosts or demons or aliens that just don't play out well since people are tired of seeing it.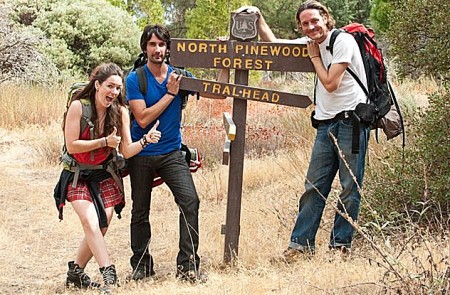 Sarah with castmates Alex Hayek, Michael Reed
Chupacabra Territory is pretty much an outdoors movie - so would you at all consider yourself an outdoorsy kind of person?
Absolutely. I love being outside and do it as much as possible. I grew up playing imagination games in the woods with my sister. I love camping and hiking. Bugs, spiders, dirt, whatever, really don't bother me. In about a week Sean Decker and I are going on my first backpacking hiking trip to Havasupai falls at the bottom of the Grand Canyon and couldn't be more excited.
How did you get involved with the project in the first place?
I knew the producer Chris Maltauro through a previous project. I had worked on The Haunting of Alice D directed by Jess Sonneborn [Jessica Sonneborn interview - click here] which Chris was also a producer on. I'd become friends with Jess and Chris so when Chris was looking to put together a cast for this project, he approached me to see if I'd be interested and I had such a great experience with him in the past that I was excited to work together again!
What can you tell us about your director Matt McWilliams, and what was your collaboration like?
Matt is awesome! He knew the story forwards and backwards and was so on top of making sure that we were covering all the important story plot points, which is very important when we're shooting improv and out of order. He also knows when to give his actors freedom and also how to reign them back in. He's super resourceful and a great problem solver and really put his blood sweat and tears into this film.
Do talk about the shoot as such, and the on-set atmosphere?
The atmosphere was great! We had so much fun making this film. It was basically like a big camping trip only we were making a movie at the same time. We actually did go camping all together a weekend before we started shooting so that we could all build a rapport with each other, which was the first time I met Megan Hensley who is awesome. We were supposed to be camping during the shoot as well, but it was too cold to sleep outside so we were all housed in cabins instead. Which was equally as much fun - a big sleep over with your friends while you are being creative and making a movie :)
Any future projects you'd like to share?
There are a few things in the works that I'm attached to that I can't really talk about right now. They're in various stages of pre-production and financing, but if they all come through, it's gonna be really awesome!

Feeling lucky ?
Want to
search
any of my partnershops yourself
for more, better results ?

The links below
will take you
just there!!!


Your website, Facebook, whatever else?
facebook.com/sarahnicklinactor
Snapchat: saranicklin
Phew! I think that's all of them lol
Anything else you're dying to mention and I have merely forgotten to ask?
I got poison oak from running around in the woods in a skirt! It was my first experience with poison oak since I'm from the East Coast and we only have poison ivy, which I'm not allergic to. So that was a learning experience! I'm allergic to poison oak but not ivy.
Thanks for the interview!