Your film Breath of Hate - in a few words, what is it about?
Breath of Hate begins as a simple an utterly twisted love triangle of sorts. A pimp, a hooker and her part time boyfriend. Soon there are three hookers and three escaped mental patients meeting up for what turns out to be a sick-n-twisted evening of sex and violence. The boyfriend wants his girl back, the pimp wants his money and the mental patients? Let's just say they have some very curious wants and needs.
How did the project come into being, and what can you tell us about your collaboration with scriptwriter Wes Laurie?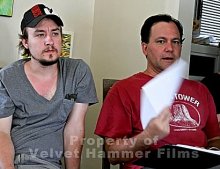 Wes Laurie, Sean Cain
Basically my deal with Wes Laurie was that he would fund two films. I would write one of them and he would write the other. The first was Silent Night, Zombie Night and then, after trawling through his billions of scripts, he picked Breath of Hate."Not only did I really love the story, but I knew we could produce it at the budget he was talking about.
There were some major changes made to the script. Wes had envisioned a younger 'Hate', but I knew as soon as I read it I wanted Ezra Buzzington to play the role. Some people just have an energy that's perfect.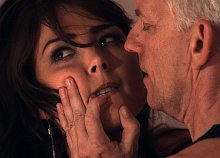 Ezra Buzzington with Lauren Walsh
Also, the choice of location was different than in the script. Wes had a seedy looking rundown place that all the dastardly deeds happened, but we couldn't find anything that fit. For some reason we found this very sterile, austere mansion in Malibu which was the total opposite, but that ended up working even better. Instead of being 'on the nose' about what a horror film should be like we took a 180 degree turn and made it more interesting.
With Breath of Hate pretty much being about the seedy side of life - how much can you relate to this world as a director (which might be a stupid question)?
Anything seedy, like the spanking stuff and the whole foot fetish toe licking is all Wes. He's kind of a weird dude who's obviously done some interesting things in his life. He claims that he puts that into his scripts because he wants to get Tarantino involved, but I think that's just a ruse.
The part that I originally connected to in Breath of Hate was the love story between the hooker and her white knight in shining armor. I think most guys can relate to that. You know how Freud supposedly has these 'stages' which we go through to become a mature person? Well, I think one stage of every man's life that he goes through and then (hopefully) grows the fuck out of is the need to rescue women.
How would you describe your directorial approach to your story at hand?
Wes, as a screenwriter, is very hands off. I think once he finishes a script he just doesn't give a crap anymore. He got it out of his system. Because I really liked the script I wanted to stay as true to the work as possible... as cliche as that sounds. But I have to now take this stuff printed on the page and turn it into a motion picture. The way I like to work as a producer and director is to hire people who I don't have to worry about. People who I know will take the ball and run with it. Especially actors. I really hate micro-managing people. I want actors to come in and make the role theirs.
Jason Mewes plays the "romantic" lead in Breath of Hate, which might come as an odd choice for some. So ... why him, and how did you get him?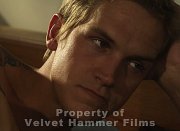 Jason Mewes
Well, when his name came up as being a possible Ned for Breath of Hate it took me a second to wrap my head around it. But I asked some of my lady friends what they thought about him, if they found him sexy and all that, and to my surprise they did. So, I really started taking a look at him and thought that this guy has a lot of charisma. Even though I hadn't seen him play a romantic type lead I figured that he could do a great job. When he started contacting him and getting his reaction to the script it was positive. He was ready to really work hard on this role.
What can you tell us about the rest of your cast?
I brought in a lot of people who I had worked with previously on Silent Night, Zombie Night. Jack Forcinito, Felissa Rose, Tim Muskatell, Ricardo Gray. Because I knew they were all super talented actors who had positive attitudes.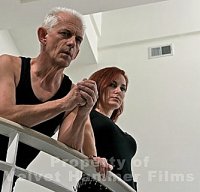 Ezra Buzzington, Monique Parent
The biggest addition to my 'crew' was Monique Parent. I met her through a mutual friend and knew she had a bit of the killer in there so I hired her as Selma who is a bad, bad girl. Well, it turned out to not only be the perfect choice, but we ended up being great friends as well. I love working with people who I like. Life is too short to do otherwise.
What can you tell us about audience and critical reception?
We originally had our premiere as part of GoreZone UK's Weekend of Horror in October of 2010 out in London. The film was mostly done, but we didn't have the opening title credits done yet and some of the FXs in the film were still a bit rough, but they really seemed to love the film. At that point I was on cloud 9. I thought I had goldmine! After that was San Francisco's Another Hole in the Head genre festival and again it was a buttkicker! Great reviews from those who came out and saw the film. The audience oohed and ahhhed in all the right places. Same with Pollygrind in Vegas and then the Fangoria-sponsored festival in Indianapolis as part of Days of the Dead.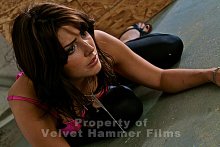 However, upon having my rep take it around to the major distributors we kept getting turned down. The film's narrative has a very non-linear quality to it, not unlike Pulp Fiction, and they HATED that. Just hated it. It was weird. So I finally said screw this. I know this film is amazing and that once it gets in front of an audience the distributors will have to see what I do. But how to deliver it to that mass audience? That was the question. I thought lets shoot for the moon and go theatrical. Sadly, my investors were tapped out so I turned to Kickstarter. Let's have a one on one conversation with the audience about watching the film. A kind of 'putting your money where your mouth is' type of thing.
http://www.kickstarter.com/projects/vhf/breath-of-hate-theatrical-run

Feeling lucky ?
Want to
search
any of my partnershops yourself
for more, better results ?

The links below
will take you
just there!!!

Find Sean Cain
at the amazons ...

amazon.com

amazon.co.uk

amazon.de
Looking for imports ?
Find Sean Cain here ...
Something naughty ?
(Must be over 18 to go there !)

Traditional distribution is pretty much dead anyway. Nobody is buying DVDs anymore. All we get in the theaters are these superhero movies now. And while I enjoy a summer blockbuster as much as the next guy, there's a giant hole in my heart where all those quirky arthouse flicks used to be. I used to watch weird stuff at the theater all the time! I love going to the theater!! Perhaps this is where Breath of Hate will finally get its chance. To bring back edgy and offbeat to the movies. There is an audience out there for these more adult films. It's just a matter of reaching them.
Your/your movie's website, Facebook, Kickstarter, whatever else?
You can find our Kickstarter page here: http://www.kickstarter.com/projects/vhf/breath-of-hate-theatrical-run
Or our Facebook page: http://www.facebook.com/pages/Breath-of-Hate/126286150599
The official page: http://www.breathofhate.com
Thanks for the interview!