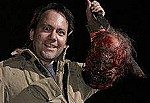 Sean Cain on set
You are currently putting the finishing touches on a movie called Silent Night, Zombie Night. Can you tell us in a few phrases what the film is about?
The plot revolves around three survivors - L.A.P.D. Officer Frank Talbot, his wife and his partner of 15 years. They are all on the verge of fracturing and are forced back together because of the zombie epidemic. So, they not only have to figure out how to survive, but deal with the fact that both men are in love with the same woman.
How did you come up with the film's plot?
I think the idea for SNZN probably came from a mish-mash of Polanski's, Knife in the Water and a marathon session of watching Nip/Tuck. I love the sexual tension in Knife in the Water with people trapped on the sailboat, but I also really enjoyed how Nip/Tuck depicted two men loving each other in a non-sexual way who have shared the same woman at various points of their lives in just about every way you could. Throw in some zombies during Christmas in Los Angeles and you have Silent Night, Zombie Night.
How far are you taking the Christmas-theme alluded to in the film's title Silent Night, Zombie Night?
Well, it does take place in Los Angeles so if you expect a snowball fight between the heroes and the zombies you might be disappointed.
And if you're hoping for something campy you're also going to be disappointed because the movie, while goofy at times, (especially with the Santa Zombie part) is a straight balls to the wall action film with a dash of romance. I think having a tragedy take place during Christmas lends a certain weight because it's a time when we're supposed to celebrate.
A few words about your cast?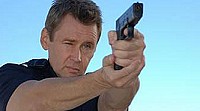 Jack Forcinito
Only a few words? Man, I love all of these guys. Where do I begin?
I've known Jack Forcinito (who plays the lead Frank Talbot) for a few years now. Met him at a casting of a film that never got off the ground. He's an actor that's been kicking around Hollywood for a while who's got so much talent, but for some reason never really got a break.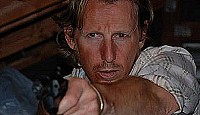 Lew Temple
I mean even if you look at my name talent like Vernon Wells, Lew Temple and Felissa Rose. They should be working so much more than they do.
I originally met Lew back in 1997 when we did this short film called South of Heaven. It's taken him that long to finally get some really juicy high profile roles!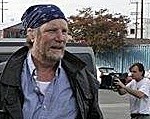 Vernon Wells
Vernon, at the top of his game as a bad ass 80's villain, is now stuck doing my crappy movies! What the hell? He's got more charisma in his pinky than most of the people I see on TV.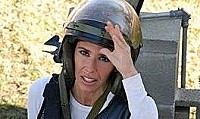 Felissa Rose
Felissa, known for that crazy ending in Sleepaway Camp, same thing. Disappeared to have a real life and go to college is now back working hard at doing more films. I saw her in that Sleepaway Camp sequel and they put her disguise for most of the film! There was that one moment at the end where you finally saw her for real and it was a great moment! I wanted to see more like that!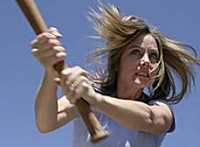 Nadine Stenovitch
Our female lead, Nadine Stenovitch was a major soap star for a number of years. I don't know what happened after that, but she's so good and lovely it hurts. Why aren't these people working more?!! I don't know, but it's good for me because I got to cast them in my film and if they were making big huge Hollywood films I would have never been able to afford them.
What can we expect in terms of gore-effects, often the centerpiece of a zombie film? Do you try to restrain yourself or do you consciously go all the way?
I guess that depends on what all the way means. I've watched Troma movies and they can be fun, but their idea of gore-effects is really over the top. I can't take that stuff seriously, but their idea of a fun movie is not something to be taken seriously anyway. Silent Night, Zombie Night might have a funny title, but I don't want to take people out with crazy shit. My FX guy, Tom Devlin (who happens to have worked on some Troma films) put together some really great looks for the various zombies in the film. And we have some great stuff like fingers being chopped off, decapitations & of course lots and lots of headshots. I would say my idea of a perfect film in terms of violence is something like The Wild Bunch. The end where its the Bunch vs. the whole Mexican army and it's all choreographed so amazingly. I can only aspire to create something like that. I have a nice moment at the end of the movie in that same vein, but on a much smaller scale.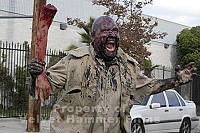 Can you describe the concept of the zombies represented in the movie (e.g. Haitian zombies vs the flesh-eating type, slow moving, running or hopping zombies, mindless idiots vs the thinking kind, and so on)?
Very good question. I've found myself thinking lately a lot about the original zombie which was represented in the Bela Lugosi film, White Zombie [Bela Lugosi bio - click here]. Or the more recent The Serpent and the Rainbow. The construct of control vs free will has always been a staple in our storytelling. The archtype of the zombie in its many forms is just another process in which we talk about that. Romero and his zombies going back to the mall was a great example in which consumerism has turned us into zombies. A few years ago I read a book called Parasite Rex which detailed real life incidents in nature where parasites used other creatures as their zombie-slaves to propagate their own species. There's a certain wasp that burrows its young into a type of worm. The young basically eat the worm from the inside out before being born. I'm sure this was the spark of the idea for the Alien-series. So, when i've approached a zombie story I guess I tend to think back to this book and create a narrative in which nature makes that change for the worse. Only in Silent Night, Zombie Night the change happens on various levels so you have both the slow zombie and the fast moving one.
Are you a big fan of the zombie (sub-)genre, and your favourite zombie movies?
I love a good zombie film just like the next horror geek. It goes without question that both versions of Dawn of the Dead are amazing. Also Fulci's Zombie aka Zombi 2 is pretty awesome [Lucio Fulci bio - click here]. Return of the Living Dead is a lot of fun to watch. A more recent film I enjoyed was Mulberry Street. It started off slow, but really picked up towards the middle and had me on the edge of my seat. And finally I guess I can say I have a soft spot in my heart for Zombiegeddon, but that was only because I helped edit it. Not because it was a mindblowing film.
The title Silent Night, Zombie Night sure enough has an ironic spin to it. Is the irony at all reflected in the film or is this a dead-serious zombie-movie?
Dead Serious!
When and where is the film set to come out?
Well, I am finishing up the music with the very talented Italian born composer, Mario Salvucci. He's done some amazing work here as he did for the film I first discovered him on, Jessicka Rabid. I would say it's another two weeks of sound mixing and color timing and then we're finished! The only official release is going to be in conjunction with GoreZone UK for their Weekend of Horror film festival on Oct 31/Nov 1. I haven't gotten an official screen time, but I'm told that's forthcoming. I'm also looking to have a stateside screening in October for ScreamFestLA, but that's if we get this damn thing done in time!
Other than that it's all up to the distributors, but it's safe to assume you'll be seeing it hitting the DVD market for the Christmas holidays.
Leaving the present behind for the moment, why don't you talk about your directorial debut Naked Beneath the Water (2006) for a bit?
Naked Beneath the Water was a project I began way back in 1992! I had a finished version of that film in 1995 that I peddled around on VHS via underground film magazines like Film Threat and Alternative Cinema. I was even approached by Frank Henenlotter for Something Weird Video, but I had ripped off the entire sound score from other movies and didn't have the money to replace it with something proper so it never really got anywhere.
It was quite a number of years later with the DVD that I saw other low budget films from that era were getting new life. Stuff like Shatter Dead and the like. So, I thought why not dust off good old Naked Beneath the Water and put it out on DVD. Well, after watching it again I realized how shitty it was, so I spent another couple of years re-shooting about 70% of the film and completely restructuring the story and making it better. It was like my first child and I felt like I needed to get it out in the world before I could move on. That was finished in 2006 and eventually got a DVD release in 2008! Wow, that's like 16 years from start to DVD release! Crazy!
What about your upcoming Breath of Hate, the first time you are directing someone else's script I heard?
I will be directing a script by the very talented Wes Laurie. We originally teamed up on Silent Night, Zombie Night with the idea that his company ArsonCuff Entertainment was going to put up the money for two films. One that was my script and another written by him. He's also the producer on both films. It's very rare that I would read someone else's work and say to myself, "Wow I want to make this film!", but luckily in this instance I did.
You have filled several functions in filmmaking, from producer, director and writer to actor and editor. What aspects of moviemaking do you enjoy best and why?
The actual production of a film is mostly a pain in the ass. It's always an early call and long hours that are usually spent stressed out only to sleep for a short period and do it all over again. However, there are moments while on set where your brain forgets all the shit because it's just seen something really magical. Maybe this could be the first time I saw Santa Zombie all made up. Or my actors really kicked ass in a scene. Then I'm all smiles and as happy as can be. I think the best I can hope for is having enough of those moments during the day that keep me going.
I'm really happiest when the damn thing is done and I'm sitting alone at the computer stitching all the footage together. I love the editing process and seeing the scenes come together right before me is what makes it all worth while.
How did you get involved in filmmaking in he first place?
When I was a kid my dad had one of the first video cameras (tethered to the boat anchor of a VCR) and we would reenact scenes from his favorite TV show, Mike Hammer. I enjoyed sitting with everyone after the skits were finished and having people laugh at what we did. I guess that laughter and praise can be addictive.
Later on, in my early twenties I met writer-director Victor Salva (Jeepers Creepers) and worked on his unreleased film Kindred Spirits. This was pretty low budget. What we called a backyard video at the time. Where a group of film fanatics decided to make a movie for very little money, but treating it as if it were a larger scale production. The lighting was all top notch, acting was great and of course Victor wrote an excellent script. Being able to be a part of that opened by eyes that this abstract concept of making a movie was a lot more down to earth than I realized.
There are a few films you have worked on in capacities other than directing that you simply have to talk about (if sometimes only because of their great titles).
What can you tell us about Zombiegeddon (2003)?
Well, I came to Zombiegeddon very late into the game. The film was pretty much all finished, but the director, Chris Watson wasn't happy with how the previous editor had put it together. I thought there were some very funny moments in the film so we sat down together and talked about what he wanted to see happen and how the flow of the film could be tighter. I created the new title sequence you see at the beginning of the film and added on the interviews with Uwe Boll and went through best I could and cut some of the boring bits out.
A few words about Psychon Invaders?
Psychon Invaders which was originally titled Alien Holocaust was so much fun to be a part of. It's very disappointing that this movie hasn't gotten much of a domestic release. I love the director Jeff Leroy and would always be a part of his movies if he lets me. When I originally met him he had already finished principal photography, but I helped him blow up some miniatures and when he decided to add an additional scene in the movie I got to be not only a guy with no legs, but lots of different aliens. There was the alien commander guy who is piloting the spaceship and tries to kill the heroes at the end. I did my best Star Trek impersonation on that one. You know, like when the ship is getting blasted and the camera moves to one side so the actors fake the turbulence by moving as well? I did that. And then I was blown up a couple of times and did a stunt where I was shot and flew back into a swimming pool. God, that was great.
Also, another funny story is that when we were filming the house being blown up Jeff usually shoots this with three 16mm cameras slowed way down. But we also had two DVX cameras set up just in case if something happened to the film. One was positioned normally and I had another one pointing down at the scene from a rooftop. Well, when the explosions went off there was a huge fireball and plume of smoke and it basically went right into my face. I didn't get hurt at all, but it scared the hell out of me.
The 16mm footage all worked perfectly and then when I was finishing Naked Beneath the Water I asked Jeff if I could use the DVX footage of the house exploding. He agreed so I quickly wrote that beginning of the movie where The Shaver destroys the house. It's the exact same house as in Psychon Invaders!
And what about Creep Creepersin's Caged Lesbians A-GoGo and Vaginal Holocaust (a title I simply love by the way)?
I first fell into the Creep Creepersin [Creep Creepersin interview - click here] world via my friend Aine Leicht who was a producer on many of his projects. I first did a very small part on another Creepersin film called, HE. That was fun so when they asked me to do Vaginal Holocaust I thought why not? It's not like anyone was breaking down my door to act in their movies. This might be a fun few days.
We basically shot VagHo out in some ranch in the middle of nowhere. All packed in these little cabins. Most of my scenes were with Elske McCain [Elske McCain interview - click here] and Shane Ryan [Shane Ryan interview - click here] and the three of us hung out together most of the time. I would say we probably hung out a lot more than we actually made a movie, but that was cool with me. I had a good time ad-libbing scenes in the car with Elske and there was also a shower scene that I'm sure when it comes out will be quite embarrassing!
Then a few months later I did the Lesbos-A-GoGo with Elske and Shane again. I don't think I was originally thought of to be in this film because my character's name is Margaret and I wear a heavy trench coat with fishnet stockings. I suspect that Elske had something to do with convincing the Creepersins about having me come aboard as most of my scenes are with her. We get tied up and drown in either water or boiled monkey semen. I'm not sure which. The script basically says it could have been either of them.
I was also the right hand man to Ariauna Albright's warden character. She looked great in her Nazi-esque uniform. There were a lot of cool people working on this project and it was shot in one day so what more could you ask for?
You also have a role in Shane Ryan's Amateur Porn Star Killer 3D [Shane Ryan interview - click here]. How did you get talked into your appearance, and where you at all aware of the previous Amateur Porn Star Killer-films?
Shane shot some additional footage for the 3D film while we were doing VagHo. He pretty much brings his camcorder with him everywhere, but actually now that I think about it we actually shot my stuff at my house. I'm supposed to be Shane Ryan in the film and when he does a scene he's usually very general about what he wants. His instructions are along the line of, "Yeah, I want you to tell all those film critics they can suck your small penis and...yeah. Stuff like that." So, I just thought about it for a bit and sort of went crazy on him talking whatever the hell popped into my head at the moment. I was aware of his movies although I hadn't watched them before I did this scene.
I like Shane & think he gets a bad rap from a lot of people. His first APSK film was quite interesting in my opinion. There's his strange avant-garde touch to it, & that wasn't what I expected at all. I thought it would be this brutal torture porn film which are the types of movies I generally stay away from. Instead, it was this strange almost coming of age film of this 13 year old girl who's pressured into having sex when clearly she doesn't want to, but has gotten herself into a situation that she can't now get out of without being damaged in some way. He makes his movies look deceptively simple to make and so a lot of people trash him for it.
You also play a role in Shane Ryan's upcoming Warning!!! Pedophile Released and had your hands in the production of the film. What can you tell us about this one?
Well, there's not a lot to tell about this one. I play a pedophile and have done a few scenes so far. There's still some more to do. I went up to where Shane lives and let him use my HD camera. A lot of the shoot consisted of me in the car downloading footage and charging batteries while he filmed Kai Lanette [Kai Lanette interview - click here] wandering around town. I would tease him all day long that the movie was just going to be about his girlfriend walking around. We'd go out to another location and I say, "So, is Kai going to be walking around again?" And he'd look at me like you are such an asshole!, but eventually have to admit that yes this was another scene of Kai walking around again.
Like I mentioned before, Shane's style is not the typical narrative you'd find in a Hollywood film. He kept telling me about this movie he watched called Wendy and Lucy and that Michelle Williams walked around a lot. I think he was very inspired by that film and heck we all get our inspiration from somewhere, right? Better Wendy and Lucy than some stupid Transformers. I'm sure when he's finished editing and shooting what else he needs to shoot it should be an interesting project. I'm looking forward to seeing it.

Feeling lucky ?
Want to
search
any of my partnershops yourself
for more, better results ?

The links below
will take you
just there!!!

Find Sean Cain
at the amazons ...

amazon.com

amazon.co.uk

amazon.de
Looking for imports ?
Find Sean Cain here ...
Something naughty ?
(Must be over 18 to go there !)

Any films you were involved in and yould like to talk about I have not mentioned above?
I think I've probably talked way too much as it is!
Any future projects?
Nothing concrete so ... just good old Breath of Hate.
Your website, MySpace, whatever else?
and there's a SNZN fan site on Facebook that everyone should join!
Filmmakers who have inspired you?
Roman Polanski & David Lynch!
Your favourite films?
Anything with the original Pippi Longstocking! She was my first childhood crush. I suppose Grand Illusion is pretty good too. And The Tenant.
... and of course, films that you really deplored?
They don't deserve a mention on your website ;)
Anything else you'd like to talk about and I've simply forgotten to ask?
Nah, like I said ... I've talked a lot!
Thanks for the interview!