Your upcoming movie Passenger - in a few words, what is it going to be about?
Long story short, it's the tale about a mysterious lone driver in the night, whose past might be catching up with him.
What were your sources of inspiration when writing Passenger?
Passenger is actually inspired by two sources. The first is the old urban legend about a driver in the middle of the night who picks up a spectre. The second is a 1950s radio drama that adapted that story, which got me to consider adapting it as well, but adding a few twists, of course!
You plan to make Passenger into an 80s style horror movie - so what fascinates you about especially that era, and how will you go about bringing it to the screen?
I was born towards the mid 80s. Even by the 90s I was still growing up on those old films, which by then started premiering on TV. As far as horror goes, it was an era that - despite technical and budget limitations - wasn't afraid to actually show their monsters etc. As a kid, that was worth staying up past my bedtime for! We don't get as much of that in the age of found footage, plus the music and style back then was so much cooler! Hopefully we can recapture that magic!
What can you tell us about your movie's overall approach to horror (as in suspense vs sudden shocks, atmosphere vs all-out gore and the like)?
Without saying too much, all of the above! Mostly it'll be atmospheric but you may get to see a "monster" or ghost, at least...
From what I've read, quite a bit of the action of Passenger takes place in a car, your car I think - so how will you go about this, and where do you see the challenges there?
Yes, my beloved Toyota Celica! That's partially for practical reasons, which attracted me to this story; most of the movie taking place in the car means we can shoot hopefully a lot quicker than with a dozen locations as well as making any potential reshoots easy.
That being said, there will be about three locations, which could be challenging. One is outdoor on a quiet riverbank, which should be fine, and we've already got permission to shoot in a really cool 80s-tastic bar. But another (brief) scene takes place at a petrol / fuel station. This will be a tough one as we want to go for an 80s aesthetic but there aren't a lot of these places left that haven't been updated and modernised! We're still looking, but we almost always have contingencies planned, heh.
What can you tell us about your key cast and crew, and why exactly these people?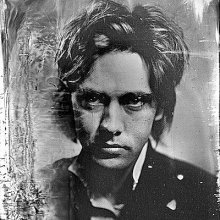 Edward Fisher (aka Benni Venutti)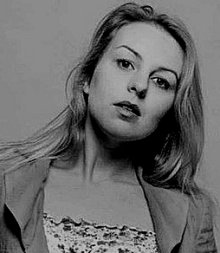 Danielle Parton
I hired my old school friend Edward Fisher (aka Benni Venutti) to come onboard to be the Bruce Campbell to my Sam Raimi, ha. He has the least experience of the cast but I've known him long enough to know I can direct him into giving the right performance - especially as the role is, for lack of a better term, quite minimalist, in a man with no name sort of way.
As he's producing as well, he was pretty instrumental in finding most of out cast and crew. Edd found the amazing Autopsy Boys, who are doing the soundtrack. The lead singer, Lee Brunskjill, suggested his actress girlfriend when we were struggling to find the right leading lady. That's how we found the lovely Danielle Parton. She's quite funny and has done comedy webseries but she will creep us out on camera for Passenger!
The last cast member I won't mention by name as he's only unofficially confirmed. But he's a great local actor who we met at the premiere of his last short film, in which he was terrific. So he was the natural choice.
Producer Edd's best friend, Robert Wingfield, is a professional sound recordist/sound designer who has worked on many indie films so we're delighted he's offered his services!
At the moment it's a pretty skeletal crew with just a few other people but we're hoping to have a few more join as we go along.
As far as I know, you're currently running a fundraiser for Passenger - so do talk about your campaign for a bit?
Yes, we just started our first ever IndieGoGo campaign last week, so check it out! We're trying to fund through local investment and out of our own money as much as possible, but we thought we'd go through IndieGoGo as a contingency. It's the first time we've used crowdfunding, so we're a little nervous about it, but we're hoping enough people will find us there and join us in making the film happen!
https://www.indiegogo.com/projects/passenger--2#/
Once the budget's in place, what's the schedule? And even if it's waaay to early to ask, any idea when and where Passenger will be released onto the general public yet?
We're currently planning to shoot end of May/beginning of June (so any and all contributions are welcome!) with post production carrying on over July and August. If we manage to fund the film fully, our backers should get to see the film around 19th August before we hit the film festivals, in particular the horror ones. Everyone else will have to wait and see so keep checking back!
Any future projects beyond Passenger you'd like to share?
Despite loving horror, I'm usually more of a sci-fi guy when it comes to writing, so expect something completely different from Passenger! I love dramas and thrillers with a slight sci-fi edge (think Monsters, Safety Not Guaranteed or anything like that where the sci-fi elements are only incidental), so without telling you about the story, expect something in that vein - though I'm hoping Passenger won't be my last attempt at horror!
What got you into filmmaking in the first place, and did you receive any formal training on the subject?
As a young child, I grew up on the Superman, Ghostbusters and later the Jurassic Park movies. One day I dreamed I'd figure out how the filmmakers did all that wizardry. When I figured out how, I was persistent in trying to do it myself!
That curiousity led me to my degree in Media Studies, which I probably would've failed or dropped out of if video production wasn't the prime focus. There I got to build on my existing experience with cameras and edit suites. During this undergrad, all my friends were busy partying whereas - for the only time of my life - I spent all my time doing homework, so you know I love this stuff!
What can you tell us about your filmwork prior to Passenger?
I've made short films at and leading up to university. Mostly terrible stuff whilst learning. Unfortunately, the next almost-decade I wasted time trying to find a "real job". That didn't work out as well as it should have. So I ended up becoming self employed and shot music videos, promos and private events. That's when I thought I'd like to make something for myself rather than clients.
How would you describe yourself as a director?
Same way I'd describe myself in general: easy going! I like everyone to have their say and give input where possible. I try to live by Jimi Hendrix: "knowledge speaks, but wisdom listens."
Other than that, when creating I have a vision and I just try to find the best way to make that a reality.
Filmmakers who inspire you?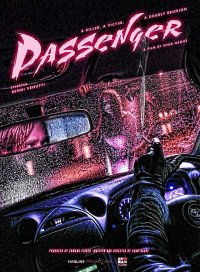 Feeling lucky ?
Want to
search
any of my partnershops yourself
for more, better results ?

The links below
will take you
just there!!!

Find Shad Haque
at the amazons ...

amazon.com

amazon.co.uk

amazon.de
Looking for imports ?
Find Shad Haque here ...
Something naughty ?
(Must be over 18 to go there !)

It's often a long list, but I'll try keep it brief!
Richard Donner. Not just because he made us believe a man can fly, but also because he was one of the main producers of the amazing Tales From The Crypt series.
For his imagination, creativity and outside-the-box approach, Robert Rodriguez. His 10 Minute Film School series reignited my passion for filmmaking even more than his actual movies!
For taking crazy concepts and treating them with respect rather than making them forgettable blockbusters Christopher Nolan.
Finally, Spielberg. He's this generation's master. What's more to say?!
Your favourite movies?
Again, a long list but to keep it brief: Superman, Ghostbusters, Drive, Evil Dead, Ferris Bueller's Day Off. I could go on, but I don't want to bore you!
... and of course, films you really deplore?
As I grow older, I grow more mellow and deplore less! But as a horror fan I deplore found footage movies. Even in 2016, how many reasons can there be for characters to keep filming even when their lives are in danger?!
Your/your movie's website, Facebook, IndieGoGo, whatever else?
For Twitter: @PassengerShort, @Haqlins, @danielle_parton, @autopsyboys.
www.facebook.com/PassengerTheMovie
https://www.indiegogo.com/projects/passenger--2#/
Anything else you're dying to mention and I have merely forgotten to ask?
If you know people into horror and 80s flicks, please tell them about us! I think that's it!
Thanks for the interview!