Your upcoming movie The Night Monica Came Back - in a few words, what is it about, and what can you tell us about your character in it?
It centres on a group of friends meeting up for a reunion, 20 years after an eventful camping trip. My character is Martha. Sheís a bit of a ďdo gooderĒ and very bossy, even as a child she took on the role of first aider in the camp, something which she continues to do as an adult.
What did you draw upon to bring Martha to life, and how much of Sharon Spink can we find in her, actually?
I think thereís quite a bit of me in Martha; I can be quite bossy and I do have first aid training so that really helped. I like being in control of things too.
With The Night Monica Came Back being a horror comedy, are these genres that actually appeal to you, both as an actress and as a viewer?
As an actress I really enjoy the horror comedy roles. The comedy adds an element of fun to the role and some light relief to the anguish of the horror. As a viewer I watch the odd horror comedy but Iím more of romcom kinda girl. As a child I was a huge horror fan though and used to have horror movie nights with my friends. I remember watching films like Carrie, Christine and Nightmare on Elm Street when I was far too young to watch them. I scare too easily these days though.
Shooting The Night Monica Came Back was actually part of an "actors' bootcamp" - so do talk about the bootcamp for a bit, and how did you get involved with it even?
The bootcamp was arranged by Eirian Cohen [Eirian Cohen interview - click here] from Northern Star Acting (http://www.northernstaracting.co.uk) and was a very intense weekend. We had training in mind-set, meditation and even a surprise horror workshop from Laurence R. Harvey. No one knew what to expect and as the first ones to test it out we got the added bonus of creating The Night Monica Came Back. I got involved because I think itís so important to do as much training as possible Ė you can never learn everything there is about this business, oh and along with Rachel Brownstein [Rachel Brownstein interview - click here], I did the cooking and cleaning for the weekend too! J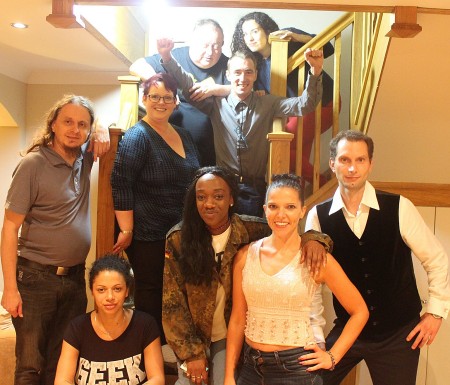 The Night Monica Came Back cast:
Top: Laurence R. Harvey, Sandra Valera
Center: Michael Haberfelner, Sharon, Chris Dudley
Bottom: Rachel Brownstein, Tshayi Hercules, Eirian Cohen, Petr Malinkovic
The Night Monica Came Back also stars horror veteran Laurence R. Harvey from Human Centipede 2 - so what was working with him like?
Working with Laurence was a real honour. I have to admit to never watching Human Centipede 2 but in a way I was glad because it might have made me think about Laurence differently. We did a horror workshop with him and I learned so much, especially about the different levels of tension that can occur during a scene. We also had lots of laughs too. Also, seeing the fact that even a true professional actor can forget their lines sometimes made me realise that problems can happen to the best, it doesnít make you less professional.
What can you tell us about the shoot as such, and the on-set atmosphere?
The shoot took place on the last day of the bootcamp, at a secret location on Anglesey in Wales, and we had all been working hard on lines and characters. Everyone was excited about working with Laurence. When youíre sharing a house with friends you naturally become closer and because of the things we shared during bootcamp we had all become a lot closer so the atmosphere was great Ė itís like working with your family. This is what it means to be part of the Northern Star Acting Tribe Ė we are a family not just a group of actors working together.
Any future projects you'd like to share?
Iím currently rehearsing for a play called Feet, First Class. Itís a dark comedy thriller, written and directed by Will Tollerfield and will have a one night only showing at Doncaster Little Theatre on Friday 4th Nov 2016. Iím also rehearsing for the part of Queen Magatha in Swords of Scavelia (http://swordsofscavelia.com/), a fantasy drama TV pilot from DAG Productions Ltd.
What got you into acting in the first place, and what can you tell us about your education on the subject?
I only started acting in Sept 2015 after joining Northern Star Acting. Iíd done a few TV interviews and thought about learning how to be a presenter but when Eirian said she was starting adult acting classes I jumped at the chance. I passed my first acting assessment the following Jan with a distinction, and then, to my absolute surprise, in July I was awarded the Northern Star Acting Actor of the Year 2016 award Ė presented to me by, the lovely, Michael Haberfelner [Michael Haberfelner interview - click here].
Eirian and the other teachers at Northern Star Acting have taught me so much and are so inspiring and positive that I would recommend their classes to anyone wanting to learn how to be an actor.
What can you tell us about your filmwork prior to The Night Monica Came Back?
Prior to this Iíve worked on several short films, done some presenting for an educational website and some voice-over work for a childrenís cartoon; thatís something Iíd like to learn more about.
How would you describe yourself as an actress?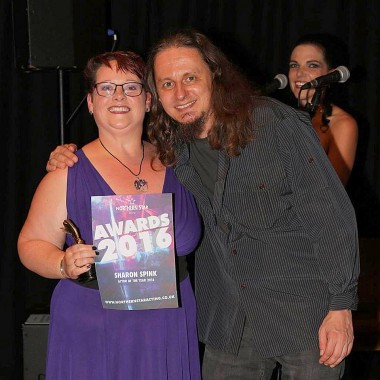 Sharon with Michael Haberfelner and Eirian Cohen at the
Northern Star Awards Night
I am passionate, empowering and confident. I always have an optimistic outlook and have a fun-loving personality Ė forever the party animal. Iím a strong, independent woman but one whoís easy to get along with and I have a warm, caring and often motherly nature but have a naughty sense of humour too.
Actresses (and indeed actors) who inspire you?
Other than Eirian [Eirian Cohen interview - click here], who is a great inspiration to anyone who meets her, then I tend look up to women like Dame Helen Mirren, Dame Judy Dench and Miriam Margolyes. This industry needs more strong, older female characters and these are just some of the best out there. I also love actors like Tom Cruise, Anthony Hopkins, Johnny Depp and Brad Pitt.
Your favourite movies?
Going back to the horror theme; my all-time favourite is Interview With The Vampire but I also love films like Wizard Of Oz, The Hobbit/Lord of The Rings Trilogy and all the Harry Potter series. Iím a huge fan of musicals too; Les Miserables and Rocky Horror Picture Show being a couple of favourites.
... and of course, films you really deplore?
I think the only film that I almost got up and walked out of the cinema during was Traffic, starring Michael Douglas & Catherine Zeta-Jones. It won several awards but I just found it really boring.
Your website, Facebook, whatever else?

Feeling lucky ?
Want to
search
any of my partnershops yourself
for more, better results ?

The links below
will take you
just there!!!


www.sharonspinkactor.wixsite.com/mysite
www.facebook.com/SharonSpinkActor
https://twitter.com/SharonSpinkAct
Anything else you're dying to mention and I have merely forgotten to ask?
Just that, I want to say a huge thank you to this great guy I know Ė Michael Haberfelner [Michael Haberfelner interview - click here] for writing some great pieces and for taking the time to fly over to the UK several times a year to help actors, like myself, at Northern Star Acting. Itís always a pleasure to work with him. [Awww, thanks Sharon!!! - the editor]
Thanks for the interview!