Your upcoming movie Don't Fuck in the Woods - in a few words, what is it about?
Don't Fuck in the Woods is about a group of friends who have just graduated college, and are going on a camping trip to have one last memorable time together. But obviously once they enter the woods, the proverbial shit hits the fan.
You of course have to talk about your title for a bit, which I'm sure some will find offensive!
Generally in horror cinema if you have sex in the film, 9 times out of 10 you're gonna die. I just wanted to cut to the chase and not tiptoe around the subject matter. I want to be completely upfront with the audience about this film. With that being said, I knew what I was getting into the second I told someone what the title was gonna be, and that person looked at me like I was a moron and then asked how I would sell a title like that. I replied, the title sells itself. But to clarify, this film is not a porno film by any means, lol.
What were your inspirations when writing Don't Fuck in the Woods?
Honestly I feel my previous films haven't truly been horror films. They were more dramatic - thrillers in my opinion. And since I grew up watching films like Sleepaway Camp, Friday the 13th, The Slumber Party Massacre and other films from the 80's era, I just wanted to write something that kinda took me back to my childhood, lol.
If Sleepaway Camp 2 & 3 had a baby, and then that baby had a baby with Friday the 13th part 2, AND then that baby had a baby with a creature from The Descent, that would be pretty close to what Don't Fuck in the Woods will be.
Why a creature feature - and related to that, what can you tell us about your creature effects?
I have always wanted to make a creature feature, and lately there has been a rise in independent slasher films, so I felt that I needed to change course. The creature will be made by Dustin Mills [Dustin Mills interview - click here], who is an FX genius! Me an him have been collaborating for the last few months on the creature design, and thus far it is something new and freaky as hell! lol
Two key elements of modern creature features are gore and nudity - so how far do you intend to go regarding these aspects of your movie, and are there any lines you refuse to cross?
This one is kinda hard to answer, lol. There will be several scenes with nudity, but there will be more gore than nudity. But there's not gonna be just random nudity to have nudity. Again, this is not a pornography, lol.
Do talk about the intended look and feel of your movie for a bit!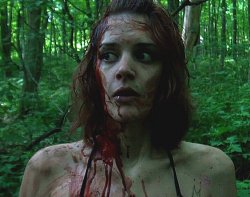 Ayse Howard
I have looked at several different cameras, and have decided on the Blackmagic Cinema camera, along with a set of Canon Cinema Prime lenses. Basically I'm hoping for a mix between Cabin in the Woods & Fede Alvarez's Evil Dead.
Anything you can tell us about your projected cast yet, and why exactly these people?
Thus far everyone who has been cast has shown me that they have the drive and dedication for these roles. Ayse Howard is one of the leads and she is also a producer on the film. Scott Gillespie who is playing the creature has actually been in every film I have made, and is a phenomenal asset to my productions. Deziree Angel is the newest cast member that has been reveled, and this film will be her acting debut! There are several more cast members, but were releasing them in progression with out fundraising campaign.
What can you tell us about your location, and since Don't Fuck in the Woods is mostly an outdoor movie, where do you see the advantages and challenges of filming there?
The woods in the film will actually be 3 different locations in southwest Ohio. But I have already obtained 4 months worth of permits for each location just to be sure I'll have plenty of time. As far as advantages go, I'll be beginning to work with each location in May to plot on in more detail when each scene will happen. The main challenge will be lighting. But I have included cranes and giant light boxes into the budget. So as long as we accomplish the goal on our fundraiser, we will be set!
As far as I know, Don't Fuck in the Woods is presently still in its fundraising stages - so what can you tell us about your fundraising efforts?
Currently we are offering some amazing perks for contributions towards the film. This is the largest budget I have ever worked with, but this film has a lot going on in it, lol. At the moment we are mainly seeking anyone who would be interested in either donating or sharing the link to the indiegogo page. To me, spreading the word is just as valuable as donating.
Once the funds are raised, how do you plan to proceed, and even if it might be waaay too early to ask, any idea when the film might be out yet?
I projecting the film to be out a week before Halloween of this year. I tend to edit after each day of shooting, just to see if something needs re-shot. I did this with my last film Bludgeon, and it saved me a lot of time in the end.
Any future projects beyond Don't Fuck in the Woods you'd like to share?
After Don't Fuck in the Woods I have a film titled Stag that I will be shooting. And in May I will be releasing a short film titled Betsy.
What got you into filmmaking in the first place, and did you receive any formal training on the subject?
I grew up watching horror films, and always wanted to make one. I made a few music videos before I made the jump in to film with Ryan Stacy, making our companies first film Midsummer Nightmares. I can't say that I have actual video training, but I do have a degree in photography. So that training came in useful with lighting, and the graphic end of productions, lol.
What can you tell us about your filmwork prior to Don't Fuck in the Woods?
The Sleeping Soul was my first film, and it's a psychological/paranormal/drama. It was a very minimalistic film that focused on a grieving woman who had lost her family in a car accident. A year later she began experiencing paranormal events, but due to over-medicating she wasn't sure if the events were real.
After The Sleeping Soul I began writing Bludgeon, but I was then approached by James Cullen Bressack (Hate Crime, To Jennifer) [James Cullen Bressack interview - click here] to create a short film for his anthology Theatre of the Deranged 2. This was an offer that I was very interested in, since it was a chance to make something fun and kind of silly. So I wrote and filmed a short film titled Panty Raid for that anthology. Panty Raid is about a college janitor that has a deadly fetish for women's underwear, lol.
Next I went back to Bludgeon and spent over a year writing, filming and editing the film. Bludgeon holds a special place in my heart because it was based off of a murder that happened in my hometown. But since it was so close to home I changed things and continued the story to where the person developed a taste for killing.
While I was doing research on serial killer for Bludgeon, I wrote a short film titled The Way of the Buffalo. After spending a good chunk of time promoting Bludgeon I decided to film The Way Of The Buffalo. I have always had a sense of realism to my work, but never felt I accomplished what I set out to do until this short film. The Way Of The Buffalo is about a man who is a fan of Ted Bundy, and serial killers in general. But he has come to notice that times are changing and that serial killers are as publicized as they used to be. This man then makes a plan for him to be the next great serial killer. The majority of this film was shot in POV and in one take, which to me makes it seem very real.
How would you describe yourself as a director?
I really have no clue how to answer this, lol. I love being able to be very minimalistic, but when it counts I will pull out the big guns, and get shit done. But I've never seen myself as a director really, because I'm normally the cinematographer as well.
Filmmakers who inspire you?
Ti West, David Fincher, John Carpenter, David Slade, Dustin Mills [Dustin Mills interview - click here].
Your favourite movies?

Feeling lucky ?
Want to
search
any of my partnershops yourself
for more, better results ?

The links below
will take you
just there!!!

Find Shawn Burkett
at the amazons ...

amazon.com

amazon.co.uk

amazon.de
Looking for imports ?
Find Shawn Burkett here ...
Something naughty ?
(Must be over 18 to go there !)

Hard Candy, The House of the Devil, Silver Bullet, Rear Window, The Puppet Monster Massacre, 30 Days of Night, any of the Universal Monster movies, Psycho... I could literally go on forever with this, lol
... and of course, films you really deplore?
The main thing that gets to me with certain films is, after watching it and then finding out the budget, I can't help but wonder how it took all that money to make this?
Also, I'm really not a fan of spoof movies... Scary Movie was ok, but really? Did they need to keep beating a dead horse?
Your/your movie's website, Facebook, IndieGoGo, whatever else?
Don't Fuck in the Woods IndieGoGo:
http://igg.me/at/DFITW/x/204215
Don't Fuck in the Woods Facebook:
https://www.facebook.com/DFITW
Don't Fuck in the Woods Twitter:
https://twitter.com/DFITWmovie
My Twitter: https://twitter.com/smburkett
Concept Media Films: www.conceptmediafilms.com
Thanks for the interview!