Your new movie The Shipment - in a few words, what is it about?
The Shipment is a science-fiction drama about a father and daughter stranded on a wretched space port, unable to afford repairs to their ship. In order to escape, the father breaks a promise and agrees to illegally transport alien slaves.
To what extent could you actually identify with Kaidan, the broken hero of The Shipment?
Bobby Bala: The migration of people and border crossings are urgent issues right now and important to me. There are people crossing borders for survival and there are people working as human smugglers. Their lives are complicated and often subjected to negative stereotypes. Kaidan Katar, the protagonist of this film, is in the moral dilemma of transporting alien slaves in order to save his daughter. He is a flawed but noble character who is driven by the desire to protect his family and serve the greater good. His story needs to be told because it challenges the idea that human migration is a clear-cut issue. Right or wrong is not always easy to define.
Assuming there is intelligent life on other worlds, it is a universal concept that good people sometimes do bad things for the greater good of providing for and protecting their families.
With The Shipment being a science fiction movie, is that a genre at all dear to you, and some of your genre favourites?
Bobby: Yes, Iím definitely a fan of sci-fi, however I wouldnít say Iím a hardcore sci-fi fan. I enjoy sci-fi just as much as other genres. It all depends on the story. I wanted to create this film not only for the sci-fi community, but also for audiences that donít typically watch sci-fi like my parents for example. I wanted to tell a human story about family that all audiences could enjoy and relate to.
Ana Carrizales: I grew up with Star Wars and loved those films, but to be honest I wasnít a big fan of sci-fi films. Iím a big fan of great storytelling so I jumped into The Shipment full on, because Bobby had crafted a very special visual story.
Arun Fryer: Growing up in a small town, my dad made pirated VHS copies of the original Star Wars trilogy and these were the only movies we had at home. We must have watched them a hundred times. I also collected the action figures and dreamed of becoming Han Solo one day. Later in life, my first two dramatic films as a student at Vancouver Film School were both science fiction. Itís a genre Iíve always loved. Some other favourite sci-fi favourites include Blade Runner, Alien and District 9. Iím also a big horror fan, especially classics like The Shining, Friday the 13th and Texas Chainsaw Massacre. Itís nice to see horror is having a bit of a comeback with films like Get Out, It and Us.
Other sources of inspiration when writing The Shipment?
Bobby: One day while parked at a gas station, I saw a burly truck driver and his young daughter getting fuel for their large 18-wheeler. I wondered if he was a single dad and I imagined how a similar scenario would play out if he was a poor cargo hauler in space traveling from planet to planet with his daughter.
The Shipment is quite filled with special effects - so do talk about the effects in your movie for a bit, and how were they achieved?
Bobby: We shot the entire film on green screen in a small food production warehouse.
Ana: We shot the whole film in a motion capture studio and made a previz animation, which is like animated storyboards. I got to play a few characters in the previz, including the daughter Zohra and the alien mechanic, which was a lot of fun. The crew used the previz as guideline to shoot the film and as road map for the place and timing of the VFX.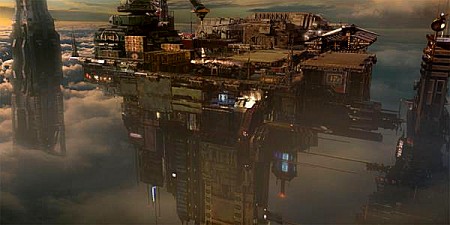 Arun: I had never attempted anything on this scale before, so it was a huge learning curve. Although we had some practical sets, like the shipís control panel and Zohraís room of paintings, most of the time we had to trust Bobbyís vision and imagination. Heís a VFX wizard and a perfectionist when it comes to CGI animation, so I was never worried about the final image, but it was tricky trying to capture the all the action in our rented warehouses. If you watch the film, he has several specific shots near the beginning that were technically challenging to shoot. The previz helped a lot in explaining his vision. During post-production, we worked with talented VFX artists all around the world, from Australia to Colombia, and they are very happy with the movie.
What can you tell us about your overall directorial approach to your story at hand?
Bobby: With a background in computer animation, I was able to create a full previz animation of the film complete with music and dialogue before we started shooting the film. This was an invaluable tool with which I was able to show the crew so they could visualize all the shots and the story we would be telling. The previz also allowed me to edit and visualize the film so that I could see if the story and the various cuts were working. Itís also a great way for people to get excited about the project. I feel that every filmmaker should use some form of previz no matter the genre.
Do talk about your key cast, and why exactly these people?
Bobby: When I decided to pursue filmmaking, I thought it would be amazing if I could make my first film with my daughter Ishana who was about 10 years old at the time. With the idea of the space trucker concept still in my mind, I started writing the script and I imagined
Ishana in the role of the daughter. I had a small window of time before she became too mature to play the role.
Aleks Paunovic, who plays Kaidan Katar, was amazing to work with and a true experienced professional. For a first time filmmaker, he was the perfect actor to work with since he was so patient and understanding. We worked really well together. My main reason for casting Aleks was because I was looking for a big, burly truck driver type of character that also had a soft emotional side. From his previous work, I knew that he could express the emotions I was looking for. I also heard he was amazing to work with and very talented as well.
A few words about the shoot as such, and the on-set atmosphere?
Bobby: Working with my daughter Ishana was actually quite challenging for me and more difficult than I had expected because I had to constantly switch from ďdadĒ mode to ďdirectorĒ mode. The communication is just different and sometimes challenging to get the performance I needed. Fortunately my producer Ana Carrizales was on set and was able to assist Ishana and me when needed on some occasions.
Ana: As a first time director, Bobby had the massive challenge of directing crew and actors in a universe that wasnít there, on a set surrounded by green screen. It only existed in his head and in the previz. Plus the additional challenge of directing his own daughter, Ishana, in a lead role. Bobby wanted to distance the dadís voice from the directorís voice to get the performance. I used my background as an actor to suggest a language that would work for them early in the process. Bobby did incredible work directing and Ishana was wonderful in the role of Zohra.
Arun: Because we were an independent production, there was an air of nervous excitement every day on set. Collectively we were attempting something bigger than weíd ever attempted, from the VFX to the creature make-up. Our cast and crew were passionate about the project and determined to make things work no matter what. Like every production, we had ups and downs, but we sensed that we were making something special. I can still clearly remember hugging everyone on the last day.
The $64-question of course, where can The Shipment be seen?
We are currently playing the festival circuit, with upcoming screenings at the Sci Fi London in May and in LA at the Horror Haus Film Festival. After the positive reviews in Tribeca, weíre hoping for even more.
Anything you can tell us about audience and critical reception of The Shipment?
Ana: It surpassed my expectations by far. The most inspiring compliment came from die hard sci-fi fans who are telling us that they wouldíve enjoyed the film even without the VFX. They truly love the story!!
Arun: So far the reviews have been overwhelmingly positive, which is rewarding after working on the film for five years. Itís easy to forget sometimes after watching countless times through the editing process, but the audience response reminded us of the magic on screen, as if seeing again for the first time.
Any future projects you'd like to share?
Bobby: Iíve been dabbling here and there with some possible storylines for a possible feature and/or TV series based on this film. I plan to assemble a small pre-production team and ramp up development in the coming months. I should have a package to present to potential investors/distributors sometime in the second half of 2019. This would include storylines, concept art, and character development and possibly even some previz animations.
What can you ell us about your filmwork prior to The Shipment, in whatever position?
Bobby: I worked as freelance animator on a few various things, including Reboot, which was a sci-fi childrenís TV show.
Ana: As producer, my latest production is a documentary short called The Day Don Died, which screened last week at the Hot Docs Film Festival in Toronto. It will also screen in Newport Film Festival and will continue the festival run this year. As director and writer, my film Media Luna is dramatic short that recently premiered at the Vancouver Women In Film Festival.
Arun: I produced a psychological thriller feature called Cadence (which is currently looking for distribution) and a directed a short documentary love story called Before Sheís Gone, which can be seen on Vimeo.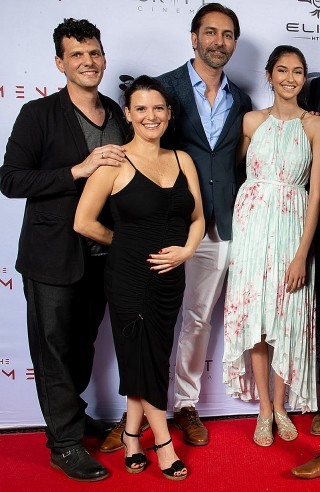 Arun Fryer, Ana Carrizales, Bobby Bala, Ishana Bala
How would you describe Bobby Bala as a director?
Ana: He cares deeply about every detail, no matter how big or small. He has a stunning vision, and in that sense he is an inspiring artist.
Arun: Bobby is one of the smartest people I know and never settles for anything thatís below his high standards. Heís deeply committed to making the best possible film, even as a first-time filmmaker. What he lacked in experience during our shoot, especially in the early stages, he made up for in determination and vision.
Filmmakers who inspire you?
Ana: Just to name a few: Ava Duvernay, Shonda Rhimes, Mary Harron, Sarah Polley, The Wachowski Sisters, Jane Campion.
Arun: Filmmakers with vision and style like Quentin Tarantino, Christopher Nolan, David Fincher and Denis Villeneuve, plus the cinematic master, Stanley Kubrick. For documentaries, Iíll watch any films made by Ondi Timoner, Laura Poitras and Alex Gibney. On the producing side, Jason Blum from Blumhouse Productions is a hero of mine. I admire his approach and passion for the industry. Iíd love to collaborate with him on a horror; Iíve got a couple of films ready to pitch if he happens to read this.
Your favourite movies?
Ana: This is a hard question. There are so many. The Godfather 1 & 2, Goodfellas, The Constant Gardener, The Piano, Heat, plus many others.
Arun: Top 5 - Pulp Fiction, The Empire Strikes Back, Requiem For A Dream, A Clockwork Orange, 8 Ĺ.
... and of course, films you really deplore?
Ana: Most superhero movies.

Feeling lucky ?
Want to
search
any of my partnershops yourself
for more, better results ?

The links below
will take you
just there!!!


Arun: Hallmark TV movies, although I canít knock them too much, since they employ a lot of my friends in the Vancouver film industry. My dad loves them.
Your/your movie's website, Facebook, whatever else?
Ana: @anagowild
Arun: Our website is coming soon, but for now you can find us at @theshipmentfilm on Instagram and Twitter and facebook.com/theshipmentfilm plus you can find me at @arunfryer and arunfryer.com
Anyting else you're dying to mention and I have merely forgotten to ask?
Bobby: Thanks for the opportunity to share our film and experiences.
Thanks for the interview!