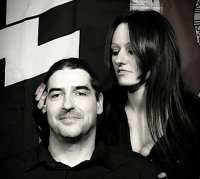 Stephen with Nikki Webster on the set of Dead Walkers: Rise of the 4th Reich
Your upcoming movie Dead Walkers: Rise of the 4th Reich - in a few words, what is it about and what can you tell us about your character in it?
It's about a German scientist who taps into an unused power to create a supernatural force. I played a Nazi guard an Vril - it was quite an experience and Ii loved the action scenes, and there were a lot of them and with being ex-forces I was able to help out with some of the fight scenes, putting them together, training some of the cast, and I also did a bit of directing on some of the key scenes.
How did you get involved with the project in the first place?
I found out about Exorcist Chronicles and put myself forward as an extra on that - and when they was going to do Dead Walkers I got asked if I wanted to be part of that - and I said why not, ever since 2007 when I first started doing TV and filmwork, i've never looked back, and to work with Philip Gardiner [Philip Gardiner interview - click here] and his team is awesome.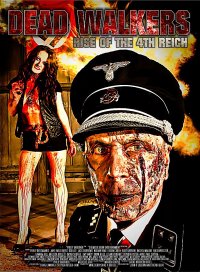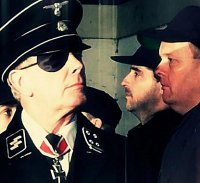 Graham Gill, Stephen Foster-Hunt, Martin Webbe
Seriously, when you initially heard the film's title - Dead Walkers: Rise of the 4th Reich -, what were the first thoughts going through your mind? And how can you relate to the film's subject matter?
Well, I'm ex-forces I was based in West Germany and seeing Reich in the title was a little bit of a shock. When I was in the army I saw my fair share of nasties - did several tours of some of the most heart-breaking an scariest of places, saw plenty of action ... but I see past the titles of films, I just focus on what sort of reality I can bring to any programme or film using and drawing on my life experiences.
How did you prepare for your role, what did you draw upon to bring it to life? And did your experience as a military man at all help in that respect?
Yes, being ex-forces definitely played its part. O was able to help out and make the drilling and the fight scenes come to life and look realistic - there was a few of us on set that had fight training and that did their bit for queen and country, so we all used our experiences to help bring the film to life - knowledge and experience go a long way.
What can you tell us about Dead Walkers: Rise of the 4th Reich's director Philip Gardiner [Philip Gardiner interview - click here], and what was your collaboration like? And how did you first hook up with him?
ln my eyes the guy's a legend and I'm pleased and honoured to have met him and his team and my only question to him is what's next and I want in.
From what I heard, at least parts of Dead Walkers: Rise of the 4th Reich were shot in an unheated warehouse during the coldest days of the year - so what can you tell us about the shoot as such and the on-set atmosphere?
The set was very cold we all did our bit to help each other, all brought extra clothes etc, drinking water, coffee, earns etc - the atmoshere was brilliant, everybody so welcoming and friendly. Yes we messed about between shoots keeping everyone's morale up, lol. I've worked and lived in colder places and I've been on some shoots (not Phil's) where the atmosphere was non-existent.
If there ever was a Dead Walkers II: Since the 4th Didn't Quite Succeed Either, Let's Raise the 5th Reich, would you be on board?
When are we doing it? :) I'd be more annoyed if I didn't get a shout for it, let's do it, let's bring on the mayhem the carnage the death :) - then when I get home I can go back to my laid back hippy life and look after my animals.
With director Philip Gardiner [Philip Gardiner interview - click here], you recently also made Exorcist Chronicles. So what can you tell us about that movie, your character and the shoot as such?
I did Exorcist Chronicles as an extra, I did 2 days out on location as a fate goer just chilling watching some knife throwers in a field then bang lights go out (drop dead) - then the unknown forces take over ...
You also have to talk about your upcoming Lucifer's Child for a bit of course!
All I can tell you about Lucifer's Child is !!!!!!!!!!!!!!!! I can't tell you - but what I can tell you is that this is going to be my very first leading male role and that I'm well chuffed about and can't wait to get started.
Let's go back to the beginnings of your career: What got you into acting to begin with, and did you receive any formal training on the subject?
I've always been fascinated with telly land as I call it, but as a child never did anything about it, always liked watching the stunt shows and the stunt men and women in the movies, and I thought I'd love to do that, but again never did anything about it. Then in 2007 at the age of 34 I inquired about being a TV/film extra - I'd had no training as such but was able to bring life experiences to various roles and again, once I started that I never looked back, quit my job and wanted to make it as an actor, love to entertain folks.
As far as I'm informed, your first appearance in front of a camera was on Lark Rise to Candleford - so what can you tell us about that experience, and how did you even get on that show?
Lark Rise to Candleford was my intro to TV and I got that through an extra agency called Maddog Casting - I did 3 seasons on that out of 4 before they finished it and there was some big English names in that and lots of special guests in every episode, and my very first day on set I was paired up with Dawn French - I was in heaven, what a name to work with, and within a few days on Lark Rise to Candleford I was gettin walk-ons and action scenes - fights in pubs and with policeman - did walk-ons with most of the principle cast and some of the special guests including Nigel Harmen - ex-Eastenders - and Maggie Steed - Calender Girls - an many more.The atmosphere on Lark Rise to Candleford was like an extended family, as is Dead Walkers.
You have also been Benicio Del Toro's stand-in on The Wolfman, right? So what was that experience like, and how does working on a big budget movie compare to working on indie movies like Dead Walkers: Rise of the 4th Reich or Exorcist Chronicles?
I would take one of Philip's films over some of the ones I've worked on of the big budget movies anytime. I was a body double for Del Toro and it was the worst set and crew I've ever had to work with.
You of course also have to talk about your YouTube-channel and especially your regular characters Dilligaf and Logan Blackwood for a bit!
Righto, the fun stuff - a lot of people that know me know me as uncle Dilligaf and they and more will know what Dilligaf means :)
I have 2 YouTube channels, my main one user name is stiggy220 (feel free to view, watch, enjoy and share), that's my fun one, your find all sorts on that channel from some of my animals to some funny films I've made for friends.
;My second channel is a joint venture with me an my mate Dave Sweetman, just tap in "Logan Blackwood' -
we've just started making a series of mini stories were I play "Logan Blackwood, Paranormal Investigator", the first episode is already online (again feel free to view share and suscribe to both of my channels).
Any other films/TV-shows of yours you want to talk about? Any future projects you'd like to share?
Since 2007 I've taken part in numerous films and TV proggs from Shameless, Hustle, Casualty, BBC1's Doctors and many more.
Films also include Alice in Wonderland (Tim Burton), Bunny and the Bull (Mighty Boosh) ... again quite a few more - check out http://stig-666.wix.com/stephen-foster-hunt.
As for future projects, apart from my leading male role in Lucifer's Child, I'm awaiting to be hired for my next role.
Besides acting you're also doing a bit of stuntwork, right? So what can you tell us about that aspect of your career?
I'm not a qualified stuntman but I'm not afraid to throw myself into a challenge I've often helped some film sets out with fight scenes and taught actors and actresses how to take a hit or a fall without harming or hurting themselves, and I'm always happy to get muddied and bloodied for the art.
How would you describe yourself as an actor?
As an actor I would describe myself as very versatile, will do any role given including street theatre, I've never done stageplays but I'd give it a go.
Love comedy and horror, also period dramas :) I'd give any role a try at the end of the day its down to the director to say whether I'm good enough - but whatever role I'm given I'd give it 150%.
Actors (or indeed actresses) who inspire you?
Different actors and actresses for different genres i.e. comedy - Rik Mayall, Adrian Edmonson and dawn french; horror - Robert Englund (Freddy Krueger) [Robert Englund bio - click here].
Your favourite movies?
Many of my faves are oldies - BMX Bandits and Breakdance the Movie, Nightmare on Elm Street, Bottom, Best Little Whorehouse in Texas (Dolly Parton).
... and of course, films you really deplored?
Anything with Woody Allen and Ricky Gervais.
Your website, Facebook, whatever else?

Feeling lucky ?
Want to
search
any of my partnershops yourself
for more, better results ?

The links below
will take you
just there!!!

Find Stephen Foster-Hunt
at the amazons ...

amazon.com

amazon.co.uk

amazon.de
Looking for imports ?
Find Stephen Foster-Hunt here ...
Something naughty ?
(Must be over 18 to go there !)

Find me on Facebook (Stephen Foster-Hunt) - feel free to send friends request.
Youtube: stiggy220 and logan blackwood
Actor's profile; http://stig-666.wix.com/stephen-foster-hunt
AWESOME Talent Agency: http://www.awesometalentagency.com
Google and IMDb.
Anything else you are dying to mention and I have merely forgotten to ask?
Outside of filming I look after and take in sick and homeless animals. I end up keeping them not rehoming them, lol, I have over seventy pets. I also do partime care work, help people with various problems, run a few groups on Facebook, one where people can show off their pets and share pics (Dilligaf Farm and Friends). Also people like me who have suffered with ptsd (post traumatic stress syndrome). I've councilled rape and abuse victims. I like to keep myself busy I still find time to spend quality time with my wife and son as well as do my Youtube Vids.
I'm Uncle Dilligaf!
Thanks for reading
Goodnight xx
Thanks for the interview!