You've recently written a script called Killbilly together with Brett Wagner [Brett Wagner interview - click here] - in a few words, what is it about?
Weíre so excited about Killbilly! Itís a fast-paced action/horror movie that centers on an ancient war between two races of bloodthirsty immortals. You could probably best describe it as a mash-up of True Blood and Sons of Anarchy, but funnier, and itís definitely no nighttime soap.
How did the project come into being in the first place, and what were your inspirations when writing Killbilly?
Brett had just seen The Sitter (my first script for Lifetime, also known as While the Children Sleep) on Netflix and he approached me with the basic concept. I was immediately intrigued, and we started tossing ideas around, trying to figure out what the conflict at the center of the story would be.
What can you tell us about your writing partner Brett Wagner [Brett Wagner interview - click here], and what was your collaboration like? And how did you two hook up in the first place?
Brett and I met on Chromeskull: Laid to Rest 2. I was producing and he was playing a cop, and he had the most outrageous, horrifying death scene. Brettís great; heís this big personality and he absolutely loves horror flicks, which is why we hit it off. It was such an easy collaborationóBrett would come to me with ideas for scenes and characters and weíd go through it all, honing it down to the best stuff.
Do talk about Killbilly's approach to horror for a bit!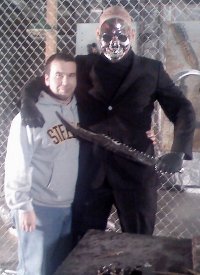 on the set of Chromeskull
You could almost say that Killbillyís an action movie first, then a horror movie. Itís heavy on stunts and big set pieces, but at its core itís really a story about two warring families and what happens when a century-old truce is broken. Itís a lot of fun, and itís largely-inspired by action flicks that we grew up with, like the Burt Reynolds classics White Lightning and Gator.
So what's the status of the project right now, and any idea when it might see the light of day/dark of a projection room?
Right now, itís being shopped around Hollywood, but that process can be a hundred times more daunting than actually writing the script. The feedback weíve gotten has all been positive, so weíre hopeful that weíll pique a studio or investorís interest soon. Itís big, easily the biggest script either of us has written, and it really needs to be done justice with an adequate budget. We canít wait to see Killbilly on the big screen!
You're currently working on a surfing movie, right. So what can you tell us about that one?
Tao of Surfing is a very special project. Itís based on Michael Allenís Pulitzer-nominated book, about the prejudices during the early days of the AIDS virus, and its impact on a tight-knit group of die-hard surfers. Itís a powerful drama, and a project of which Iím very proud. The hugely-talented Lou Diamond Phillips is directing, and weíve got a great lead in Eric Balfour. Weíve shot about a third of the movie, but weíve had to accommodate Louís schedule on A&Eís enormously-popular Longmire and Ericís schedule on SyFyís hit Haven. We plan to finish early next year, when those shows are on hiatus.
Any other future projects you'd like to share?
Iím working on a new horror script right now that Iím really excited about. I donít want to say anything about the plot or the concept, but itís something Iíve never seen before. Iíve also just rewritten a cool Muay Thai boxing flick thatís about to roll.
What got you into the filmworld to begin with, and what can you tell us about your education on the subject?

Iíve always been a movie nerd! I knew when I was four or five years old that I wanted to make movies. My parents were awesome, they always encouraged me to go into film, because they knew it was what I loved. My dad bought me a video camera in high school, and from that moment on, my friends and I were constantly making movies. I went to film school in Pittsburgh, and I was lucky enough to be taught by several members of George Romeroís crew. In fact, the old 16mm camera I shot my senior film on was also used on the original Night of the Living! I made the move to LA about 15 years ago, with the idea of maybe getting into cinematography, since I had been shooting local commercials and documentaries in Pittsburgh. But I wound up interning on a still-unreleased Angus Scrimm horror movie and some of Roger Cormanís last studio flicks [Roger Corman bio - click here]. It was fun, nonstop work, and I soon found myself in the DGA. Around the same time, I optioned my first script (Zombie Hunter; to Mel Brooksí former accountant!) and subsequently began working as a script doctor. This led to more writing and eventually producing.
Over the years, you have worked on quite a few "monster mash-up" movies with such irresistible titles as Sharktopus, Arachnaconda and Grizzligator - you just have to talk about your involvement with this, shall we say, subgenre for a bit, and how much fun is it working on films like these?
I love monster movies! I produced a mini-series a few years ago called Shark Swarm, which was really one of the first movies in the recent wave of sharksploitation flicks. It was crazy fun! It was the biggest movie Iíd ever done. We had Daryl Hannah, John Schneider, Armand Assante and even F. Murray Abraham! He was such a sport, too. He had some of the most ridiculous dialogue in the movie--thatís saying a lot--and he did it all with a smile. Anyway, Shark Swarm developed a bit of a cult following, and as a result, I got Sharktopus, which became a surprise hit. Soon after, it seemed that all anyone wanted to see were monsters and hybrids. I, of course, loved this and immediately started writing Grizzligator and Arachnaconda, which I still think have huge potential, as well as Maneater Mountain, Sea Scorpions and Arachnapocalypse. I could come up with monster flicks all day if you asked!
Other movies you've worked on you'd like to talk about?
A few years back, I was doing a polish on Howard Sternís still-unproduced remake of Porky's, when the producers asked me to write a follow-up, featuring the same classic Porky's characters in a new story. The idea I came up with was Porky's: The College Years. Iíve been a huge fan of the first movie since the fifth grade, so this was like a boyhood dream-come-true to write. I had to do it very quickly, in less than a month really, but I think the final product came out great. Aussie legend Brian Trenchard-Smith directed, and it made a quiet debut on pay-per-view a couple of years ago (under a goofy different title), but it has yet to get a proper release, mostly due to the ongoing legal battle over the rights to the Porky's name. When it does finally come out, I think fans of the original will be pleased. Another project is The Sadist, a contemporary remake of the 1963 Arch Hall jr thriller [original The Sadist - click here; Arch Hall jr bio - click here]. That script is great; itís such a tight, simple story, that it lends itself to any time period. Iíd really like to get that made soon. Iím also still proud of my first Lifetime script, While the Children Sleep (on DVD as The Sitter). It still does great numbers--Lifetimeís run it about twice a month for the last seven years!
What can you tell us about your company Monster Machine, and how did it come into being? And what's the philosophy behind it?
The Monster Machine grew out of my love of monster movies, which was reinvigorated while making Sharktopus. After we wrapped, I was approached by a lot of people who wanted to make more monster-hybrid movies. I originally wanted to make more of them with Corman [Roger Corman bio - click here], but he already had his own monsters in the pipeline, so I decided to form my own company to develop and produce scripts. Iíve since expanded The Monster Machine to include all types of horror projects, and not just monsters.
How would you describe yourself as a writer, and some of your writing habits?
Dialogueís probably my strong suit. I like to have a reasonably-detailed, scene-by-scene story written (10-20pgs) before I start the script; this makes the actual writing go faster and it allows me to spend more time refining the dialogue. Iím a big believer in conversational dialogue, something thatís missing in lots of genre scripts Iíve noticed. I also try to follow what I call ĎHitchcockís Rule of Narrative Economyí. He was a big believer of keeping the story lean and concise, and I couldnít agree more. Iím constantly going through my scripts to trim the fat!
Writers, filmmakers, whoever else who inspire you?
JeezÖ so many! Iím a huge fan of the horror greats: Dario Argento, George Romero, David Cronenberg, John Carpenter, Mario Bava [Mario Bava bio - click here], Alfred Hitchcock, Lucio Fulci [Lucio Fulci bio - click here], Sam RaimiÖ too many to list! I also love Robert Altman and Stanley Kubrick and Woody Allen and Mel Brooks and Blake EdwardsÖ I could go on all day! Iím also a huge Hal Needham fan!
Your favourite movies?
Wow Ö I donít know if I could put these in any kind of order, but The Empire Strikes back and The Wrath of Khan would certainly be up there, along with Romeroís Dawn of the Dead, Kubrickís The Shining, Carpenterís The Fog/The Thing/Halloween, Smokey and the Bandit and Deliverance, Manhattan, Blazing Saddles and Animal HouseÖ my list could be a mile long. I better stop now!
... and of course, films you really deplore?

Feeling lucky ?
Want to
search
any of my partnershops yourself
for more, better results ?

The links below
will take you
just there!!!

Find Stephen Niver
at the amazons ...

amazon.com

amazon.co.uk

amazon.de
Looking for imports ?
Find Stephen Niver here ...
Something naughty ?
(Must be over 18 to go there !)

Thereís some torture-porn out there that really sucks; Iím glad thatís starting to run its course. I donít mind it when great movies are remade, but sometimes they seem to almost be intentionally shitty. That awful remake of The Fog comes to mind, as well as that ridiculous mini-series attempt at The Shining from a few years back. And that Prom Night remake was almost unwatchable. How do you mess up a simple concept like that? And donít even get me started on the CGI crapfest that was The Haunting remake!
Your/your movie's/your company's website, Facebook, whatever else?
Please like The Monster Machine on Facebook and follow @_MonsterMachine on Twitter!
Anything else you are dying to mention and I have merely forgotten to ask?
Iíd love it if Porky's fans would band together and demand that Porky's: The College Years gets a proper release! Itís a great companion piece to the original trilogy and a lot of fun!
Thanks for the interview!