Your new movie Shoot to Marry - in a few words, what is it about? And what were your inspirations for making it?
Shoot to Marry is a documentary about my search to find love again after a bad break-up. It was actually a failed marriage proposal, which left me broken and full of questions. After crying on the couch for a few months I decided to put my pain into a doc. I grabbed my camera and started interviewing people about relationships. I interviewed my parents, my therapist, my rabbi. Eventually I started focusing my interviews on women. The idea was to learn about women and relationships from women, and also I was hoping along the way I might click with one of the woman and find love again.
Making Shoot to Marry, what did you personally learn about dating, relationships, and love?
I was reminded how important it is to be yourself. Which seems obvious. But itís not always easy. On a first date we want to put on the most charming, most impressive version of ourselves. The problem is, eventually the real you is going to surface - and you donít want your partner to be disappointed when they meet the real you. So if youíre on a first date - be yourself. Be vulnerable, be stupid, be crazy - be whoever you are. If the person youíre with doesnít like you for who you are - screw Ďem.
Since you are front and center in Shoot to Marry, did that at all make you feel exposed or the like?
Being vulnerable and authentic is something Iíve worked on over the years. At a certain point in life you realize that putting on an act for people - pretending to be something youíre not - is actually exhausting. So when I decided to document my search for love I knew that for the film to work I had to be real and expose my insecurities, and I was comfortable with that.
Especially for a documentary, Shoot to Marry is actually pretty funny - so do talk about your movie's brand of humour for a bit!
My brand of humor is very Jewish and self-deprecating. Iíd rather make fun of myself than other people. I put humor into everything I do. Especially if Iím feeling uncomfortable with someone. I think humor is a great way to diffuse an awkward situation. Humor is sort of a defense mechanism - itís a more palatable way to deal with the painful realities of love, life and death.
Are there any stories that didn't make it into Shoot to Marry that you'd like to share?
There were women I filmed with who didnít end up in the doc - I filmed with a female rabbi, a female butcher, a psychic - they were all interesting but you have to cut people because Iím compressing a year of my life into a ninety-minute film. And Iím trying to hit certain emotional beats. And pace the film. A huge part of editing a documentary is taking stuff out. You take out a lot more than you leave in.
What can you tell us about your overall directorial approach to your story at hand?
I shot everything from my point of view. In the filmed conversations the women are looking directly into the camera which creates a very intimate feel. Iím pretty much inviting audiences into my head for ninety minutes. Iím not sure they want to be there - but itís where I put them.
Now how did you get all these people to appear in your documentary, and were there any who turned down being in the movie?
I reached out to a lot of interesting women, mostly direct messaging on Facebook or emailing. At some point I would mention my first documentary so they could look that up and see that I'm a legitimate filmmaker. Finding women to say yes meant reaching out to dozens of women who said no. Most women didnít respond at all. It was a lot of work and at a certain point I brought on a few researchers to help me find the women. I would give the researchers a long list of ideas. What if I filmed with a female firefighter? A dominatrix? Then the researchers would go off and try to find these people.
What can you tell us about the shoot(s) as such?
For the most part I worked alone. I was a virtual one-person crew, which was challenging. I was looking for love and setting audio levels at the same time. There were practical reasons for working alone. It meant I didnít have a crew to pay, and I didnít have to work around anyone elseís schedule. But more importantly, filming without a crew created intimacy. I wanted to record authentic one-on-one conversations. I wanted to capture the awkwardness of two people meeting for the first time. That would have been impossible with a crew in the room.
The $64 question of course, where can Shoot to Marry be seen?
The doc had its world premiere at Slamdance, and now Iím getting offers to screen at other major festivals. And Iíve been approached by a few distribution companies. Iím not sure yet whoís going to acquire the doc but Iím confident it will land somewhere. The best way for people to get updates is to follow me on social media. Iím on Twitter, Instagram and Facebook, and thereís a Facebook page for the doc. Thereís also a website, ShootToMarry.com.
Anything you can tell us about audience and critical reception of Shoot to Marry yet?
I was thrilled to win the Audience Award at Slamdance. Filmgoers loved the doc. Critics too. The general consensus is that people find the film both hilarious and moving. I think people relate to the themes of heartache and loneliness, and the search to find love. Itís been very rewarding to see people connecting with the film, and being entertained by my story.
Any future projects you'd like to share?
Next up, Iíd like to make a documentary or a docu-series that continues where Shoot to Marry leaves off. Iím still full of questions about relationships.
As far as I know, you've started out as (and still are to my knowledge) a comic - so what can you tell us about that aspect of your career, and your style of comedy?
No, I didnít start out as a comic, and itís not something Iím doing now. I did stand-up briefly for about a year. Worked at clubs like the Hollywood Improv in LA and Yuk Yuks in Toronto where I live. I enjoyed stand-up comedy, but decided to focus on filmmaking. I didnít love the comedy club scene - staying up till two in the morning to get five minutes of stage time. I like to go to bed early. With filmmaking I can get up early, spend the day filming and be in bed by ten.
What made you branch out into filmmaking eventually?
Iíve been making films since I was ten. I used to make animated films with my dadís Super 8. My older brother was into filmmaking and he showed me how to bring plasticine figures to life by exposing the film one frame at a time. I had the patience for it. Then in high school I saved up money from a part-time job in the food court at Thornhill Square and bought a camcorder. I spent my high school years making short videos with my friends. We called them Markle Movies - as if I was running my own movie studio from the suburbs of Toronto.
What can you tell us about your filmwork prior to Shoot to Marry?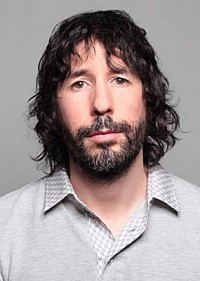 Feeling lucky ?
Want to
search
any of my partnershops yourself
for more, better results ?

The links below
will take you
just there!!!


My first documentary was Camp Hollywood. I shot that while I was living at a seedy apartment complex in Hollywood and giving stand-up comedy a try. The doc is about the community of struggling artists who were also living at this fleabag - actors, musicians, comics as well as strippers and porn stars. That doc was very successful. It won the Gemini Award for best documentary, which is basically the Canadian Emmy. It premiered on the Sundance Channel and was also broadcast on IFC and Bravo and the CBC in Canada. Currently Camp Hollywood is streaming on Amazon Prime.
Filmmakers, actors, comedians, whoever else who inspire you?
Recent films Iíve loved are Jojo Rabbit and Noah Baumbachís Marriage Story. Adam Driver singing Sondheim brought me to tears. I love stand-up comedy. Chris Rock, Ellen DeGeneres, Dave Chapelle, I love reading books by comics, Steve Martinís Born Standing Up, Sarah Silvermanís Bedwetter, Howard Sternís recent book. And some of my favorite docs are about comedians. A Piece of Work is a great doc about Joan Rivers, Comedian is a great doc about Jerry Seinfeld, both docs are very inspiring.
Your favourite movies?
Fast Times at Ridgemont High, Rushmore, Boogie Nights, Election, Rain Man, Tootsie, Ordinary People, Die Hard, ET, Elf, Rocky, Inside Out, Bridesmaids, Get Out.
... and of course, films you really deplore?
Jaws 3D was disappointing.
Your/your movie's website, Facebook, whatever else?
Facebook: ShootToMarry
Facebook & Instagram: @stevemarkle
Twitter: @steve_markle
Thanks for the interview!