Your new movie Crossbreed - in a few words, what is it about, and what can you tell us about your character?
Crossbreed is a sci-fi action/adventure film with a nod to the style and pace of the action films from the 80ís. Crossbreed takes place in the future and follows a group of mercenaries that are hired by the President of the United States to extract a highly volatile alien life form from a space station that could generate WW IV if not retrieved and returned to the rightful owners. Once on the space station, of course, things donít go as planned.
I play Adam ďBossĒ Ryker. I am highly capable ex-mercenary/military that abandoned Earth for the settlement on the Moon after I lost my family. Iím done saving the world and just really want to be left alone. Unfortunately my finances are not doing so well and the bar that I own and operate at the settlement is being threatened to close. I have little to no choice in taking this extraction job on.
What did you draw upon to bring your character to life, and how much Stink Fisher can we find in Ryker?
Without question characters are only as interesting and believable as they are on paper. Robert Thompson wrote a hell of a script and gave me great backstory to work with. I drew a lot on my own life experiences in creating a multi-layered Ryker. For instance, the financial hardship with a business Ö Iíve been there. I have owned a restaurant for the past 13.5 years and in the very beginning we were absolutely strapped and had no idea how we would survive. Thatís a character builder there I can assure you. I have also suffered loss in my life with my dadís passing in 2001. He was my best friend and mentor and his loss shook me and still affects me today. My background is football. I played high school, college and dabbled in pro football, and was a captain on just about every team I played for. I know what being part of a team is all about and I know what it means to lead teammates into battle (in a metaphorical sense) and be by their side and fight to death (or the final whistle). So I found all of those parts of me entering into my relationship with Ryker. I think itís easy to say there is a lot of Stink Fisher in Ryker.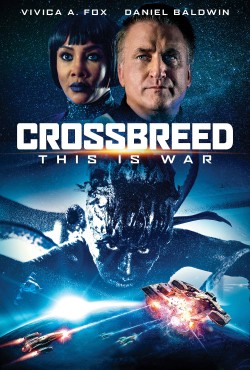 How did you get involved with the project in the first place?
I first became aware of Crossbreed through my manager, Rosella Olson. An audition popped up for Ryker and Rosella called me and asked if I was interested in reading for the role. She sent me the character breakdown and the script and I immediately knew that I was Ryker. Hands down. I jumped at the opportunity.
With Crossbreed being a science fiction movie, is that a genre you can at allidentify with?
The funny thing for me is Iím a goofball. I love comedy. My dream job would be a series regular/lead on a long-running comedy. BUT Ö my deep, dark secret is action-adventure and sci-fi. I love both genres but especially sci-fi. I am a dreamer/adventurer/explorer in my own life and I really love getting into different worlds and space travel etc. I am a firm believer in aliens, Bigfoot and everything in between and canít wait to meet them all. I actually had lunch with Bigfoot last week. Nice guy.
What can you tell us about Crossbreed's director Brandon Slagle [Brandon Slagle interview - click here], and what was your collaboration like?
Brandon flat out just blew me away. From my first day on set I knew I was in very good hands. Brandon is a visionary. He is a student of film and knows what he wants. As an actor, you really cherish the opportunity to work with someone like Brandon for many reasons, but trust and instinct are up at the top. Without those two qualities a simple set can become a nightmare. Brandon made collaboration and adjustments enjoyable, allowing his cast to feel their characters and go in directions that might not have been on the forefront. I am 100% certain that because of that people will be treated to a really special film.
Do talk about the shoot as such, and the on-set atmosphere?
The on-set atmosphere was intense in a good way. We were working at times in very difficult conditions or places and the hours were long ... comfort wasnít the first priority. But for some reason (the amazing cast, crew and production folks) we had an absolute blast. We became family. Thatís a good set!
Any future projects you'd like to share?
I am currently being considered for a day-time Emmy for supporting lead in a comedy series called New Dogs Old Tricks which is streaming on Amazon Prime. I also have another film coming out this soon called Just One More Kiss where I play the love interest. Aside from that, I have some other projects keeping me on hold until production locks down shoot dates etc and I also have an original comedy screenplay that I wrote that is currently in development. I am looking forward to 2019. I think this is the year of the Stink. :)
What got you into acting in the first place, and did you receive any formal training on the subject?
I have no formal training in acting as far as the cart before the horse. Once I started acting I took classes with George DiCenzo (Helter Skelter í77) and also at the Upright Citizens Brigade in NYC. But mostly I just dove in. How I dove in is another story. I was 300lbs and playing pro football in the CFL (Canadian Football League) for the Montreal Allouettes and the season ended. They offered me a 2 year contract extension the day that I was to drive home. I told them Iíd think about it and discuss with my wife (ex-wife now). I got home on Halloween, or right around that time, and was literally discussing the Canadian opportunity with my wife when my phone rang. On the phone was an old high school friend who was working in casting in Philadelphia. She needed a football player type for a commercial and wanted to know if I was interested in auditioning. I had grown up in a theatrical house Ö my parents took my siblings and me to Broadway plays, musicals, movies almost every weekend. And to add to that atmosphere not only was my dad my high school football coach but he was also a writer/screenwriter, playwright and director of plays and musicals, so I had a pretty solid background in this realm. So anyway, I get the call from a friend about the casting and Iím supposed to be eating at my grandmotherís that night. I called her and asked if she minded if I shot a commercial instead of coming to dinner. My grandmother told me to do whatever makes me happy and that she loved me regardless. So I shot a commercial that night and the rest is history.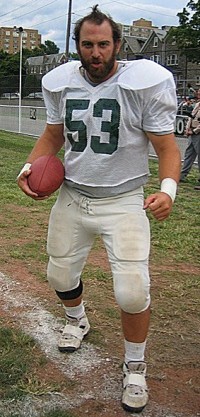 Invincible
TV series you made repeat appearances on include Late Night with Conan O'Brien, The Sopranos and Gotham - all series with a bit of a cult following, so please do talk about your involvement with them of a bit, and how did you get on those shows in the first place?
I have been very fortunate over the years to be part of television history in regards to The Sopranos, Team Coco and most recently Gotham. I booked Conan early on in my acting career as nothing more than a big dude with comedic timing and over the course of three or four years they kept brining me back for more involved sketches. Conan was a blast. Once they moved out to LA they found other big, goofy guys to fill their roles. But I still love them. The Sopranos came at the same time that I was shooting Invincible with Mark Wahlberg and Greg Kinnear. Invincible was a 1970ís period piece and my hair and beard were out of control and I remember being so worried I wouldnít get the role because I couldnít change my look. Somehow The Sopranos production dug my look and I became part of their world. The wild thing about The Sopranos is that even though I only did 3 or 4 episodes as Uncle Juniorís nurse I wound up on the Sopranos calendar as one of the months. Pretty damn funny. And Gotham, well, I was just thrilled to death to be part of that show. So much fun, so creative. I actually auditioned for maybe 9 different roles on Gotham before I landed Aaron Helzinger. Helzinger ultimately becomes the villain Amygdala. I am a legacy character, meaning I was created by the comic book so I canít be killed off. So I am just floating in limbo currently.
Other past movies and TV shows of yours you'd like to talk about?
Iíve been very fortunate to have been a part of many great shows and films. Some that come to mind on the TV side are Blue Bloods, Flesh and Bone, White Collar, The Black List, 30 Rock. On the film side there is The Longest Yard (remake), The Lovely Bones, Freeheld, Arthur (remake), Gulliverís Travels, Going The Distance, and also a great scene with Sally Field in Spiderman 2 that was unfortunately edited out. Thereís more but my brain is full at this point. I also used to do a boat-load of commercials back in the day and I think every one of them was a national spot which was very lucky. Most likely Iíve been in many peopleís living rooms at one point, invited in or not.
How would you describe yourself as an actor, and some of your techniques to bring your characters to life?
I guess the easier definition is that I am a character actor. I play characters. Iím not a movie star by any means playing variations of myself. So the fun begins when I can slip into someone elseís skin and start exploring. I am a 100% all-in type of person in general and that translates well into my approach towards acting. Iím locked in. I feed off the character and make decisions through that characterís eyes. Stink is in there of course, but he takes a servient role to the dominant character at the moment. Itís kind of schizophrenic you could say. I like to go into a meditative state to prep for any role and really try and see life through that characterís eyes. If I feel an accent or a certain dialect I pretty much walk around all day long using those tools and driving my family crazy in the process.
Actors (and indeed actresses) who inspire you?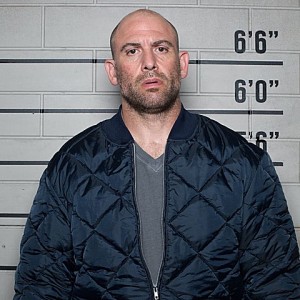 Gotham
There are so many that come to mind that have given me a love of what I do. But I would have to say at the top of my list is Gene Hackman, Meryl Streep, Jeff Bridges, Amy Adams, Christian Bale and Mark Ruffalo. On the comedic side whenever I need inspiration I turn to Tropic Thunder. Tom Cruise and Robert Downey jr Öjust comedic brilliance.
Your favourite movies?
I have so many films that I could call my favorites; that heavily influenced me in so many ways so I just canít list them all. But Iíll give you a couple here ... The Big Lebowski, Cinema Paradiso, Tropic Thunder, Hell or High Water, Pulp Fiction, Dr. Strangelove, Blazing Saddles, Hoosiers, Shawshank Redemption, Star Wars, Superman, Saving Private Ryan, Unforgiven, Kellyís Heroes, Animal House, Stripes and on and on and on ...
... and of course, films you really deplore?
There are not many films that I would vocally come out and blast. Regardless of how bad a film may be, somebody wrote it, people funded it and many were involved in making it. Thereís a lot of effort in there. I donít think anything that demands that much effort should ever be ridiculed. With that being said Ö Cops and Robertsons with Chevy Chase Ö I almost walked out Ö twice. Just not good, not funny. And I fell asleep in the theatre watching Godzilla. It was one of the remakes at some point or another, and man it was bad.
Your website, Facebook, whatever else?
I am pretty sure Iím the only Stink Fisher on Facebook, Twitter and Instagram. I donít have a dedicated website but perhaps I should one of these days. Stay tuned on that.

Feeling lucky ?
Want to
search
any of my partnershops yourself
for more, better results ?

The links below
will take you
just there!!!


Facebook: https://www.facebook.com/stink.fisher
Twitter: @UStink
Instagram: stinkfisher
Anything else you're dying to mention and I have merely forgotten to ask?
Iím glad you asked! I have an amazing and super talented personal chef who happens to be my wife, Jessica Floyd and 3 amazing boys, Holden (17), Dashiell (12) and my step-son Dean (7). We happily live in Medford Lakes, NJ and plan to take over the world one of these days.
Thanks for the interview!
It was my pleasure. Thank you so much for the interest and for giving Crossbreed much respect. You guys rock!