Your upcoming webseries Karma Klub - in a few words, what is it about?
Girls who beat up boys who beat up girls
Even if this might sound like a stupid question, what made you want to do a webseries with domestic violence as its core topic?
Recently, an exboyfriend broke into my apartment in the middle of the night and attacked me. When I tried to call the police he ripped the phone of my hands and smashed it on the ground. I barely escaped, in my pjs, to a neighbor's house. The screaming woke him up, and he was already by the door when I was pounding on it. My ex was gone before the police arrived, but charges were pressed. The city's attorney's office cut a deal with him, gave him a small fine and a year's worth of counseling. He didn't spend a minute in jail, he was never charged with breaking and entering or vandalism. As it turns out, you can hit a current or former domestic partner with impunity the first few times, but a stranger on the street? That, the law considers a real problem. While I healed up, I thought to myself, "wouldn't it be great if one of my martial artists friends beat him for me?" My friend, former WWE developmental wrestler Jennifer Thomas was there for me at the time, and the idea bloomed. Although no ex's have been harmed in the making of the project.
How did the project fall together in the first place?
As Jennifer and I developed the concepts, naturally we bounced ideas off of our friends. Nearly everyone thought it was great idea, and wanted to get involved. Also, nearly every women we spoke with shared her own experiences with domestic violence. And not just women either. One of my male friends recently escaped a dangerous and frightening woman. Welcome to feminism, where women can be violent against men too. This isn't just a women's issue, even if it appears that way at first glance.
What were your sources of inspiration when writing Karma Klub?
Karma Klub is a series, and its been inspired by countless, heart breaking stories of the people we know. I don't know how much we can change the world with a TV series, but everyone involved is ready, willing and able to use our collective voices to bring this issue out of the darkness and maybe make a little difference in the world. Change has been happening, but slowly. You wouldn't believe the stories from previous generations, where women were asked what they did to provoke a beating, or worse, accused of beating themselves for attention or revenge. Women just weren't believed when they did speak out, and men? They couldn't speak out at all. They've been completely stifled.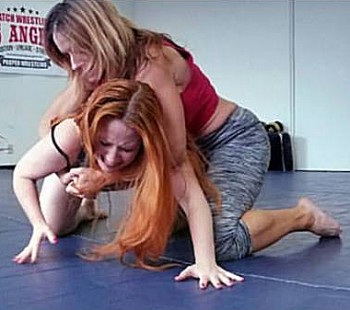 Tara training with Jennifer Thomas
From the looks of it, Karma Klub seems to feature quite a bit of action - so what have you planned in that department?
The premise of professional female fighters tracking down domestic violence abusers requires a whole lot of action. To be clear, we aren't advocating that women in abusive relationships should beat up their boyfriends. That doesn't work for dozens of reasons.
&nbps;
As far as the action goes, the cast that we have attached (and will expanded as we go) already features highly skilled actors with extensive backgrounds in martial arts, wrestling, and various styles. Each role is tailored to the actor playing it, which we feel brings out the best possible collaboration. Because we have such skilled performers, there's no need for unrealistic choreography for shaky cam work to hide the flaws. Our cast is expert level in fight skills. Crystal Santos [Crystal Santos interview - click here], for example, has been inducted into Martial Arts Halls of Fame all over the world, and is currently featured as a weapon's expert on El Rey Network's Man at Arms with Danny Trejio.
Jeanne Basone is another phenomenally skilled actor. She appears in every season of the original GLOW (Gorgeous Ladies of Wrestling) which premiered in the 80s. She has continued to hone her skills since then, and has wrestled professionally all over the world.
My co-creator, Jennifer Thomas, has wrestled some of the biggest names in wrestling, although she's far too modest to brag about it. She was chosen for WWE developmental program, and they sent her overseas to wrestle too. She was also trained by my buddy Al Snow, who worked with me on Legend of the Red Reaper.
Do talk about your directorial approach to your story at hand?
Directing is a three part equation. Part 1 is making sure the actors and fight choreography convey the desired tone. I wish I could have done a little more with that in the trailer. Because it's part of a grant competition, we only had 2 weeks to shoot and edit and a two minute trailer time limit. I regret not being able to add in a few more telling details, and feature the actors in a stronger light. There are so many nuances to the series, and so many themes to be explored, we just couldn't fit it all in. The series will do a better job of that.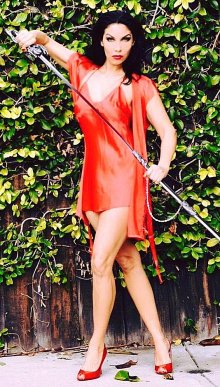 Crystal Santos
Part 2 is directing the camera in the best ways to show, rather than tell, the important pieces. The camera sees things so differently than the human eye. In that respect, I use a lot of POV shots. You can see an example of that in the trailer where Jeanne clothline's the camera. POVs have an entirely different impact to the viewer than showing the action in a wide shot. There's a time and place for a wide shot, and you can only include them when you have extremely talented performers involved. Fortunately, we have that. Again, with Jeanne, you can see her deliver that stomach stomp expertly in the wide shot in the trailer, as just one example.
Part 3 is the edit. I wouldn't have a clue how to direct something if I didn't already see how I wanted it cut together. On larger budget projects there can be story boards. One day I'd like to have those too, but for now, because I am also an editor, I know how I like action to be cut. I'm a fan of Jackie Chan's style of editing, where you cut on the impact, and then in the subsequent clip, back it up a few frames to show the impact again. You can see that when Jennifer, who plays "Karma", kicks the bad guy in the final fight sequence. She really delivered that kick, and our stunt guy, Vince, really took that hit. That's something common to martial arts movies that they don't do so much of in other projects.
You also appear in front of the camera in Karma Klub, right? So what can you tell us about your character, how do you prepare for your role, and what will you draw upon to bring her to life?
My character is a washed up action actress, with only movie fight training who got beat up by her ex. When she misses a wrestling engagement with Karma, Karma shows up to find her with a limp, a black eye, and a tall tale about falling down a flight of stairs in her one story apartment. Karma sees potential in her, helps her through her injuries, and slowly introduces the underground Karma Klub ring to my character.

Like every series creator that works both sides the camera, the character will be a version of myself, and as you've already surmised, based on my real life experiences. One of the delays in bringing this project to life has been my own health issues. I was diagnosed with cancer last summer, and had to undergo extensive surgery. There have been some complications, and it has made it impossible to train, either in martial arts, or even just going to the gym. For that reason my preparations have more to do with healing, much like my character. Fortunately, it's been extremely healing just to have something positive, like Karma Klub, to focus on.
What can you tell us about the rest of your cast, and why exactly those people?
In addition to my co-creator, Jennifer, Jeanne and Crystal, we've also teamed up with producer and actress Esther Goodstein. She's produced dozens of features, and I met her on the set of Spreading Darkness, a feature I star in, and she produces. Esther is also an incredibly partner who is great at not just managing a set, but managing me as well.
For the trailer shoot, we were lucky enough to get Gary Graham, Rena Riffel [Rena Riffel interview - click here] and Dominique Swain, all of whom are heavy hitters in the industry. I worked with Gary a few years back on a TV pilot, we've remained friends ever since. Of course you know him from Star Trek: Enterprise and Alien Nation. Rena and I worked together on Spreading Darkness too, and she's famous for Showgirls and Mulholland Drive. And of course Dominique Swain played the title role of Lolita, against Jeremy Irons, and John Travolta's daughter in Face/Off.
You probably noticed comic book legend George Perez [George Perez interview - click here] in the trailer too. For those who don't know him, he's famous for drawing Wonder Woman and many of the other classic comic book heroines. George penciled for both Marvel and DC and most recently for BOOM! It was an honor to shoot in his studio where many of the most iconic comic covers and characters made it from fantasy to page. A humbling honor.
Our initial cast brings an enormous amount of experience to the table, which is imperative for success on a small project project with big dreams and goals.
So at what stage is your production presently?
The trailer, which we hope you will watch (over and over again) is part of a competition for the Canadian Independent Production Fund - https://youtu.be/pE_2MygDW48. The competition ends March 31st, and the trailer performs well, as judged by views, comments, thumbs up and subscribers, we move on to a short round two, which mostly involves paperwork. We will know by July if we've received funding or not.
Above and beyond a web series, our end goal is to pitch this to networks, Netflix, Hulu and Amazon Prime as a viable original content series.
We are also currently in talks for sponsorship with a well known makeup brand, and some martial arts themed paraphernalia as well as an energy drink. So if you see the Karma Klub leaving lipstick stains of cans of energy drinks, in between ass kickings - you'll know why :)
And when and where can it be seen once finished?
YouTube is platform A. We intend to release short 10 minute episodes there, but also utilize our output deal with Amazon Prime to release longer format versions the episodes. Both will be free to the viewer, but ad supported, and thus recoup for our investors.
Any future projects beyond Karma Klub?
I'm attached to a few movies and a TV pilot coming up, but let's save that for later :)
Your/your series' website, Facebook, YouTube, whatever else?

Feeling lucky ?
Want to
search
any of my partnershops yourself
for more, better results ?

The links below
will take you
just there!!!


Please send EVERYONE to our trailer first. That's what will help us win the grant:
You can also follow us on Facebook, Instagram and Twitter:
Instagram: @KarmaKlubSeries
Anything else you're dying to mention and I have merely forgotten to ask?
You've covered it all :)
Thanks for the interview!
Thank you again Mike! So lovely to chat with you!!!