Your upcoming film Bikini Monsters - in a few words, what is it about?
In a secluded laboratory just off the Florida coast a scientist works feverishly on his grizzly experiment. Known by local transients only as "the beach bum" He has dedicated his life to creating the ultimate expression of beauty, a mermaid. In the wake of his dark obsession is a trail of test subjects left horrifically twisted and mutated abominations the likes of which mankind has never seen ... until now. As the experiment continues, detective Elizabeth Wayne opens an investigation into the disappearance of several local women and their ultimate fate ...
What were your initial sources of inspiration when conceiving Bikini Monsters?
Well I would have to say any water monster movie - Creature from the Black Lagoon, Blood Waters of Dr Z., Humanoids from the Deep and Jaws.
You have co-written Bikini Monsters with your producer Erica Heflin. What can you tell us about her and what was your collaboration like?
She is a very talented person, she does about everything - great writer, and she has acted in a few things I did that never came out. That's kinda how I met her, she got into films and I asked her if she would pretty much take this idea I have and run with it, and now you have Bikini Monsters. We have also worked on comics together.
How would you describe your directorial approach to your subject at hand?
I look at all angles, will it be easy to film, how many locations, will the actors show up? ... I look at it as the next big thing.
The title Bikini Monsters alone suggests all sorts of associations to vintage genre fare from classic drive-in flicks from the 1950's to 1980's direct-to-video horrors ... and now I don't know how to turn this into a question. But would you like to elaborate anyhow?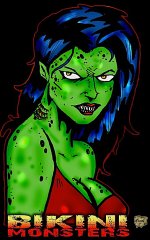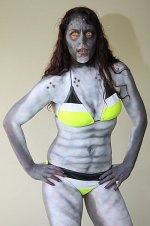 Cyndi Crotts
Well I had this movie about zombies that came out of the ocean ... and thought how cool would it be to take the Dr Monroe-thing taking DNA from marine life and ejecting it into humans ... add a bikini and wham, you got yourself a bikini monster!
I'm sure I'm not the only one who just loves the bikini monster-design. Now how did that come into being?
My artwork - I drew her and she came to life. I met Jamie Lea on the set of my friend's movie, but I didn't think that one day she would become my creation. After the contacts, the make up and teeth my artwork came to life!
For the sake of (at least) my male readers you have to talk about your actual bikini monsters - or rather the girls who play them - for a bit!
Jamie Lea, the main Bikini Monster - very fun, loved playing in the water - she worked as a shark wrangler at one time ... nice!
Cyndi Crotts [Cyndi Crotts interview - click here] - she is a really good actor, she tries very hard at every role she takes. I am glad I got to work with her.
Melanie Robel [Melanie Robel interview - click here] - she's very spunky and gets into everything she does ... she is very fun to work with.
Rhiannon Staiger - very soft spoken and very fun to work with. She was a trooper in the film.
Danielle Laughlin is a very strong girl, she goes in and get it done. She is also a trooper.
I had a great time watching them become my Bikini Monsters, and you will see a few of them again in part 2
What can you tell us about the rest of your principal cast?
Brad Guerrie was a last minute cast member, he saved my ass and I really like his work. I hope to get to work with him again.
Sara Maas is awesome, she came out, was the lead, and I think it was her first horror sci fi film - very fun to work with.
Anthony Wayne - this guy is great, he just loves to do movies you will see him again in Bikini Monsters Part 2.
Ray Martinez - I met Ray at the casting call, I was going to have him play Jesus in a film I was going to do, but Bikini Monsters was first and I asked him if he would be interested in the bad guy role. He accepted.
Mike Christopher (Hari Krishna Zombie - Dawn of the Dead) is one of the nicest guys I have known. I am glad to call this guy a friend. I was approched by him on the phone one day and asked if his girlfreind could be in the movie, and I said all the roles were full, and so I had made her one of the ops in the film ... and so I asked, Mike, hey, would you like to play the police captain in the movie? ... and he said yes, and we have been friends ever since - and he wrote most of the music for Bikini Monsters.
No bikinis without beaches (which is probably nonsense) ... so, a few words about your locations, and why did you choose them?
Well I love Florida and I love the ocean ... so it had to be there!
What can you tell us about the actual shoot, and the on-set atmosphere?
Fun, very fun, we had a great time. The only bad thing it was hot a lot - so besides being sweaty it was a good set.
The $64-question of course: When and where will the film be released onto the general public?
Well the film was to be released in 2010, but due to editors that didn't happen - so I locked my room and started to edit myself the first half of 2011, and I hooked up with Indiana legend horror host Sammy Terry, and he showed it on his show, so it was released in 2011 under Sammy Terry, but for all of you that are waiting, this fall Bikini Monsters is coming to ya on DVD and some showings, so keep following it on my website ... just in time for Bikini Monsters 2.
Let's go back to the beginnings of your career: What got you into filmmaking in the first place, and did you receive any formal training on the subject?
I always liked film, but I never really thought I would be doing them. My grandfather had a super 8 to record family, so I started making my Friday the 13th-films. Then when I was older I was approached by actor/writer/director Ivan Rogers (LaserHawk). I was drawing artwork and he asked if I might be interested in doing some artwork for his new DVD Forgive me Father... so I did and I spent many days on the set learning the ropes... that's when I knew that's what wanted to do - so 10 years later and 5 films I am still going.
What can you tell us about your filmwork prior to Bikini Monsters? And have you shot any movies since, for that matter?
Well, I started with a short called The Shack, then I did Hell Walks the Earth, then X , then Bikini Monsters and Blood Curse, and I just released my new film Slice in July on DVD. Now I am going into prodution on Bikini Monsters 2.
Any future projects you'd like to talk about?
Well, let's just say I have a few ... but I want to keep those a secret.
Besides being a director, you're also a quite accomplished artist. Why don't you talk about that aspect of your career for a bit?
That's what started all this, I have been drawing since I held up a pen or a crayon - over 30 years I have been drawing, I always wanted to be a comic artist. I have had a a lot of art published but I wanted more. so either people didn't like my work or I just didn't have the money to promote myself - but I draw every day still. Now I do a lot of freelance artwork and movie artwork. Now that comics are going digital, it might be easier to break in... so I am not quitting yet - art is my love!
Directors who inspire you?

Feeling lucky ?
Want to
search
any of my partnershops yourself
for more, better results ?

The links below
will take you
just there!!!

Find Terence Muncy
at the amazons ...

amazon.com

amazon.co.uk

amazon.de
Looking for imports ?
Find Terence Muncy here ...
Something naughty ?
(Must be over 18 to go there !)

Ed Wood [Ed Wood bio - click here], Guillermo del Toro, George Lucas, George A. Romero ,Sean Cunningham, Russ Meyer, Roger Corman [Roger Corman bio - click here], Peter Jackson.
Your favourite movies?
Star Wars Saga, The Lord of the Rings, Indiana Jones-films, Aliens, Friday the 13th-films, Dawn of the Dead, Creature from the Black Lagoon, Pumpkinhead , Tron, Evil Dead-films, anything by Guillermo del Toro.
... and of course, films you really deplore?
Saw, Hostel, Human Centipede, any new horror really - Paranormal Craptivity ... and so on - and Titanic.
Your/your movie's website, Facebook, whatever else?
Anything else you are dying to mention and I have merely forgotten to ask?
Yes, I am single, ladies ... so if any of you readers are looking for a fun big guy with a lot of artwork and action figures and movies ... here's my email: blackforest1974@yahoo.com.
I thought that would be funny....
Thanks for the interview!