Feeling lucky ?
Want to
search
any of my partnershops yourself
for more, better results ?

The links below
will take you
just there!!!

Find Terrence Williams
at the amazons ...

amazon.com

amazon.co.uk

amazon.de
Looking for imports ?
Find Terrence Williams here ...
Something naughty ?
(Must be over 18 to go there !)

You have recently released your new film, The Hood has Eyez. In a few phrases, what is the film about ?
Itís a rape/revenge-horror film about a girl named Kimmy who is brutally raped and humiliated by a group of sadistic gangsters. Kimmy survives her attack and seeks bloody revenge on her attackers one by one.
How did you come up with the idea for the film ?
After working on Revenge of La Llorona (my third feature) and getting such positive responses from audiences due to itís edgy content, my business partner (producer Nicole Williams) and I decided to play on that a little more and come up with something really crazy and outside the box. I have always been a fan of the rape/revenge genre and films such as Thriller: A Cruel Picture and I thought it would be cool to do a film like that, but more extreme and set in modern times. Instead of raging rednecks or escaped convicts, I thought gangsters would be perfect. Especially since I live in Los Angeles and thatís the thing I feared the most growing up.
In more than one way, your film is pretty extreme. How hard was it to get the cast together, especially the three young actresses who play the schoolgirls ?
It was a challenge. Most actresses stopped talking to me after I sent them the script. Some of them are people I had built a working relationship, or at least so I thought. Iím not sure if they thought I had lost my mind or if they thought I was pulling their leg, but they wouldnít return my calls or emails Ö I believe a lot of them want to be famous and mainstream and Revenge of La Llorona and The Hood Has Eyez are films going in directions that are opposite to where they want to go. But everything fell into place. I had previously worked with Cyd Schulte, who plays Kimmy, and I pitched the idea to her and she loved it. I told her that if she did it Ďtho she had to go all the way and we werenít going to hold back on anything. Then I ran the idea by Antonio Royuela, who plays Psycho, and he was instantly excited and hopped on board. Everyone else fell into place after that. A lot of people have credited the film's lead actors as the only actors who had to do crazy stuff or go the distance, but the truth is the entire cast had to say ďfuck itĒ and just let everything hang out. I credit them all for making the film so real. It was a real group effort.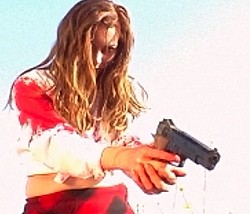 The film contains quite a few scenes of gore and gratuitious violence. What's your approach to scenes like this ?
First off, I never do anything in a movie just for shock value. A lot of people might think thatís bullshit, but if the script doesnít call for it or the story doesnít need it, I wonít do it. Everything in The Hood Has Eyez has a purpose and forwards the story. Nothing is there just to be there. I like gore and violence, but it has to serve the story, not the other way around. Sometimes an actor will ask me if we could cut something out or tone it down and I wonít if itís pivotal to the scene or story and it serves a purpose. If youíre character is a raging lunatic, like Psycho in The Hood Has Eyez, then youíre going to have to do the type of things that a Psycho would do.
Then there's the sexual aspect of The Hood has Eyez, which culminates in rape and humiliation: What do you answer to people who call your film misogynistic ?
Fuck them! Everything in this day and age might be politically correct, but not this. Not my films. This is uncensored for a reason. The shit that happens in The Hood Has Eyez happens everyday to real people. This is just a film. It's only 73 minutes, not a lifetime. You could turn this off and tune out Ö you canít do that in real life. I donít feel my film is misogynistic. If anything itís a film about a woman not succumbing to violence and rape. Itís about her taking matters into her own hands and exacting her own justice. Underneath it all I feel The Hood Has Eyez is a chick flick - a chick flick with balls. Oddly, men are usually the ones to cry fowl when Kimmy sets off on her revenge course.
Any films that especially inspired The Hood has Eyez, in story, atmosphere or whatever ?
Many. As I stated, Thriller: A Cruel Picture, Last House On The Left, Visitor Q, Fight For Your Life, and of course, I Spit On Your Grave. All of the classics. I do however want to be crystal clear, that while these films all inspired me, I did not want to remake them or bite them. I wanted to take a fresh approach to the rape/revenge genre.
The film's website, mySpace or whatever else ?
You can find out more about me and all my films at www.cinemathreat.com, or visit The Hood Has Eyez' MySpace page @ www.myspace.com/cinemathreat.
Leaving the film behind for now, The Hood has Eyez was already your fifth feature film. What can you tell us about your debut, Transit from 2005 ?
Transit will forever hold a special place in my filmmaker heart. It was a learning experience on every level possible and it was successful. It vindicated what I was trying to do Ė make films, and it was a success and allowed me to make more movies. People who have seen The Hood Has Eyez would never believe that the same filmmaker is behind Transit. They are two different genres and two different movies. I love dramas as much as horror films Ö if the story is interesting I could dabble in either one.
Transit was followed by the La Llorona-trilogy in 2006 and 2007. What can you tell us about these films and how close are they to the actual Mexican La Llorona myth ?
The Llorona Trilogy was an experiment. Itís really one big film. But when you split them up they become three different experiences. The first film in the series, The River: Legend of La Llorona is a simple ghost story. I liken it to a classic horror film like House On Haunted Hill. The second in the series, Revenge of La Llorona is a T&A movie, with lots of nudity and gore. Finally, Curse of La Llorona is a family in peril type horror film. I wanted to take the character of La Llorona and bits and pieces of the legend and add them to my own original stories. Some people have hated the movies because they feel it doesnít reflect the La Llorona they grew up hearing about, but I always remind people it is just my take on the La Llorona legend. Not an authoritative version of the mythos. People who donít really know about La Llorona and the legend surrounding it go in with a more open mind and less expectations. Those are the folks that tend to like the series.
Most of your films can be labelled horror in one way or another. Is horror your favourite genre, and where does your fascination with horror come from ?
If I had to pick one genre of filmmaking to be in for the rest of my career, it would be horror, because I feel so at home there. In horror you can do and say things that you could never get away with in drama. Iíve always been fascinated with gore and violence and the effect it has on people. Iíve always enjoyed fucking with peopleís minds and emotions and so horror was always my favorite genre. When I began making films I knew that I would eventually venture onto this side of the track. From the day I saw Bad Taste as a kid I said, ďthatís what I want to do.Ē
What are your opinions about the horror genre today, both mainstream horror and independent horror ?
Unfortunately mainstream horror today is quickly going down the drain like it did in the late 80's. There is very little creativity coming out of the studio system. Remake after fucking remake is stifling the genre to death. When they remade Halloween I knew it was down hill from there. Itís gotten so pathetic that they remade The Wicker Man and The Hitcher. All cult films Ė nothing is safe. Iíve really dug the Saw movies, and the 28 Weeks series, but thatís about it. On the independent side of the track, things are a little more optimistic. There have been a lot of filmmakers doing original and out of the box type horror films that make you believe there is hope for the genre. Some of the films I really enjoyed last year were Head Trauma, Wrong Turn 2, Stupid Teenagers Must Die, Amateur Porn Star Killer, and Hatchet. I think the indie sector is allowing more creativity and less bandwagon jumping like whatís going on with some of the bigger movies.
Some filmmakers that really inspired you ?
Abel Ferrara, Lloyd Kaufman, Herschell Gordon Lewis [Herschell Gordon Lewis bio - click here], Roger Corman [Roger Corman bio - click here], Dario Argento, Umberto Lenzi [Umberto Lenzi bio - click here], Stanley Kubrick, Ruggero Deodato [Ruggero Deodato bio - click here], Takashi Miike, just to name a few.
Your favourite films, both recent releases and all-time favourites ?
Most of the films I like are older classics like, John Carpenterís The Thing, They Live, The Hidden, The Entity, Children Shouldnít Play With Dead Things, and Frankenhooker. More recent stuff would be Visitor Q, Ichi The Killer, 28 Weeks Later, and Silent Hill.
Any future projects ? What can we expect from Terrence Williams in 2008 ?
I am currently in the pre-production phase of a prequel to Transit called King of the Streetz. Itís an art house film. After that I will be returning to the horror game to make The Hood Has Eyez 2 and a porno-horror hybrid film (Horno) called Speed Freaks (later retitled Horno), for all you gore-whoreís out there.
Any interests besides films and filmmaking ?
I love reading and traveling. Seeing the world. It gives you interesting ideas and expands your mind. You learn shit. Sex is a major interest of mine also.
Anything else I have forgotten to ask and you are just dieing to share with us ?
I think more people should give independent horror a chance. Guys like Bill Zebub, Eric Stanze [Eric Stanze interview - click here], Shane Ryan [Shane Ryan interview - click here], Joe Castro and so many others are making really great films that are waiting to be discovered. And once you discover them it will be hard to go back to mainstream garbage. We live in a culture now where too many people have AD/HD and turn off a movie if what they want to happen doesnít happen in five minutes. Watch the entire movie and then judge it.
Thanks for the interview.