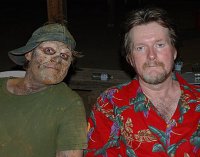 Terrill Lee Lankford (right) with zombie friend
Your upcoming film Christmas with the Dead - in a few words, what is it about?
The end of the world as we know it. But in a very uplifting way.
How would you describe your directorial approach?
Each project is different of course, but I usually try not to get in the way of the story or the performances with a bunch of meaningless cuts or unnecessary camera moves. I know we have an attention deficit society out there, but I like to try to tell the story in the most unobtrusive way possible. If I can get a little mood into the piece, even better. But I don't want the direction to be a distraction.
How did the project come into being in the first place, and at what development stage did you get involved?
This was something that Joe and Keith Lansdale had been developing for a while [Joe R.Lansdale interview - click here, Keith Lansdale interview - click here]. They had a director involved who decided to step aside and then Joe asked if I could come in to make the picture. I could not say no to him. I started work about six weeks before we shot.
Most of my "career," if you can call it that, has been comprised of projects that have been initiated by friends of mine. They call for help, I answer the call. Otherwise, I'm staying home.
Legendary genre author Joe R.Lansdale [Joe R.Lansdale interview - click here] did not only write the source story for Christmas with the Dead, he also served as the film's executive producer. What was this collaboration like, and how much influence did he have on the look of the movie?
My job was to try to make a movie that reflected the Lansdale approach to storytelling. Joe, well, actually ALL the Lansdales were intimately involved in all aspects of the film.
How would you describe your approach to zombies as such (as in slow vs fast, the voodoo vs the flesh-eating variety)?
Well, these are not your typical zombies. As a matter of fact, the main character doesn't consider them zombies at all. And they are not dead people resurrected. They are live people that have suffered through an event that has changed them. They have some movements and properties that haven't been done before (at least I think they haven't been done before). But I don't want to say too much right now and spoil things for the future viewers.
Zombie films (at least of late) often go hand-in-hand with extreme violence. How far in that direction are you going with Christmas with the Dead?
There's some pretty rough stuff in the film.
A few words about your lead Damian Maffei [Damian Maffei interview - click here], and why was he cast for the role?
Joe liked him in a play he had seen. He ended up being an excellent choice for the role. And a true collaborator. I think he's got a very bright future ahead of him.
What can you tell us about the rest of your cast and crew?
They sweated their asses off on this thing. The strong survived. The rest have retired from show biz.
I would like to single out Chet Williamson who flew down and shot with us for a few days. He did a fantastic job. As did many of the local actors we hired in Nacogdoches. That town is thick with undiscovered thespian talent. We "discovered" at least three actors who should be working every day. Clyde Williams, Madeline Brassell... and a man who goes by the name of Chainsaw. When you see the movie you will know what I'm talking about. They were all terrific. The whole cast was terrific. I was very surprised by the level of talent down there.
You shot Christmas with the Dead during a very hot June, which led many people to ask "Why did you shoot a Christmas movie in June?" So yeah, why would you shoot a Christmas movie in June?
Despite the title, the story actually takes place in June, but that's just a coincidence. The reason behind the scheduling of the shoot was really more of a production issue than an artistic one. And as a gun for hire I didn't have much say on the issue.
The $64-question: When will Christmas with the Dead be out, tentatively?
I'm not sure. I was hoping it would be released by Christmas, but post production is going much slower than I thought it would. Hopefully it can start screening around the end of the year. Then we have to deal with distribution.
Let's leave the present behind for the moment and head forward to your past. What got you into filmmaking in the first place, and did you receive any formal education on the subject?
I grew up in the 60s and 70s - a fantastic time for the movies, so I really loved them when I was young. If I had been born in the 90s I probably would have had no interest in making movies. As far as education goes, I went to a progressive school in the 70s and it had some filmmaking classes, but this was back in the days when Super 8 was the cheapest way to make films so it was a very crude training ground. I did do a year at the AFI back in '94 but I can't say it helped much.
Early in your career, you worked quite a bit with genre veteran Fred Olen Ray on films like Biohazard, Hollywood Chainsaw Hookers and my personal favourite Phantom Empire. What can you tell us about the man, your time and movies with him, and how did you hook up in the first place?
Again, we were friends all the way back in the early 70s. I was out here already when Fred made the move in 1982. I was writing screenplays, hoping to break into the big time and having a little luck at it. Fred said to me, "Why don't we just make a movie instead of trying to sell scripts to the studios?" I thought it was a crazy idea, but we did it. And then did it some more until I just couldn't do it anymore. Turns out I was right all along. It WAS a crazy idea.
What can you tell us about your directorial debut Portrait in Red/Dark Red? And how did the creative casting of both Hollywood legend Lawrence Tierney and martial arts star Cynthia Rothrock come about?
Dark Red is something I don't talk about. I had a falling out with the producers and never got to cut the film, so I don't consider any of the various prints out there to be my film at all. But I will say that Cynthia was (and is) a friend of mine and she did the movie as a favor to me. I don't remember exactly how Larry got involved, but his exploits on that picture gave me stories I can dine on for the rest of my life. It was fun working with him, but he was a bushel of interesting moments.
With Blue Neon Night, you made a documentary about acclaimed crime writer Michael Connelly. Why did you pick him as a subject?
Mike's been a friend of mine for almost 20 years now. We've done a lot of work together. Blue Neon Night was actually a promotional DVD we created to spike interest in his book The Narrows. They gave copies to anyone who bought the first 75,000 copies of the book. The doc served as a sort of overview of his career up until that time. But a lot has happened since then. We may have to make Blue Neon Night 2 soon.
Is it true that you and Michael Connelly are currently busy writing a big screen adaptation of the 1980's TV-series The Equalizer, and what can you tell us about the project yet (if anything)?
It's not true. Not anymore. We finished that project years ago. As far as I know it's not going anywhere. I have a feeling I better update my website. I haven't looked at it in about three years.
Any other movies of yours you'd like to talk about, any future projects?
Nope. I don't like to talk about projects until they're done. (And I don't really like talking about them afterwards either.)
Besides making movies, you also have a quite prolific career as a novelist. What can you tell us about Terrill Lee Lankford, the writer?
I've written four novels and they were all published long ago. I hope to write some more when I have the time. One of them, Shooters, is currently back in print as an e-book (http://www.amazon.com/exec/obidos/ASIN/
B004ZULGKY/researmytras-20) and I'm going to be bringing the other three to e-book as well. I'm way behind schedule on this, but film projects keep delaying my progress.
Writers who have influenced you?
Robert Stone, Scott Fitzgerald, Hunter Thompson, Hammett, Fante, West, Newton Thornburg, and a zillion others. Far too many to list. Many of my modern day writer friends can walk among the giants as well: Mike Connelly, Jeff Parker, Joe Lansdale [Joe R.Lansdale interview - click here], Scott Phillips, Stephen Hunter, Gar Haywood, Ed Gorman, James Reasoner, Bill Crider.... Again, the list would go on for a long time. Facebook-friend me. I think I have some lists there. But I'm sure they are not complete.
Directors who inspire you?
Kurosawa, Altman, Kubrick, Peckinpah, Fellini, Bergman, Huston, Polanski, Fuller, you know. The usual suspects. From thirty years ago.
Your favourite movies?

Feeling lucky ?
Want to
search
any of my partnershops yourself
for more, better results ?

The links below
will take you
just there!!!

Find Terrill Lee Lankford
at the amazons ...

amazon.com

amazon.co.uk

amazon.de
Looking for imports ?
Find Terrill Lee Lankford here ...
Something naughty ?
(Must be over 18 to go there !)

Cutter's Way, The Long Goodbye, The Seven Samurai, Chinatown, most Kubrick, most Peckinpah, oh man, these lists are impossible. I love a lot of movies. Them is one of my favorite horror/SF films. Incredible Shrinking Man is another. Both versions of The Thing. I am a big fan of The Omega Man, a movie quite a few other fans dismiss. So it was very cool to be shooting a movie that had been inspired by the same source material.
... and of course, films you really deplore?
Can't go there. Although I will say that I thought the success of Pretty Woman made such a horrible statement about the USA that I spent a year in Mexico afterwards just to cleanse myself. When a country turns hookers and corporate raiders into heros you know the game is lost. Well, hookers are okay...
Your/your film's website, Facebook, whatever else?
I have a blog called JAFO at: http://quixoticprod.blogspot.com/ - I think there are links to the other stuff there.
Anything else you are dying to mention and I have merely forgotten to ask?
You've asked too much already.
Thanks for the interview!
You're welcome.