Your new movie Flesh City - in a few words, what is it about?
It's about a young couple, Vyren and Loquette, on a night out in an underground club in Berlin. They fall into the trap of a mysterious mad scientist who preys on drugged out fashion victims. Vyren escapes and meets bizarre characters who have their own Satanist show, he also starts mutating profoundly. At the same time the whole city is being infected, its inhabitants attacked and assimilated into a new huge organism. There is a little parallel storyline which focuses on a music channel that shows nihilistic music videos that set the tone for the world in which the story takes place.
What were your sources of inspiration when writing Flesh City, and is any of this based on your own experiences with the Berlin party scene?
I think the biggest inspiration for me was the thought of a network, which forms it can take. For example the broadcasting channel in the film, which is a mix of 80s MTV and today's YouTube/Twitch culture. Then also have a literal expression of a network in the growth of the organism that consumes the city and its inhabitants. Also I liked the thought of the city with its architecture, especially high-rise buildings seen as shells that host brains that are connected to form a new super organism or maybe feed the organism. Like we get fed by a news feed. Also the thought of stimulation by media and especially overstimulation. About the party scene, I was involved in organizing big parties about 15 years ago, we hosted a monthly electronic/techno event (Kachelklub) at an old decaying swimming pool in Berlin which was great. I loved the location. Unfortunately it lasted only for a year. Anyway, I'm a big fan of re-using old architecture in new ways like for example parties, it's also visually very interesting and I tried to put it into the movie. In general I like collaging, the movie is a huge collage of many things and I like to also use architecture in a sort of collage way to create my own city.
Flesh City is pretty much a blend of sci-fi-horror and avant garde filmmaking - so you just have to talk about that rather unique approach a bit!
Well, I made experimental shorts for about 20 years, mostly abstract animation, some are so called flicker films, others are found footage (the term is a bit confusing as it's now also being used to describe the post Blair Witch Project film genre, but it was originally an avant garde term for films made with material from other films (Bruce Conner was an important found footage filmmaker). I was and am also a big fan of horror and sci-fi and DIY films (cinema of transgression for example), so after making an experimental narrative short (Hex Suffice Cache Ten, available on Vimeo https://vimeo.com/42899136), I thought it's time to do a feature.
Music plays a big part in Flesh City - so do talk about the score of the film and the bands involved for a bit!
Most of the music I wrote and produced myself. Before I got into film I was playing guitar in a metal band. That was in the late 80s/early 90s. We released two demo tapes but then I left the band. There is one song that is a collaboration with the main actor Christian Serritiello who is also releasing his own music under the name Air Thief, then there is Trash Gallery from Canada, I made a music video for one of their songs which I really liked so I asked them if I could incorporate the song and the video into the film and they were cool with it. There is a song by Schizophrenic God, which runs as an outro during the credit sequence. Last but not least there is a song by Malende, my current band, we do a lot of metal covers acoustically but also have a few of our own songs.
What can you tell us about your overall directorial approach to your story at hand?
As some of the characters are pretty bizarre I thought it would be best to have them act in a more naturalistic way. I think it grounds them and that makes the characters work. Nevertheless there are moments were the performances are more heightened and expressive to make it more intense. It also depended a bit on the character. Womb Envy for example is much more expressive and extravagant as she is also a performer in the film.
Do talk about your key cast, and why exactly these people?
Most of the actors I knew from film projects I was involved with before. A lot of the actors have already played in Love Songs for Scumbags by Phil Duncan (www.imdb.com/title/
tt1777568/) which I co-produced. When I had a treatment I approached some of them which I thought would fit the characters in it, and they liked it and were in. Christian Serritiello who plays Vyren saw my short Hex Suffice Cache Ten at a festival and really liked it and so he not only got involved as the main actor but also as a producer. Once I had most of the cast I wrote their characters already with the actors who'd play them in my mind. So for the most part it was actors I already knew and liked. Once Christian was on board he also brought a few actors he knew to the project.
A few words about the shoot as such, and the on-set atmosphere?
We shot over a period of 3-4 years. Many of the exteriors were very intimate affairs. Sometimes just me with the camera and the actor. It was for the most part a very small team. We shot mostly in winter and it was cold, sometimes very very cold. I remember one exterior shot with Maria Hengge who plays Narizza, and it was -20 degrees Celsius (-4 Fahrenheit) and we had to stop as it just didn't work, I couldn't really operate the camera as my hands were frozen. So we had to come back a few days later when it was a bit less cold. Also the shoot in the cellar with the vinyl record was very cold. A Berlin cellar in winter with no heating is no fun ;-) The bugs were too cold to act as well. I had to breath on them to have them move a bit.
The $64-question of course, where can Flesh City be seen?
Haha, so far only on festivals. It just played at the Insolito Fantasy Film Festival in Lima, Peru but there are more festivals where it is in consideration, many in the US. So wish me luck that they'll program Flesh City soon.
Anything you can tell us about audience and critical reception of Flesh City?
It's a bit of a hate it or love it affair. So far the reception has been mostly good but a few people also hated it. It's not a quiet and calm movie. It's loud and at times physical, dirty and distorted. Also more of a trip then a plot oriented movie. You will have many questions watching the movie but hopefully also new and intense sensations. Within all the noise there is also some poetry shining through occasionally.
Any future projects you'd like to share?
I just finished an abstract short called Mustererkenntnis/Pattern Cognition, which is an intense flicker film in 60 frames/sec. So if you thought the ending of Flesh City was intense the new short is even more eye-numbing.
What got you into filmmaking to begin with, and did you receive any formal education on the subject?
I started with my dad's super 8 camera, doing for example little stop motion films with plasticine. Later I went to study experimental film with Peter Kubelka at Städelschule in Frankfurt, Germany for two years.
What can you tell us about your filmwork prior to Flesh City?
As a filmmaker I made a lot of experimental shorts. My most popular is Energie! for which I used high-voltage discharges of 30.000 Volts on photo paper that I then animated. It's online on Vimeo: vimeo.com/5034957
I also co-produced the feature film Love Songs for Scumbags (which I mentioned before) and several of Phil Duncan's shorts who sadly passed away after finishing Love Songs for Scumbags.
How would you describe yourself as a director?
I see myself more as a filmmaker. I try to do as much as I can myself and that means editing, music, set design, writing and also directing. For me the directing part is only one of many tasks. Certainly one of the hardest as I usually like to work on things on my own. Directing involves many people - that stresses me out a bit ;-)
Filmmakers who inspire you?
David Cronenberg, Shinya Tsukamoto, Stan Brakhage, Luis Bunuel, Peter Kubelka, Dario Argento, Bruce Conner, Akira Kurosawa, Ed Emshwiller, Richard Kern and Nick Zedd, Charley Bowers, Jules Dassin, Michael Snow and a few hundred more;-)
Your favourite movies?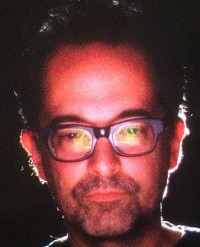 Feeling lucky ?
Want to
search
any of my partnershops yourself
for more, better results ?

The links below
will take you
just there!!!


Videodrome, Tetsuo, Un Chien Andalou, Solaris (the original), Repulsion, The Wild Bunch, Visitor Q, Possession, City of the Living Dead (Lucio Fulci [Lucio Fulci bio - click here]), Re-Animator, Night and the City, Vertigo, A Better Tomorrow, Hellraiser and Hellbound... the list goes on and on.
... and of course, films you really deplore?
Phew, I really forget quickly about those, not that I don't love to hate ;-) the latest Hellraiser looks beyond terrible, I certainly won't watch it. Oh yeah and Life by Anton Corbijn was pretty bad, could he have found a less charismatic actor to play James Dean? Also High-Rise by Ben Wheatley was very disappointing.
Your/your movie's website, Facebook, whatever else?
Vimeo: https://vimeo.com/fleischfilm
Website: https://fleischfilm.com/
Instagram: https://www.instagram.com/thorstenfleisch/
Anything else you're dying to mention and I have merely forgotten to ask?
I think I'm good ;-)
Thanks for the interview!
Thank you Mike!