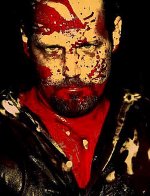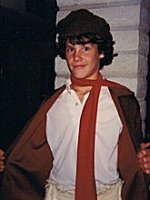 Tom Lodewyck
circa 1980's
First of all, why don't you introduce yourself to those of us who don't already know you?
Gladly. My name is Tom Lodewyck and I am an actor, musician, writer and sometimes producer.
I'm originally from Chicago, however I have lived all over: Arizona and Tennessee to name a few. I currently reside in Wisconsin.
What can you tell us about your training as an actor, and to what extent did it prepare you for the actual job (which might be a stupid question)?
I discovered acting early on, in grade school really. Some school plays and neighborhood self-produced "shows" with friends. However, it was my freshman year of high school in Tucson, Arizona that I began to take it more seriously. I had a great acting teacher who believed in my abilities, and taught me to really push the envelope of creativity and how to successfully become a character. She cast me in all the big school productions and encouraged me to start writing as well. She even got me a job at a local dinner theater where I literally learned everything you'd ever need to know about how to run a production. Then some classmates and I started our own acting troupe, which performed classic theater productions at local libraries. We did everything ourselves, from wardrobes and makeup to building sets and rewriting these well-known plays to fit into a 45 minute vignette. It became really popular quite quickly, and we were being pursued by other libraries to bring our shows. We were 14 years old and we were not business people. We never charged a dime. We did it because we loved acting. But I really learned a lot that year and it certainly shaped my acting style and craft.
Do talk about your career as a stage actor for a bit if you may?
After high school I really moved away from the theater and concentrated on music for many years. It's a hard road to travel and it can definitely break your heart. I had always assumed that I would return the theater one day and I did. Once we moved to Wisconsin I discovered a thriving theater scene and instantly gravitated toward it. I met a lot of good friends and great actors during that time, and realized what I had been missing.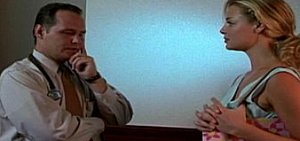 with Katherine Heigl in Side Effects
According to my information, your screen debut was of all things a romantic comedy starring Katherine Heigl, Side Effects. Do talk about that movie for a bit, how did you get involved, and what was your first time in front of a movie camera like?
Funny story: A friend of mine, not an actor mind you, but a co-worker, told me about a screen test they were having for a movie called Side Effects. He told me they were looking for people to play businessmen and doctors. I told him I'd never done a screen test before and that I was a stage actor. He convinced me and said he'd meet me at the audition. He never showed.
So, here I am waiting to do a screen test with a bunch of professional looking actors, and I'm basically a nervous wreck. They call me in the room and I completely tank the audition. I think I was sweating and stuttering and most likely looking like a lost puppy. When I left the building, I was sure I'd never hear or speak of it again. About a month later, my wife and I returned home from a weekend vacation and she was checking our phone messages. She tells me that some production company needs me to return a call ASAP. I seriously had no idea what it was about, but I figured I owed some money to a music service or something. So I call, and the lady on the other end says she needs an address to send my scenes. I'm still clueless at this point and believe I asked her "What is a scene?" She then proceeded to tell me that I was cast in the role of Dr. Smith and production would begin the following month. I dropped the phone.
The next month was probably the most surreal time of my life. My very first scenes ever shot on film were with Katherine Heigl, and she couldn't have been any more awesome. Completely put me at ease and taught me how to put on the game face. The rest I guess is history.
Performing on stage and acting in front of a movie camera - how do the two compare, and which do you prefer, actually?
Two entirely different beasts. Theater is all about projection. In both speech and movement, you are selling yourself to the person sitting in the back row. There is instant gratification or humiliation. There are no outtakes or re-shoots. A theater actor is about the most prepared person you will ever meet. I have always professed my love for the theater because it is where I came from, but film has been my salvation. Obviously, time commitments are vast. Your average film usually shoots for a month or so, whereas a theater production takes about four or five months from start to finish. I've definitely found a comfort zone in film, but I do miss the theater immensely.
Of late, you seem to have more and more found your home in the horror genre - why do you think is that, and is horror a genre especially dear to you, and why (not)?
I absolutely love horror movies! A passion my wife does not share with me… When I was a kid growing up in Chicago, my grandmother (the coolest woman ever!) turned me on to all the classics. There was a weekly program called Creature Features that played all the great Universal monster films like Dracula, The Mummy, Frankenstein and (my personal favorite) The Wolf Man. I'd watch them through my fingers. I was absolutely horrified and mesmerized at the same time. I became a bit of an idiot savant when it came to knowing facts about the actors, directors and films themselves. When I had previously mentioned about our neighborhood "shows", this is what they'd be. Friends and I would put on our own productions of the Universal classics for the other neighborhood kids, and they loved it.
Once I became a legitimate actor, I wasn't necessarily looking for horror films, but they definitely came looking for me. I think director Jason Satterfield (The Legend Trip) was the first person to not only give me the opportunity of a major role, but also saw that I could pull off a serious villain. Once The Legend Trip came out, the phone started ringing and I was conceived as a "heavy". Before that and in theater, I was often cast as the protagonist.
On a side note to this, my wife and children usually get a big kick out of the villainous roles I am cast in, because they know what a complete sap I really am. I've never had a violent bone in my body and I'm about as pragmatic a person as you'll ever meet.
A significant deviation from your usual roles was The Penny, which cast you pretty much against type - so you of course have to talk about that movie and your character in it for a bit!
It scared the shit out of me! When I was invited to the audition, they (Filmweavers – the production company) knew my work and I had assumed they were looking for a "heavy". But I never did read for any of the villainous characters. They had me read for a Detective and then asked if I'd read for Jack (the lead). When they called me and offered me the role I was stunned and absolutely unprepared for the proposal. My wife knew I was stressing and told me that I had a good heart and I could easily pull off this character. So, to prepare for the role I looked at the people in my life that I saw as basically good-natured and kind hearted. My dad, my grandfathers, my late, great uncle Mike, and I realized I could play this guy in a convincing fashion. It worked, the film ended up winning over a hundred grand at a film festival. A strange side note to this story is that I was filming the first Incest Death Squad at the same time. So I'd spend one day with The Penny portraying a decent man of God and the next day I'd be chased by the Incest Death Squad.
Let's talk about a few of your other movies (and your characters in them) that I've admittedly picked mostly on the strength of their titles:
Carnivorous?
Carnivorous is now called Hell's Labyrinth and was a hard film to shoot. 99% of the film was shot in front of green-screen and it would play tricks on your eyes. Actors would run face-first into this thing on a daily basis. We shot inside a steel warehouse in Milwaukee. It was hot during the day and absolutely freezing at night (which was when we filmed). I played the character of Vincent whom I best describe as the guy that when you first see him in the film, you just know he's gonna die a horrible death… Besides the uncomfortable elements, I had a great time because I was working opposite one of my best friends in the world Edy Cullen. We still talk about this shoot from time to time and laugh about the living conditions. I also met Matt Urkena on this film, and we have remained great friends ever since.
Satanic Panic will always hold a soft spot in my heart. I absolutely loved everyone on set. This was another WTF? moment for me, as Marc Selz (writer/director) invited me down to an audition and knew of my work leading up to this. The film was called Satanic Panic so I naturally assumed I'd be playing Satan right? No, Marc casts me as the lead's boyfriend and he's about as white bread as you can get. We shot down in southern Illinois and we (cast and crew) were pretty isolated from the rest of the world. This is when I met Cyn Duley and Andy Schatner [Andy Schatner interview - click here]. Andy and I hung out a lot and discovered we both had a love for Howard Stern. Andy had recently written a screenplay called Afraid of Sunlight and I had written one called The Writing On The Moon. We swapped scripts and ideas. I have always maintained that Satanic Panic is one of my fondest film memories ever.
The Incest Death Squad-movies - and what prompted you to also produce them?
Cory J Udler is perhaps the most misunderstood person in the world. He's proud to say that he writes "filth", but when you read his writing, it's the most poetic thing you have ever read.
I met Cory at the audition. When I originally read the casting call for a film called Incest Death Squad I figured this was gonna be one of those "Seriously man, who's gonna want to watch this?"-moments. But, as an actor looking for work and seeing that it would be shot in my own backyard, I decided that I'd have to check it out. I connected with Cory instantly. I got his humor, his vision and above all else his passion to make this happen. I knew a lot of actors including Greg Johnson, and I began enlisting them into the film. We needed some very rural locations and I live out in the country, so I was able to procure these as well. That's basically how I earned the producer credits. There is a real sense of family when we'd (cast and crew) be together. There was no animosity or stress on those sets. When an actor says that they need to fully trust their director or else things will fall apart, this is the guy they're talking about. Not once did I ever doubt Cory's vision or talent. In fact, as an actor, I've never felt so free to explore emotions or try different things. Cory simply made the perfect environment for any actor to flourish, and I truly believe that with all my heart. My role as Aaron Burg has easily become my favorite character. He has such an arc of emotions between the three films. People often ask me what my favorite movie (that I was in) is? And I repeatedly tell them Incest Death Squad 2!!! The film had balls and I give all the credit to Cory J Udler .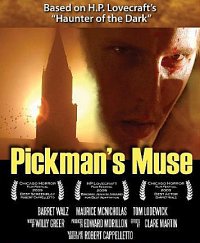 Pickman's Muse?
A movie that I shouldn't have even been in… I was in rehearsal for a play at the Broom Street Theater in Madison, Wisconsin and my leg was broke. Seriously nasty kinda break where they thought surgery would be the only way to fix it. Meanwhile, I'd recently attended a couple of auditions in Chicago for a film called House Of Black Wings. I was not cast, because (as I recall) the director told me I was too "intense!" This is about the time that I realized why people cast me as "heavies" - I always tried to push the envelope and some people just weren't ready for what I'd bring to the table. So, here I sit broken-legged in the middle of winter, feeling sorry for myself and wondering what I'm going to do for the next 6 to 8 weeks. I receive an e-mail from writer/director Robert Cappelletto who had heard about me from House of Black Wings director. Robert proceeded to tell all about the Goodie Hines character, a complete lunatic. I was honored and thrilled that he had placed this kind of excitement behind an actor he didn't know, however, I had to tell him about my recent physical limitations. Without even a pause, Robert explains to me how the fact that I have a cast up to my knee would hold no bearing on the film, because my character will spend 99% of the film strapped to a bed in a mental hospital.
You can't say "No" to fate.
Petty Cash?
Petty Cash is the perfect combination of Quentin Tarantino meets zero budget. The writing is impeccable and the people involved were about as dedicated as you'd ever want. Petty Cash is also a film that employed an equal equation of veteran film and theater actors with no film experience. I'd met writer/director Ross Bigley [Ross Bigley interview - click here] while I was on the set of Spirit Lake and the filming of Petty Cash began about a month after. Had a great time hanging out with the cast, which included Edy Cullen (Hell's Labyrinth), Cyn Dulay (Satanic Panic) and Lindsay Bledsoe (Still Life) – three of my favorite people in the world. I play Lars, a mafia henchman.
The Family aka Cut and Disciples - and what was your collaboration with Joe Hollow like [Joe Hollow interview - click here]?
Joe Hollow is about the most dedicated and true people I've ever met in the business. Very similar to Cory J Udler in the sense that they will give you everything they have to create their vision. I met Joe Hollow while I was working on Afraid of Sunrise and we became fast friends. Being a phenomenal actor himself, he understands the process and allows you to ascend the playing field. He flew me to upstate New York twice for The Family and I instantly felt at home. These are some the coolest people you'd ever want to know. Wolfgang Meyer [Wolfgang Meyer interview - click here], Chris Losicco, Drew Shirley, Jeff Brunkhurst, Justin Romine [Justin Romine interview - click here], I could go on forever. I played the role of Tony, who resides on the lower rungs of the family tree.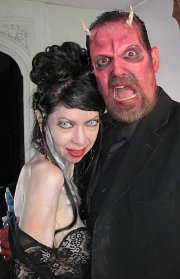 with Debra Lamb in Disciples
Disciples was and is my crowning moment as an actor. Joe Hollow wrote the character specifically with me in mind, and knew precisely what my strengths were. I play an evil priest who's hell-bent on getting his way. I arrived in Florida at the same time as Debbie Rochon [Debbie Rochon interview - click here] and we were taxied by Jesse Kozel [Jesse Kozel interview - click here]. Truly one of my fondest moments in film. Debra Lamb [Debra Lamb interview - click here], Brinke Stevens, Linnea Quigley and Shannon Lark [Shannon Lark interview - click here] were just a few of my cast mates. By the time we wrapped in LA, I had shot scenes with Tony Todd and Angus Scrimm. Surreal to say the least, I felt that all my years of hard work had paid off, as I was able to share the screen with some of my peers.
Joe Hollow is everything that Hollywood is lacking: integrity and spirit.
Carl Panzram: The Spirit of Hatred and Revenge?
John Borowski is a complete visionary. This guy invented his own genre of film. He is also one of the nicest people you'd ever meet, which makes the fact that he writes films about serial killers even stranger. We shot a lot of the scenes in a closed down jailhouse in Chicago, same place they shot parts of Public Enemies. There were some permit issues on the day I arrived on set, and the schedule got pushed back. My good friend/director Jason Satterfield (The Legend Trip) was brought in as director of photography and I was thrilled, because Jason and I are like evil twins… we feed off each other. Panzram is an amazing and true story. It is available on Netflix and I highly recommend it.
Afraid of Sunrise?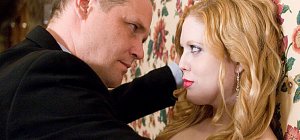 with Deneen Melody in Afraid of Sunrise
Rewind to 2007 when I read Andy Schatner's screenplay called Afraid of Sunlight [Andy Schatner interview - click here]. This is the shortened version. Absolutely great cast and crew assembled for this one, which included Heather Dorff [Heather Dorff interview - click here], Dan Kuhlman [Dan Kuhlman interview - click here], Kris Desautels and one of my favorite actors in the world Deneen Melody [Deneen Melody interview - click here]. Behind the camera was another great friend in writer/director Don Ford. A lot of blood, sweat and tears went into this film and I think it shows. Andy is a superb writer and he really proved it with this film. This is also when I met Joe Hollow who would become a great friend and collaborator. I play a corrupt Senator (who has other issues) here and had a great time.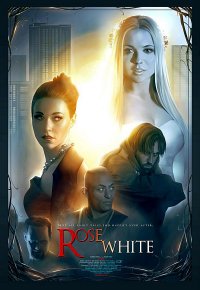 I met Dan Kuhlman and Deneen Melody on the set of Afraid of Sunrise, and they are the masterminds behind Rose White. A modern telling of a Brothers Grimm story, the script and direction were flawless and tight. The cast, which includes Erin Breen, Anthony Fleming, Kuhlman, Melody and my own daughter Brooke Lodewyck are prolific and intense. I play a rather nasty crime boss named "Little Man" and I'll just say that never has this much blood been used in any of my other films… ever.
Spirit Lake?
I play a gay weatherman… I have only watched the trailer, but the film looks great. Don Ford was director of photography and if you have Don shooting your film, it's gonna look incredible.
House of Purgatory?
A haunted house story, which stars Brian Krause. I play the father of one of the leads.
Any other past films of yours you'd like to talk about?
John Wesley Norton's Spades was an amazing experience. Stellar cast included Thomas Andrew Jackson, Juan Riedinger, Alex Skuby (The King of Queens) and Larry Thomas (Seinfeld's Soup Nazi). I play the CEO of an agency that hires killers to conduct business. Apparently John wrote the character specifically for me after watching Afraid of Sunrise. Deneen Melody [Deneen Melody interview - click here] and Heather Dorff [Heather Dorff interview - click here] also show their spectacular talents in this film. John Wesley Norton is a vastly prolific writer, much along the same lines as Ross Bigley [Ross Bigley interview - click here], as they both share a common gift for being able to project their ideas believably onto the screen. Highly recommended if you get the opportunity to see it.
Any future projects you'd like to share?
Forced Entry by Kevin Jamison was another great experience. Filmed in central Illinois and Indiana, the story revolves around two psychotic serial killers played by Jim Betts jr and myself. Extremely disturbing in a good way, Tina Renee Grace and Bridgid Macaulay knock their respective rolls out of the park. Their sheer talent humbled me.
Cory J Udler's Ed Gein DDS should make its way to the public as part of the Hole in the Wall horror trilogy. Another great cast includes Tom Running, Heather Dorff and Judith O'Dea (Night of the Living Dead). As with all of Cory's films, you will be treated to the most politically incorrect, brilliant barrage of chaos displayed on screen. I play the drunken boyfriend of a proposed victim who goes toe to toe with Ed.
John Wesley Norton's Drifted is now in production. A crime drama that reveals the lower side of human depravity and addiction. Colleen Elizabeth Miller is the glue that holds this story together, and she is the perfect actor for the role. I play a hard – nosed Irish detective out for vengeance.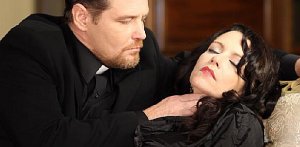 with Debbie Rochon in Disciples
How would you describe yourself as an actor, and what do you draw upon to bring your characters to life?
I definitely see myself as a character actor. I love creating things, whether it's through acting, writing, music or even cooking. I think I've always been an artist at heart. I usually find inspiration in those people I've known through out my life. I'm certainly not a method actor; I don't take these characters home with me. I can turn it on and off at will.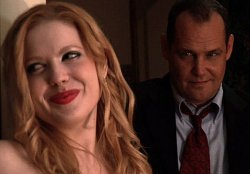 with Deneen Melody in Afraid of Sunrise
Actors (and indeed actresses) who inspire you?
There are so many… Growing up would be actors like Paul Newman and Jack Nicholson, Eastwood for sure. I've always been drawn to the anti-heroes.
Nowadays I get very inspired from the actors I work with. Deneen Melody [Deneen Melody interview - click here] instantly comes to mind. She's a very giving actor, and always brings energy to the scene. Paula Duerksen (Mediatrix) can absolutely command a scene. Two actresses that I feel most comfortable acting with would be Edy Cullen (Hell's Labyrinth) and Melissa Jo Murphy (Incest Death Squad). They both bring a real natural flow to the scenes, it sets you at ease, and you forget you're acting. It's an incredible thing to witness.
Your favourite movies?

Feeling lucky ?
Want to
search
any of my partnershops yourself
for more, better results ?

The links below
will take you
just there!!!

Find Tom Lodewyck
at the amazons ...

amazon.com

amazon.co.uk

amazon.de
Looking for imports ?
Find Tom Lodewyck here ...
Something naughty ?
(Must be over 18 to go there !)

Jaws, Platoon, One Flew Over the Cuckoo's Nest, Cool Hand Luke, Tombstone, Saving Private Ryan, Creature From the Black Lagoon, The Elephant Man, Stand By Me, There's Something About Mary, Poltergeist, Pet Sematary, Unforgiven, The Howling, Nightbreed… this list could go on forever.
... and of course, films you really deplore?
I don't really care much for action films. Tom Cruise jumping off buildings with CGI explosions behind him does nothing for me. Remakes tend to be equally as painful.
Your website, Facebook, whatever else?
I am on Facebook: www.facebook.com/tom.lodewyck
My band: www.facebook.com/killstonemusic
Anything else you are dying to mention and I have merely forgotten to ask?
I hope I haven't offended anyone... lol! You coin a very detailed interview, and really had me searching the memory banks for the right answers. Very well done!
To all the aspiring actors out there, just go for it! Study a lot and give it everything you have. You're never too old to start and this business is no longer confined to LA… I'm living proof, I live in Wisconsin.
Thanks for the interview!