Your new movie The Interrogation of Cheryl Cooper - in a few words, what is it about, and what can you tell us about your character in it?
The film is an experimental, continuous, one-take look at a girl, Cheryl Cooper, who awakens in an interrogation room after a very terrifying night. It is shot found footage-style and a definite psychological-thriller. I am Cheryl Cooper and must go through a rather terrifying interrogation with the detective to piece together the previous nightsí events.
What did you draw upon to bring your character to life, and how much of Tommie Vegas can we find in Cheryl Cooper?
I was very fortunate that the script was written so detailed, that I didnít exactly have to draw upon much to bring my character to life. Everything was rather vivid to me as the script went on and I was able to actually imagine myself there in every single scenario scripted Öand it was pretty scary! Because of that, I think youíll see a lot of myself in Cheryl Cooper. I became her through every horrible experience she had that fateful night.
How did you get hooked up with the project in the first place?
Director Albert Pyun had asked Pollygrind Film Festival creator and founder Chad Clinton Freeman for any recommendations he might have for an actress who could pull this off. Chad recommended myself and two others. Sometime after that I received an e-mail from Albert introducing the project to me, and before I knew it the wheels had been set in motion!
The entire film was shot in one single take - how much of a strain was that for you as an actress?
Iíve got to say, an entire film in one take was majorly nerve-wrecking! When I was first told it would be shot in one-take, I figured, ďOkay, I can do this!Ē thinking Iíd have plenty of time to get the script down and really make it something. Then I discovered I had about a week to learn the script before rehearsal and shooting.
WAIT, WHAT?!
Yes, I only had about a week to devour the script and fully become Cheryl Cooper. Now Iím good with memorizing. I can look at a page and have it practically photographed in my mind. But this was about 50 pages of dialogue Ö heavy dialogue Ö extremely heavy emotions. Iíd study from sun up to sun down and even during my sleep. And the further I studied I became a nervous wreck physically sick to my stomach. And not because of the dialogue or memorizing, but all the emotions Cheryl goes through the entire filmís duration. There were no cuts, no breaks Ö no stopping all these emotions for even a mere second. I felt every single emotion Cheryl felt building up as she recalled what happened. So add the stress of hoping to get the dialogue right, feeling all these emotions that take you take all over the place and doing everything you can to not screw up the take (because if we messed up 40 minutes into it, weíd have to start all the way from the beginning again) Ö it was challenging.
What can you tell us about your director, the legendary Albert Pyun, and what was your collaboration like?
Albert is amazing! I loved working with him! He is so creative and has a mind unlike many others, so what he envisions is truly his own. I was so impressed with his dedication to this film, especially as it was all done during a really bad time with his sickness of MS. His dedication and creativity was something wonderful to witness, as many who fall ill of MS may not have the ability to do so. But Albert did it with flying colors! Our collaboration to bring Cheryl Cooper to life was very right on. What I mean by that was we both had a similar take on Cherylís actions and mind-frame each step of the way. I was in Los Angeles in the week leading up to filming in Las Vegas and Albert and I would e-mail every day, all day, up to the rehearsal going over every single detail. It was probably the most easy-going collaboration Iíd ever experienced.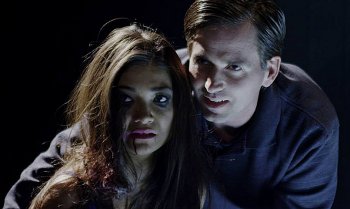 Tommie with Shane Ryan
You also have to talk about your co-star Shane Ryan [Shane Ryan interview - click here] for a bit, and what was working off him like?
Oh boy! Shane? Eeeww! Haha, Iím just kidding. Shane is great. Weíve actually become friends ever since filming. Over the years, Shane and I had several mutual friends but had never met until the day before rehearsal when we decided to get together and go over the script to familiarize and get to know one another. At that point, I donít think either of us still had any clue what to expect from one another. Even during our rehearsals with Albert, we were still just trying to figure out little things about our characters, try to remember all of our blocking and just trying to remember the script in general. The day of filming we definitely brought our A-game! If I previously thought I was on a psychologically-thrilling rollercoaster going over the script myself, I was highly confused now that Shane was there in the flesh as Detective Ben. Shane was creepy as hell and made it so realistic for me that I forgot we were even filming. Every aspect of the interrogation became real. Just wait to see for yourself exactly what Iím talking about. Shane totally rocked it!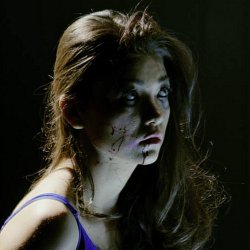 What can you tell us about the shoot as such and the on-set atmosphere?
The shoot went wonderfully! I was so impressed with the fluidity of everything. As previously stated, it was already nerve-wrecking knowing if I screwed up we would have to start completely over no matter how far in to the script we had actually gone. Then you add in the camera, the sound, Shane having to come in and out of the interrogation room, Brittany (who plays Detective Bardo) having to hit her entrance and exists perfectly timed Ö it could have been a complete and utter disaster! But, if all the right elements are carefully added, which in this case they were, it all worked magically! The atmosphere on set was great as well. Everyone was really pumped and excited to be working on such a great film and really looking forward to the challenges.
Any future projects you'd like to share?
There are definitely a few things coming up that may be in works, but I donít want to jinx them! Youíll have to ďstay tunedĒ to find out!
What got you into acting in the first place, and did you receive any formal training on the subject?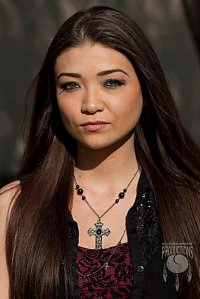 photo by Vincent McLean
I think acting was the eventual road I was on no matter what. I always loved to entertain and to be entertained. As a baby, my mother had me in a few baby pageants. As I got a bit older I was involved with gymnastics and jumped at the chance to perform in every single recital! Come middle school time, I was involved with choir and lived for the end of the year Disney musical weíd perform. I was also introduced to dance during this time, so in high school I auditioned and joined the schoolís dance team and performed all over with them and was even selected to perform as an American All-Star dance member from the American All Star Dance Camp. I also joined my churchís theater group during this time. I think that was the first moment I realized in all I had done with gymnastics, singing and dance Ö no matter what, there was acting involved. And Iíd watch all my favorite shows and movies thinking, ďI could do that! I SHOULD be doing that! Why am I NOT doing that?Ē So I decided to do exactly that. I spent a few years before truly jumping into the acting to scene to study the business side of acting and really getting a firm grasp on things many people donít get informed on early enough and regret later. Then I started studying with coaches in classes in Las Vegas, taking several carefully selected workshops that would allow me to work on my ďcraftĒ and meeting people involved in acting in Las Vegas. This led me to even more ďformalĒ training with acting. I didnít attend any performing arts school or colleges for my training, but rather with private coaches in private or small sized classes to gain personal guidance.
What can you tell us about your filmwork prior to The Interrogation of Cheryl Cooper?
A majority of my film work prior to The Interrogation of Cheryl Cooper consists of features and shorts working with many in the Las Vegas independent film community, as I am from Las Vegas. People such as Mike Lenzini, Darren Flores, John E. Carson, Forrest Avery Olinger, Alex Colonna and even Chad Clinton Freeman! All great people to work with!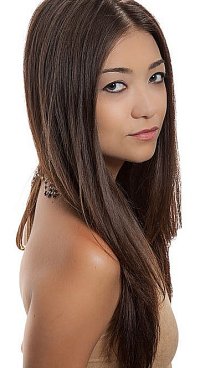 photo by John Davis
How would you describe yourself as an actress, and some of your techniques to bring your characters to life?
Iím very serious about what I do. Iím a mixture of all different types of methods and techniques that Iíve learned and either failed or succeeded with. I also draw from personal experience. Mainly though, whether in description of myself or even regarding technique it all boils down to one thing: emotions/emotional. Iíve experienced a lot in my short years and have also found that I easily empathize with others whether itís the happiest moment ever, or a serious heart-wrenching situation. Even through someoneís words in a script, I can memorize their emotion, feel it and succumb to it. Itís always been very handy in allowing myself to truly bring a character to life!
Actresses (and indeed actors) who inspire you?
Oh boy, where do I begin?!
Betty White, Judy Garland, Sandra Bullock, Meryl Streep, Bette Davis, Jessica Lange and Kathy Bates.
For the men Iíd have to say Willem Dafoe, Edward James Olmos, Robert DeNiro, Leonardo DiCaprio, Tom Hanks, Robin Williams and Gene Kelly.
Your favourite movies?
The Wizard of Oz is still my number 1 favorite movie ever since I was a little girl! Along with every single Judy Garland movie as well.
Iím also a fan of: Pretty much any Wes Craven film ever made, Triangle, Labyrinth (1986), Peteís Dragon, The Artist, Halloween (1978), Interview With a Vampire, Some Like It Hot, Singing in the Rain, The Crow, The Blair Witch Project, Dead End (2003), 10 Things I Hate About You and Clueless (Iím a 90s girl!), What Dreams May Come, The Notebook and All About Eve. I could seriously go on for days!! I love movies!
... and of course, films you really deplore?
You know, I canít really recall any films that I actually deplore. Probably because I refuse to watch anything if I think I wonít like it. Even if Iíve watched a film that was just so-so, I still manage to find things I like about it.
Your website, Facebook, whatever else?
My primary website is www.tommievegas.wix.com/tommievegas, but for anything immediate, up to date or to just get to know me you can find me on facebook at either: www.facebook.com/tommie.vegas, www.facebook.com/tommievegas1, as well as on Twitter - @tommieleevegas - and Instagram - @tommievegas.
Anything else you are dying to mention and I have merely forgotten to ask?

Feeling lucky ?
Want to
search
any of my partnershops yourself
for more, better results ?

The links below
will take you
just there!!!

Find Tommie Vegas
at the amazons ...

amazon.com

amazon.co.uk

amazon.de
Looking for imports ?
Find Tommie Vegas here ...
Something naughty ?
(Must be over 18 to go there !)

The Interrogation of Cheryl Cooper premieres in Las Vegas on October 30 and I hope to see many new faces there. Red carpet starts at 7:30pm with expected guests listed below here. Film starts at 8pm at The Galaxy Theaters at The Cannery Casino in North Las Vegas on a beautiful 65 foot IMAX screen and tickets will be available at the door or you can purchase beforehand online through Pollygrindís website! (www.pollygrind.com) There will also be a sneak peek at Cyborg Nemesis (dir. Albert Pyun), the Pollygrind Film Festival awards ceremony, several award winning shorts and a viewing of Road To Hell (dir. Albert Pyun) to wrap up the night!
Expected guests are Sasha Mitchell (Kickboxer 2, Cyborg Nemesis), Joei Fulco (Cyborg Nemesis), Tommie Vegas (The Interrogation of Cheryl Cooper), Shane Ryan (The Interrogation of Cheryl Cooper), Brittany Bochart (The Interrogation of Cheryl Cooper), Scott Paulin (The Right Stuff), Norbert Weisser (Shindlers's List), Albert Pyun (The Interrogation of Cheryl Cooper, The Sword and the Sorcerer, Cyborg, Nemesis, Captain America (1990)), Cynthia Curnan (Road To Hell), Kelly Schwarze (Territory 8), Michael Su (The Interrogation of Cheryl Cooper), Olivier Gruner (Nemesis), Deborah Van Valkenburgh (Road To Hell, Streets of Fire), Tony Riparetti (Mean Guns, Brainsmasher, The Interrogation of Cheryl Cooper), Michael Tushaus (Territory 8, The Interrogation of Cheryl Cooper) and Kevin Sorbo (Hercules).
Thanks for the interview!
Thanks for the questions! J