You are currently working on a horror anthology - so do talk about the overall concept of your anthology for a bit?

Our concept was to deliver a series of disturbing stories that explore very different characters from very different walks of life. We wanted them to exist within a familiar yet macabre reality. A place where you can feel very grounded in the situation and simultaneously suspend all disbelief at any given moment. We wanted stories with substance to draw the audience into our world as deeply as possible until there was no turning back. Then we turn that world on its head.

Why an anthology in the first place, what do you find so interesting about the format? And have you been influenced by any anthology films or series when dreaming up this one?

When my partner Russell Hackett and I began discussing a new project for Theatre of Terror we briefly considered doing another feature (Faces being the first). My problem was that I wasn't sure I wanted to get locked into one film with one story, revolving around one set of characters for 90 minutes or more. There are so many different subgenres that I love and I honestly couldn't decide which one I wanted to pursue. Eventually I proposed an anthology instead. Growing up in the 70's and 80's I got to experience some of the best. The Monster Club, The Trilogy of Terror, Cat's Eye, Creepshow. The idea really got us excited because of the potential to do something just as influential as those films were to us.

You have already finished three of the four segments of your anthology, The Gift, The Bookworm and Abducted - so what is each segment about?

The Gift is a story that highlights the potential for tragedy in even the happiest of lives. It centers around a professional, hard-working wife and mother who's faced with the heavy pressure that comes with those responsibilities. A series of bad decisions leads her to a place where she must reflect on everything she had and everything she's lost. Ultimately, she's presented with a choice that could offer redemption. But that offer comes from a questionable source.

The Bookworm offers up that place so many of us search for. When a young man inherits a good portion of his late father's wealth, he uses it to escape the grip of his pretentious family. For some, family can be the worst reminder of everything we don't want to become. For him it is the driving force behind his desire for solitude. And once you get a chance to meet them, you can sympathize. But sometimes detachment from society can lead a man further from the world than he intended to travel.

Abducted takes us into the backwoods of America where we get a glimpse of the simple life. A place where routine and familiarity are a comfort. There is no simpler story than that of a man and his dog. Now imagine that man and his dog experiencing a life-changing event of epic proportions. Witnessing a UFO landing! Knowing extraterrestrials exist can haunt a practical mind. But it could also seduce a curious one. Making first contact becomes our main character's obsession. And that obsession comes with consequences.

The Gift, The Bookworm and Abducted are pretty diverse when it comes to their approach to horror - so do talk about each movie's take on the genre for a bit?

All these shorts were inspired by television shows like The Twilight Zone, The Outer Limits, The Night Gallery, and Tales From The Dark Side. These programs delivered various levels of terror with some more psychological, some more otherworldly, and others more gruesome. We wanted that same diversity in our films but we also wanted a crescendo of sorts in the progression from film to film.
The Gift begins the anthology as a very dramatic episode that leaves you with a cryptic unease. The Bookworm takes you through the process of an eerie build with a classic nightmare-style payoff. Finally, with Abducted, we tap into that psychedelic horror science fiction feeling from the 70's.

What can you tell us about the look and feel of each movie?

When we talked about launching this project we agreed that we wanted to work with different cinematographers for each short. Mainly because there were so many talented guys we wanted to work with and we knew this would be our opportunity to do it.


Working with John Iwasz from Small Basket Studios on The Gift was an absolute pleasure. John has a very good eye and after only a few discussions he quickly developed a vision for how to best deliver the most important scenes in the film. Something that turned out to be the backdrop for the film was the pouring rain we experienced during most of the shoot. We used that obstacle to our advantage and felt it draped the story in a sort of sadness that's the perfect companion to Heather's excellent, while tragic "Donna".

In The Bookworm we had Mark Boutros on the camera. Mark and I had previously worked together on another short film called Rapt. We wanted to utilize the full potential of our main location, a library, in every possible way. Our lead character actually lives in this library so there was an element of comfort and warmth we wanted it to express in the film. It had to feel like home. Then we contrast that with his actual home which is a beautiful large mansion. Despite the comfort his family's enormous wealth provides it still feels like a strange place where he does not fit in nor feel welcome. It pushes the viewer to want to return to solitude of the library.

Abducted was shot almost entirely outdoors in the thick woods of Monroe Township, NJ. The seclusion of such a location was so important to the shoot because we wanted it to look like a place where forgotten memories go to die. The first time he was on set, Louis Libitz our DP immediately started getting b-roll of the entire area. A lot of which we use in the opening scene to set the tone for where you'll be living during this film. To expand on that Lou spent a lot of time using the lens to explore the vastness of the forest. We see some key scenes from a distance and through the trees as if we're watching from afar, too afraid to venture any closer. The trees become a bumper between us and the unknown. It was very effective especially considering the subject matter.

Do talk about the segments' respective casts for a bit?

Honestly, I may just be the best casting director in the indie scene! I'm kidding of course but I will say that things really fell into place for us on these projects. Pre-production started very early on and we cast these films long before shooting. On two of these projects we lost our leads before shooting. Now, their replacements turned out to be the only people I can ever imagine in those roles.

Heather O'Scanlon who plays the lead "Donna" in The Gift is really an amazing actress. She is beautiful, versatile and prepared. She and co-star Adam Ginsberg saved us from disaster on the second day of shooting because of their command of the characters and knowledge of the script. Also, having the incredibly talented John Zion and Danielle Najarian in the supporting roles sold the story from top to bottom. The bonus was having Edward X Young reprise the role of Henry Benson (from Faces). I love working with Ed. It was just a great cast all around.

On The Bookworm our lead is Scott Gorbach. A truly gifted young actor I found through a referral after I put out a casting call. He embodied "Mark Jaeger" in every possible way, his look, his mannerisms, he was perfect. Combine that with a natural like Sarah Schoofs and you have yourself true chemistry. As soon as I saw them together I knew we'd hit a homerun. I'd be remiss not to mention Cienna Rizza stealing the show as his pretentious sister "Susan" and Patrick Devaney's eerie portrayal of "Mr Simmons" as highlights in this film. There is no doubt in my mind that this cast was meant to play those characters.

Abducted had an incredibly small cast and is very limited in dialogue. But if you think that changes the demand on the actors you'd be wrong. Russ Hackett plays "Ned" to a tee. He worked incredibly hard to find the voice I wanted for his character. This is only his second starring role (I also directed him in Rapt) but I feel he really understands the importance of living in the scene and giving himself over to the part. His passion for this short is evident in his performance. For me there was no other choice for our alien than Patrick Boyer. I wanted Pat in this part because I know him as a professional monster. He's done a ton of work in indie horror and elsewhere playing every kind of creature. The icing on the cake is that he is a real great guy and a consummate professional.

What can you tell us about each shoot, and how did they compare to one another?

Well The Gift was challenging on several levels. The pouring rain we experienced all weekend meant losing valuable time cautiously traveling between locations. Regarding the shoot itself, getting important exterior shots was hellacious. Despite those obstacles we persevered and had a wonderful weekend of shooting a film together. And we managed to pull off one of the most amazing crunch time shoots ever. We had to film the entire antique store sequence in one hour due to the storm. Thanks to our cast and killer crew, it came off without a hitch.

The Glen Ridge Public Library and The Oakeside Mansion (Bloomfield, NJ) were extremely generous in letting us shoot The Bookworm there. They were top quality locations and really made us feel at home. To save on budget we shot at the library during the normal hours of operation. That meant there would be patrons all around us while we shot a lot of these scenes. It works because most of that would be layered with some beautiful piano work by my good friend Robert Frankenberg. Another advantage of being in a library setting meant I didn't have to call for quiet on the set as often.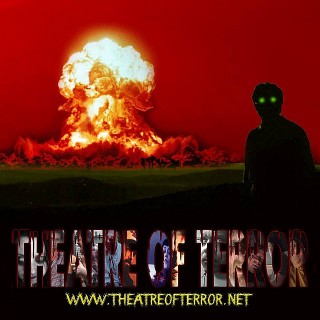 Abducted was not an easy shoot. On Day 1 we hauled all our lighting equipment and camera gear about 300 feet into the woods to shoot our UFO scenes. We wanted to be completely isolated from the road and any light pollution. After trekking back and forth through thick woods, chilling cold, and pure darkness we decided on Day 2 to only shoot about 100 feet in. The woods can be brutal at night but everyone put 150% into getting the film done. Special kudos to Kenneth Wills our lighting tech and his crew for breaking their backs on that terrain to help us make movie magic. It was also my first time directing a dog. 100 takes later and I still love dogs. I just feel very strongly that they should just stay out of acting.
So what does the fourth segment of your anthology have in store?
With Endangered you can expect pure horror. Chilling and dreadful. The bloodiest of the bunch for sure with a much larger cast than the rest. More great special F/X, great locations and great characters are abound in this one. It will definitely be the crowning jewel on the anthology. I'm really looking forward to starting this one.
What's the schedule for the final segment of your movie, and will you take it on a festival run as a short in its own right or go ahead and finish your anthology right away to get it released?
We plan on shooting sometime in May if possible. We're launching an IndieGoGo campaign in the next few weeks to raise funds for the budget. Our first campaign netted 56% of our goal so we figure after successfully making 3 quality films in 7 months with only half of what we asked for, people will believe in us and help us get to 100%. Once it's done it will be submitted to fests individually the same as the other shorts. The real bonus for our donors will be the Anthology DVD perk. It will be the only place where you can see all 4 stories combined with a connecting wrap around story. We also plan on shooting that this summer.
Any future projects beyond finishing your anthology?

Feeling lucky ?
Want to
search
any of my partnershops yourself
for more, better results ?

The links below
will take you
just there!!!


This has been my obsession for close to two years now. Once it's done I'll be in full promotion mode for a while. Beyond the festivals and conventions and vending tables there are probably more films waiting for me to write them. I guess we'll just have to see.
Your/your movie's website, Facebook, whatever else?
Anything else you're dying to mention and I have merely forgotten to ask?
I just want to mention my producers Todd Staruch and Diane Hackett, sound engineer James 'Dave' Redding III, F/X gurus Nelson Vilela, Mike Scardillo, and Beatrice Sniper and of course my wife Melanie. All have been a huge part of making these films.
Thanks for the interview!