Your new movie Valley of the Rats - in a few words, what is it about?
It's an existential and erotic presentation (or twist, if you will) on the murder-mystery stylings of the traditional Italian gialli. That sounded a little pretentious, didn't it? Well, we tried to have fun with it. I think it is fun - it was fun to shoot, and we've had generally positive feedback from last year's theatrical screenings and festival run. I just love the giallo sub-genre, it's something that's pulled at me for years, and I always want to find new ways of telling a story through gialli; I think the genre provides a rich and expandable framework for storytelling in much the same way the spaghetti western and film noir do.
You see Valley of the Rats in the tradition of Italian giallo movies of old - would you care to explain, and to talk about the genre as such for the uninitiated and your fascination for it? And some of your genre favourites of course?
Actually, I don't think Valley of the Rats (or Odissea della Morte) really sits in the tradition of the Italian giallo movies; at least, not the original ones -- however, it is heavily inspired by the Italian giallo films, particularly of the 70s and 80s, and specifically of Argento's, Fulci's [Lucio Fulci bio - click here], and Martino's contributions to the genre, which I think brought the giallo genre wildly out of any sort of generic bounds. My absolute favourite giallo is Lucio Fulci's Don't Torture a Duckling, and other tip-top favourites would be Sergio Martino's Torso and The Strange Vice of Mrs. Wardh; from Argento's world it has to be Tenebrae, Inferno, and Phenomena. I'm also really keen on Amuck!, another giallo that Barbara Bouchet starred in in the 70s. And Lamberto Bava's A Blade in the Dark and Delirium are right up there for me, too. I actually think Lamberto Bava's giallos are brilliant in their stylish deconstruction of the genre's basic plot outlines, and his ability to re-present them in a thrilling way.
(Other) sources of inspiration when writing Valley of the Rats?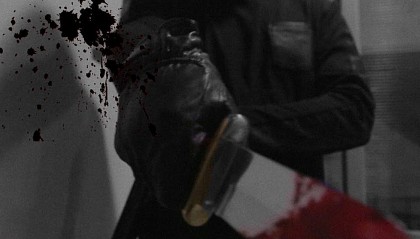 Definitely David Cronenberg's film version of Cosmopolis, which to me was very close in tone and style to the original book. Also, the inspirations for Cosmopolis itself, which were eluded to in both the film and the book. But in the end, these films, books, and poems only served as the inspiration for the plot structure of the story (what plot structure, I know...) while the real instigating inspiration occurred to me while commuting from my home to my workplace on public transit -- at that time, riding public transit was like being in a moving office for me, it was the only time I got to write scripts and read books -- and one day it occurred to me that here I've paid $2.10 to get driven around while I concentrate and create my own work -- while some people, people who might be very well-off, financially, pay a lot more than that to acquire the same essential luxury. So I started to think, what sort of work would someone be doing while they're riding around in say, a limousine, instead of on a bus? They might have more control over the scope of work they were able to accomplish -- maybe, even, they could solve a murder... I don't know, that's just where my mind went.
Do talk about Valley of the Rats' approach to horror for a bit?
I actually tend not to think of my films as horror anymore, because I believe that horror should be displayed within (and from) a film in visceral terms, in intense situations. I think my films of late are a little light in that regard, the intensity coming more from internal, psychological, emotional, visual, non-linear, and sexual explorations through the characters and the warping of the plot. My recent philosophy regarding my own filmmaking is that the horror and bloodletting can be effectively shown in minimalistic terms, and in doing this I feel like I'm betraying the horror of it all a little bit. I think in each of my last three films, there is still one scene of horror or bloody violence that I concentrate a little more on, just to keep the pulse up a little, like the kitchen gun-murder scene in Reversed, the murder by hammer in Glass, and the stabbing at the top of the stairs in Valley of the Rats. But none of these are close to what the masters Argento and Martino accomplished in their original giallos.
Valley of the Rats features some scenes of a rather sexual variety - so how did you go about shooting these, and how easy or hard was it to get the right cast for them?
This is a good question, and one I've been asked about before. Once you have the right cast and crew in place, shooting the scenes are fairly breezy. Getting the right cast and crew in place starts with the script and a lot of meetings regarding the script. I prefer meetings to traditional auditions, I usually let one of the producers handle the initial auditions, I'm not even there. I go to the meetings with the potential cast members during pre-production where I can get a much better feel of how they feel about the script -- and my scripts are usually stripped right down to the bare essentials, and everything is written out in black and white. I remember working with a production manager on Glass who was doing the script breakdown -- and she called me in a panic, asking, "What do I put on the script breakdown for the actors during the nude scenes? Underwear? Robes?" and I said "No, you put 'nude'." I've found that putting everything on the table and communicating everything very clearly means that everyone's on the same page as you when you go to shoot the scenes. That goes the other way, too. We'd hired an actress who played a character that, in the script, was completely naked some of the time. The actress wanted to wear what's called a "modesty piece". We all agreed to this well ahead of time. There were no surprises for anyone while shooting the film.
What can you tell us about your overall directorial approach to your story at hand?
I can say with 100% honesty that the directorial approach is loose. I create an outline for myself for the direction any individual scene should go in, and any parameters it should remain inside, and also, because I'm an editor, I'm always aware if the scenes will cut together or not. Other than these basic directions, I like to keep things loose both for the actors, and I like to shoot a lot of extra footage as I'm acutely aware of my own needs as an editor for my cutting style. All of this incorporates into why I write seemingly short scripts - my shooting scripts for the last three films have been 15 pages to 70 pages.
Do talk about your key cast, and why exactly these people?
As mentioned before, the cast is right when it's right, and I like to think I've chosen the best people to work with and who can accomplish the job, through face-to-face discussions on the story and script. Often, I've found that the best performers to work with are the ones who can provide their own insight into the scripts.
A few words about the shoot as such, and the on-set atmosphere?
The shoots are always very fast-paced, and the atmosphere on all of our sets has always been a fantastic mix of fun and professionalism. I love our productions.
The $64-question of course, where can your movie be seen?
Well, we've just started a new distribution company called Darkside Releasing, and through this company the film can be seen in the USA via VOD (from Sunrise Media), coming soon in Europe on VOD (from the soon-to-be-launched Pantaflix), and we've just released three special edition Blu-ray sets in Canada, which can be found at darksidereleasing.com.
Anything you can tell us about audience and critical reception of Valley of the Rats?
Generally it's been positive, and usually the same spiel: Good editing, good shooting, sexy, non-linear, didn't quite understand it, but I liked it. We (or the film, rather) was heckled once, at the PDXtreme Film Festival, in Portland. That was fun.
What got you into making movies in the first place, and did you receive any formal training on the subject?
My only formal training was in the writing program at SFU in Vancouver. Other than that, I have been taught through experience. We've been making films (that's my wife Nicole and I) since 2001.
What can you tell us about your filmwork prior to Valley of the Rats?
Wildly varied. I started by making the gory horror-comedy Vampires vs Zombies (or: Carmilla the Lesbian Vampire) which was hugely inspired by the works of Stuart Gordon and Brian Yuzna. After that, we made our first ultra-low-budget horror film called Human Nature; and serendipitously, that movie was released on the tail of Stuart Gordon's King of the Ants (intentionally) by the distribution company handling all three of these films in 2004.
How would you describe yourself as a director?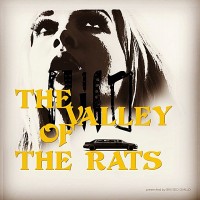 Feeling lucky ?
Want to
search
any of my partnershops yourself
for more, better results ?

The links below
will take you
just there!!!


Democratic, and widely open to creative input on the set. Secretly, I have a post-production agenda that I keep in mind while shooting.
Filmmakers who inspire you?
George Romero, Dario Argento, Sergio Martino, Lamberto Bava, Stuart Gordon, Brian Yuzna, Peter Strickland, Hélène Cattet and Bruno Forzani, Jess Franco, Brian DePalma.
Your favourite movies?
Tetsuo: The Iron Man, Phenomena, Blow Out, Tenebrae, Torso, Frankenhooker, A Clockwork Orange, Amer, Don't Torture a Duckling, Possession (1981), From Beyond, The Texas Chainsaw Massacre Part 2, Cemetery Man, Taxi Driver, Prince of Darkness, so many more...
... and of course, films you really deplore?
My wife Nicki likes to say, "You like everything!"
Your/your movie's website, Facebook, whatever else?
https://darksidereleasing.com or at https://giallo.ca
Thanks for the interview!
And thank you, too!