First of all, why don't you introduce yourself to those of us who might not already know you?
My name is Vinicius Machado, born and raised in Rio De Janeiro, Brazil. I moved to Orlando Florida when I was about twelve years old. I have lived just about everywhere between Miami and Orlando when I lived on the East Coast. I was originally a soccer player and was pursuing that to the fullest as a way of living. That is, till I had to audition for one of the school plays in my high school as mandatory by my drama class. Needless to say, I got the part, though I didn't want it. I fell in love with the stage and have never turned my back on it ever since. I became an actor, just like that. I let go of my soccer dreams and don't regret it one bit. I have worked on numerous prime time television shows, Hollywood blockbusters, commercials, voice overs, industrials, etc. My resume is continually being updated as a reflection of my dedication to the business. I'm also a producer and established working writer in the industry as well. However, the greatest role I am proud to say that I have been afforded to play is that of being a father to three beautiful kids and a loving husband to my wife. That's me in a nutshell.
You have recently starred in the movie Beautiful & Twisted - what's that one about, and what can you tell us about your character in it?
Beautiful & Twisted is actually premiering the 31st of January, on Lifetime at 8/7 central. It's a Sony Pictures production that I'm so humbled to have been a part of. It tells Ben Novack Junior's real life story. And how he was brutally murdered by his wife's hired assassins. The story doesn't end there though. Their lives stood as a testimony and as a message to all of the elites of the city of Miami in that era. It provoked big spenders to think twice about their spendings, or on whom they would disburse their fortunes. It's a thriller of a ride with Rob Lowe, Paz Vega and Candice Bergen leading the film. I play the main assassin hired by Ben' wife to murder him. I got to spend a lot of time with Paz Vega and I just have to say that she is a total sweetheart and a phenomenal actress. Had one or two scenes with Rob Lowe, and he was likewise super cool and chill to work with. I got to meet and talk with Candice, but didn't get to do a scene with her. She's inspiring to be around. So ambitious and a strong advocate for change in the world. Learned a lot on this set.
How did you get involved with the project in the first place?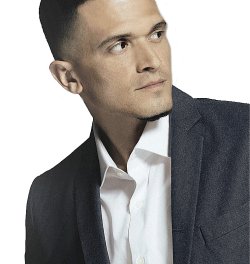 I have garnered a momentum for myself in the industry for the past year or two. Though I have always worked. There's not been one year where I didn't work to some capacity in this industry. Though it has varied from year to year, the amount of work. But that's a rare thing to say that you always have worked. So I count myself fortunate that way. I say this to say, that within the past two years, something changed for me. I began receiving offers and being noted in a different light. Don't have to audition for everything anymore. I have earned an astounding reputation with my recent work during these years and I have been granted several opportunities this way, by offers. What that means is that they like you or believe in you to the point that they will just offer you the role. Sometimes you still go in to see them, or make a phone call to talk to them, but it's not the usual excruciating process of auditioning. Well, such has been my case here with Beautiful & Twisted. I'm not afraid to read against anybody for a role, A list names included, but let me tell you, everything changes when you begin to receive offers. It's no longer about fear or fearlessness. Suddenly your focus shifts to branding yourself and your image.
What can you tell us about the shoot as such, and the on-set atmosphere?
The best. Chris Zalla, the director of the film would sit down and have lunch with us. Usually they are busy and overwhelmed, they sit with the producers and discuss big things. But we would discuss life in a foreign country, and growing up in different sides of the nation here and how that affected our view of the country as a whole. I bring this experience to say that this was the overall feel on this set. Everyone was personal and humbled this way. We were on the beach for a few days. I remember waking up from a nap in my trailer and literally we are parked two feet from the sand, so I would not only be staring into the surf coming in but I could walk on the sand and intake the beauty as a way to prepare myself mentally for the scenes, some of which were extremely brutal, physically, but also emotionally. On the last day at that location, I decided to jump into the water at the end of the day and then went for a jog on the beach. Now, that's how you end your filming run on a location, lol. Not all sets work out that way, but for Beautiful & Twisted it did, and I loved it.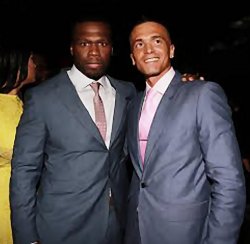 Most people might know you from playing Nomar Arcielo on Power - so what can you tell us about that show, and of course your character?
Power is produced by Curtis "50 Cent" Jackson. I have followed him since God knows when. I really think that he is a creative genius. How he came from literally nothing to being the millionaire that he is today blows my mind. I was most thankful to have met and gotten to know him. The first time I met him, he gave me a hug. Seriously. Told me how great I was doing Nomar and all. It's inspiring enough to be a part of something he's producing, but then to receive such treatment from him personally, again, I'm dumbfounded still. Nomar is a pedophile to put it plain. He's a member of the Soldado Nation gang who is dating his boss's fourteen year old daughter secretly. This info is being used by the FBI to blackmail him and coercively get him as their counter Intelligence on the streets. He's a rat who will do whatever he has to in order to escape his predicaments. However, he is trapped beyond escapability and has no choice but to juggle life and death with each breath he takes. Playing Nomar was a grand opportunity for me. I'm stereotyped as the drug dealer, gangster often, though I have and can play other roles. It's just that in Hollywood we have a saying that goes like this, 'if it's not broken, don't fix it'. Nomar was different then my stereotypical gangsters. He was a pedophile, a man in love, at the end of the day a human being, not at all one-dimensional. This afforded me the privilege of showcasing another color and range within my abilities, which has not only worked in many levels, but granted me benefits beyond the monetarily sense in the industry. Nomar in a sense has opened up doors that were closed to me within the casting world. The show itself is a stellar movement. It encompasses so much of life in a raw and tasteful manner. People love it so much because they relate so much to it. That's how heartfelt and brilliant the creators of it have approached it. That's how I felt being in it, like I'm a part of an excellent thing happening. So grateful.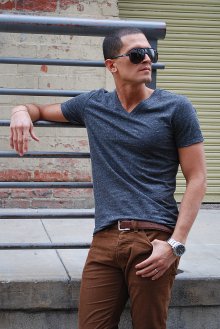 What do you draw upon to bring Nomar to life, and how much of Vinicius Machado can we find in Nomar?
Of course you always put as much of yourself into it as you can. After all, you can't dis-attach yourself entirely from your roles. That's why I believe that every role you play was meant for you in a sense. With that said though, it's called acting for a reason. It's a skill we have to put on and then put off. Nomar is so different from me in so many different ways. I did a lot of listening to and observing pedophile documentaries, confessions, etc. I learned a lot about behavior, humanly speaking by doing so. It not only enriched me to be able to bring Nomar to life, but by studying these people, I was able to understand humanity better and the world we live in. As weird as this may be. I also used a lot of music to dress him and carry him through. For some reason music stuck so deep here with him. Heavy metal rock and roll and rap. None of which I'm most fond of musically. So, there goes some comparison for you.
Again, how did you get involved with the project ... and what's it like working alongside 50 Cent?
It took me about a month to get this role. I went from putting myself on tape as a chance for the role of Julio, then to going in physically for the role of Ruiz. Then for the role of Nomar. They saw something they liked and kept trying to fit me in where best suited. I did not expect this at all. This is actually the first time in my career where I have experienced such love this way. The rule is you get one chance, if you don't fit the role they brought you in for, that's it. You don't get to come back for something else. I don't even know what else to say here other then just thankful beyond words. Let me say this about 50 Cent since I already spoke about him in one of the questions above. He is a show on his own. What do I mean by that? There's a difference between being rich, having money and then being wealthy! 50 Cent can lose all his money and he would never be broke. He would never lack opportunity or work. He's not only driven, but the man is an workaholic. His drive and passion is what sustains him. I never forget what I learned from talking to him, merely, that this has nothing to do with talent, but it's all business. That's what a lot of actors don't understand. I can't say it any more plain. If you want to succeed in this world, you have to grasp this key principal. Dilligence.
Another very recent project of yours is Wild for the Night - now what's that one about, and what can you tell us about your character in it?
Wild for the Night is another thriller, scheduled to come out this year sometime. It's about this guy pursuing the truth about what happened to his sister. With a whirlwind of twists and life changing scenarios shaping his character in the process. I played Aldo. A gangster. The right hand man to the biggest drug dealer in town. Aldo is also suffering from early stages of tourette syndrome. So I got to stretch my stereotype further by having this shade to him. This film was also offered to me. The film was shot right here in Los Angeles and it is as edgy and dark as the city it is based on.
Do talk about that shoot for a bit!
Working with Benny Boom can only be inspiring. He is directly connected to my Power family as he has directed 50 Cent before and works personally with his circle of people directly. This was my first time working with Benny Boom, but to my surprise he has shot in places in Brazil that I grew up in and near. I haven't been squibbed in a while before Power. To be squibbed means that they put a blood pack on you and then wire it so that it explodes as you act out getting shot or blown, etc. I knew the feeling already from experience many times before. But it had been awhile since a role I was playing required that. Well, I got shot a few times on this one. For some reason it hurt more than I remember it. Perhaps I forgot. Either way it's so great when you get to be a kid and get paid for it.
Any other current and future projects you'd like to share?
I have another film coming out this year called Misfortune with Gunnison Films. I'm also currently shooting two new projects which unfortunately I will be not able to say anything further about it at this time. But stay tuned guys on my social media - vmachado82 - and or my website machadovinicius.com and I will keep you guys posted.
What got you into acting in the first place, and did you receive any formal training on the subject?
Acting fell into my lap. I always say that it's like a calling. I didn't force it, I didn't necessarily pursue it to the point of beating myself up if I didn't get it or anything like that. I simply embraced what was being handed to me. I always worked. People take years trying to break in and get into it and all. Not my case. I have been rejected and lost auditions and so forth. But for the most part I didn't go through that. I booked the first times I needed to book in order to receive the confirmation to do this. I booked in high school. I booked at Universal Studios Orlando. I booked within the first three weeks of having moved to California. That's it, the rest is history. I got basic training at first and then some intense training and all. I believe in training. I have continued to train and seek training in different degrees. But generally, no, not like most. I believe the greatest teacher is the work itself. Just do that. And do that often. I learned a lot just being on sets, observing and sponging everything and anything I could.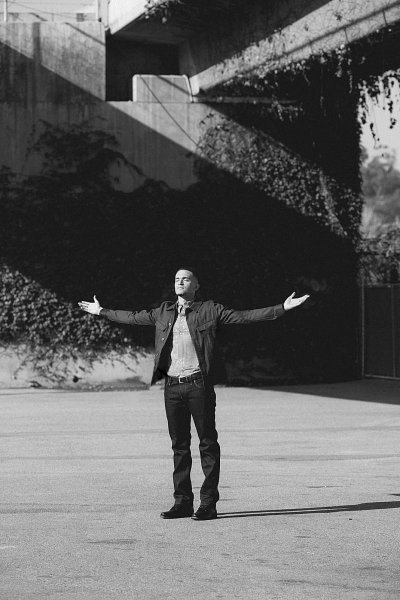 What can you tell us about your filmwork prior to Beautiful & Twisted, Power and Wild for the Night?
Let' me put it this way. I have been named by American Latino TV as "The fastest rising Latino talent on television today". My resume speaks for itself. Few of my credits include Cold Case, The Shield, CSI Miami, NCIS, Lincoln Heights, Dark Blue, Sleeper Cell, Eagleheart, Get Smart, FlashForward, General Hospital, etc. Again to name just very few. I have worked for just about every network there is with the exception of the CW at this point. I have always worked.
Besides acting you also occasionally write and produce your own projects - so do talk about these projects for a bit, and what is your philosophy when it comes to writing and producing?
It's all about creative control and bridging the gap between mainstream Hollywood and the Indie world. My intention and heart is to introduce as many unknown artists as possible to mainstream. I had help that got me to where I am at right now. A lot of others growing around me didn't. I look at them today and I ask myself why. Remember I said that' it's not about talent. Well, that's one of my goals with my own production company. I think acting is such a service that with it we can help and enhance our experience in this world we call earth. To take someone away from their troubles and inspire them to dream bigger, to view life different, to touch their spirits in a way that changes who they are. That's the beauty of cinema and the influence that this medium has. What a precious opportunity. Why waste it by keeping it monopolized? There's a human responsibility to our fellow citizens to embrace them and by doing so contribute to the arts. Thats why I'm so driven to produce. There's untold stories out there, we just need to open up the doors for them to touch us.
When it comes to acting, you've done it all, big budget flicks, indies, television - so how do these compare and what kind of set do you prefer?
I love them all. I love what I do. I wouldn't change it for the world. I have been fortunate to have balance between them all. Perhaps if I didn't I would be saying something different. But I seem to get just enough television work between my film work, to keep me balanced.
How would you describe yourself as an actor, and some of your techniques to bring your characters to life?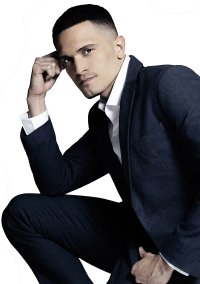 Feeling lucky ?
Want to
search
any of my partnershops yourself
for more, better results ?

The links below
will take you
just there!!!

Find Vinicius Machado
at the amazons ...

amazon.com

amazon.co.uk

amazon.de
Looking for imports ?
Find Vinicius Machado here ...
Something naughty ?
(Must be over 18 to go there !)

I'm a method actor by heart. Although I realize that most of my work falls into the character actor type. I dress the part really well. There's variations to the identity discovery process that allows me to embrace both types at the same time. I know they say you can only be one or the other. I'm living proof that you can.
Actors (and indeed actresses) who inspire you?
Meryl Streep. Denzel Washington, Kevin Kline, Anthony Hopkins, and the list goes on...
Your favourite movies?
Gladiator, it's on the top of the list.
... and of course, films you really deplore?
Open Water. I got so sick watching that. But not because of that alone. It just wasn't executed properly. There was no story.
Your website, Facebook, whatever else?
vmachado82 on all social media.
Anything else you are dying to mention and I have merely forgotten to ask?
I love my kids and wife Luz Machado. They are the reason I continue to thrive and exist. I'm grateful to them for their love and inspiration everyday I wake up. Their unconditional affection poises me to make them prouder. I'm forever indebted to them for the purpose and drive they give me. To my fans, I'm nothing without you. Seriously. There's no me in this business without your faithfulness. I love and care for you more then you know. If there's anything I care more deeply in this industry is you. Thank you. To everyone out there who seeks and dreams of following my footsteps I have three things to say to you. One, stay ready. If you have to get ready, then you are not ready. Two, be prepared. Life happens. Don't ever be outworked. And last but not least, three, be fearless. Impossible is Nothing. I'm living proof that you can and you will if you believe. The future is an achievement. Go make yours. V
Thanks for the interview!