Your new movie Streets of Syndicate, Ohio - in a few words, what is it about?
It is about two old friends Amanda and Lynese who havenít seen each other for a couple of years. They re-connect and are quickly approached by a small time criminal who wants to hand off a briefcase. They take it from him and are immediately chased by a hitman named Calm. Come to find out, the briefcase was stolen from the mob boss that works within Syndicate, Ohio. This sends the two friends on an adventure through their town where they discover the town isnít what they thought. It reveals hitmen, mob bosses, a conspiracy theorist as they find whatís in the briefcase and where it might lead.
With Streets of Syndicate, Ohio being a gangster movie of sorts, is that a genre at all dear to you, and some of your genre favourites? And what do you think makes your movie stick out of the crowd?
Iím a huge fan of thrillers including crime thrillers like Heat or Goodfellas. I love the thriller genre then all the sub genres within that like supernatural, crime, action, etc. What makes our film stick out is although itís a crime thriller there are two elements that make it slightly different. Of course thereís the fun action, shoot-outs, chase scenes and fights but there is also humor mixed into the dark elements of the movie. Also, we take stereotypes of characters and places and do a 180 on them. Itís small town America where everyone is supposed to feel safe except there is a mob boss that runs the town, rival hitmen squaring off against each other, stuff like that.
(Other) sources of inspiration when writing Streets of Syndicate, Ohio?
Inspiration for me for this film were really those thrillers like Heat or Goodfellas, but I also wrote the humor into the movie more with the actors and allowed them to bring their personality to it more so than anything I did. I wanted to give them that freedom because that allows their performances to be more natural.
What can you tell us about your writing partner Len Smith, and what was your collaboration like?
Thatís an interesting question because there is a lot of history to this. We have a podcast called Step by Step: The Micro Budget Filmmaker thatís on Apple Podcasts and we do a two part series on the behind the scenes of Streets of Syndicate, Ohio because there was a long journey and a lot of obstacles to making this movie. In a nutshell, Len wrote the original script and I ended up rewriting about half of it.
Do talk about your directorial approach to your story at hand?
My approach to directing starts with the actors. I started out as an actor, so itís very important to me to create an atmosphere where they feel comfortable and safe. Actors have the most vulnerable job in moviemaking in my opinion. They have to put themselves out there physically and emotionally. The more I can help them achieve what they need to, the better their performances will be. As far as visuals I added very specific colors to the film - for example, Amanda is in orange, Lynese in purple, Vito has this ugly gold jacket, things like that where colors have a psychological meaning to those characters. The camera and lighting, we wanted a lot of hand held and natural lighting for the most part so the actors could move within the light rather than hitting marks. Also, we always had something moving, whether the camera was moving or the actors were to create a non stop energy to the film to make it feel like it never stops moving.
What can you tell us about Streets of Syndicate, Ohio's key cast, and why exactly these people?
The two lead actresses Shalie Hull and Ashlyn Porter both auditioned and were very good in their audition. They brought a lot of personality and energy to their audition, which as you can see in the movie is needed for these characters. Shalie is much more outgoing than Amandaís character so that was an interesting challenge for her! Tommy Dishman who plays Duvall is an old friend of mine who played the lead in my film Devilís Point. Heís a wonderful actor who is one of the funniest people Iíve ever known. I wrote the character for him and told him to just run with it! He brought so much to it that was not in the script. Brahm Corstanje who plays Vito is also a friend who was also originally in Devilís Point. This was a lot of fun for him because heíd never really played a villain before, so he loved it.
A few words about the shoot as such, and the on-set atmosphere?
We shot originally from April of 2017 to September of 2017, then did re-shoots in the spring of 2018. It was the longest shoot Iíve done on any movie. We had a ton of fun as well as a lot of obstacles to overcome. The town I live in, Fort Thomas, Kentucky, was wonderful because they gave us permission to film all over town which really is another character in the movie.
Anything you can tell us about audience and critical reception of Streets of Syndicate, Ohio?
So far weíve gotten some good, positive reviews of the movie. Listen, we made this movie very micro-budget, so a lot of favors and help along the way. The movie isnít perfect and we know that. What we hope is if youíre a fan of these kind of films that itís entertaining!
Any future projects you'd like to share?
Absolutely! I have two other films out on Amazon Prime right now, a supernatural thriller called Devilís Point and a psychological thriller called Confined. I also helped produce a film for my good friend Naim David that he directed, a psychological thriller called Darkest Edge which is also out all over VOD. Currently Iím developing a new film, a supernatural thriller called Guilt. Very much in the style of Insidious or Sinister. Weíre currently raising the budget now. Hope to shoot that in 2021 after the pandemic is over!
What got you into making movies in the first place, and did you receive any formal training on the subject?
I was not one of these filmmakers you hear about who grew up making movies as a kid. I grew up playing baseball. I got into acting first my senior year of high school and then studied theater for two years at Northern Kentucky University. I went to LA when I was 19 for the IMTA convention and when I came back, I got cast in a local film being shot in Cincinnati. On that film is when I got bit by the directing bug! I was fascinated by the creative process that went into making movies rather than acting. I went to a local audio/video school at the time to learn the basics and started working in local TV productions. While I was doing that, I started writing and making short films, and from there I am self-taught on how to make movies. I made some bad ones early on that really became my film school. In my opinion, thereís no better way to learn than just getting out and doing it!
What can you tell us about your filmwork prior to Streets of Syndicate, Ohio?
As Iíve said, I have two other films I directed that are out on VOD now. Devilís Point was originally shot in 2011 and we finished it in 2014 going to three horror film festivals, but it did not get distributed right away. I was able to finally release it this year. Confined I actually shot after Streets of Syndicate, Ohio but it came out first because I basically self distributed that with the help of a friend. I made three no budget features before Devilís Point that luckily never got released because theyíre terrible, haha! But thatís ok because that was really my film school.
How would you describe yourself as a director?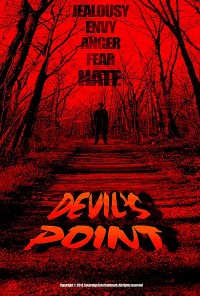 Feeling lucky ?
Want to
search
any of my partnershops yourself
for more, better results ?

The links below
will take you
just there!!!


I have a darker, edgier, grittier style to my directing. I like things that are dark and explore that side of humanity. I love hero stories and to me, the best hero stories come from seeing them rise out of the darkness.
Filmmakers who inspire you?
So I have a top five list: Christopher Nolan, David Fincher, Robert Rodriguez, James Wan, Michael Mann.
Your favourite movies?
There are a couple of movies that really inspired me. Seven and Memento are the movies that made me want to be a filmmaker. As I was learning early on, I started learning about the stories of how Robert Rodriguez made El Mariachi and Christopher Nolan made Following, and those stories inspired me more!
... and of course, films you really deplore?
I donít like to put movies down because I know how hard it is to make them. From a movie fan perspective, Iím not a big sci-fi or fantasy fan and definitely not a fan of romantic comedies!
Your/your movie's website, social media, whatever else?
Iím mostly on Facebook. I have a director page you can find under William Chaffin. We also have pages for all our films. We also have the podcast out on Apple Podcasts too. Our podcast is really geared toward helping our filmmaking community. We take the audience behind the scenes of how weíve made each of our low budget indie films from the concept all the way through distribution. We also bring on other filmmakers to discuss their process and experience. Then we also do fun stuff like filmmaker series! This is all in an effort to help filmmakers no matter what step they may be in. We hope to help our fellow filmmakers if we can!
Anything else you're dying to mention and I have merely forgotten to ask?
I think that about covers it. Thank you so much for the time to share our movie and our story!
Thanks for the interview!