Your new movie Blood - in a few words, what is it about?
Blood is about a serial killer who has a strong aversion to blood but has the compulsion to kill nonetheless. After killing his latest victim, he returns to his apartment only to discover that he is not alone.
What were your inspirations when writing Blood - and to what extent could you identify with your main character and his aversion to blood?
The concept of a character who commits acts that straddle the line between pleasure and horror is really interesting to me and something I can relate to. I think a lot of things I find the most comfort or joy in could easily become painful, but that makes them that much more enjoyable.
In terms of films, Mario Bava's Black Sabbath [Mario Bava bio - click here] was a huge inspiration, particularly the segment The Drop of Water, and I actually reference it a few times. I also love shows like Tales from the Crypt and Romero's Creepshow, and I see Blood as a modern adaptation of those types of stories in which a character is punished for committing a morally "incorrect" action.
Blood does feature quite a bit of, well, blood - so how much fun was it to play around with the red stuff?
I love fake blood, and for several of my projects have used it to its fullest capacity. There were scenes (especially towards the end) where it took a team of about 10 of our dedicated crew members several hours to scrub it off the walls, and even then we didn't get everything off. It was definitely a unique set experience for a lot of people and I plan on using fake blood again.
What can you tell us about your directorial approach to your story at hand?
Since there is no dialogue, so much of the film relies on Dave Belden's performance. I generally write characters who live in moments of extremes, so I often told Dave to act as if gears instantly shift in his head when something happens to him, so he can go from being calm and relaxed in one moment to enraged and violent in the next.
I wanted the film to creep up on people, so every element of it (the production design, cinematography, score, etc.) needed to erupt in short bursts, and then inch its way towards those bursts again.
I also love peppering my films with little hidden details that expand on the story and characters, and Blood has several moments of that, if you take the time to notice them. There are secrets within Blood.
Do talk about your cast, and why exactly these people?
Dave Belden was a fantastic person to work with. He constantly challenged the character, and would ask me questions that really expanded his backstory. I love watching a scene for the first time and being shocked by the intensity an actor brings, and that happened several times while filming Blood. Dave never lost his sense of humor, and would be able to deliver a really visceral performance, and then make a joke right after we cut.
Dave also has a unique look. When you talk to him, he is really gentle and engaged, but has a level of intensity at all times, and we noticed that in his audition, and it definitely carries into the film.
Amber Calderon played his latest "victim," and we really worked on creating a subtle backstory for her that comes up several times in the film. She was great on set, and would push us to make her character as disgusting as possible, especially at the end.
Your location definitely adds to the atmosphere of Blood - so what can you tell us about the location you used?
It was difficult to find a location that looked domestic with owners who were willing to essentially destroy their home for the duration of filming, so I decided to look for a location that felt bare, but engulfing. I love creating ambiguous spaces where characters are constantly revisiting rooms and locations but the camera never allows the audience to fully piece together where they are. I wanted rooms that felt connected but disjointed and, in actuality, we used several different apartments and just created the illusion that they were connected. The space really says a lot about the protagonist in the film.
A few words about the shoot as such, and the on-set atmosphere?
At the time of filming, Blood was my biggest and most ambitious production and it was completely independent, so there was a lot of excitement within the crew heads, who had a large amount of creative freedom. The days were usually pretty long and overwhelming (especially when the blood came out), but the crew worked in sync without losing momentum.
Most of the people I worked with had never done horror before, so it was also exciting to see the crew watch a room get splattered with blood for the first time.
Do talk about critical and audience reception of Blood so far for a bit!
We had a unique release campaign where the film was online publicly for one hour, and that was a lot of fun to market. We announced it exactly one week prior and advertised it really intensely for the week leading up to the release. We ended up getting a huge response during its hour release, and people were really impressed (and, fortunately, scared) by the film. I've had a few random people who saw it approach me and tell me they really liked it, which is always a great feeling. I can't wait to see it at a festival with a crowd.
The $64 question of course, when and where will the film be released onto the general public?
We are just starting to send it to festivals, so unfortunately it will not be until sometime in 2016.
Any future projects you'd like to share?
I currently have one short in post-production and it is definitely pretty gruesome, but not completely a horror film. We also are shooting a new project, Pep, in a few weeks, and it is going to be an aesthetic we have never done before, blending the teenage high school sub-genre with some horror elements, so I am really excited about that.
We also have a secret bigger project in early stages of pre-production, but I can't disclose too much information about that.
What got you into filmmaking to begin with, and did you receive any formal education on the subject?
I've been really into horror movies since I was five. I watched The Sixth Sense and the remake of The Haunting and they both scared the shit out of me. I've been hooked since then. In 5th grade, I would watch AMC's Fear Fridays where they had two horror films play every Friday, and in that span of time I saw so many influential movies that slowly expanded my taste.
I've been working with cameras since I was 11 or 12, but I didn't start producing work for public viewing until I was in high school. I'm currently a Junior at Northwestern University in the film program, but, prior to coming here, everything I learned was self taught.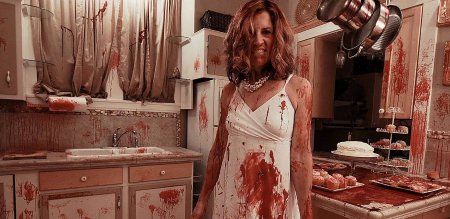 Domestica
What can you tell us about your filmwork prior to Blood?
I made several shorts prior to Blood, most of them horror. A film I directed, Domestica, is almost coming to the end of its festival run and has played in several countries and all over the US. It also features a LOT of blood. We have a couple projects online on our website as well.
A few words about your production company Count the Clock Productions, and the philosophy behind it?
Count the Clock was founded by myself and my good friend, Grace Hahn, who produces all of our projects. We essentially wanted to create a company that challenges the expectations that most people have for the horror genre, which is also, unfortunately, looked down upon by most critics. Everything we do is micro-budget, so we also want to show people that if you know how to use your money well, you can make a great film for next to nothing.
We are also focused on bringing together horror filmmakers in the Chicago area, which is why we highlight Count the Clock contributors on our website. More specifically, we want to engage Chicago-based filmmakers who are also interested in exploring and testing the boundaries of independent horror film production. Our mission is to expand and amplify the presence of horror film in the Chicago independent film community and the collaborative opportunities therein.
How would you describe yourself as a director?
I have a high energy on set and am constantly trying to come up with ideas that challenge the expectations of both myself and the crew. I take my work very seriously but am open to ideas and suggestions from others, and when I'm making my most disturbing work, I'm usually the one laughing the most.
I want to continue to subvert the horror genre by melding it into other genres that have not been done before. I take huge inspiration from Andy Warhol's philosophies and really believe that any type of art could be just as powerful as what is commonly regarded as "high" art.
Filmmakers who inspire you?
I love Gus Van Sant, Dario Argento, David Cronenberg, Harmony Korine, and Ben Wheatley, just to name a few.
Your favourite movies?

Feeling lucky ?
Want to
search
any of my partnershops yourself
for more, better results ?

The links below
will take you
just there!!!

Find Zach Lorkiewicz
at the amazons ...

amazon.com

amazon.co.uk

amazon.de
Looking for imports ?
Find Zach Lorkiewicz here ...
Something naughty ?
(Must be over 18 to go there !)

There are obviously so many, but I would say Deep Red, All About Eve, Ghost World, The Innocents, The Descent, Who's Afraid of Virginia Woolf, Possession, and Martyrs, again, just to name a few.
... and of course, films you really deplore?
I think the worst thing a film can be is boring and that usually happens when a filmmaker takes themselves too seriously. I can't think of any specific titles, but usually movies I hate are ones that I cannot even sit through.
Your/your movie's/your company's website, Facebook, whatever else?
Website: www.CountTheClockProductions.com
Facebook: www.facebook.com/CountTheClockProductions
Thanks for the interview!