Hot Picks

The 6th Friend


USA 2016
produced by
Chantelle Albers, Jamie Bernadette, Lyle Albers (executive), Jim Towns (co), Benjamin Goalabré (co) for Sommer Leigh Studios
directed by Letia Clouston
starring Jamie Bernadette, Chantelle Albers, Dominique Swain, Jessica Morris, Tania Nolan, Monique Rosario, David Villada, Tina Cole, Jack Cullison, Matt Clouston, Brett Easton, Benjamin Adamson, George Capacete, Chance Hurst, Michael Lehrman, Jason Guifarro, Michael Garber
story by Jamie Bernadette, screenplay by Jamie Bernadette, Letia Clouston, music by Holly Amber Church

review by
Mike Haberfelner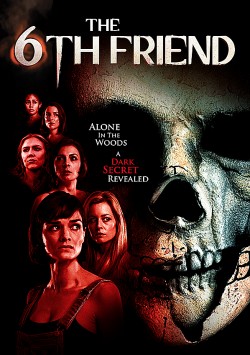 Five years ago, Joey (Jamie Bernadette), Melissa (Chantelle Albers), Heather (Dominique Swain), Katie (Jessica Morris), Sahara (Tania Nolan) and Becca (Monique Rosario) all attended a party that got somewhat (well, very much so) out of hands when another guest, Tyler (David Villada) tried to rape Katie, but the other girls, very high on drugs, grabbed kitchen knives and stabbed the assailant multiple times, pretty much slaughtered him in the process.
Since then, all the girls tried to cope with the situation differently, and Joey for one found it best to cut ties with all the others - but now, Melissa sees it best for them all to re-unite in her parents' cabin in the woods, away from everyone. And really, while her motives might have been benign, it just doesn't work out that well, the girls just don't gel anymore as they used to, the experience has weighed heavily on them all, and of course their lives have taken different paths. But then they find out they have all "seen" Tyler in recent weeks, as if he (who's very dead) was out there trying to have his revenge. Naturally, this causes even more tension, so much so that Katie decides to leave eventually ... but half an hour later she's back, dying with a handful of knives in her back. So it seems that Tyler indeed is back, and with a vengeance. And of course this doesn't make any sense, as the last time they've checked he was very very dead - and yet the girls start falling like flies ...
The 6th Friend is a pretty clever horror flick that for a time more or less pretends to be your typical slasher flick, but pretty much from the beginning on it gives one the feeling that something's wrong - but what (and how much) exactly is wrong is revealed only in the finale that turns quite a few things onto their heads - and thanks to a cleverly written screenplay that in all the horror even finds space for social commentary, a solid directorial effort that leaves actors and story enough time to breathe, and a strong ensemble cast led by the incredible Jamie Bernadette, this turns out to be a very cool piece of genre entertainment!