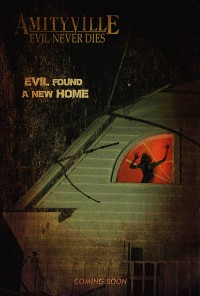 Ben (Ben Gothier) and Michelle (Michelle Muir-Lewis) lead a reasonably happy married life, have a nice home, he's got a good job to provide for them both - so really, little to no worries. But then Ben insists on buying a toy monkey at a junk store and place it prominently in the living room. The monkey does freak out Michelle quite a bit, but out of love for her husband, she tries to live with it. Thing is, from that day on, she starts to hear noises in the attic, and even if Ben insists it's rats, the local exterminator (Clint Beaver) declares the house a rat-free zone that doesn't need his intervention. Thing is, Ben has changed, one night he beats Michelle black and blue and then rapes her but the next day acts as if nothing had happened (and one has to point out here, nothing of the sort has ever happened before) that Michelle believes it really wasn't him who has done the deed, but that he had been possessed - and she cleverly links it to the toy monkey. Of course that gets her quite a bit worried - and she doesn't even know about Ben murdering a prostitute (Helene Udy) the night before, and who knows what has happened to their nosey neighbour (Dawna Lee Heising).
So Michelle does some research on the monkey, and it reveals the former owner has killed his family and himself while in possession of the thing (see The Amityville Legacy for that story) - and the only survivor of that family (Julia Farrell) tells Michelle to get rid of the cause of it all, which is indeed the monkey. Thing is though, these days Ben isn't only a threat to everyone around him, especially Michelle, he also guards the monkey with his life ...
Amityville: Evil Never Dies is above all a fun throwback to the horrors of yesteryear, with its easy-to-follow story, its blunt yet effective shocks, its minimalistic yet creepy musical score, and its straight-forward direction - but all that said doesn't mean this movie is an artless hack job, as its story and characters manage to capture the audience, the no-frills direction actually manages to suck one in for not drawing all attention at itself. And a clever yet subtle play with genre mainstays makes sure your neighbourhood horror fan will have a chuckle or more ...