Hot Picks

- 7x7 2023
Feng Ping Lang Jing

Back to the Wharf


China 2020
produced by
He Dun, Huang Bo, Hui Liu (executive) for Xiamen Maoying Media, Tianjin Maoyan Weying Media, Fujian Pingtan Turan Movie Co., Shanghai Hanna Pictures
directed by Li Xiaofeng
starring Zhang Yu, Song Jia, Wang Yanhui, Lee Hong-Chi, Deng Enxi, Zhou Zhengjie, Chen Jin, Zhang Jianya, Ye Qing, Gao Yuhang, Zhao Longhao, Lin Jinfeng, Ding Guanzhong, Jin Hui
written by Yu Xin, music by Wenzi

review by
Mike Haberfelner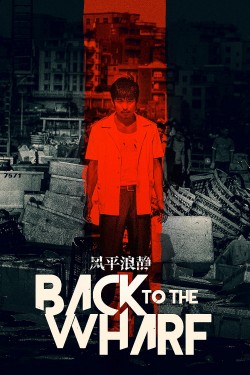 When Song Hao (Zhou Zhengjie) tells at home that instead of him, a straight A student, Li Tang (Lee Hong-Chi), son of the corrupt mayor (Jin Hui) has been given the automatic place at university, his father, in a fit of rage, heads over to the mayor to ... well, do something stupid, that's for sure. Song Hao wants to prevent the worst, but he picks the wrong house, enters, the homeowner pretty much automatically things Song Hao is a burglar and attacks him, and in the ensuing fight Song Hao kills his opponent in pure self defense. He leaves town to God-knows-where and ultimately finds employ as a stonecutter for years to come.
Jump to 15 years later: Due to the death of his mother, Song Hao (now played by Zhang Yu) returns to his hometown to pay his last respects, and while he's there he also goes looking for the orphaned daughter of the homeowner he killed back when, Wan Xiaoning (Deng Enxi), and learns that she lives in a house Li Tang, by now a wealthy realtor, wants to tear down to build an apartment complex - and in fact it's because of her that Li Tang has to put the project on hold. Song Hao feels responsible of Wan Xiaoning, and clumsily tries to become her fatherly friend, something that leads to many awkward situations. He also meets up with old classmate Pan Xiaoshuang (Song Jia), who for the longest time tries to seduce him without success, but empty as he is inside, he asks her to marry him eventually, and they have a daughter. Re-enter Li Tang, who takes Song Hao on a trip in his own car where he tells him he has actually been a witness of Song Hao killing the homeowner, and he has so far not told anyone - to then drive the car off the road and right into a schoolgirl on her way home - and that schoolgirl of course turns out to be Wan Xiaoning, and her death is pretty much on Song Hao since it was his car, so if he doesn't want to go to jail after all these years evading justice, he better take care of the body of the girl he wanted to take care of ...
Now I'd be lying if I said this was a very uplifting movie, as it basically explores the many facets of crime, punishment and redemption, and it's by no means a film where the good guys win - for one for lack of actual good guys. But that's what makes this movie so engaging, that the characters are all very fallible but also very relatable for that, and feel real even if the chain of events feels a little overly constructed. And of course, a very solid ensemble, and a directorial effort that can see beyond all the doom and gloom and even add comic touches to the proceedings help make this one a quite impressive movie that surely deserves a watch.