Hot Picks

Blacktop Stranger


Australia 2017
produced by
Joel Champ, Nick Neild (executive) for New Prime Pictures
directed by Joel Champ
starring Matt Hoff, Beau Jones, Colin Dixon, Joel Rademaker, Isabelle Jurss, Joel Champ, Joel Rademaker (voice), Erika Owen (voice) , Gabriella Flowers (voice) , Russ Gallagher (voice)
written by Joel Champ, music by Joel Rademaker

review by
Mike Haberfelner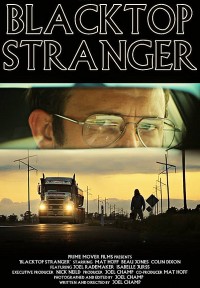 Driving through the Australian Outbacks, accountant Garryn (Matt Hoff) all of a sudden finds himself forced to give a stranger, Walker (Beau Jones) a lift. Though at first less than pleased about the company on his trip, Garryn soon finds Walker an ok enough companion, even if he talks a bit too much. But when Walker's talk gets very personal, Garryn just wants to throw him out - which is when Walker pulls a gun on Garryn and forces him to act as his driver. This apparently tells Garryn there's something seriously wrong with Walker - but he soon manages to leave him behind at a gas station. But that's not good enough for Walker, as he has left a briefcase full of money in Garryn's car, and it's less than likely that he has earned that money in an honest way - but more than likely he isn't going to give up on it again. It needs to be noted here, Garryn is so particularly unkeen this very day because in his trunk, there's his dead wife he wants to bury in the desert. At the same time, Walker's so very keen to keep moving with the money on him, because someone's (Colin Dixon) after him and his loot. And eventually, all these players have to convene of course, and the outcome is less than pretty ...
Blacktop Stranger is a quite an economic little thriller that restricts himself to only a handful of locations (though the beautiful Outback backdrops make up for that) and tells a very straightforward story - but very clever storytelling with well-set suspense sequences, shocks and punchlines, as well as a very smooth directorial effort see to it that one's entertained throughout. Furthermore, interesting and colourful characters, embodied by a solid cast, of course also help.
Pretty cool movie, actually!