Hot Picks

- X 2019
The Creature Below


UK 2016
produced by
Paul Butler, Stewart Sparke, Jeff Blyth (executive) for Dark Rift Films
directed by Stewart Sparke
starring Anna Dawson, Michaela Longden, Daniel Thrace, Johnny Vivash, Zacharee Lee, Libby Wattis, David Shackleton, Cal O'Connell, Lyndsey Craine, Paul Toy, Natalie Roe, Simon Brodie, Harry Lee, Paul Butler, Dave Jameson
story by Paul Butler, Stewart Sparke, screenplay by Paul Butler, music by Dave S. Walker a.k.a. Kyoto Dragon, special makeup effects by Simon Brodie, creature effects by Neil Stevens, creature designed by Lee Lightfoot, Neil Stevens

review by
Mike Haberfelner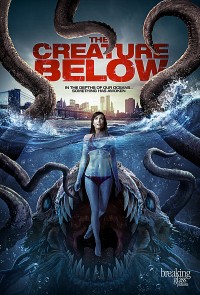 Olive (Anna Dawson) is an extremely ambitious explorer and fearless diver, so it's only natural that she hooks up with Dr. Fletcher who needs someone to go as far down as possible to maybe encounter the actual origins of all human lives, traces of which he suspects on the Ocean floor. But then something goes wrong, Olive is attacked by something loses communications, and ... she's pulled back up just in time. But Fletcher fires her on the spot, as she has ruined his diving suit and thus cost him lots of money. Thing is, Olive has brought something with her from deep down, something that resembles an egg, but that she hides from Fletcher as well as everyone else.
Being out of a job for the moment, Olive returns to her suburban home, where she lives with her fiancé Matthew (Daniel Thrace) and (temporarily) her vagabond sister Ellie (Michaela Longden), and she puts up a lab in the basement where she starts investigating the egg ... and soon sees it hatch to reveal an octopus-like being, but one she despite her best efforts can't classify. She tries to feed the thing, but soon notices it doesn't live on fish or maritime creatures but blood, preferably human. And then Fletcher finds out she has pretty much stolen the egg from his expedition and wants to claim the creature back - so Olive has no choice other than to feed him to the creature. And there are more humans that get in Olive's way and eventually end up part of the food chain ...
While Olive grows more and more absorbed by the thing, Matthew and Ellie start to worry, but she blocks them off, and when once Ellie enters the lab without permission (and finds nothing), Olive throws a fit - also because she doesn't want her sister to end up meat for her creature. Olive also starts to have weird visions about the creature she's harbouring, and what it's true meaning might be - and all the while, Matthew and Ellie grow closer and closer because of being shut out by Olive - a dangerous combination indeed ...
Quite obviously, The Creature Below was inspired by H.P. Lovecraft's myths of the "Old Gods" more than a bit, due to its blend of the monstruous and the divine, and to prove that, a couple of Cthulhu references can be found thrown into the film. But while the source material might not be all that disguised, the approach to the story as such is rather fresh, as despite it being a monster movie quite obviously, and one that has a psycho thriller angle to it, too, it does have some very lyrical moments to it that help one to identify with the film's lead Olive, who admittedly totally loses it - but one does get her reasons for it, she's not just some psycho bitch but also a caring mother, so one can't blame her for being irritated at least. Sure she does wrong, but in her head it's for the right reasons. And with the movie being carried by a very competent cast and a solid and subtle directorial effort, one can expect a pretty cool and rather unlikely monster movie.