Hot Picks

Dark Vale


UK 2016
produced by
Martin Farmilo, Jason M.J Brown for Tricky Films
directed by Jason M.J Brown
starring Darren Randall, Cara Middleton, Sadie Kime, Ian Scott, Katie Richmond-Ward, Darren Whitfield, Chloe Clarke, Martin Farmilo, Dereck Beilby
written by Jason M.J Brown, visual effects by Jason M.J Brown, practical effects by Pete O'Neil, Jason M.J Brown

review by
Mike Haberfelner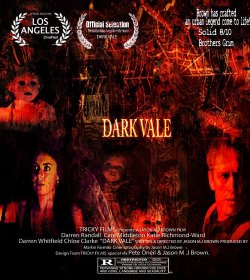 Tom (Darren Randall) and Leah's (Cara Middleton) relationship might have gone through its highs and lows, but proved to be rock-solid overall. Then, driving a shortcut through some woods, they get into a car crash ... only their car doesn't crash, they only find themselves in a weird patch of land that's haunted by the ghost of Lady Lucy (Chloe Clarke), a woman who on her own wedding day killed her husband and his lover when catching them in bed, then committed suicide - to from that on being trapped in "The Vale", to lure men to her domain where they cannot escape from. Soon, Tom and Leah are separated, and Leah is poisoned - but bound to return many times. Tom on the other hand desparately tries to find a way out of the Vale, or a way to fight and defeat Lady Lucy - but his efforts are doomed to fail ...
Basically, Dark Vale is a pretty cool ghost story that avoids spoon-feeding the audience its premise, story and set of rules, but keeps them in the dark and guessing to the very end, just like the lead characters, who are thrown into a world they at first fail to understand and that's only unveiling its secrets gradually to not at all. A well paced directorial effort with plenty of tension and suspense sees to it though that the viewer's really drawn into the story, helped by atmospheric camerawork, great locations and a very solid cast.
Definitely worth a look!