Hot Picks

The Deal


UK 2015
produced by
Eirian Cohen, David Zezulka (executive) for Northern Star Acting
directed by Cameron Prudames
starring Rachel Brownstein, Jack Gunner, Chris Calvert, Mark Cowling, Oliver O'Donnell, Leon Child, Sebastian Roberts, Ben Szymanski
written by Rachel Brownstein, Jack Gunner, Chris Calvert, Mark Cowling, Oliver O'Donnell, Leon Child, Sebastian Roberts, Ben Szymanski


short

review by
Mike Haberfelner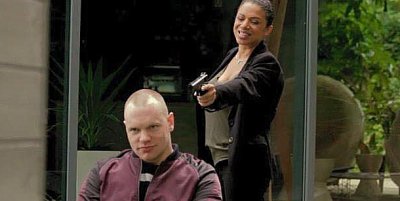 It should have been such an easy job: Mark (Mark Cowling) and Ben (Ben Szymanski) were to relieve Sebastian (Sebastian Roberts), businessman with a bit of a gambling habit, of a bag of money by promising him a big deal ... but nothing's for granted in the world of gangsters, as rival crime kingpin Leon (Leon Child) has set a snitch on them, Brooks (Chris Calvert), and Brooks is quick to sell all the information he has to D.C. Larkin (Rachel Brownstein), who has been wanting to take down Mark and Ben for long now, and she doesn't care much about "following the rules" anymore - much to the dismay of her partner (Jack Gunner), whom she blackmails into submission though. Seems like Leon gets what he wants ... but there's that youth (Oliver O'Donnell), whom Leon has lured into a life of crime just to have someone to bully - but eventually, that young man has been bullied beyond breaking point, and he violently demands his share of that "respect" everybody in gangsterdom is vying for ....
As mentioned, nothing's for granted in the world of gangsters - and everyone's packing a gun ...
Written by the actors themselves as part of their Northern Star Acting for Film & Television course under the guidance of their tutor (and the film's executive producer) David Zezulka, the short The Deal emerges as an amazingly solid piece of gangster cinema. Sure, the production values in this were comparatively low (though they never let down the story), and don't expect any action setpieces ... but the dialogue is sharp and precise throughout and does really hold the very complex story together (complex seeing that the movie's only about 12 minutes long), and the acting of all of the involved is really first rate, giving the audience a real feel of the tensity of the story.
Totally worth your while.