Hot Picks

- X 2019
Eminence Hill


USA 2019
produced by
Robert Conway, Barry Cohen, Norman S Davis, Mem Ferda, Richard Southard (executive), David J. Hohl (executive) for Matchstick Movies, FilmCore, Saguaro Films, Hohlographic Productions, Dragonfly Picture Studios, Broader Scope Productions
directed by Robert Conway
starring Barry Corbin, Dominique Swain, Clint James, Anna Harr, Owen Conway, Charlie Motley, Louie Iaccarino, Cameron Kotecki, Lance Henriksen, Brinke Stevens, Maria Olsen, Dustin Leighton, Michael Harrelson, Augie Duke, Katie Peabody, Brandon Hannifin, Amelia Haberman, Shannyn Hall, Greg Lutz, Elijah Davis, William 'Bill' Connor, Santiago Craig, Sky C. Donovan, Craig Hensley, Nathaniel Burns, Tori Glawe Osborn, Liv Southard, Mike Watkiss, Dan Weisgerber, Sophia Hohl, DeWayne Hudson, Paolo Cesar, Jacob Lewis, Larry Hall, Jeremy Behie, Jeff Yazzie, Victorio Pope, Mikey Reed, Jim Lacy, Gary Emmons jr, Chris Beeman, Rene Barazza, Ron Moruzzi, Bill Scott, Missy Olson, Dale Robert Koehler, Shawn Bordine
written by Robert Conway, Owen Conway, music by Jay Martin

review by
Mike Haberfelner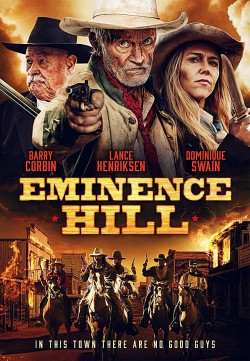 Royce (Clint James) and his gang - Gretchen (Dominique Swain), Cyrus (Louie Iaccarino) and Samson (Cameron Kotecki) - are an outlaw gang as mean as they come, making their way through the Old West killing and looting at will. Only Gretchen has something resembling a heart, as she keeps young Ruth (Anna Harr) from being killed after they have already massacred her parents - but of course, with the intention to sell her to the next brothel that's hiring. In the meantime, the gang is burdened with a captive while riding the countryside. And after their horses are stolen one night by a duo of sneaky Apaches (Jeff Yazzie, Victorio Pope), Ruth seizes the first chance to make a run for it - to reach the small settlement of Eminence, led by Noah (Barry Corbin), an at the first sight honest citizen who offers Ruth as well as Royce and company abode. But then he drugs and incarcerates the outlaws and intends to make Ruth one of his flock - because you see, Noah is a religious nutter who takes "an eye for an eye" a bit too literally and plans to basically torture Royce and company to death while forcing his will and belief onto poor Ruth ...
US Marshall Quincy (Owen Conway) is on the trail of Royce's gang, and unfamiliar with the terrain, he frees outlaw Garrett (Charlie Motley) from prison and promises him a full pardon in exchange for helping him capturing the baddies. Garrett still has unfinished business with Royce, so he doesn't need much persuasion. However, trailing Royce and accomplices, Quincy more and more shows his true colours, that of a ruthless killer who will stop at nothing to reach his goal, and Garrett starts to listen to those who tell him Quincy is nothing more than a merciless bounty hunter. However, the two eventually get to Eminence, and Quincy is quick to read Noah for what he really is - and that can only mean utter disaster ...
Legendary Lance Henriksen makes his scene his own as an outlaw recognizing Quincy - and not living to tell the tale -, horror veterans Brinke Stevens and Maria Olsen can be seen as key women in Royce's flock.
One should think (and it's indeed often said) that there aren't any new stories to be told in the western genre, arguably the oldest of all movie genres, but Eminence Hill sure makes a valid effort to say the least, adding religious fanatism more at home in horror to the mix - that actually goes really well in the context. But that's not to say there isn't any of what you expect from a genre film, plenty of chases, fistfights and shoot-outs, plus the film is tense and bloody throughout, so really ticks all the boxes. And add to that a very solid cast and you've got yourself great genre entertainment.
Definitely recommended.