Hot Picks

Homewrecked


USA 2016
produced by
Michael S. Rodriguez, David J. Bailey (associate), Meghan Chadeayne (associate) for M.S.R Studios, Seven Devils Productions
directed by Michael S. Rodriguez
starring Jim Van Bebber, Timothy Patrick Quill, Sebrina Scott, Meghan Chadeayne, J.J. Beasley, Dale Miller, John Wells, Alydah Raguindin
written by Michael S. Rodriguez, music by Hayden Blades, special effects by Zach Elston


short

review by
Mike Haberfelner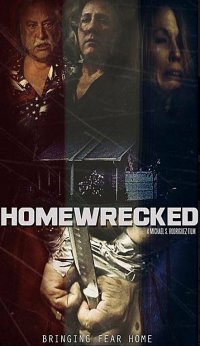 It should have been such a happy day for Rick (Jim Van Bebber) and Nora (Sebrina Scott) as they tell her father (Timothy Patrick Quill) that she's pregnant, and the mood is only somewhat dampened by a sad and violent war story dad cannot help but telling. But then a girl (Meghan Chadeayne) knocks on their door asking them to save her from her abusive boyfriend, and of course they open her ... but thing is, the story about the abusive boyfriend was a lie, she was only getting her associates (J.J. Beasley, Dale Miller) access to the place - who are quick enough to tie up the men, find the safe, and try to rape Nora. Thing is, Rick has been in the army, and he has been experimented on - and he might have a trick or two up his sleeve to turn the tide ...
Rather intense little thriller of the home invasion variety that most certainly doesn't hold back when it comes to nastiness - but that said, the film's focus is still firmly on plot rather than spectacle, features some quite original plot devices and plottwists, and is brought to life by a great ensemble cast, combining veterans with fresher faces and even newcomers rather seamlessly.
A pretty cool movie, actually!