Hot Picks

Jurassic Games


USA 2018
produced by
Ryan Bellgardt, Josh McKamie, Andy Swanson, Chris Hoyt, Jessi Sanfilippo, Harry C. Wolohon IV, Galen Christy (executive) for High Octane Pictures
directed by Ryan Bellgardt
starring Ryan Merriman, Perrey Reeves, Adam Hampton, Katie Burgess, Cate Jones, Luke Wyckoff, Erika Daly, Kyle Penington, Rett Terrell, Tiger Sheu, Gary Frazier, Sidney Flack, Raychelle McDonald, Lucas Ross, J. Alan Davidson, Lance West, Abby Miner, Alex Payne, Cami Grindal, Daniel Barton, Bruce Davis, Ron Clemons, Keely Sanchez, Kenny Pitts, Steve Grant, Kaye Brownlee-France
story by Galen Christy, screenplay by Ryan Bellgardt, music by David Stone Hamilton, stunt coordination by Jon Bielich, Kent Shelton, visual effects by Ryan Bellgardt/Boiling Point Media, Matthew Gardocki/Gardocki Digital, Ryan Staples Scott/Ryit Creative, Elephant Treehouse, lead dinosaur modeler: Vlad Konstantinov

review by
Mike Haberfelner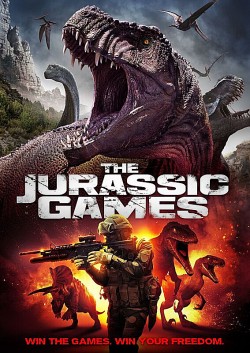 In the not too distant future, even executions are turned into reality TV shows - with the most popular of them being The Jurassic Games, where 10 contestants/convicts have to make their way through a jurassic landscape under constant threat of being attacked by dinosaurs - and maybe even worse by one another, as of the 10 participants, only the one who masters all the challenges first is allowed to go free while the others are all executed. And what makes this worse, they're all convicted to death for their devilish crimes, and none of them hesitate to kill again, just to make it out again. And while they fight their fights in virtual reality, their pain, injuries and deaths are real ...
This season promises to be especially rewarding for the audience, as the cast has everything from righteous father and husband Tucker (Adam Hampton), whom many believe to be innocent, to crazy as shit teen Joy (Katie Burgess), who has killed for much less than her own survival. But even behind the scenes everything's not as rosey as it ought to be: while the series' producer (Perrey Reeves) and host (Ryan Merriman) will to everything for ratings, and even bend the rules a bit to have the right participants die or reach the finale just for the audience's pleasure, there's a growing opposition against the show - and some of the protesters are said to have infiltrated the production company ...
Now ok, I of course have to address the elephant in the room first, especially since this movie's title already suggests as much, as does its story: Of course, The Jurassic Games is a mash-up of the Jurassic Park and Hunger Games franchises, with a bit of Maze Runner thrown in for good measure, and on the downside, the movie makes little out of the satirical potential the premise holds in droves - but then again, on the upside, it's also a really good action thriller, one that not only lives from dino attacks but also features plenty of suspense sequences, good character constellations that create tension pretty much by themselves, and loads of fights, shoot-outs and the like, almost never stopping to let one catch one's breath.
So basically, as long as you don't expect a beacon of originality let alone a masterpiece in its own right, you'll be well entertained!