Hot Picks

Lake Artifact


USA 2019
produced by
Bruce Wemple, Dylan Grunn, Nate VanDeusen, Anna Shields, Catharine Daddario, Chris Cimperman, Thomas Brazzle, Rick Montgomery, Grant Schumacher for 377 Films, Lil Red Hen Media
directed by Bruce Wemple
starring Thomas Brazzle, Catharine Daddario, Anna Shields, Dylan Grunn, Chris Cimperman, Grant Schumacher, Rick Montgomery jr, Ben Hauck, Sheila Ball, John Willoughby Noble, Adrian Burke, Delil Baran
written by Bruce Wemple, music by Nate VanDeusen, Dylan Grunn

review by
Mike Haberfelner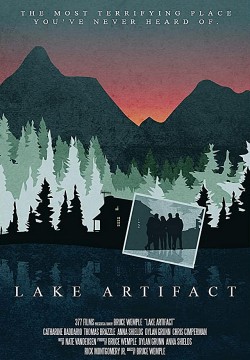 On their way to a remote cabin by a lake in the middle of nowhere for some partying, Tommy (Thomas Brazzle), Grace (Catharine Daddario), Megan (Anna Shield) and Kip (Chris Cimperman) run into car trouble, and fortunately they also run into a stranger, Thomas (Dylan Grunn), who manages to fix their car in a flash - and thus they invite him to their party ... also maybe because he carries a large crate of beer with him. Now the party goes pretty well, and they all get mighty drunk, but the next day, everything seems slightly off, especially since they find photos of themselves at the lake lying around that they definitely have not taken (and that's already taking drunk memory loss into account). Also on these photos there are people in the background that ought to not be there. Then Kip leaves to get some supplies, and just fails to return. Tommy and Thomas go looking for Kip, but however far they go, they seem to just run in circles. Later they run into an old man (John Willoughby Noble) they knock out in a defensive over-reaction, later tie up because he spooks them out. The old man soon breathes his last, but not before Megan finds out he's actually Kip, only decades older. Then Kip returns, without supplies, as apparently as much as he wanted to get some, he found himself traveling in circles ... and suddenly Megan wants to kill Kip, as the old man told her before dying that they are caught in a time loop, and only one of them will be able to escape. The others lock up Megan, but that doesn't stop Thomas from being killed, and the others soon go pretty crazy, as the more they think about it, the more they figure Megan might be right - but if they're assuming that, that means that this might not end well for most of them ...
Now true, above synopsis probably sounds more than a little confusing, but the whole time loop premise makes a lot more sense when actually watching the movie, as it's integrated into the story very well, and also adds to both the mystery and the dread of the whole thing. So while in the first half the film might still feel like a slasher (after all, the set-up is pretty much slasher 101), the movie eventually veers off into much darker territory where your best friends become your worst enemies. And thanks to a very solid directorial effort that doesn't try too hard to make sense of it all (and in process explain everything away), and a very capable cast, this has actually turned out to be a rather cool piece of horror.
If this has at all gotten you interested, you can find this movie on TerrorTV.